The Secret to Happy Family Camping Is a Canoe
It's the perfect wilderness vehicle for children who are too small to get far on their own but too heavy to carry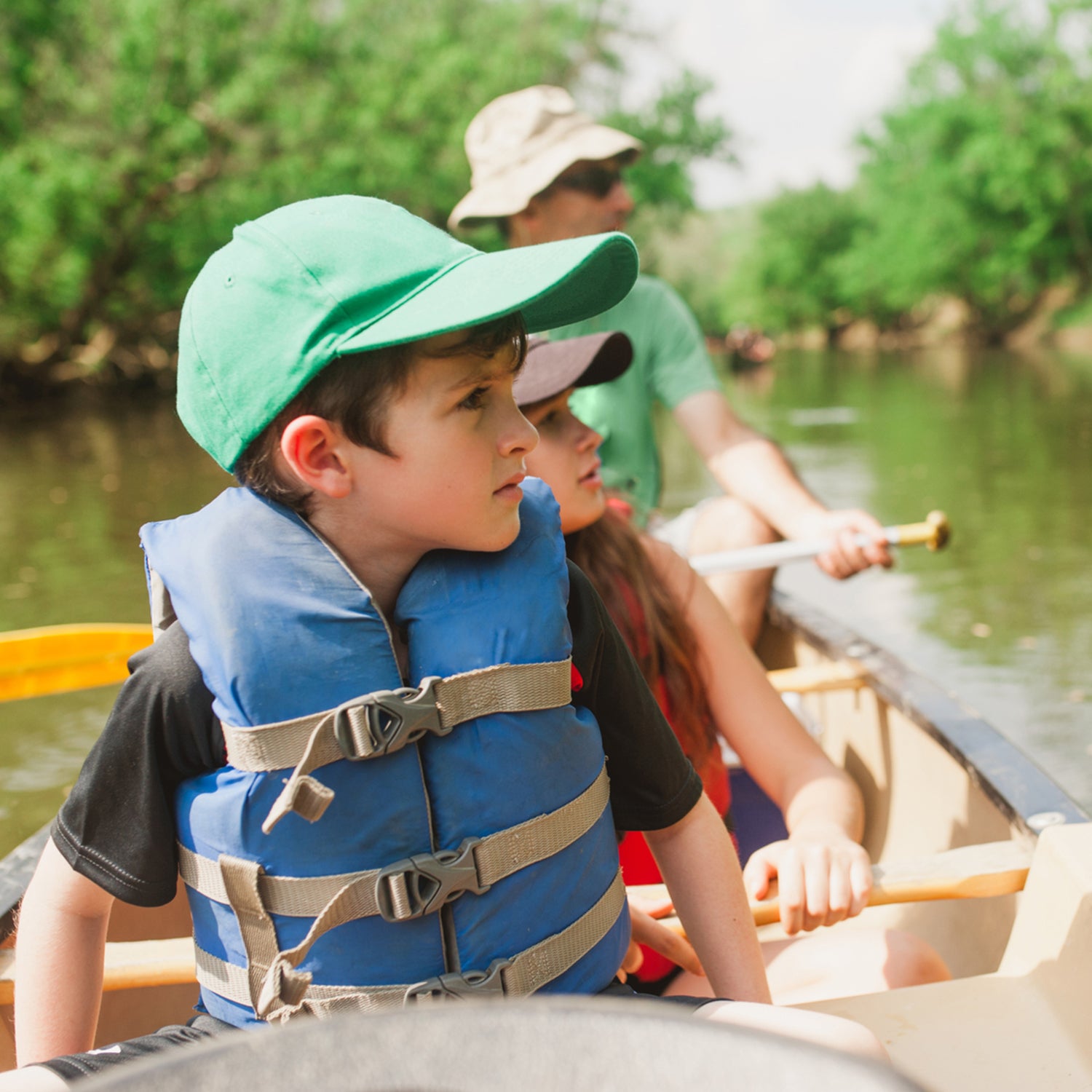 Melanie DeFazio/Stocksy(Photo)
Heading out the door? Read this article on the new Outside+ app available now on iOS devices for members! Download the app.
"We are go canoeing!" my two-year-old exclaimed, wriggling out of her sleeping bag. "Get up, Mommy! We are go canoeing!"
The sun had just risen on the first morning of our five-day wilderness canoe trip on Jackson Lake, in Wyoming's Grand Teton National Park, and Josephine was more enthusiastic than any child should be before her parents have had coffee. To be honest, though, I couldn't blame her. Our tent was tucked into a spruce forest above a pebble beach, and beyond the beach stretched miles of clear water, framed by the serrated, snow-dappled peaks of the Teton Range. The day would consist of breakfast on the beach, a leisurely three-mile paddle to our next campsite, and an afternoon of swimming and playing in the sun.
It all felt just about perfect, especially compared to the previous week, which we'd spent car camping while driving from our home in Colorado to Wyoming. The front country was packed with travelers trying to escape in a COVID-responsible way, and securing a patch of ground to sleep on felt like a nightly competition. The campsites we did find were often dusty or loud. I craved the kind of exquisite views and deep solitude that only come from schlepping your stuff deep into the backcountry.
But getting off the beaten path is challenging when you have a kid who's too small to hike very far and too heavy to carry. Many families put backcountry excursions on hold during the toddler years, which is a shame, because spending time in the wilderness is rejuvenating for kids and parents alike. That's why canoe camping is so great. It allows you to escape the crowds without having to haul a ton of gear on your back, and to reach places as remote as anything you'll find backpacking, while still bringing luxuries like camp chairs, fresh food, and cold beer. Canoes are also the most versatile watercraft. Unlike rafts or kayaks, they can comfortably (and dryly) transport a small family on rivers, lakes, or even the ocean.
To confirm that I'm not crazy for taking a toddler backcountry canoeing, I called up Scott Schell, a former mountain guide and director of the Northwest Avalanche Center in Seattle. "I've basically spent my life moving around in the mountains," he told me. "And I knew enough to realize that going deep into the backcountry with a little kid was going to be arduous. So I started digging around and realized canoes can carry a thousand pounds and are more stable than most people think."
After Schell and his wife took their three-month-old on a six-day wilderness canoe trip in British Columbia in 2016, they were hooked. They've since taken their kids, one now four years old and the other 19 months, on canoe expeditions every year. "I'm a proponent of any activity that gets kids outside, but I'm really a proponent of getting kids into the backcountry," he said. "It's a whole other level above car camping, and canoeing is a neat way to get out there."
Yet participation in canoeing has dropped over the past 20 years, especially compared to other paddle sports like kayaking, rafting, or paddleboarding. Perhaps that's because canoeing isn't intuitive. During our time on Jackson Lake, most of the people I saw in rental canoes were zigzagging awkwardly because the paddler in the stern hadn't been taught the J-stroke, a maneuver that keeps the boat gliding in a straight line without having to switch the paddle to the other side. So if you're considering a canoe—either as a rental or your next big gear purchase—here's how to do it right.
First, learn the basics by taking an introductory canoeing course through an organization like the American Canoe Association. Mastering the J-stroke will help you paddle more efficiently, saving energy and making the whole experience more enjoyable. And if you plan to paddle a river—even a slow-moving one—be sure you know how to read moving water and get in and out of eddies.
Renting canoes is easy enough in many backcountry canoeing destinations, but if you live near appealing waterways or plan to take semi-regular trips, it makes sense to purchase your own. Skip the clunky old aluminum models and spring for a modern boat: Mad River, Nova Craft Canoe, Old Town, and Wenonah are all trusted brands with quality composite options. You'll want a canoe that's big enough to carry everything you need (at least 16 feet long) but nimble enough that it won't slow you down. Earlier this year, we bought a used Wenonah Adirondack with Tuf-weave, and it checks all the boxes. At 55 pounds, it's light enough for one person to portage but rugged and steady enough to handle mild rapids.
As for gear, start with PFDs for the whole family—Level Six makes good options for every age. For paddles, I love the gorgeous wooden ones from Bending Branches. And be sure to pick up some drybags and cam straps for storing and tying down anything you don't want to get wet. As Schell said, canoes are relatively stable, but with little kids on board it's always a good idea to make sure essential gear is secure and protected.
Once you're set up with a boat and gear, the next step is figuring out where to go. One of the best places to start backcountry canoeing is Minnesota's Boundary Waters Canoe Area Wilderness. Its lake-dimpled landscape requires a fair number of portages but makes up for it with great swimming, established campsites, and stellar fishing. Other good flatwater trips include Bowron Lakes in British Columbia, the Rangeley Lakes region of Maine, or Flaming Gorge Reservoir in Utah. For more of an adventure, try the 99-mile Wilderness Waterway Trail in Florida's Everglades National Park.
Interested in a canoe-friendly river trip? Check out the Green River as it flows through Labyrinth Canyon in Utah; a 45-mile trip from Ruby Ranch to Mineral Bottom can easily be done in three nights. Or try Ruby Horsethief Canyon on the Colorado River, in Colorado; the Buffalo National River, in Arkansas; the Rio Grande through Big Bend National Park, in Texas; Black Creek, in Mississippi; or a portion of the Connecticut River Paddler's Trail, in New England. If you've got some canoeing experience and don't mind minor rapids, the North Fork of the Flathead River, in British Columbia and Montana, is hard to beat.
Or you could do what we did and paddle around Jackson Lake. After nearly a week of swimming every day and watching the sun sink behind the Tetons from our waterfront campsites every night, I felt relaxed enough to return to the world of COVID-19, climate change, social injustice, and the myriad other problems that can make daily life feel so brittle. Getting outside—in any way—offers a chance to step back from these stressors. But getting into the backcountry is like taking an extra long step, one that gives you distance, solitude, and a fresh perspective.
So don't let that challenging toddler stage hold you back. Plan a last-minute fall or winter trip, start scheming for next summer, or just rent a canoe and go for a long day paddle close to home.
Lead Photo: Melanie DeFazio/Stocksy