This Whippet Is One of the World's Great Athletes
Spitfire excels at the curious sport of dock diving, or, in other words, jumping really, really far. That skill has landed him and his owner, 13-year-old Sydney Mackey, five world records—and counting.
Heading out the door? Read this article on the new Outside+ app available now on iOS devices for members! Download the app.
One of the most heralded dogs around at the moment is a five-year-old whippet who answers to the name of Spitfire. Spitty, as he's also known, is not one of those uppity dogs that stands stock-still on a block at Kennel Club competitions as judges eye the line of his stiffle. Nor does he bound into the snow to unearth victims from the rubble of avalanches.
What Spitty does well is jump. At this, he excels.
How far does Spitty jump? Spitty will run down a dock and jump the length of a 1979 Lincoln Continental Mark V, and, still airborne above the pool after more than 22 feet, grab a chew toy that hangs suspended a few feet above the water, before he splashes into the drink.
His talents are not limited to the horizontal plane. He also can jump high—high enough to claim a cookie that, say, LeBron James teases above his head.
Smitty's owner is a 13-year-old with a brush of freckles across her nose named Sydney Mackey, who lives in Olympia, Washington. Together the two have broken five world records, and also currently hold two world championship titles, in the curious sport known as dock diving.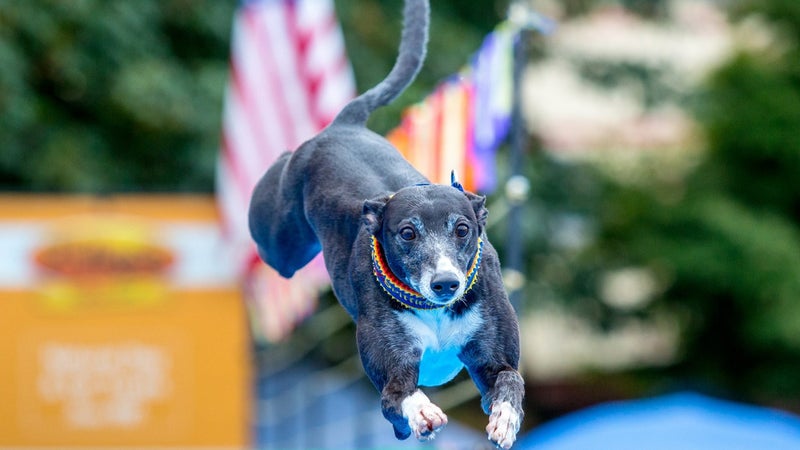 About 20 years ago, a marketing guy recruited some dogs to leap into the water as a time-filler during ESPN's forgettable Great Outdoor Games. The diversion, though, was a hit. This, in retrospect, should not have come as a surprise to anyone. It is a truth universally acknowledged that no pleasure is so cheaply bought, and so unmarred by complexity, as the simple joy of seeing a dog hurl itself into a pond in pursuit of a slobbery stick. Science has proven the impossibility of the human brain to register self-pity, or maunder on about the generally sorry state of things, while in the presence of canine bellyflops.
Today, more than 1,000 dock-diving competitions are held annually around the U.S., estimates Kristi Baird, who is Spitty's trainer, with competing organizations that have names such as DockDogs and North America Diving Dogs. These competitions can attract big crowds, and booming soundtracks, and booming emcees often lured from monster-truck shows. The largest events have total purses of $30,000 cash. One group's dock-diving rulebook now runs to 60-plus pages.
It is a truth universally acknowledged that no pleasure is so cheaply bought, and so unmarred by complexity, as the clean simple joy of seeing a dog hurl itself into a pond in pursuit of a slobbery stick.
On a recent afternoon, I drove from Seattle down to Washington State's Key Peninsula, a bight of land that thumbs into the south Puget Sound, to watch Spitty in action. At a fenced patch of green called Brown Dog University, I met Baird, the owner of the training school. Baird is a retired health-care worker who now makes her living by coaching and training dogs in dock diving. On her right forearm she wore a paw-print tattoo from Henna, the first dog she trained to dock dive. A regulation dock-diving setup filled half of Baird's front yard. It consisted of a 40-foot dock covered in AstroTurf that ended in a raised 40-foot pool. The pool had a yardage marker along one side and a pool deck along the other.
As we waited for Spitty and Sydney to arrive, Baird explained the sport's many disciplines. The staple event is the distance jump. A dog's handler tosses a toy into the far end of the pool. The dog runs and leaps after it. The Guinness world record for the farthest distance leapt by a dog is 31 feet, and is shared by a black Lab named Taz and a whippet named Cochiti, who also trains with Baird. If Cochiti leaped from the 10-yard line of the Superdome, the dog could score a touchdown. The Vertical event is the high-jump—a dog runs and leaps for a chew toy suspended just off the dock and raised with each round of competition. In Air Retrieve, the toy sits just two feet above the water, but the toy moves farther away as the competition progresses, and the dog must grab it or else knock it down before he lands in the water. And so on.
"Any dog can do this," Baird said. What makes the great ones, though? "Dogs that have drive. Dogs that love to chase things. And dogs that love the water—I mean, can't stay out of mud puddles."
Soon Sydney appeared with her father. She is just finishing eighth grade, and too young to drive from the family's home in Olympia. She loves soccer, and whippets, of which her family owns several, though Spitfire is the only competitor. That day, Sydney wore black Chuck Taylor low-tops. Her long hair was parted down the middle. Her blue tie-dyed T-shirt from Baird's academy, knotted at the hip, read across the shoulders, "Peace. Love. Flying Dogs."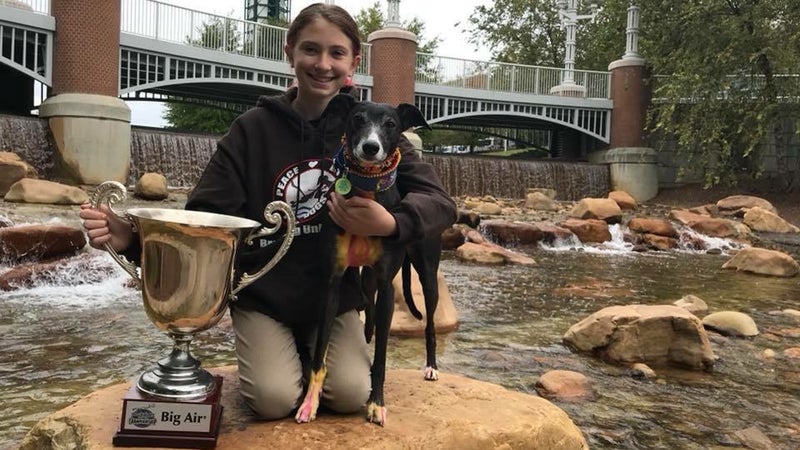 The athlete wandered up and gave a perfunctory sniff of hello to a stranger, then wandered away again. He has a whippet's thin, patrician snout, a brief, upturned tail, and bulging brown eyes, as if the maker did not think to leave room for them in his small whippet skull. His coloring is a formal gray, with patches of white on his prosternum and rear pasterns that, along with the reserved mien that he shares with others of his kind, lend the sense that he is wearing a tuxedo. Spitty is a racing whippet, Sydney explained. There is not a pinch of fat on him. Slats of ribs showed on his sides, like flannel over bone. His rear legs shifted with muscle. "Firm, proud buttocks," as Mr. Burns said approvingly of the family greyhound in "The Simpsons." This was an athlete. Whippets are a sighthound, originally bred for chasing down game such as rabbits, and their speed is explosive. From a dead stop, a whippet can reach nearly 35 miles per hour in seconds. Spitty now walked around the pool deck with the stiff yawing gait of a sprinter, relaxed yet coiled.
Sydney began to warm him up, tossing half-way down the pool's length a small retriever's bumper dolled with streamers. Spitty loped down the ramp lazily and splashed in after it.
"We gotta get him fired up," said Baird, after the dog made a few jumps that seemed casual, even listless.
"He's feeling a little sleepy. He just had his acupuncture," said Sydney.
Like many athletes, Spitty has acupuncture appointments. He also gets massage and chiropractic adjustments. A few months ago, he tore his gracilis muscle, a power muscle that is prone to injury in hard-running animals like whippets and greyhounds, in both hind legs. Whippets are fragile creatures. "We joke that these guys should come with staple guns, they have such thin skin," said Baird.
Today was just a shakedown workout. Baird did not want to push Spitty too hard, but she did want to see how he was feeling. The Purina Pro Plan Incredible Dog Challenge in Huntington Beach, California, would take place June 8 and 9.
Sydney again threw the bumper, farther this time, to the end of the pool. Baird pawed after it, pretending to compete for it. On his next jump Spitty exploded, 23 feet. Better, Baird said. After each dunk in the cold water, the whippet emerged, shivering. Sydney toweled him off. A minute or two later, he wanted to go again. Whippets are very toy-driven, said Sydney's father, Albin Gersich. Yet whippets who aren't on the hunt are famously mellow, to the point of laziness, like those Tour de France riders who, once off the bike, can seem half asleep. Sometimes, Sydney said, she has to call Spitty four times to dinner before he rouses himself from the couch.
Spitty's sharp rise to greatness came almost by chance. One day in 2016, friends encouraged Sydney to bring her dog to Baird's pool, during a practice session with the local dock diving club. Baird placed Spitty on a little side ramp, where he jumped a few feet into the drink. Even then, something in the dog caught Baird's eye. "There was no hesitation. It was just, boing." They took him up to the dock, which stands a few feet higher. Soon everything clicked. His first competition, he jumped nearly 15 feet.
That summer he jumped 28 feet and 4 inches at the Clark County Fair, and was in a duel that lasted more than three hours for the Extreme Vertical title, as the toy rose higher toward the sky. "It's crazy-unusual to have a dog excel that quickly and improve," said Baird. Sydney and Spitty were invited to the 2016 DockDogs World Championships in Dubuque, Iowa. There, Spitty won Big Air and Most Improved, and Sydney won Rookie of the Year and Top Youth Handler.
Then, last year, Spitty broke four world records. He jumped 26 feet and 6 inches to claim the Air Retrieve title on the North America Diving Dogs circuit, which is affiliated with the American Kennel Club. At the 2017 DockDogs World Championships in Knoxville, he posted a new record in Speed Retrieve. Speed Retrieve is a drag race: An owner must loose the dog at just the right moment. The dog then runs down the dock, leaps, swims to a toy that's suspended at the end of the pool, and grabs it—all under a stopwatch. Spitty did this in 4.347 seconds, shattering the 5-year-old record. Some dogs recoil from the loud noise inside the arena. Not Spitty. "He gets so psyched up by the crowd," Sydney said. "He improved his reaction time by a lot." That same year, he also racked up the most points ever compiled in Iron Dog, which anoints the most versatile dog.
Last weekend, Spitty became the 2018 Purina Pro Plan Incredible Dog Challenge Fetch-It National Champion, leaping farther than any other dog. Sydney became the first youth ever to win a Purina event. The duo will compete in events all over the West this summer, followed by the DockDogs World Championships in October, and the AKC North America Diving Dogs National Championships in December.
During the afternoon training, Baird suggested a few final distance leaps. Sydney took Spitty up to the leading edge of the dock. Holding the whippet by the collar in her left hand, she tossed the bright bumper to the end of the pool with her other hand. She kneeled. She whispered to Spitty. The dog looked around. He seemed distracted. Later, Sydney explained that this was not distraction. The champ was looking around for any competitors. She walked the dog back to the end of the dock, turned him, stood behind him. She lifted his haunches, lined them up squarely to the end of the dock, as if sighting a missile.
She kneeled beside him.
"Ready? READY?"
She released Spitty.
"GoGoGoGoGOGOGOGOGOGOGO."
To see a small thin dog arrowing through the air at highway speeds, resistant to gravity, its forelegs out, its hind legs trailing, its thin proud snout straining forward, is to experience a brief moment of déjà vu. Then you realize where you have seen this. It is the image, if in miniature, on the side of every Greyhound bus.
A splash. A stroke or two. Spitty grabbed the bumper. He snorted out the water he took in. He swam toward the pool's edge.
"There we go. There's a 27," Baird said with approval.
Oblivious, the champ worried his prize for a few chews, then rolled himself dry on the sun-warmed AstroTurf.