Behind the Scenes at Felix Baumgartner's Record-Breaking Space Jump
How a secretive, stunt-loving energy-drink company pulled off one of the coolest feats in adventure history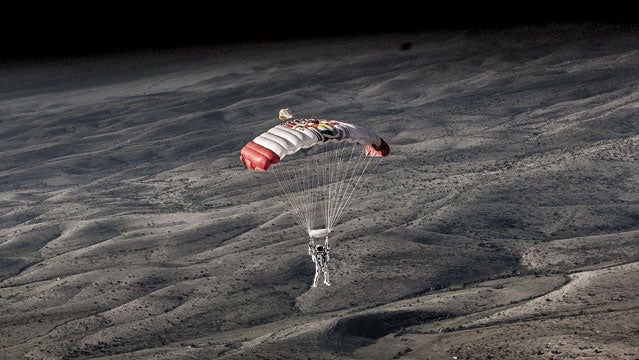 Balazs Gardi
Heading out the door? Read this article on the new Outside+ app available now on iOS devices for members! Download the app.
"The whole world is watching now. I wish you could see what I can see. Sometimes you have to get up really high to see how small you are. I'm coming home now."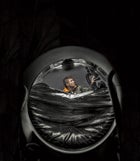 Pilot Felix Baumgartner of Austria sits in his capsule during the preparation for the final manned flight of Red Bull Stratos.

Pressure suit of pilot Felix Baumgartner of Austria lays on a table after an egress training for Red Bull Stratos in Lancaster, California.
Crew members prepare the capsule for the second manned test flight.

Pilot Felix Baumgartner of Austria takes part of an egress training for Red Bull Stratos in Lancaster, California, on February 22, 2012.

Pilot Felix Baumgartner of Austria celebrates after successfully completing the final manned flight for Red Bull Stratos.
Thus spoke Austrian daredevil Felix Baumgartner as he stood outside the open hatch of the Red Bull Stratos capsule on the morning of October 14. You know what happened next. Looking remarkably composed, the 43-year-old Baumgartner leaned forward and plunged to earth from a height of 128,100 feet, some 24 miles up. During a free fall that lasted 4 minutes, 20 seconds and featured 30 terrifying seconds of dangerous spinning and tumbling, Baumgartner broke the sound barrier, hitting a top speed of 833.9 miles per hour, or Mach 1.24. Eight million people watched him live on YouTube, in a Twitter-fueled media moment that exploded around the world.
Not everything went smoothly, of course. Owing to Baumgartner's thick accent and static in the transmission, you couldn't quite make out what he was saying. But you could hear Joe Kittinger as he talked to Baumgartner from the ground. A folksy retired Air Force colonel, Kittinger, 84, served as mission control's primary contact with the balloon-lifted capsule, and he also happened to hold nearly all the skydiving records Baumgartner was trying to break that day. After calmly taking Baumgartner through a 40-point safety checklist, Kittinger sent him off with these memorable words: "Start the cameras, and our guardian angel will take care of you."
Start the cameras. Notice how Kittinger dealt with the practicalities before moving on to the poetry. At this point in the jump, 15 cameras affixed to the capsule—three inside and 12 outside—were already running, documenting Baumgartner's two-and-a-half-hour rise to the stratosphere and his various preparations for the eventual leap. Four cameras attached to his thighs would capture the moment when he broke the sound barrier. But Kittinger was also reminding Baumgartner to turn on a capsule-mounted unit that would photograph his plunge frame by frame. The images wouldn't have much scientific value, but they would help Red Bull sell the drama in future marketing campaigns.
That was important, too. Because, as Baumgartner himself told me later that day, "Somehow you have to finance a project like this."
IF RED BULL STRATOS seemed a little like the A-Team playing NASA in the desert, that's because it was. Five years in the making, Stratos was the largest single event in the history of the Austrian company in terms of personnel, expense, and man-hours. At least 300 people were on hand in southern New Mexico to make sure Baumgartner got off the ground and returned to it alive. While Red Bull is always cagey about what it spends on its promotional efforts, the company reportedly invested $65 million in this stunt.
And make no mistake: it was a stunt. For nearly two years, Red Bull billed the project as a "mission to the edge of space" and the "ultimate scientific experiment." But if you know anything about Red Bull—which has sponsored everything from Las Vegas motorcycle jumps to cutting-edge climbing expeditions—you know that it didn't shell out that much cash in pursuit of pure knowledge. Stratos was a brand booster, and it will go down in history as a smash. Red Bull doesn't release sales figures, so it's impossible to estimate the project's impact on the company's bottom line, but half of the worldwide trending topics on Twitter that day were Stratos related. Nearly every newscast that night included a segment about the jump, and by morning images of Baumgartner's plunge had made their way around the planet—with Red Bull logos visible from every camera angle.
Stratos was such a success that, looking back, it's easy to forget how unlikely it seemed that it would happen at all, right down to the morning of the 14th. The effort had suffered so many setbacks in its five-year existence that even a few of the 75 international journalists assembled at the Stratos site on that Sunday—a jumble of temporary buildings and equipment set up by the main runway of the Roswell International Air Center—were making cracks about the company that cried supersonic. In 2010, the year the project was announced, Baumgartner began suffering anxiety attacks while wearing the pressurized suit that protected him at altitude. Stratos was put on hold until he got his mojo back, with help from sports psychologist Michael Gervais.
Later that year, a lawsuit against Red Bull, filed by an Austrian promoter who claimed Red Bull had used proprietary information he'd shared with them from technical designs for a similar jump, pushed the mission date back yet again. Then, after two successful practice jumps last summer (from 71,615 and then 97,145 feet), the big drop was delayed once more in early October, this time for five days, after one of Stratos' 30-million-cubic-foot balloons was knocked down and damaged by a gust of wind. On the 14th, as journalists sat around waiting for the inflation to begin, I chatted with a German photographer who had flown in almost two weeks prior for the earlier attempt and had waited out the five-day delay in Roswell, a town of 48,000 whose cultural identity still revolves around an alleged 1947 brush with UFO wreckage. "You're bored?" the German said. "I'm bored! Ten days in the middle of nowhere. I want to go home to my wife."
It was 7 a.m., and the assembled reporters had been pounding coffee for three hours. We had been whisked by shuttle to the airport at 4 a.m. and were waiting to hear whether inflation would begin at all. The $150,000 balloon was 590 feet long, so large that it took more than four hours simply to lay it flat on the tarmac. It took another hour to fill it with helium. Once that had begun, there was no turning back. Because the polyethylene fabric used to construct it was so fragile—it's as thin as silk—it would only be good for a single use. This particular balloon was likely the largest ever put aloft with a person on board, and it was the last one available. Even a pinhole-size leak would have halted Stratos for six months.
Naturally, the moment made for great TV, and as the jump began to seem likely, camera crews were furiously reserving airtime with producers around the world. Red Bull media people updated us through a bullhorn and by notes on a whiteboard:
4:48 a.m.: Permission to unroll balloon.
5:34 a.m.: 30-minute weather delay.
6:07 a.m.: 30-minute weather delay.
Then, at 6:48 a.m.: "Inflation has begun!" Cheers followed, but this turned out to be a false alarm. Inflation had not yet begun. A TV producer from Austria berated a Stratos staffer. "You said it was inflating!" she shouted, walking away. "I have time booked in an hour. What do I do now?"
As we resumed waiting, I chatted with an AP photographer who, like me, had arrived the night before. "If he survives, I suppose he'll do a press conference," the photographer glumly said of Baumgartner. "There's no way I'm getting out of here tonight."
IN 1960, WHEN JOE Kittinger jumped from a balloon-borne open-air gondola and launched into the stratosphere at 102,800 feet, it was a different era for the aerospace industry. The Cold War was fueling a space race, and Project Excelsior—the research effort behind Kittinger's record-breaking jump—had been set up to test multistage high-altitude parachutes and to design pressurized suits that could help keep astronauts alive in outer space.
Excelsior was managed and paid for by the federal government. But as the space race heated up, Washington reallocated most of the funds for projects like Excelsior to NASA, which had been created in 1958. For years, Kittinger's records—highest skydive, fastest free fall, longest free fall—seemed untouchable. But then, in the early 1990s, several daredevils started plotting to do what Kittinger had never officially done: travel the speed of sound. By the time Stratos was launched, at least half a dozen missions had tried and failed to get off the ground.
Most notably, there was StratoQuest, which sought to put American skydiver Cheryl Stearns, the first female member of the U.S. Army's elite Golden Knights parachute team, in position for a supersonic leap. Another contender was Michel Fournier, a Frenchman who spent years raising money to support his project, Le Grand Saut (the Big Jump). They and others had big plans. What they didn't have was an energy-drink company willing to sink a fortune into getting them up to 120,000 feet.
To justify the expense, Red Bull needed to squeeze as much publicity out of Stratos as possible, which created a movie-set vibe around the launch site. Still, it was clear that this was a highly professional operation. Red Bull hired eight NASA contractors to build everything from the capsule and the pressurized suit to the helium balloons. Nearly everyone on the team, including Baumgartner, had a military background. The average age of the crew was in the high sixties, and they had decades of combined experience.
As Red Bull often does, it manipulated the media through a strategy of controlled scarcity. In the months and years before the jump, the company almost never granted substantial interviews with Baumgartner, except to the BBC and National Geographic, which had signed on to make a documentary about Stratos. Although Red Bull is based in Austria, it maintains a 105,000-square-foot North American headquarters in Santa Monica, California, and an entire media arm devoted to publicizing its athletes—everyone from skier Lindsey Vonn to motorsports daredevil Travis Pastrana. It also works with third-party public-relations firms, and navigating its PR apparatus can be like filing an insurance claim. I only scored a press pass at the last minute, with help from photographer Balazs Gardi.
None of those difficulties mattered once the inflation finally began, at 8:44 a.m. As a tanker truck pumped helium into the balloon, it suddenly occurred to everybody: it's on. In a flash, cynicism gave way to excitement, and when the capsule went up at 9:28, crew, family members, and friends on the ground began cheering. Everybody watched on seven flatscreen TVs positioned throughout the media center as Baumgartner gave a giant smile and a thumbs-up.
As the capsule rose toward the heavens, a technical problem emerged: the visor on Baumgartner's helmet was fogging. At mission control, there was a frantic effort to determine whether the jump would need to be aborted. The issue was that Baumgartner might have to free-fall blind for 30 seconds before he got low enough to open his emergency drogue parachute, which would function only in thicker air. The drogue would stabilize him, but it would also slow him down, ruining his chances of breaking the sound barrier. Baumgartner decided to go for it. As it happened, the visor didn't really cause him any difficulties.
The more critical danger came on the way down, when Baumgartner began spinning violently. Roughly a minute into his fall, as infrared cameras attached to a tracking vehicle followed his descent, he appeared to be on the verge of a deadly flat spin.
At that altitude, two types of uncontrollable flat spins can happen. In one, blood rushes to the limbs, depleting the brain's oxygen supply and causing a blackout. In a so-called redout, too much blood rushes to the head. That scenario is more serious: pressure inside the skull can become so intense that, as Baumgartner put it, the "blood has only one way to leave your body, and that's through the eyeballs."
At this point in the jump, there was nothing mission control could do but watch along with the rest of us. Baumgartner's drogue was set to automatically deploy if he experienced 3.9 G's for more than six seconds. It took him 33 seconds to hit his top speed of 833.9 miles per hour. Twenty seconds after that the spinning began, when he hit denser air. Because Baumgartner was in a pressurized suit, he couldn't feel which direction the wind was coming from. He had no way to know how it was hitting his body, and it was impossible to control his fall other than through anticipation. Baumgartner said afterward that it was like "swimming without touching the water."
Later, after analyzing the video, it became clear that Baumgartner had been spinning on every axis. When he regained control, by trial and error, the ground crew cheered. On camera his mother, who had never been to the U.S. before, wiped tears from her eyes.
AFTER BAUMGARTNER LANDED, NEARLY an hour passed before he was shuttled back to mission control by helicopter, one of four on-site. During the downtime, Red Bull's media people handed out printed schedules for 15-minute group interviews with the lead figures on the team: Baumgartner, Kittinger, technical director Art Thompson, life-support engineer Mike Todd, and the team's medical director, Jonathan Clark.
First, though, there was a press conference, streamed live by Discovery.com, that began with a recitation of preliminary stats from Baumgartner's jump. He had broken the record for the highest manned balloon flight, the highest skydive, and the fastest free fall. The record he didn't break was longest elapsed time for a free fall, because he fell so fast; Kittinger would still hold that at 4:36.
After the press conference, I spoke one-on-one with Thompson and asked him about the difficulties of playing up to the Red Bull publicity machine. He said that the crew had become so used to the cameras that they often forgot they were there. "Early on we said you can't play to the media, because that's how you kill somebody," Thompson told me. "But we've had the cameras on us for five years. After a while, it becomes very familiar."
Later, during our group session, I asked Baumgartner the same question. "It adds a lot of pressure," he admitted. "The development took so much longer because we had to build a flying TV studio for live transmission, and, of course, if there is a camera in my face all the time, it's not making my life easier."
As we were wrapping up, another journalist butted in to ask him what's next.
"I am officially retired from the daredevil business," he said with a smile. It's doubtful Red Bull is.                
Associate editor Ryan Krogh wrote about Olympic decathlete Trey Hardee in July 2012.
Trending on Outside Online