Heading out the door? Read this article on the new Outside+ app available now on iOS devices for members! Download the app.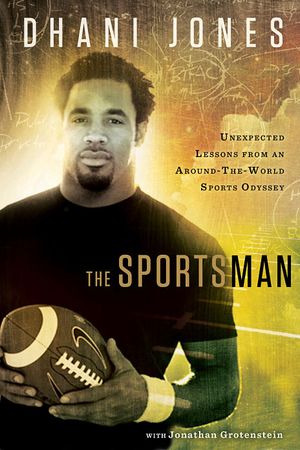 Courtesy of Rodale
His middle name, Makalani, is Hawaiian for "skilled at writing," so it's no surprise that Cincinnati Bengals' defensive captain Dhani Jones has a book out this month. In The Sportsman, he chronicles the 2008 off season, during which he traveled around the world for the Travel Channel television show, Dhani Tackles the Globe. For each episode, he spent a week in a foreign country learning an indigenous sport—from tossing the caber at the Scottish Highland Games to running the sand and surf gamut at an Australian lifesaving competition—before getting thrashed by the locals. "I came in last place in the 100-yard sand dash, barely completed the 600-meter swim, and literally fell off the men's double-ski," Jones writes of the Austrailian comp. In the book, each adventure comes packed with fitness advice, travel recommendations, and anecdotes from more than ten years in the NFL. Outside caught up with Jones to talk about his latest endeavor.
–Whitney Dreier
Describe the book-writing experience.
I've always been a writer. I've always been passionate about words and thoughts and how you assemble them together to make something substantial. The hardest part of writing a book is focusing on one theme and getting everything else through that vein. [Co-author] Jonathan Grotenstein and I just hit it off. He got me, he got my voice, he got my vision. He got the whole — not to be cliche — he got the whole enchilada. We vibed.
The book describes your sporting adventures, from Muay Thai boxing in Thailand to Schwingen in Switzerland. You must enjoy seeing new places.
Traveling has always been a part of my lifestyle. I want people to know that in the book. I want people to realize that we live in a great country — the best  country — however, there is a whole 'nother world out there, and there's nothing wrong with going to check out the rest of the world. Experience it.
Were local people responsive to your show and your attempts to learn their sports?
Most of the time people were accepting, but there were definitely uncomfortable situations at times. I had to understand that different countries have different cultures and different customs. I tried to go into it with a clean head and say look, this is what life is: Life is being a blank canvas and allowing the people around you to add color to it. You can go into a country with a colorful canvas, but don't let the colors on your canvas pollute the ones already there.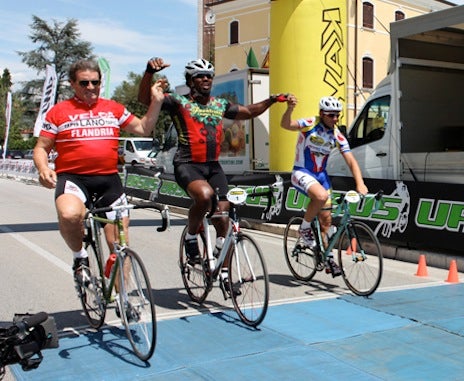 "I had never been in a bike race," says Jones, in Italy. "And I knew I wasn't going to win the Gran Fondo del Monte Grappa."
What sport did you find most difficult?
Going to Nepal was one of the hardest trips. All it was was hiking, but it was hiking at 19,000 feet. You don't realize how difficult that is and how challenging, how trying, how unbelievably tired you become.
Can you share some tips from the road?
1. Only pack what you need. And if you run out, wash it in the sink.
2. Always bring something to record your trip, whether that be a camera, a pen and pad, or some type of video recorder.
3. Follow the locals. You know what they look like. They know what you look like. If they don't look like you, follow them! Don't follow the people who look like you, you might as well stay at home.
On travel fitness?
1. There's no good fitness without good nutrition. You're not going to function if you don't eat well. If you eat bad, what's the point of working out? The eating's going to catch up to you. It's not difficult to have good food — even the restaurants are taking care of you: you can't go to a sushi restaurant and get regular soy sauce, you gotta get low sodium.
2. There's no good fitness without good sleep. If you don't have a good sleep cycle, you're not going to have a sustainable workout; you're going to fight against your body trying to become better. There's so many great jobs and businesses out there that allow for meditation and outdoor activities during the day. There's always an option, it's all about how you divide your time.
3. There's no good fitness without good thoughts. You have to have a positive mindset to create positive energy. If your mind's not in the right place, you're not going to accomplish anything. If you walk into the gym and you're like I hate this place, then leave. Being mentally clear, that's on you. You gotta take a little onus for yourself.
What do you hope readers take away from The Sportsman?
The book is about finding your passion and staying true to that. A lot of times we get distracted and feel compelled to live by another person's standard. It's important that you evaluate what you really believe is important to you — and live it. Just do it, cause it's your life, right? Fuck it, just do it. [Pause] I wish you could change that somehow — my mom's trying to get me away from the expletives.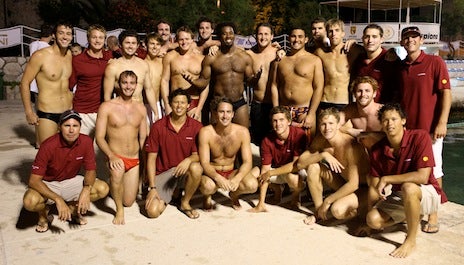 Jones attempts water polo in Croatia. "It takes a lot of damn work to beat my legs hard enough to keep my head above water," he wrote.
The Sportsman ($26) is due out June 7, wherever books are sold and at amazon.com.
Trending on Outside Online