'Eco-Challenge' Is the Adventure TV We Need
After a two-decade hiatus, the 'world's toughest race' returns at just the right moment—this time with Bear Grylls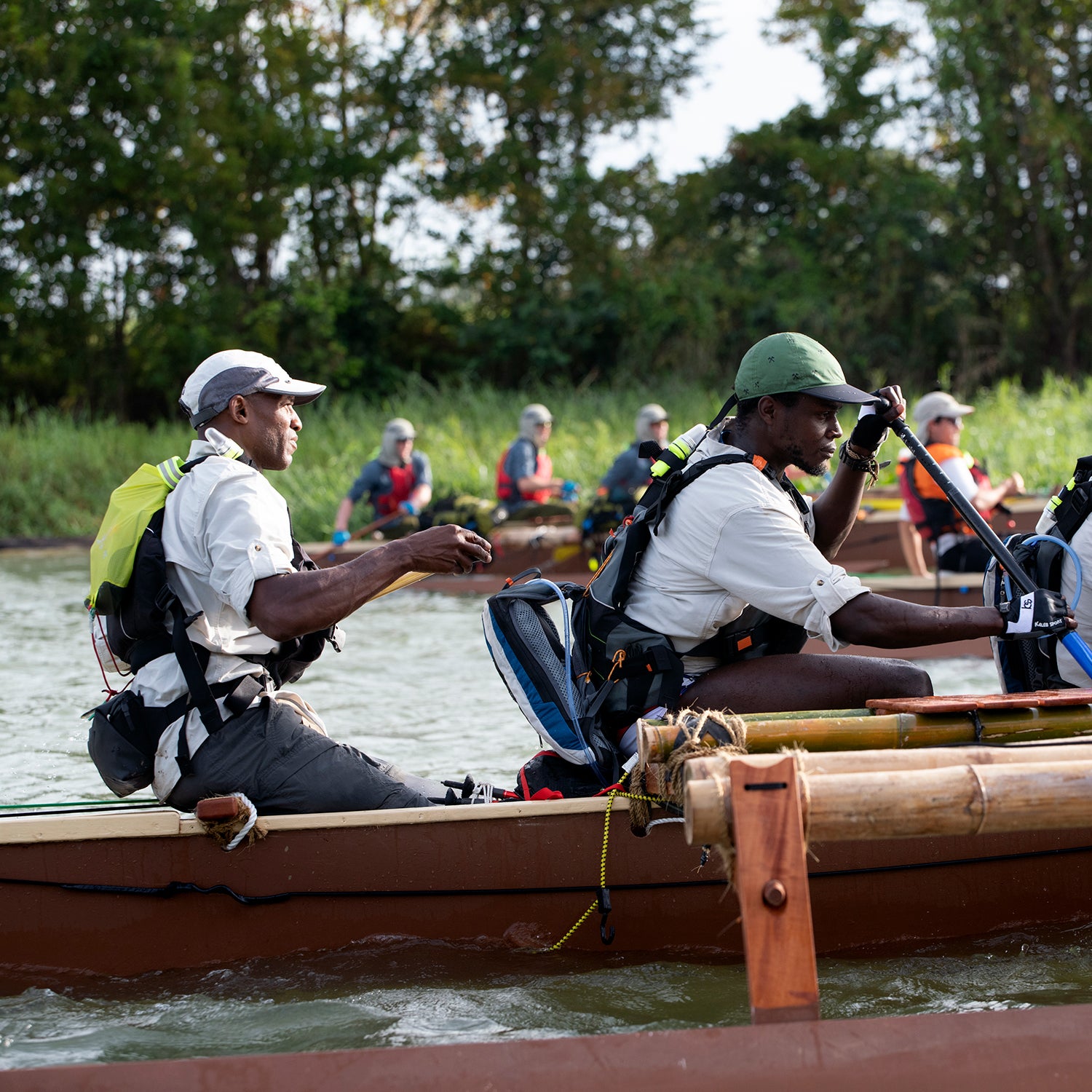 Poby/Amazon
Heading out the door? Read this article on the new Outside+ app available now on iOS devices for members! Download the app.
The Wainibokasi River flows languidly past tropical trees and taro fields for about seven miles across Viti Levu, the largest of Fiji's 300-plus islands, before it eases into the Pacific not far from the capital, Suva. On a muggy September morning, I've traveled here to watch 264 adventure racers from 30 countries gather near its banks. Overhead, a twin-engine BK 117 helicopter circles and then crabs in low. Bear Grylls, the survivalist and adventure-television icon, leaps out the door and into the sand.
Grylls, 46, carrying a daypack with a big knife strapped to the side, storms up onto a small wooden outdoor stage erected near the river. The racers gather round.
"You ready?" Grylls prods them, and the crowd explodes with glee.
Behind Grylls stretches a giant map that shows a cruelly twisted red line traveling across Viti Levu, with loops to outlying islands. It summarizes the suffering in store: the 417-mile-long course of the reborn Eco-Challenge, a race that's making its return to television in a ten-episode Amazon Prime series, World's Toughest Race: Eco-Challenge Fiji, that premiers on August 14. Each team includes five people—four racers and a support person—and those that make it to the finish will climb 30,000 vertical feet over as many as 11 days. And that's if they don't really sleep. The winning team will take home a $100,000 cash prize.
Grylls gives the field some racing tips—respect the wild, embrace the hurt, never leave a team member behind—before leading them down to the river, where traditional camakau outrigger canoes wait tethered to the shore. The plan is to paddle downriver and out to the Pacific, where racers will hoist a small sail for a 20-mile open-water push out to the island of Ovalau, which they must then hike around. From there, they'll sail back toward Viti Levu, freedive to collect a medallion hidden near a coral reef, then swap the canoes for paddleboards to push into Viti Levu's interior. Finally, a grueling 35-mile mountain-bike ride takes them to camp one, which they must reach in three days or be disqualified. That's leg one. There are five of these legs.
"It's going to punch them all in the face," Grylls told me earlier, when I asked him what he thought of the course. "I guarantee not all of them will finish. It's possible none of them will."
After some last-minute futzing, the racers hop into the tippy camakaus and await the signal to begin. A nervous energy crackles in the humidity. A drone buzzes overhead. Lisa Hennessy, an executive producer, approaches Grylls. "Time to rock and roll," she says.
"OK!" Grylls shouts. "Five! Four! Three! Two! One! Go!"
Airy, mournful notes sound from conch shells being blown, and the river erupts into action. Paddlers dig their blades furiously into the green water. One boat flips, then another. A pileup ensues. With the water a complete cluster, Grylls faces a camera and beams: "The world's toughest race is underway!"
If this sounds like a jacked-up version of a reality show you caught decades ago on cable, that's because it is. Between 1995 and 2002, Discovery Channel, ESPN, MTV, and USA Network broadcast Eco-Challenge: The Expedition Race, which had teams sprinting across extraordinary locales, from British Columbia to Borneo to Morocco. Created by former British army paratrooper Mark Burnett, it was the marquee event for the then blossoming adventure-racing scene and a foundational moment for modern reality television. Burnett, who is 60 and now chairman of MGM Worldwide Television, would go on to become the indisputable king of unscripted TV, creating Survivor, The Apprentice, and Shark Tank, among other shows.
For many viewers, Eco-Challenge was their first glimpse into the growing world of adventure racing, which saw a surge in interest during the late 1990s and early 2000s as weekend warriors yearned to use their outdoor toys to traverse exotic landscapes with friends. "Eco-Challenge was the show that put the sport on the map," says Jason Magness, the navigator for Team Bend Racing, an elite squad competing here in Fiji.
But then, in 2002, after eight editions, the Eco-Challenge went away. "Everything has a season," Burnett shrugs after I spot him observing the race start from under a large party tent and ask him why. But he says he always wanted to revive the brand, and now he has, nearly two decades since the last Eco-Challenge aired (that contest was also in Fiji). In the Netflix era, when so many streaming services are hungry for content, it's no surprise that Burnett had an easy time finding a buyer. "I knew word would leak about what we were doing," he says. "Once it did, distributors started calling."
What sets World's Toughest Race: Eco-Challenge Fiji apart from the earlier editions is the supersized scope of the endeavor. The course is bigger and much more demanding. The event and its broadcast budget are enormous; nobody will share numbers, but Burnett hints that it ranks somewhere between the Tour de France and Dakar Rally, the legendary international off-road race. Amazon alone gave each of the 66 teams $50,000 to buy gear and get to Fiji (the two Fijian teams used their money to fly to California, where they raided multiple REIs and bike shops for socks, hydration packs, and proper mountain bikes). Then there's Grylls, who brings star power as an executive producer and a high-octane host. He comforts exhausted racers in one scene and does a backflip out of a helicopter in the next.
But the biggest change of all is the technology behind the show. Each team carries a tracker for safety that also allows Grylls to pop into a race command post to see where everyone is at any given moment. GoPros, drones, and helicopters fitted with gyro-stabilized ultra-high-definition cameras capture the suffering up close. All told, the series will be the distillation of about a million gigabytes of footage. The production crew required is massive—about 700 people—and it includes indefatigable pros like lensmen Christian Pondella and Corey Rich. The ocean-safety coordinator, Colin Philp, built a boat and sailed it from Fiji to California with no navigational equipment, then sailed it back. Six of the camera operators have summited Mount Everest.
Having watched early screeners of the first three episodes, I can tell you this: Eco-Challenge is fun, it's gritty, and it makes the Ironman Triathlon look like golf. "It's the toughest, longest, most extreme, baddest adventure race in human history. Period. Nothing else even comes close," Grylls tells me. "We want to show people how incredible our world is, how beautiful, how extreme. For me, this isn't about the winners. It's about those who finish against all the odds. Those stories will make you cry."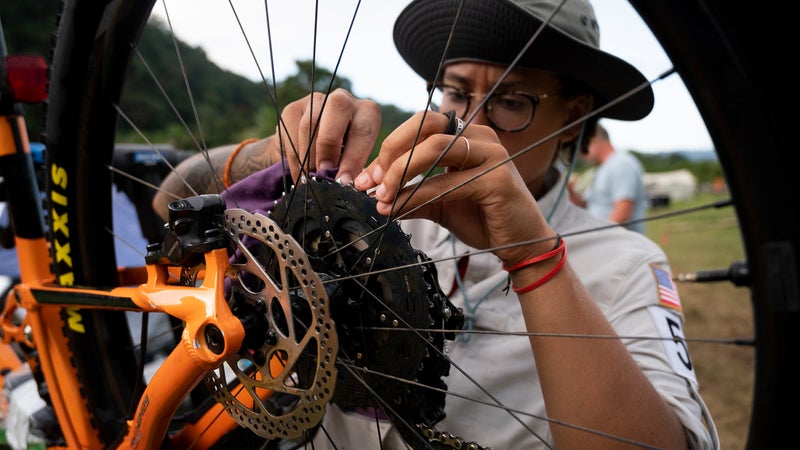 That's reality TV in a nutshell, of course, but Grylls isn't lying. The series' hyperemotional narratives are there to manipulate your sense of belonging—to a family, to a cause, to a badass group of unstoppable humans. There's the tale of Travis Macy, an ultracompetitive runner who forgoes a shot at the podium to race, slowly, with his lovable father, Mark Macy, an old-school Eco-Challenge legend who now has early-onset Alzheimer's. There are wounded veterans who'll break your heart, and a team of sexagenarians who grapple with the ravages of their years. Then there's Coree Aussem-Woltering of Team Onyx, an all-Black team, who packed a different Speedo to wear for each day of the race.
"What would not make someone smile other than some random Black dude running around in the woods in a Speedo?" asks Aussem-Woltering in the first episode.
The big question is whether viewers will binge-watch a series about a niche sport that had its heyday alongside Rollerblading. With millions of people stuck close to home waiting out the COVID-19 pandemic, the scenery of Fiji will certainly help. And according to media-tracking agency TV[R]EV, viewers have been watching more reality TV since the lockdowns began in March. Then there's the fact that sports fans are so hungry for entertainment. With pro ball teams competing in truncated seasons inside empty stadiums, an all-out coed race in the jungle offers an alluring alternative.
In Fiji, I'm only allowed to observe the first few days of the race, during which time Amazon handlers whisk me to various checkpoints around Viti Levu, which I accidentally keep calling "the set," making them cringe. Nothing is staged, they insist (OK, maybe that knife Grylls was packing). There are some hiccups. One of the camakaus breaks before the event even starts. A team gets pinned in a flooding canyon. The biggest surprise for me was learning that the racers must ride in vehicles for a portion of the route, for what my handler called "logistical reasons." (I later learn this isn't new—in the past, such breaks have provided opportunities for, say, a truck sponsorship.)
It's anyone's guess whether any of this will be enough to spur another race once it's safe to stage a mass-participant competition again. But for now, at least, an amped-up remake of an event that lets us vicariously escape into the wild? Pass the popcorn.