Not Your Daddy's Truck Farm
Heading out the door? Read this article on the new Outside+ app available now on iOS devices for members! Download the app.
https://youtube.com/watch?v=YGGUfYFdFrc%C2%A0
The Telluride MountainFilm Festival came through Santa Fe recently, and I had the opportunity to catch up with half a dozen terrific adventure flicks that I'd missed over Memorial Day weekend in Colorado. Going to see Mountainfilm always takes ten years off my life—in a good way. There's nothing like watching gung-ho athletes, explorers, and environmentalists chase hard after their dreams, to give you a shot of adrenaline and leave you thinking most everything is possible when you stop equivocating and just go for it. I left my daughters at home with a babysitter, but there were plenty of kids in the audience, and that in itself seemed like a genius move. The movies were thrilling, to be sure, but they also offered up a great model for pluck and perseverance, not to mention physical prowess and a large dash of ingenuity. Good lessons for adventurers of all ages.
My favorite flick of the night was "Truck Farm," in which a recent transplant to Brooklyn despairs of the lack of urban gardens and decides to plant his own—in the back of his 1986 Dodge pickup. Along the way, Ian Cheney (whose other documentaries include "King Corn" and most recently, "The City Dark") consults with other enterprising NYC green thumbs, including a woman who created an elaborate system for growing vertical window gardens, a green roof farmer, and the brains behind a sustainable barge parked off Staten Island.
A few months after he sowed his first seeds, Cheney had a bumper-to-bumper crop of broccoli, lavender, herbs, tomatoes, peppers and was delivering the first harvest of Truck Farm CSA shares to an uptown address and selling herbs to fancy organic chefs in Greenwich Village. Brooklyn itself functions as its own uber-hip character, a hotspot of homegrown, DIY creativity in the middle of the largest city in the country. If urban agriculture can make it there, it can make it anywhere.
"Truck Farm" propagates a compelling environmental message without being pedantic, thanks in part to the musical narration, which is sung in folksy hillbilly style in part by Ian himself, and jaunty graphics. I've sat through other hour-long enviro documentaries before that were well-meaning but unbelievably tedious. Not so Truck Farm. Though it was long past their bedtimes, the young kids behind me were laughing, not snoozing, right along with the soundtrack.
By the time the credits roll, you have enough practical know-how (put a root barrier down and a layer of styrofoam soil; don't forget to drill holes) to start your own Truck Farm. If you don't have a pickup at hand, most any other container will do. Like the kids at the end of the movie, who, inspired by Ian, planted gardens in empty milk cartons, old shoes, little red wagons, egg cartons, and bisected tennis balls.
Since Truck Farm debuted, it's spawned a mobile farming craze. Now there's a fleet of more than 25 truck farms nationwide. Last summer, Ian took the Dodge on the road, rumbling around the country rallying his fellow truck farmers, screening the movie, and meeting aspiring young micro-gardeners.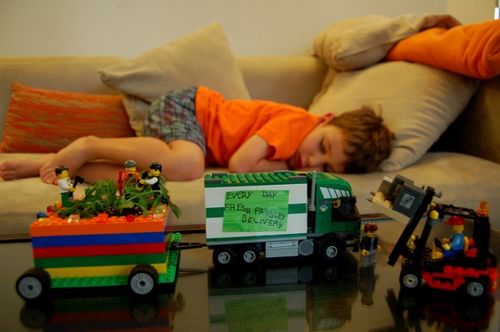 Lego farmer Ivan Skraabolo revels in his victory garden [credit: Truck Farm]
On-the-go micro gardening seems custom made for kids (even if they can't drive, or don't own a truck) and I was curious to find out what else Ian was doing to cultivate food independence in the youngest generation. Last spring, when Truck Farm announced its first gardening contest (judged by Michael Pollan and Alice Waters), more than 60 student groups stepped up to the challenge to grow their own produce in creative places; New Yorker Ivan Skrabalo won for his "everyday parsley garden" in a trailer built with Legos. And in January, Ian screened Truck Farm for elementary school kids on Oahu's North Shore, with hands-on gardening activities and a singalong with Jack Johnson.
  Oahu truck farmer
When I emailed Ian last week, he said that the original Truck Farm is "hibernating (with a broken window and a lot of rust!) on the streets of Brooklyn" until spring, while he readies for the relaunch of the Truck Farm website in March—packed with tons of tips and how-tos for mobile, micro urban farmers—and gets ready to kick off another kids' gardening contest. Stay tuned.
In the meantime, check out the website to get your copy of the "Truck Farm" DVD ($15) and ideas for getting kids inspired and involved. One of my nephews is turning eight this week, and I plan to wrap one up for him. Maybe next time I see him, he'll have some organic spinach to share from his portable garden on the back of his bike.
http://www.truck-farm.com
–Katie Arnold
@raisingrippers