User Profiles
We break down the best sites, Facebook and Twitter accounts, and apps for travelers, bikers, gear nerds, and more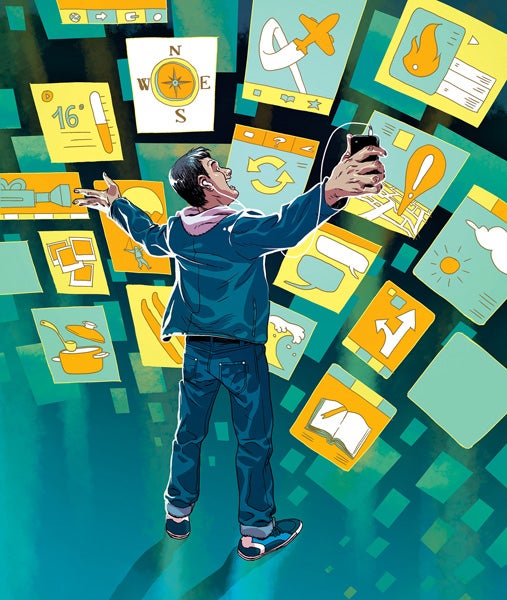 Asaf Hanuka
Heading out the door? Read this article on the new Outside+ app available now on iOS devices for members! Download the app.
There are close to a billion social-media feeds, more than 250 million websites, and 600,000 mobile apps. Whether you're a wanderer or an adventure athlete, these are the ones you need to know about. Plus: Five essential outdoor tech tools for explorers of all types.
The Adventure-Travel Junkie
You wear Blundstones at every occasion. You know exactly how many countries you've visited. You upload snapshots while sipping post-trek cocktails in Chiang Mai.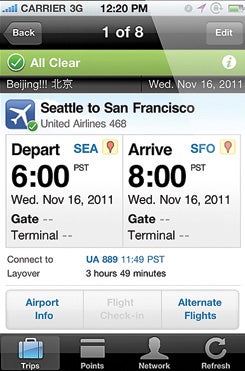 Twitter
YOU FOLLOW: @smartertravel and @adventuretravel for bulletins on deals, destinations, and gear; @explorersclub and @explorersweb for updates on professional expeditions as they happen; and @worldnomads for a veteran's smirking perspective on globe-trotting—e.g., "App connects those in need of a bathroom with locals willing to share one (Throne surfing?)."
Facebook
YOU LIKE: Adventure Journal for its always drool-worthy Weekend Cabin department; the Joy Trip Project for its culling of good-vibes outdoor-film clips, songs, and stories ("Loving Fleet Foxes The Plains/Bitter Dancer from the soundtrack of Sweetgrass Productions film Solitaire"); consumer advocate Christopher James Elliott for his informed postings on travel scams and controversies; New York Times writer and long-haul traveler Nicholas Kristof, who posts behind-the-scenes info about his weekly column; and Steve Fisher, who documents a lifestyle that's equal parts vagabond and huck doll.
Apps
YOU USE: Hipmunk for quick flight and hotel searches; TripIt Pro ($49 annual subscription) to stay on top of fares and flight delays; and GateGuru to make the best of any layover. Your mapping folder includes HG2 for slick city guides, Maplets for access to more than 4,000 local maps worldwide, and AroundMe to locate nearby services like banks, gas stations, and, naturally, bars. PackingPro ($3, and worth every penny) makes sure you always have everything you need, and currency converter GlobeConvert helps you avoid getting fleeced. TruPhone scores you cheap international calls via Wi-Fi ($13 per month, unlimited), plus free Internet calls to other TruPhone, Skype, or GTalk users.
Web
YOU BROWSE: Bing.com/travel for its Price Predictor, which forecasts when airline tickets will be cheapest; Travelzoo.com/airfare for the latest flight deals; and Gtrot.com for travel recommendations plucked from social media. For insight and inspiration: the Art of Non-Conformity blog, by the irreverent Chris Guillebeau, who's on a quest to visit all of the world's countries by 2013.
YOU SCHMOOZE: At guidebook publisher Lonely Planet's Thorn Tree forum and World Nomad's message board. (Recent query: What's the best dive operator in Marsa Alam? Answer: Diving Akassia.)
The Cycling Geek
You use the metric system and know your power output in watts. You linger in your Castelli cyclocross skin suit after riding, and you think Leadville is boring compared with the Vapor Trail.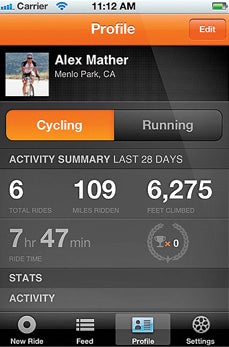 Twitter
YOU FOLLOW: @vaughters, Garmin-Cervélo manager Jonathan Vaughters, for unfiltered pro-cycling news; @lancearmstrong and his alter-ego, @juanpelota, if you still believe, and former Versus correspondent and noted Armstrong picador Neil Browne (@neilroad) if you don't.
Facebook
YOU LIKE: The off-color rants featured on Drunkcyclist.com; the Science of Sport for its news and analysis of doping scandals (as well as regular nutrition and training); Wilderness B = Wilderness with Bikes, fellow activists who demand that mountain bikes be allowed in federally protected wilderness areas. Occupy!
Apps
YOU USE: Wahoo Fitness, which turns your iPhone into an ANT+ bike computer; social training app Strava Cycling to share stats and compete for points and prizes with anyone who's done the same rides in your area; and the ultra-techy Bicycle Gear Calculator ($5) to fine-tune chainring pairings with crank length and tire width.
Web
YOU BROWSE: Elden Nelson's Fat Cyclist blog, which roasts sacred cows ("You do not want to ride with [Outside contributor] Bike Snob NYC … you will most assuredly be t-boned, run-over, mugged, and have your bike stolen"). For video, you turn to the motivational segments on Thesufferfest.com (motto: "I will beat my ass today to kick yours tomorrow") and to Cyclingfans.com for live feeds of all major pro races.
YOU SCHMOOZE: By swapping bare-knuckled bike reviews on the MTBR.com reader forums and kvetching on the Pinkbike.com message boards.
The Endurance Freak
You live to set new PRs at events, at races, and on local trails. Even more, you obsessively analyze and share training data.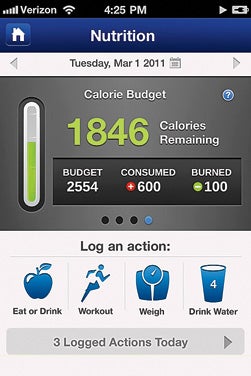 Twitter
YOU FOLLOW: @everymantri for the prolific stream of links to video, gossip, and triathlon news; Born to Run author @mcdougallchris, the guru of going barefoot, for dispatches on technique and running science; @lavamagazine and @3gomag for the sermons; and Ironman pro Chris McCormack (@maccanow) for hardcore encouragement (e.g., "always give 100 percent, unless you're giving blood").
Facebook
YOU LIKE: The well-curated fitness and nutrition links on Active.com, but you love the 620,000 other page fans who can help you crowdsource answers to nagging sports-injury questions (e.g., "I have a hip stress-fracture—advice?" which was fielded by somebody called Comfortably Numb); and Tough Mudder, the trendy enduro-challenge.

Apps
YOU USE: The iMapMyFitness suite, which records -workout stats along with walking, biking, or running routes; Tri-Essentials, which delivers daily push notifications that offer inspiration, training tips, and photos; and dieting app FoodScanner ($.99), which converts UPC-code phone-cam pics into a personal database of calories and ingredients.
Web
YOU BROWSE: Your old split times on Athlinks.com, which archives race results from thousands of events each year; Endurance Planet podcasts, which feature interviews with the best distance athletes; and ultrarunner Anton Krupicka's autobiographical Riding the Wind blog for its moments of Zen: "Spent all day filming around Rio. Quite the city and landscape. Shin was sore."
YOU SCHMOOZE: By debating training stats at Attackpoint.org and sharing GPS tracks with other Suunto users on Movescount.com.
The Gear Nerd
You just bought your ninth soft shell. You totally called the rise of 29er bikes and reverse-camber skis.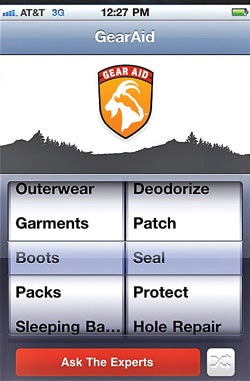 Twitter
YOU FOLLOW: @thegearjunkie, a.k.a. Outside contributor Stephen Regenold, an avid tester of everything from ski goggles to performance underwear to hiking sticks ("handsome staff!"); @coldsplinters, a.k.a. Jeff Thrope, whose classical tastes run to canteens and Norwegian welted boots; and technofied Aussie Amy Jurries, @thegearcaster, who recently touted a blog post on how to "order the perfect jacket
size from The North Face, using your webcam."
Facebook
YOU LIKE: Backcountry.com for frequent deals and free stickers, REI for more deals plus earnest tips (e.g., "Sleep-Warm Tricks for Cold-Weather Camping"), and The North Face for still more deals, plus a steady stream of film clips of their athletes in action.
Apps
YOU USE: Gear Aid, with step-by-step directions on how to clean, patch, deodorize, and re-waterproof just about anything; Uncrate, which dishes up pure product porn on whatever they find, from bourbon and bacon to gadgets and power tools; and Steep and Cheap, Backcountry.com's deal-a-day app for excess inventory.
Web
YOU BROWSE: Members-only discount site The Clymb and CleanSnipe, a one-stop aggregator of 50-plus gear retailers, including one-deal-at-a-time sites like Bonktown, big players like REI, and obscure specialty retailers like the Flip Flopper. For gear reviews, you troll OutdoorGearLab, which covers everything from avalanche beacons and climbing helmets to tents and helmet cams, and the Gear Institute, a new site cofounded by former Outside staffer Justin Nyberg.
YOU SCHMOOZE: By runging your way up the contest-like Leader-board at Backcountry.com, posting reviews and answering other users' questions. If you're into light hiking, you chitchat at Backpackinglight.com ($25 per year), where polite forum discussions revolve around chart-laden reviews of snowshoes and homemade gear.
The Supergreen
You write down your daily carbon output. You encourage houseguests who visit the washroom to "let it mellow." You named your first son Al.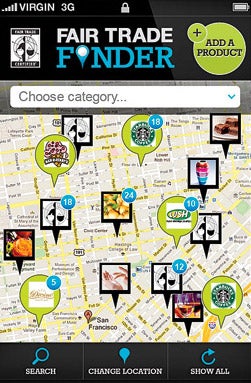 Twitter
YOU FOLLOW: Tim Hurst (@ecopolitologist) for the stories missed by the mainstream media; urban farmer @majoracarter and journalist @michaelpollan for sharp insight on the politics of food; and @drgrist, Grist blogger David Roberts, for his posts on energy policy: "U.S. 2020 climate treaty proposal isn't a delay—it's a death sentence."
Facebook
YOU LIKE: Extreme skier and activist Alison Gannett for her advice on growing winter vegetables and weatherproofing your home; the Nature Conservancy for inspiration and calls to action; and USFWS Climate Change, which is run by the U.S. Fish and Wildlife Service but takes gutsier stances than the EPA.
Apps
YOU USE: Green News as a bottomless ticker for environmental coverage from the major wire services; Fair Trade Finder to locate stores that stock responsibly produced products; Light Bulb Finder so you can pick the perfect Kelvin-scale light temperature for each room; and iScrap to find recyclers for those bulbs—or anything else—when they expire.

Web
YOU BROWSE: The obvious choices, like Grist, 350.org, and Andrew Revkin's Dot Earth blog, but also Slate's Green Lantern blog, where writer Brian Palmer gives the Myth Busters treatment to environmental questions; the website of the Guardian for its coverage of global warming rather than a debate over whether it exists; and the Real Climate blog for the pressing news that didn't quite grab headlines.
YOU SCHMOOZE: By responding to @billmckibben's tweets; organizing to feed the homeless at Care International's charity clearinghouse, Care2.com; commenting on Facebook posts from the Natural Resources Defense Council's comprehensive Switchboard blog; and creating petitions with the tools at protest site Environment.change.org.
Trending on Outside Online