The Daily Rally
Shannon Leone Fowler Accepts the Dark Side of Nature
After the ocean took away her partner, the marine biologist found a way to live with loss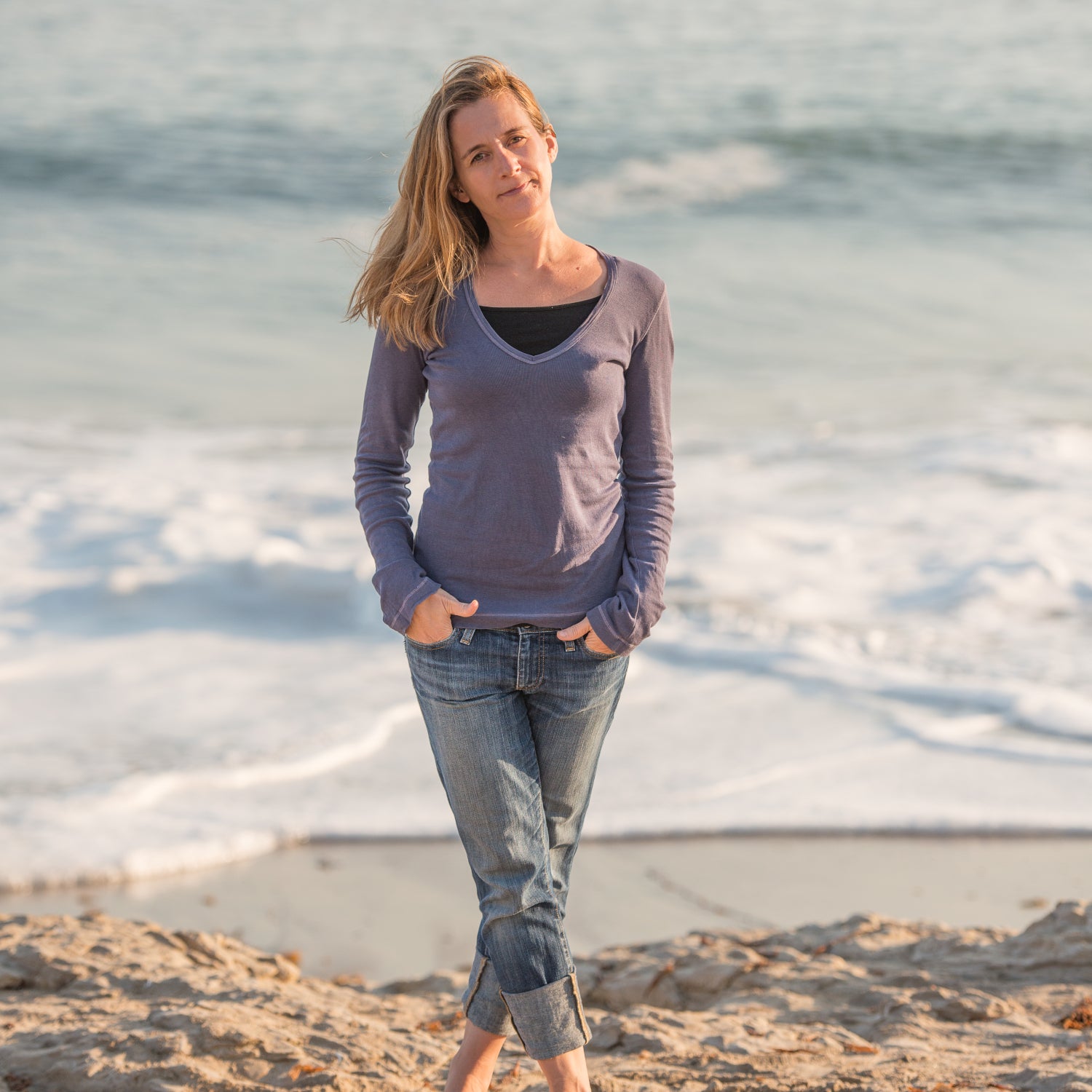 Courtesy Shannon Leone Fowler
Heading out the door? Read this article on the new Outside+ app available now on iOS devices for members! Download the app.
Shannon Leone Fowler shared her story with producer Tanvi Kumar for an episode of The Daily Rally podcast. It was edited for length and clarity.
We were in the water together. We were actually kissing. My legs were wrapped around his waist and he felt something. Something had bumped my thigh. He jumped and he dropped me and ran to the beach. Whatever had bumped my thigh felt big. It felt solid. It felt heavy.
My name is Shannon Leone Fowler. I am originally from California, and I now live in London with my three kids. I'm a marine biologist and a writer. I am currently studying seabirds in Alaska. I also write non-fiction.
When I was 28 years old, I was halfway through my PhD in marine biology. And my fiancé at the time, was named Sean. We had only just gotten engaged.
We ended up going to Thailand where he wanted to go. And we were on the island of Ko Pha- ngan. This is August of 2002.
We were in the water together. I thought a stingray had nudged me, and that Sean had stepped on it because my legs were wrapped around his waist, so they weren't touching the sand. So I thought he'd been stung by this stingray. I'd been with people who'd been stung by stingrays before, it's incredibly painful.
We went to the shore and he was sitting down on the beach, and he said that he was having trouble breathing and that his head felt heavy and he wanted me to go get help.
The light was fading at this point. It was about dusk. There was a bar not far down the beach, so I started to run for help and I turned back about halfway and he'd collapsed face first into the sand. That was the first moment that I thought, "This is serious."
A number of people followed me from the bar. We tried to do CPR, we tried to give him mouth-to-mouth. I was screaming for an ambulance. There was obviously no ambulance on Ko Pha-ngan, but he was taken in the back of a truck to a clinic. They worked on him for 20 minutes, and he was pronounced dead on arrival.
Sean was stung by a box jellyfish.
That was the end of my life in a lot of ways. I was a 28-year-old marine biologist. We'd been engaged for 10 days. I just had found out I was pregnant, which was a surprise, and we were still kind of wrapping our heads around it.
I could see my whole life with him and the kids we would have, and the grandkids we would have. Living in Australia together, and working as a marine biologist. And in an absolute instant, all of that was gone.
I miscarried four days later by myself in a hotel room in Bangkok, and I lost the ocean. I didn't know that I would ever get it back at that point. I had loved the ocean my entire life, and I [now] hated the ocean.
I didn't touch the water for a year. I didn't know if I would ever go back to marine biology. I didn't know if I would finish my PhD. It makes no sense. And I'm a scientist. I tend to be quite rational. But I felt betrayed by the ocean. I felt like I had given my life to the ocean, and the ocean had totally betrayed me.
I think America is a culture that doesn't deal with grief very well. We want to [turn it into a] cliché, we want to [give it] a silver lining. We want to slap a bandaid on it and think everything's going be OK. I found that very painful and very difficult when I was going through it.
I found myself in Eastern Europe, in countries that dealt with death and grief very differently, much more openly, much more matter-of-factly.
I went to Sarajevo in 2002. The city was very visibly scarred. There were buildings that were just demolished, still rubble. Some things had very intentionally been left that way. One of the things that Sarajevans did was fill in mortar blasts where people had died with red resin. And so you would see these cracks in the pavement, these small explosions, these scars in the pavement filled with red. They would call them Sarajevo roses. I think that is a beautiful and tragic way of remembering. You're not going to re-pave it. You're going to mark it. Every time someone walks by, they're going to know that somebody died there.
The way they dealt with the tragedy that they had suffered through was making it into art, making beauty out of grief. It was a bit of a turning point for me. Terrible things happen, but that doesn't mean that life can't be beautiful afterwards. It doesn't mean that for life to be beautiful, you can't acknowledge the darkness and the terrible things that have happened. And sometimes acknowledging the darkness is beautiful.
On the year anniversary of Sean's death, I booked a long weekend to Noosa in Australia, which is a surfer's place on the East Coast. I thought I was going to go in the water on the year anniversary. So I rented a surfboard, and I went in and I went under, and I came up and nothing changed. Somehow I thought on the anniversary, I would enter the water and I would be cleansed, I would move on. But I went under and everything was the same.
A couple of months after that, I went to Vanuatu and I went scuba diving for the first time since Sean had died. And there was one moment where all of a sudden I felt like I could breathe. There was a single inhale, and it felt like I'd filled my lungs for the first time in a year and two months.
It still took me a while to really want to be around the ocean. I think one of the things that probably helped is being a biologist. I study nature. And animals kill each other. It's part of what happens. And I guess I learned to accept that there's dark and light and that you can love the light and learn to deal with the dark.
I did finish my PhD. I do love the ocean again. I really do. It's a different kind of relationship. It's probably more realistic, more mature. I think a lot of us have probably loved things that have dark aspects. The ocean is incredibly powerful and something to be respected.
I try to not use words like move past or even recover from, because Sean's death has been incorporated into my life, and it's such an enormous part of who I am. There will always be this massive hole in my heart. I still think about him every day. I miss him every day.
I think my biggest lesson is that I feel that you have to find your own path through grief, and how you're going to live with that loss. In some ways I'm not going to be OK, and that's OK. If you had told me 20 years ago that I would be sitting here having an interview 20 years after he died and still not be able to get through it without crying, I think I would've found that devastating. I'm OK with that. It's just the way it is. Life, in my opinion, is not fair, and it's not always easy. Life can be beautiful and it can be devastating, and sometimes it can be both of those things all at once.
Shannon Leone Fowler is a marine biologist, writer and single mom of three young children. She currently lives in London and studies seabirds in Alaska. Her memoir Traveling With Ghosts is out now. You can learn more about her at shannonleonefowler.com.
You can follow The Daily Rally on Spotify, Apple Podcasts, Stitcher, or wherever you like to listen, and nominate someone to be featured on the show here.
Lead Photo: Courtesy Shannon Leone Fowler
Trending on Outside Online