How Instagram Became Divisive for Female Fly-Fishers
Some believe the platform has made the sport more accessible and lucrative for female anglers. But not everyone sees it that way.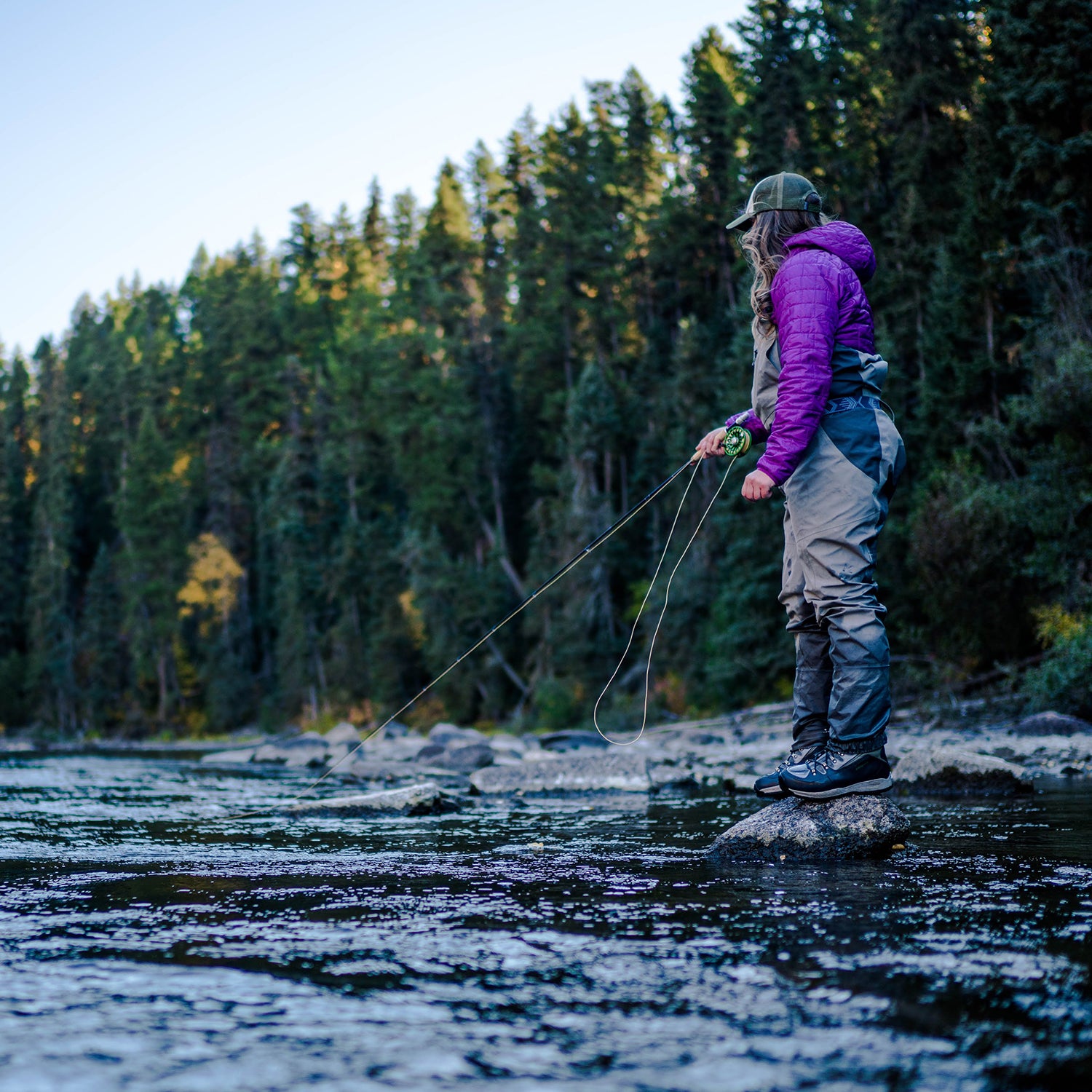 Heading out the door? Read this article on the new Outside+ app available now on iOS devices for members! Download the app.
Kate Watson kept seeing the same type of photo in her Instagram feed: a young woman holding up a fish some 30 feet from a shoreline with the hashtag #catchandrelease. "It was clear they caught the fish, walked to the camera setup, and, in their minds, released a safe fish," says Watson, a fly-fisher in British Columbia who guides for Northern Outback Adventures. "But it probably died," she says, referring to the amount of time the fish spent out of water. Much to her frustration, Watson saw professional teams signing on some of these women, who she considers good at Instagram but inexperienced as fly-fishers. Since she began guiding professionally six years ago, Watson has built a clientele and is now an ambassador for Hardy and Sawyer Oars. When she saw other anglers "fly through the ranks" solely because they had mastered Instagram, she became irritated. "It's all about the picture now and less about the skill," she says. "That's the problem—the social-media obsession." 
After a year, Watson decided to voice her opinion publicly. In December 2017, she published a candid blog post titled "Insta-Perversion," in which she wrote that "insta-famous fly girls" are "demanding to be heard in an industry that is anything but forgiving." Instagram, she argued, rewards sexualization, favors attractiveness over technique, and capitulates to stereotypical beauty standards. "Girls are pushing pouty smiles, long locks, and nice lighting, while 50 years ago, women were pushing their grit backed by their credentials," she wrote. "Here we have retrogressed into giving the industry what it has been promoting all these years, that beauty trumps skill set."
 
The post spread quickly. When Kayla Katayama, a guide in California, read it, she thought, This girl is preaching to the choir. But some women in the industry took offense. Jesse Paulsen, a new angler in Alberta, Canada, countered some of Watson's points in her own blog post. "I think it's completely unfair to assume that a woman doesn't know her shi*t [sic] in the industry, just because she doesn't look like a tomboy and likes to wear makeup or have her hair done nice, or uses a pink rod," she wrote. "It's getting frustrating that a few women in the community feel entitled to create this image of what 'real women in fishing' are supposed to look like and post about." 
Watson, it seemed, had struck a nerve.
---
As with most other adventure sports, Instagram is a huge platform in the fly-fishing world. There are currently 5.2 million posts with the hashtag #flyfishing. For many female fly-fishers, who seem extremely cautious about potential backlash over speaking out, Instagram is a double-edged sword. (Of the 18 women I spoke with, four expressed concern about how they might come across.)
On the one hand, Instagram can be a vehicle for sexism, harassment, and trolling—issues that extend well beyond the fishing realm. And because fly-fishing is so male dominated—only 31 percent, or about two million, of the 6.8 million fly-fishers in the U.S. are female, according to a 2018 Recreational Boating and Fishing Foundation report—women are often meticulously judged and picked apart. 
"It's hard for women to negotiate hypermasculine environments," says Miriam Liss, a psychology professor at the University of Mary Washington. "You become a token. All your activities are highly scrutinized, and if you mess up, it's seen as if all women are incapable of fly-fishing."
Yet many female anglers believe Instagram has helped attract women to the sport and have welcomed the platform. In 1986, when Fanny Krieger, who founded the Golden West Women Flyfishers in California, was starting her organization, she had to cull the database of her husband's casting school for names. Social media makes it easier for female anglers to find one another. "Now all these younger women, I noticed, they don't meet, they just talk together on Facebook or the Internet," she tells me. 
Many female anglers believe Instagram has helped attract women to the sport and have welcomed the platform.
Instagram has also arguably been a financial boon for these women. Guides with substantial followings frequently use their Instagram accounts to feature products—like swimsuits, sunglasses, and coolers—from the companies they work with. Alissa Vinoski, a certified captain who runs fishing charters, landed a spot on the Discovery Channel show The Fin Chasers after the owner of a production company scanned her Instagram page, where she mainly posts photos of Toyota 4Runners rolling through the woods and the 10.5-pound largemouth bass that won her a world record. 
Unsurprisingly, brands seem to be most interested in women who already have large followings. In the recruitment letter that Pelagic Gear sent to Michelle Dalton, an offshore sport fisher and now an ambassador for the company with 213,000 followers, the first two requirements to become a Pelagic Girl were: "providing a steady stream of photo/video content" and "actively posting on social media platforms." With such a significant emphasis on social, it seems unlikely the company would approach an angler with a minimal online presence, no matter how talented they are. 
Dalton—like some other female anglers—often posts photos of herself fishing in thong bikinis. She points out that flaunting her sexuality online can pay off. "Sex sells," she says. "There are days when I'm in full clothes, and those pictures get a fifth the number of likes." Patagonia and another major gear company told me a woman's appearance does not factor into their sponsoring decisions, but several female anglers complained that many companies vet beauty and popularity over talent. Dalton says that Pelagic Gear first solicited her by saying she exemplifies the "'ocean lifestyle' that it loves." 
---
Because of Instagram's business benefits, it's hard for female anglers to give up the platform. "It's one of those things where, if you aren't on it, you end up being buried and losing your presence," says April Vokey, who owns the guiding operation Fly Gal Ventures in British Columbia and hosts a fly-fishing podcast called Anchored with April Vokey. Kacee Bones, a guide based in Texas, deleted her Instagram account last spring after seeing too many negative comments. She had over 15,000 followers and relied on Instagram to market her guiding business and brand sponsorships. "Do I feel like my guide business is going to take a hit because I deleted my personal account?" she asked me, a week into her cleanse. "Hell yeah." She reactivated her account three weeks later.
And there's a certain pressure for female fly-fishers to maximize their platforms. Last April, Watson and Katayama, the guide in California, appeared on an episode of the podcast Barbless Fly Fishing called "The Sexualization of Fly Fishing." Chad Alderson, one of the cohosts, advised that as women and "custodians for your industry," they should boost their Instagram profiles. (Watson has a little over 6,000 followers and Katayama, an ambassador for Echo, has just over 3,000 followers.) "There's folks that are getting more likes and more followers than you, because you aren't using it as effectively as you could be," he said. The women seemed to politely agree. When I asked Watson about it later, she said she was surprised by the comment, since the discussion had been about the pitfalls of Instagram. Katayama conceded that Alderson made an "honest point" but that ultimately, social media isn't her priority. "My response to that was, 'I appreciate that, but I just want to go fishing.'"
  
Yet even female anglers who don't embrace Instagram continue to be heavily scrutinized in the industry, particularly for their bodies. Katayama recalled a man two years ago who heckled her on a river in Northern California about her ability to lift a boat given her small stature. Even during my own reporting, when I spoke to Steve Kantner, an angler writing a book on women fly-fishers, he told me that Joan Wulff, the pioneer fly-fisher, "really had a figure on her. Strong legs and stuff." 
Even female anglers who don't embrace Instagram continue to be heavily scrutinized in the industry, particularly for their bodies.
Hostility toward women fly-fishers spiked last spring when Orvis released a YouTube video as part of its 50/50 On The Water campaign to address gender disparity in fly-fishing. The video garnered over 458,000 views—its videos usually receive a couple thousand views at best—and more than 400 comments. These included accusations of pandering ("I hate when companies start virtue signaling…The most attacked person in America right now is the white, heterosexual, Christian, employed, male") and denunciations about the existence of a gender barrier ("This whole thing seems like a non-issue that you're making into an issue for the sake of having a cause"). The attacks got so bad that Orvis had to jump in the comments section with a list of rebuttals and defenses. 
 
Similar attacks have played out on the Instagram pages of female fly-fishers. Last March, World Fishing Network reposted a picture of Sara Salt, a member of the Pelagic Gear pro team. In the picture, she's squatting over the edge of a boat holding a redfish that's partially cropped out of the frame. The hashtag says #thisisfishing. Among other vulgar comments, one man wrote, "Nothing like a good old tasteful vagina shot for the gram." Vinoski, the captain on The Fin Chasers, reposted the image. In her caption, she wrote, "when in the world did THE FISH, the very thing that has catapulted many of these 'anglers' to 'stardom' and 'public figure'-ness not even deserve front and center recognition?" Her post received over 600 likes and about 300 comments, but it also invited slander toward Salt, who told me the incident made her feel like a pariah. Vinoski eventually deleted the post, not as a retraction, she told me, but because she could no longer control the comments. 
It was clear from my interviews that these women, understandably, have mixed emotions about Instagram. In January 2018, Watson posted a follow-up that included a brief moment of reflection: "More than a few of these particular girls who are or who are trying to be an insta-famous account have stopped 'liking' my photos," she wrote. "So maybe there were some hurt feelings." It seems difficult to talk about Instagram without a woman being called envious, insecure, or superficial. And now that the debate is happening publicly, the conversation has only spurred call-out culture—and will likely continue to do so. Perhaps this is why, before Watson's post went live, female anglers mostly discussed Instagram on the privacy of the water.
Lead Photo: Jared Zissou