This Adaptive Skier Wants Outdoor Sports to Be for All
Vasu Sojitra didn't let an amputation stop him from skiing or climbing. Now he's turning his attention to advocacy.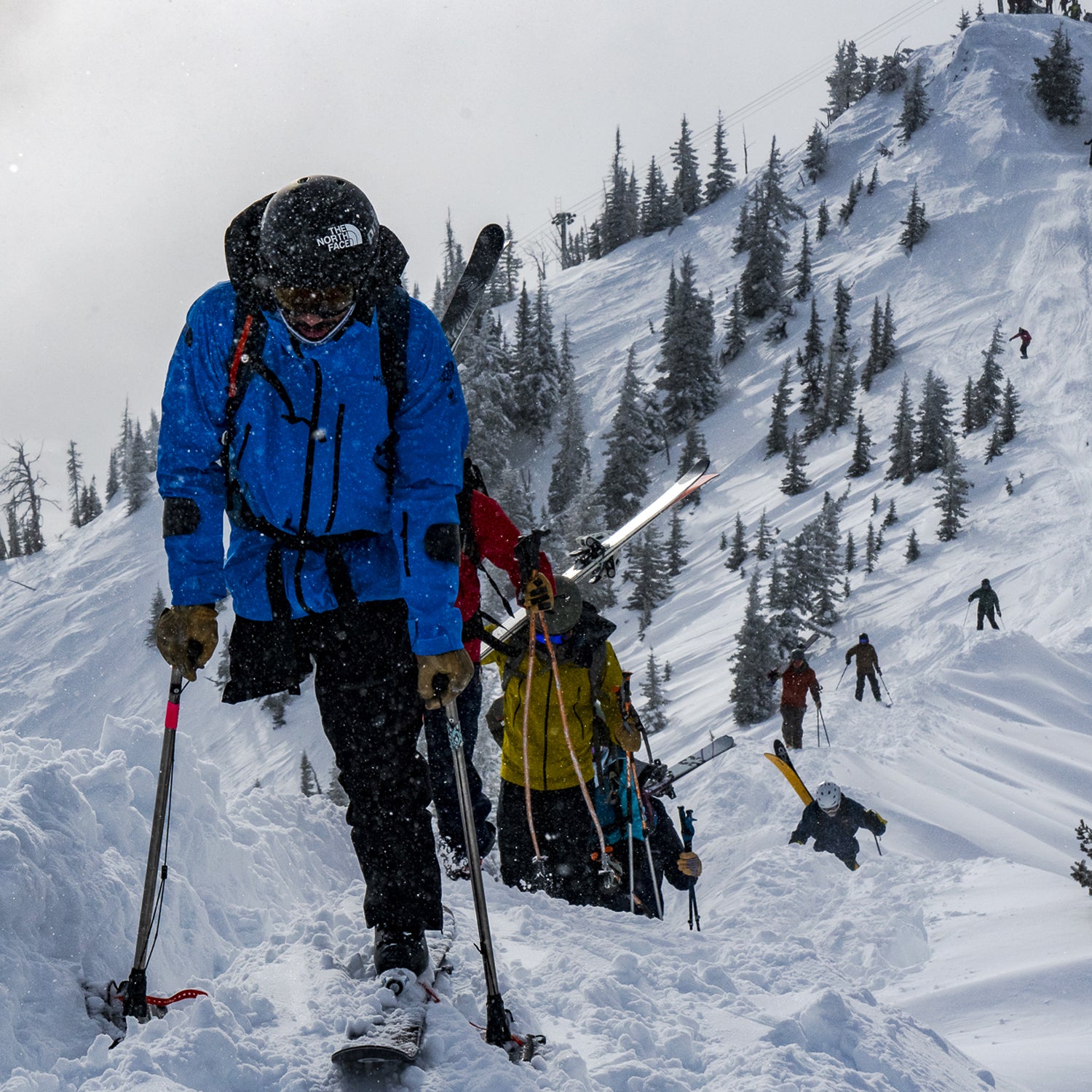 Heading out the door? Read this article on the new Outside+ app available now on iOS devices for members! Download the app.
When Vasu Sojitra was ten years old, he happened upon a fellow one-legged skier on a bunny slope at Ski Sundown in Connecticut. The stranger gave him some pointers and was gone as quickly as he'd arrived. Sojitra, now 28, remembers the serendipitous moment almost mythically. "Now that I look back, I don't even know if this is real or if I was dreaming about it," he says, laughing. 
One thing is certain: watching a one-legged skier crush it ("he was doing great, you know, for a Connecticut skier") taught Sojitra early on that it would be possible for him to excel outdoors, too. These days he's the first adaptive athlete on the North Face's elite roster of sponsored outdoorspeople. A passionate backcountry skier, Sojitra was the first person to land a 720 on adaptive equipment. (He now uses custom titanium ski outriggers, having broken just about every piece of adjustable equipment he's ever owned.) In 2014, he became the first amputee to summit the Grand Teton in Wyoming without a prosthetic limb.
Sojitra's athletic feats have netted him a following of nearly 34,000 on Instagram. He embraces the platform, posting videos of himself that get shared by the likes of Tony Hawk and discussing social and racial justice. There's a quote from the late disability-rights advocate Stella Young that Sojitra loves: "Disability doesn't make you exceptional, but questioning what you think you know about it does." He's a firm believer that it isn't disability that holds people back—it's the barriers and prejudices that others put up.
Though he was born in Connecticut, Sojitra lived in Gujarat, a state on the west coast of India, from age two to seven. When he was nine months old, a bacterial blood infection necessitated the amputation of his right leg just below the hip. During his childhood years in India, he constantly broke and outgrew his prosthetic leg; his parents were always shipping it back to the U.S. for repairs and replacements. 
One day in the third grade, after the family had returned to Connecticut, Sojitra's prosthesis buckled beneath him. He bashed his face open on the corner of a desk and was left bleeding into his hands in front of his classmates. After that he swore off prostheses for good.
Sojitra dove stubbornly into sports as a teenager. When he was ten, he got a $15 purple skateboard from Walmart and learned to keep up with his brother—who was older by almost two years and not an amputee. "I was just teaching myself all of these things," Sojitra says. "No video out there teaches any kid with a disability how to do a trick or go skateboarding." 
He figured out how to ski and skate using standard forearm crutches in lieu of special adaptive equipment. The boys' parents shuttled them to ski resorts in the winter, and Sojitra became so passionate about the sport that, after high school, he chose to attend the University of Vermont so he could continue to ski while earning a degree in mechanical engineering. 
He interned with Vermont Adaptive Ski and Sports at Sugarbush Resort, then got a postcollegiate job at Eagle Mount Bozeman, in Montana, which provides outdoor-recreation opportunities for people with disabilities and children with cancer. Sojitra currently works as the nonprofit's adaptive-sports director, and he heads up the ski program. 
But don't assume his passion is teaching people with disabilities how to get down a snowy mountain. "This is not about skiing," Sojitra says. "This is about building self-esteem and self-awareness and connecting the slight freedom that we might get from skiing to our daily lives."
That philosophy has inspired Sojitra to focus on work for racial equity, too. In 2017, he helped launch Earthtone Outside, a collective that helps diverse outdoorsy people find friends and mentors in Montana, where he lives and works. The group coordinates hikes, climbing, sledding, anything—all that really matters is building a community to feel safe in. The organization became a registered nonprofit last year. 
"This is about building self-esteem and self-awareness and connecting the slight freedom that we might get from skiing to our daily lives."
In December, Sojitra helped coordinate an ice-climbing clinic led by and for people of color at the annual Bozeman Ice Festival in Hyalite Canyon. He collaborated with Don Nguyen, founder of the western Washington nonprofit Climbers of Color, which promotes diversity, equity, inclusion, and justice in alpine climbing. Nguyen, who has been climbing for 20-odd years and guiding professionally since 2016, admits he had "never heard of anything like it."
In an Instagram post, Sojitra celebrated the accomplishment, which drew participants from across the country. "Who knew people of color ice climbed?" he wrote, rhetorically. "We f$&king did!"
Sojitra's advocacy is driven by the daily barrage of threats and racism he knows that people of color like him can expect in mountain towns like Bozeman, which is 92 percent white. He has a complicated relationship with his adopted home. After all, Bozeman is where Sojitra jump-started his athletic career and honed his advocacy work. Parts of the community have welcomed him with open arms: he met renowned alpinist and longtime Bozemanite Conrad Anker at the climbing gym, through Eagle Mount connections. Anker, a North Face team captain at the time, was impressed and brought Sojitra into the fold as a sponsored skier in January 2018. 
"He was optimistic and very clear in who he is and what he talks about," says Anker, who has since stepped down from the role of captain but continues to be involved with the brand. "There's not a lot of social-media varnish to him—he's pretty real."
Sojitra knows that his outspokenness about racial and social justice can ruffle people's feathers. He is undaunted, but he's not immune to it: each morning, before leaving the house, he takes a quiet moment to "put on a shield, just to make sure that I'm staying vigilant.
"It's a scary thing," he says. "It's a weird thing. A lot of people are not educated about racism and how to talk about it, which is fine—but there's a lot of resources out there."
Mo Beck, a fellow adaptive athlete with the North Face team, says Sojitra definitely "makes noise" with his advocacy. Though Sojitra technically inked the company's first adaptive-athlete contract, he and Beck joined the team at around the same time in 2018. They've helped each other navigate the new experience of being a professional athlete, which they say is complicated by having disabilities—and also by the fact that Beck is female and Sojitra is Indian-American.
In Sojitra's headshot for the North Face, he's grinning ear to ear. Hovering above the bottom frame, you can see the collar of his shirt, a traditional top from the Indian town of Upleta. "I figured it would be kind of a statement," he says. "I like to disrupt complacency. Hopefully it works and helps create some sort of conversation or action. Sometimes it works, sometimes it doesn't. Whatever. I'll keep trying." 
Lead Photo: Jason Thompson