Elevated Consumption
These five chefs from Colorado are realizing that there's no better pairing than fine cuisine and high-altitude fun.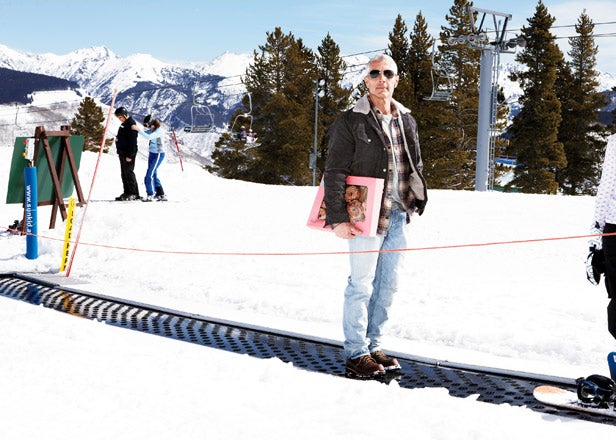 Ture Lillegraven Styling by Michael Kucmeroski
Heading out the door? Read this article on the new Outside+ app available now on iOS devices for members! Download the app.
A great meal in a mountain town used to mean a decent burger. But now top chefs—like these five masters from Colorado—are realizing that there's no better pairing than fine cuisine and high-altitude fun.
Locavore
Mark Fischer has ridden the Leadville 100 on a single-speed (twice), skied from Crested Butte to Aspen in the Elk Mountain Grand Traverse, and finished two Ironman triathlons. But he's received the most recognition in the kitchen. Not only has the James Beard Foundation Award–nominated chef founded two of Carbondale's most beloved restaurants, Six89 and Phat Thai; he's also largely credited for energizing the eat-local movement in the Roaring Fork Valley, thanks to Six89's weekly "100-mile" (as in radius) dinners. "Nine times out of ten, what we can buy right here is gonna taste better than that which comes freighted from some other time zone," says the 52-year-old Fischer. Next up: This December, Fischer plans to open an American eatery, the Pullman, in Glenwood Springs.
New Crewneck by Gap ($17; gap.com); Fjord Flannel Shirt by Patagonia ($85; patagonia.com); Cord Sherpa Trucker Jacket by Levi's ($90; levi.com); Rugger jeans by Gant ($148; gant.com); 8131 Classic Mocs by Red Wing ($230; rwleatherboots.com); Madison sunglasses by Bollé ($110; bolle.com)
Rahm Fama
Rising Star
Rahm Fama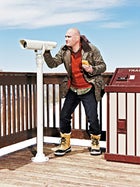 Rahm Fama
Rahm Fama has always had a "fascination with meat." At nine, his grand­father taught him how to slaughter a lamb, on his family's ranch in Chama, New Mexico. Today, Fama wants to teach the rest of us to savor our food. "We eat because we have to," says the 36-year-old. "But how many meals do you actually remember? That's why I became a chef." For the past four years, Fama crafted unforgettable elk, antelope, and even rattle­snake dishes as the executive chef of the Wildflower, the restaurant at the Lodge at Vail. But you can now experience his cooking in your own home: In September, he debuted his show Meat & Potatoes on the Food Network.
Plaid 100 percent cotton button-down ($260) and Military Goggle Jacket ($1,345) by C.P. Company (cpcompany.com); Howelsen Half Zip Sweater by SmartWool ($110; smartwool.com); Rugger corduroys by Gant ($125; gant.com); Caribou boots by Sorel ($110; sorel.com)
Clint Ketchum
High Rider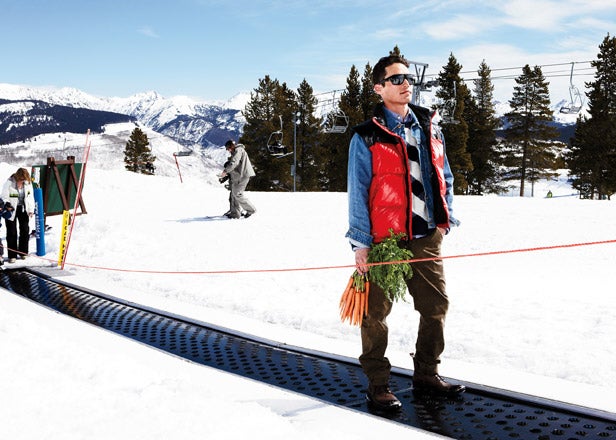 "My parents never approved of me being a chef," says Denver native Clint Ketchum, "but food was my passion, and I did what I wanted." After working his way up the line in some of Colo­rado's swankiest eateries, including Denver's award-winning Papillon Cafe, Ketchum is now the chef de cuisine at Breckenridge's Relish. And while he manages to snowboard some 120 days a year, his biggest rush still comes from serving up locally sourced buffalo, lamb, and trout to diners at this upscale but unpretentious joint. "We have an open kitchen," the 31-year-old says. "It's one of the best feelings, to see a table that's really loud and having a good time go dead quiet when the food arrives."
Rugger poplin plaid shirt ($125) and Rugger wool argyle sweater ($175) by Gant (gant.com); Well-Worn Denim Jacket by Gap ($80; gap.com); Nuptse Vest by the North Face ($125; thenorth­face.com); Jack Waxed Cotton Pant by Billy Reid ($255; billyreid.com); Boggart boots by Børn ($145; born­shoes.com); Dispatch sunglasses by Oakley ($120; oakley.com)