How to Make Coffee Like a Pro (Marathoner)
What happens when four pro athletes start a coffee company? They channel their athletic drive for greatness into producing the best coffee on the planet.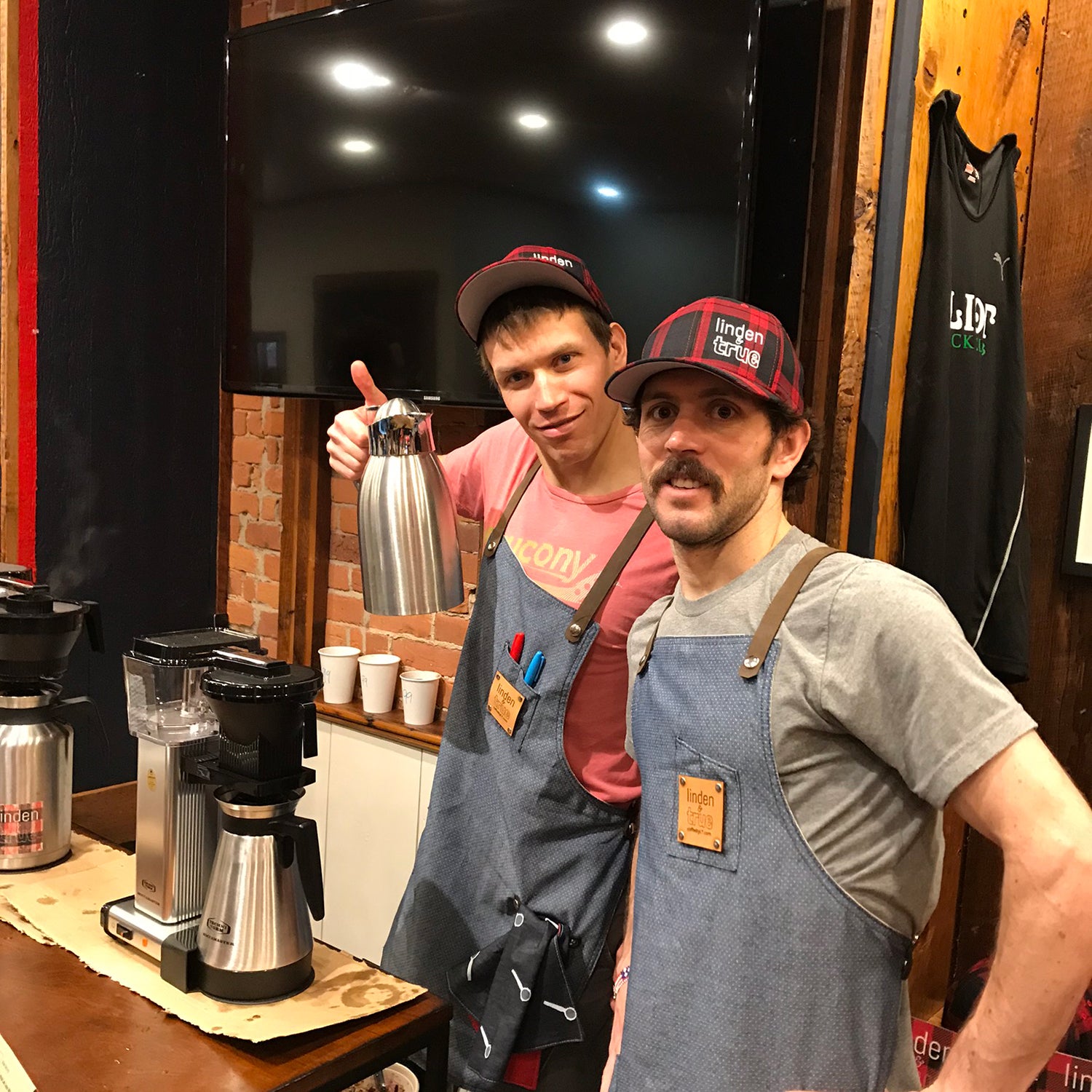 Heading out the door? Read this article on the new Outside+ app available now on iOS devices for members! Download the app.
Dunkin' Donuts may claim that "America runs on Dunkin'." But America's runners? They run on Linden and True. In fact, last month's historic Boston Marathon win by Des Linden was fueled by a cup of Linden and True coffee brewed by her husband, pro triathlete Ryan Linden, and business partner and pro runner Ben True.
The idea to start the coffee company, which opened last month, came about after Des Linden and Sarah True (Ben's wife, an Olympian and pro triathlete) were kvetching about their husbands' coffee obsessions. "When I get interested in something, I go full-on in and nerd out about it," says Ben, adding, "My wife believed I was going well beyond a normal obsession."
The women set up a "brewmance" date for their husbands, and the two immediately hit it off. Soon they were plotting their business venture.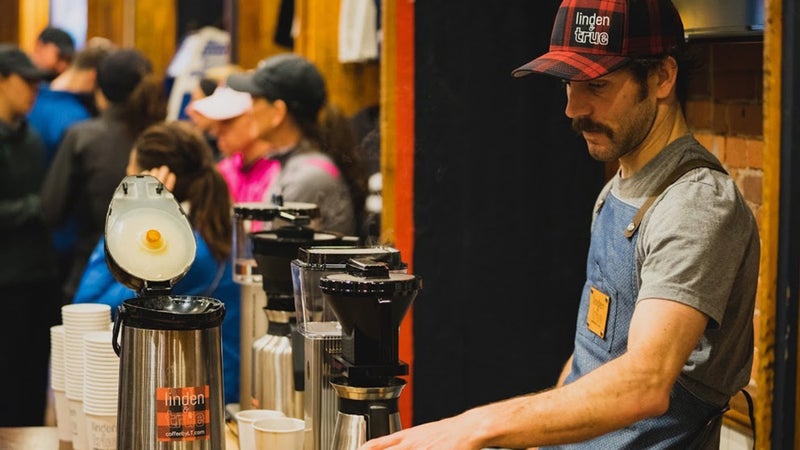 Linden and True isn't trying to become the next Starbucks. Right now, the four business partners are all also full-time pro athletes, so they're purposely keeping things low-key. "We are buying micro-lots of coffee," or small amounts of premium beans that are sold by importers, not bought in huge quantities on a commodity exchange, explains True. In essence, they're buying only the best of the best stuff.
The bags of beans are delivered to the business partners' respective homes, where Linden and True each have their own roasting equipment. The Trues live and train in New Hampshire, while the Lindens call Michigan home. They roast the beans only until what's called the "first crack" stage or just slightly beyond it. This is a lighter roast than you might find at most monolithic coffee companies, but it allows the nuances in the bean to shine through. "The further past second crack [the next roasting stage] you go, the more your coffee tastes the same," Ben True says. That's because what you're really tasting at that point are the caramelized fats and sugars in the bean, not the actual beans. It's how big chains make sure the cup you get tastes exactly like the one you drank two weeks ago—but it means you're losing a ton of flavor and nuance in the process.
First-time Linden and True drinkers might be surprised by the coffee's "brightness," as coffee connoisseurs call it, a desirable trait despite tasting a touch like acidity. The lighter roast leaves the fruit and floral flavors intact, explains True. You might not need cream or sugar, either, since a lot of the super-bitter notes you're used to come from roasting the beans beyond recognition. "We ask that you try it first without cream or sugar to see what it's supposed to taste like," True says. "After that, you can drink it however you want."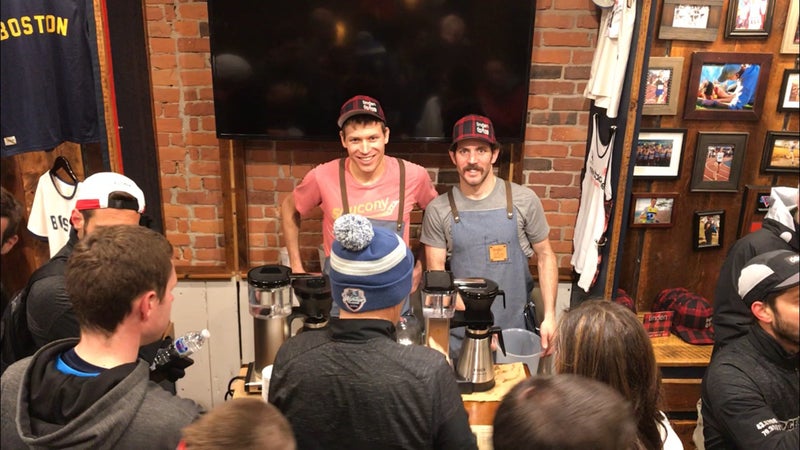 Right now, the company is accepting founding member subscriptions: For $350 a year, you get a monthly coffee delivery, plus monthly video chats with all four athlete owners and 15 percent off all future orders. As they have time, they may add more single-purchase bags to their site, but none of the athletes are quitting their day jobs just yet.
How to Make the Perfect Cup (According to True and Linden)
Grind your beans right before brewing. Within two hours, ground beans have lost some of their flavor, says True.

Filter your water for best results. "Coffee is 98 percent water. If your water tastes bad out of the tap, it's not going to make a good cup of coffee."

Use the right tool. True recommends a V60 pour-over setup. He also suggests getting a burr grinder instead of a blade grinder, which doesn't grind coffee uniformly.

Get your ratios right. If you prefer a light roast, True recommends adding a bit more water, so a 1:16 coffee to water ratio is perfect. For dark roasts, use a 1:13 coffee to water ratio. To figure out how much coffee you need, he recommends working by weight and using a digital scale.

Check your water temperature. Lighter roasts can handle hotter water; 205 degrees is optimal. Darker roasts are better at 190 degrees, True says. To get to 205, boil your water, and then let it sit off the heat for three minutes. For 190 degrees, let it sit off the heat for five minutes.

Bloom your grounds. Pour a small amount of water into your filter and let it rest for 30 to 50 seconds. "This allows the coffee to get saturated and releases the carbon dioxide in the beans."

Time your brew. It should take about three minutes for the water you drip over your cup of pour-over to filter through the coffee grounds and fill the cup. If it's done in 2:15, you know your coffee is too coarse, because the water is draining too quickly. If it takes five minutes to finish, you're grinding your coffee too finely.

Sip, enjoy, repeat, and maybe go for a run. Based on Des Linden's recent performance, this stuff is rocket fuel.
Lead Photo: Courtesy Linden and True Coffee