The Sangre de Cristo Range Is Not for the Casual Hiker
With 43,000 feet of elevation gain, 91 miles above 10,000 feet, and 63 summits, the route is not to be taken lightly. Brendan Leonard recounts one of his favorite adventures from the past decade.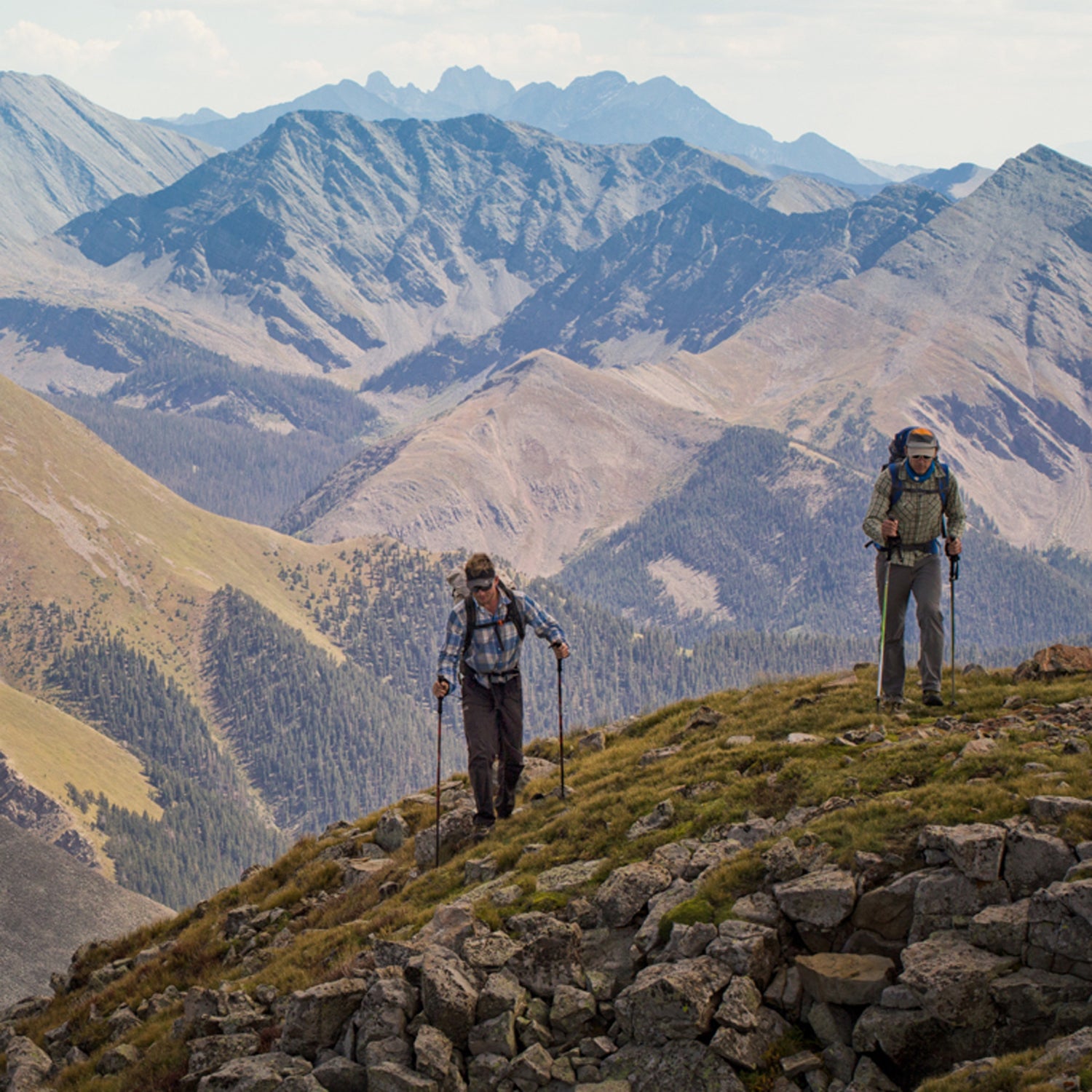 Jim Harris/PerpetualWeekend.com(Photo)
Heading out the door? Read this article on the new Outside+ app available now on iOS devices for members! Download the app.
This is the tenth year of my blog at Semi-Rad.com. Since I started it, I've been fortunate to get to go on some pretty wonderful adventures. Throughout 2020, I'll be writing about 12 of my favorites, one per month. This is the third in the series.
It seems like the most obvious question when you look at Colorado's Sangre de Cristo Range from the west side: I wonder if anyone's walked across that from end to end? 
I had first seen the mountains from the San Luis Valley in 2006, staring out the passenger-side window of my friend Nick's pickup as we drove back to Denver after skiing at Wolf Creek. For an hour and fifteen minutes, driving on Colorado Route 17 from Alamosa to Poncha Springs, you parallel the mountains, looking up at them from the valley floor at about 7,600 feet, counting dozens of summits above 12,000 feet, all the way up to 14,345-foot Blanca Peak. And that's what I thought: I wonder if there's a way across those mountains? 
So I went home to think about it for several years, every once in a while pulling out a map, the National Geographic Trails Illustrated Sangre De Cristo Mountains 1:75,000, running my finger along the spine and not seeing too many topo lines bunched up, indicating steep ridges. Seemed like it might go on foot, maybe, without roped climbing. I spent some time poking around on the internet to see if there was any information about it but couldn't find anything. Maybe someday I'd give it a shot.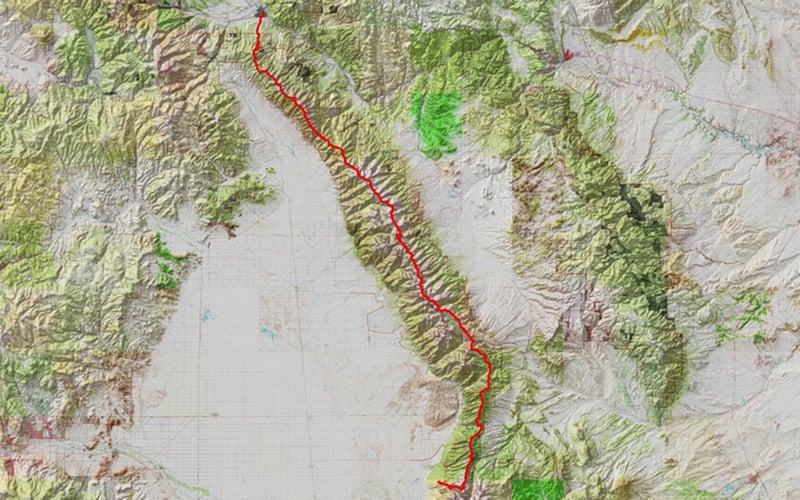 When Jim Harris and I walked out of a friend's driveway in Salida, Colorado, in September 2013 to start trying to find a north-to-south route across the Sangre de Cristos, we had spent about eight hours together total: one brief chat at a booth at the Outdoor Retailer trade show, two breakfasts at the Park Café in Salt Lake City, an hour and a half at a coffee shop near Park City planning this trip, and a couple hours assembling gear and food the day before our departure. I didn't know much about him, but I did know he had survived a 33-day backpacking trip in Wrangell–St. Elias National Park, so he would probably not be too worried about a trip along the spine of a mountain range with multiple bailout points on either side to a highway less than ten miles away. 
We figured the trip would take somewhere from eight to sixteen days: it looked to be about 100 miles, with 50,000 feet of elevation gain (a ballpark guess based on a rough line I'd drawn on an online mapping program). We split the food in half, arranging with one of Jim's friends, Max, to resupply us for our second half at the South Colony Lakes Trailhead. 
I had pitched the trip to a magazine, thinking it would make a good story, since we were making our own route across the Sangre de Cristos. I think we could have argued that we were the first to do it, but I was pretty sure that somebody out there had to have done it already. I mean, it's Colorado, home to five million people, and the idea seemed so obvious and intriguing, it just had to have been done before. The fact that I'd been unable to find information on the internet was good for the adventure factor of our plan but wasn't irrefutable evidence that we were pioneers of any sort. 
I think we could have argued that we were the first to do it, but I was pretty sure that somebody out there had to have done it already.
We hiked up a service road at the north end of the range, to the top of an unnamed 11,695-foot peak with communication towers on top, still below tree line. It was a mellow beginning to the traverse, which we knew from that point onward would be mostly off-trail. For a minute, we discussed walking over to the top of Methodist Mountain, the northernmost summit of the range, and then decided against it, as dark clouds started to build to the west. We headed south along the ridge and soon encountered an enormous maze of deadfall, requiring jungle-gym moves to get under, over, and around. I joked, "I really thought it would take longer for this whole thing to feel like a bad idea," as we crawled through the mess. Finally, the maze ended, and we picked up a faint trail just below the ridge and walked it, stopping at about 6:30 P.M. at a two-inch-deep water feature marked on the map as Salamander Lake. The rain picked up, and thunder started to rumble. 
We ate dinner, settled into our two-person tent, and I fell asleep with that not quite complete relief you have when the planning's over and you've finally started into the Big Thing but you've only just started and don't have any idea what the next days will bring or how many of those days it will take you.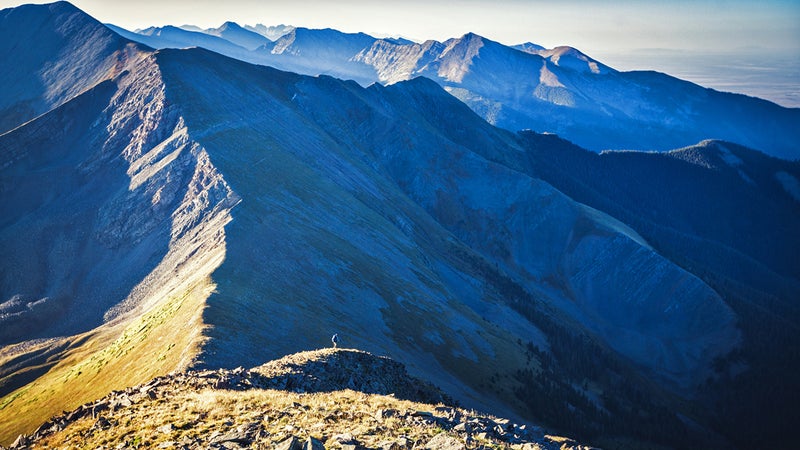 We had packed as light as possible: one sub-four-pound tent, ultralight sleeping pads, only one cell phone between us (to update our girlfriends every once in a while when we had service and to text Max our ETA for the food-resupply meetup), one pair of pants each, the bare minimum of everything else. 
For the magazine article, I was supposed to record a GPS track of the entire trip. I didn't own a GPS, though, so the magazine sent me one, advising me that at the rate of recording every 0.01 mile, it would go through two AA batteries per day. So on top of all that ultralight strategy, I had 14 AA batteries in my pack, or about 12 ounces of batteries, plus a battery pack, which weighed seven ounces, to keep our one cell phone charged but which also could be recharged using a hand crank on the side of the battery. (Fully charged, it could re-up one iPhone to about 90 percent, but once I realized that five minutes of hand-cranking the battery produced approximately 1 percent of phone-battery charge, I turned the phone off for the entire trip, only turning it on to text once a day on top of a peak where we had a signal.) Jim was carrying a Canon 5D Mark III with a couple lenses, so I didn't complain. 
We were up at 5 A.M. on the morning of day two, scarfing oatmeal and instant coffee by headlamp and hiking again by 6:30. We tagged the summit of Simmons Peak (12,050 feet), then traced the ridge all day, alternately walking on alpine tundra and picking our way up and down talus, over the summits of an unnamed 12,401-foot peak, then Hunts Peak (13,701 feet), and then Red Mountain (12,944 feet). I tried my best to keep up with Jim, who seemed to be neither sweating nor out of breath as he chatted away, as if we were sitting across from each other in a coffee shop and not sucking wind at 13,000 feet. 
I devoured a Snickers bar at cartoon-character speed and listened as the rain got louder and louder and then turned to hail, piling up two inches deep on the only ground I could see just outside the tent fly.
By the time we hit the top of Red Mountain, clouds had been building for a couple hours, and by the time I signed the summit register, raindrops were pelting the page. I slipped into my rain shell, pulled my pack back on, and aimed toward Jim, who was already a few hundred feet down the east slope of the peak. Jim had a pair of legs built from long days of backcountry skiing, easily chugging up steep slopes and quickly bounding down them from the top. I did not. No matter what, I would be slower than him on whatever terrain we descended, spending a half second more getting my footing on a piece of talus, a half second more bending my knee to lunge down to plant my other foot on a different rock. A few dozen of those and Jim would be a hundred yards away and a couple inches tall in my view. 
The low grumble of thunder, the first of the day, broke somewhere to the south, where all those clouds had been gathering. I scanned the clouds for a flash, then decided it might be better to use the precious seconds to drop down in elevation. It was 1,300 vertical feet down to West Creek Lake below. Jim would make his way down the steep slope in 15 minutes, and it took me at least 20.
Fifteen seconds after we had the tent set up, the rain got more ambitious and started to pour, the kind of big drops that, even in the dry air of the Rocky Mountains, actually gets you wet and keeps you wet. We hustled to pop the rain fly on before the floor got soaked. We chucked packs inside and dove into the single door. I lay on the bare nylon floor, with tundra underneath, content to be out of the rain and finally done moving after a seven-mile, 3,800-foot day. I devoured a Snickers bar at cartoon-character speed and listened as the rain got louder and louder and then turned to hail, piling up two inches deep on the only ground I could see just outside the tent fly.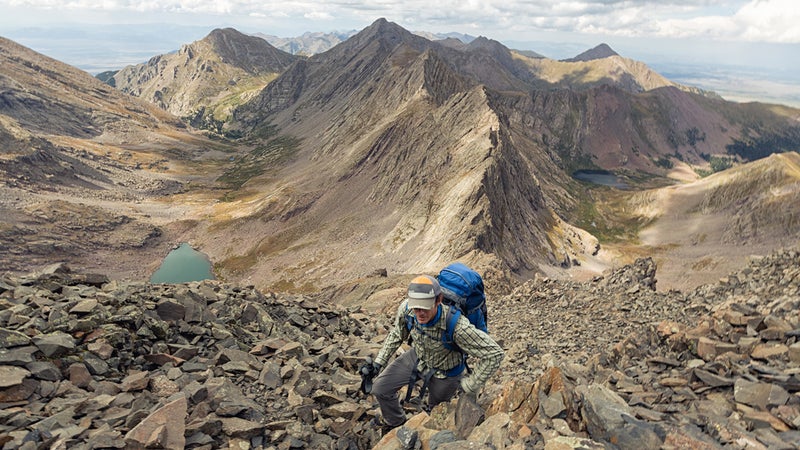 Every day we bit off a new chunk of terrain in the same routine: Wake up to the watch alarm beeping at 5 A.M., find watch, turn off alarm. Unzip sleeping bag, pull puffy jacket from beneath head, put it on, deflate sleeping pad, become a tiny bit sad at the hiss of air signaling end of comfort, stuff sleeping bag in stuffsack. Slide feet into shoes, open tent door, light stove. Oatmeal. Coffee. Pack backpack. Repeat bad joke about going for a walk up on the ridge again today, heave backpack onto shoulders, start walking in the dark. Sunrise, tundra, talus, summit, talus, tundra, talus, summit, snacks. Look south, start to think about how far we'd get today. Look at the next peak, thinking that would be a nice goal, say nothing; Jim looks two or three peaks beyond that, suggesting we try to get there today. We do. Find an alpine lake on the map, navigate down to it, set up tent, eat dinner, sleep until 5 A.M., repeat. 
It was monotonous, it was beautiful, it was one of the hardest things I'd ever done, and the simplicity of it was right in front of us every time we popped back onto the ridge: a mountain range, straight ahead, valleys on either side, just find a way across it and keep going. 
Theoretically, the idea for the magazine feature was to find a cool, new thing to do and collect enough information to enable readers to do it themselves if they wanted to. Quite early on, I wasn't sure I'd recommend it to many people, unless they had a similar obsession with the range, always wondering what it'd be like to walk across it—and also had two weeks of vacation to find out, and also were masochists.
A mountain range, straight ahead, valleys on either side, just find a way across it and keep going.
We agreed, at some point in our daily conversations, to make the goal a sort of haute route, or high route through the Sangres. Tagging every summit would be a great goal, but we'd skipped the very first peak on the ridge, Methodist Mountain, on the first day and had skipped a couple other unnamed mountains before we started talking about it. We had to descend from the ridge every evening to a lake or creek to get water, and the idea of retracing our steps to get back on the ridge at the exact same point we'd left seemed contrived—the goal wasn't to do a walking survey of the entire ridge, after all. 
We got rained on every day but one and could almost set our watches by the afternoon thunderstorms rolling in. We found faint trails sometimes but mostly chose our own route across the tundra and talus. We made the occasional questionable decision to head up a gully full of sliding scree instead of a ridge that looked fifth-class from a half-mile away, or to bushwhack up a mountainside of neck-high willows because it looked shorter. We had glorious sunsets, wonderful and unexpected scrambles up peaks we might never have thought to climb if they weren't in our way on this traverse, and literally every campsite to ourselves every single evening. Bighorn sheep sauntered through our camps, rain hammered our tent, and we slowly built one of those friendships that survives for years after it's been tested by being next to each other for 24 hours a day for a dozen days straight. 
Several nights I woke up from dreams of a lucid scene playing in my head: my foot, stepping on a two-foot-wide boulder, the boulder sliding away, and my leg flying out from underneath me. I'd jump out of my sleep, waking up from the fall, and realize I was still safe in my smelly sleeping bag.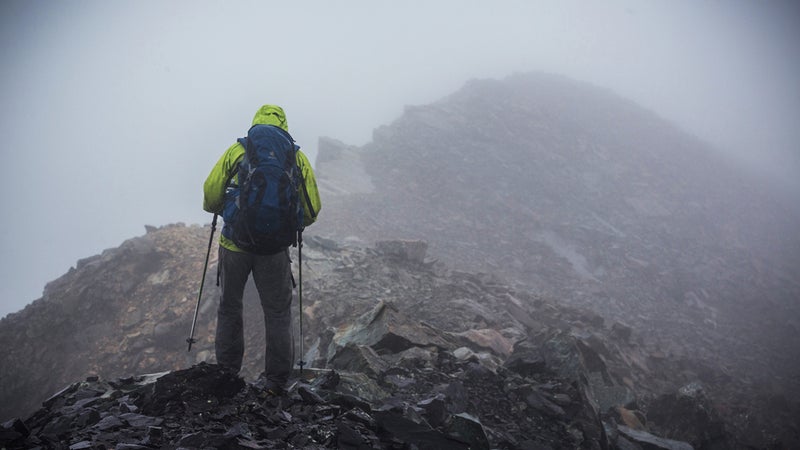 On day eight, we left the South Colony Lakes Trailhead campground, having met Max for our resupply the previous afternoon and gratefully sending him down with some of our trash, spent batteries, and dirty socks. We climbed up talus on the north face of an unnamed 13,161-foot peak, then walked its east ridge to 13,266-foot Marble Mountain and looked down Marble's southeast ridge in the sunshine toward Music Pass, but a bank of clouds had crept up the left-hand side of the ridge, obliterating the view of anything below the ridge proper. The clouds would morph throughout the day, rolling in and out of our path, finally closing in on us on our final summit of the day. We didn't know it yet, but we'd seen the sun for the last time for the rest of the trip. 
The rain began that afternoon and would continue on and off every day for the rest of the traverse, as we walked through clouds that shrank our universe to a bubble, sometimes less than 100 feet ahead. About 150 miles north of us, torrential rain was flooding Boulder, Lyons, parts of Rocky Mountain National Park, and other areas. We slogged on through the rain, and on day nine, as we navigated by GPS through visibility as low as 50 feet and mazes of deadfall in the lowest-altitude section of the ridge, it felt like our picturesque, ridgetop, views-in-every-direction, walking-across-the-skyline party had been dropped into a dark hole. Or at least a swamp. 
---
We spent all of day ten in undulating rain, buffeted from the east by a cold wind. We hiked up two unnamed thirteeners, then to the summit of California Peak (13,894 feet). The actual terminus of the Sangre de Cristo Range is Little Bear Peak, about 3.25 miles south as the crow flies, or arguably Hamilton Peak, a little south of that, and Jim and I had talked about where to properly end the trip. But after two and a half straight days of rain, and fourth-class and fifth-class terrain between us and Little Bear, we called it a day on California Peak, looking into a cloud, water squishing out of the toes of my trail-running shoes. 
We sent a text to arrange a rendezvous with Hilary, who would pick us up the next day after ten and a half days of hiking, and bailed down wet scree into the drainage above North Zapata Creek. We set up our tent in one of the worst campsites of the trip, at 10,600 feet, hoping for a sunny morning the next day and a chance to possibly salvage a summit of 14,042-foot Ellingwood Point and 14,345-foot Blanca Peak. But we awoke to a third straight day of steady rain and said fuck it, walking to the trailhead, where Zapata Creek was so swollen with rain we could hear boulders rolling underneath the water. 
Our shoes, brand-new at the start of the trip, were destroyed after 105 miles and 43,000 feet of elevation gain. We'd crossed 63 summits and traversed 91 miles above 10,000 feet. 
Some not small part of me, I think, wanted at the beginning to map a route that other people might follow in the future. But at the end, I was sure we hadn't done that. So I had to settle for what we had done, which was put to bed a yearslong curiosity. Seeing that thing, wondering what was up there, and wandering around like a couple of idiots in a long tradition of other idiots doing the same thing. Maybe I wanted the effort to be important, or at least more important than just to me. In the end, wonder is still a pretty good reason for a big adventure. 
I had to settle for what we had done, which was put to bed a yearslong curiosity.
Throughout our long days traversing the Sangre de Cristos, I had the feeling that someone would come along and do a better traverse of the range, ticking all the summits, doing the whole trip faster, or both—if they hadn't already. When the magazine posted our story online in 2015, one of the social-media comments was from a guy who'd done the traverse with three friends back in 1977, finishing on Blanca Peak on day 21, with four food drops and lots of stops to fish. Which (a) proved someone had done it before and (b) made me wonder how much fun it would be to take your time and do it over the span of three weeks.
More recent forays across the range include: In 2016, Cam Honan did a traverse of the Sangres, somehow going through Great Sand Dunes National Park before returning to the ridge and finishing on Blanca Peak. In 2018, Cam Cross and Nick Clark established the fastest known time of the traverse, going south to north in just under four and a half days. In 2019, Justin Simoni did it solo in a little over six and a half days, south to north as well. And in spring 2019, Josh Jespersen, Rick E. Schuler, and Isaiah Branch-Boyle spent 13 days doing the first ski traverse of the range.
So it appears to have been done faster, and done with more summits, and even on skis and splitboards. But it still only draws people who are curious enough to put in the effort to find their own way across, which may be the only sort of people who will ever take a whack at it. Seems like everyone hits the same two big sections of deadfall that are just heinous to navigate through, and everyone is less than enthusiastic about those portions of the ridge. The route would be a little more accessible if a team of people armed with saws would go up there and cut a path through those sections, but you know, I think that would be a bit disingenuous. Just because it's something you wouldn't recommend to 99 out of 100 people, it doesn't mean it isn't a worthwhile adventure. 
Lead Photo: Jim Harris/PerpetualWeekend.com
Trending on Outside Online