Senator Kyrsten Sinema Is Leaving the Democratic Party. And Triathlon.
Say it ain't so, Kyrsten!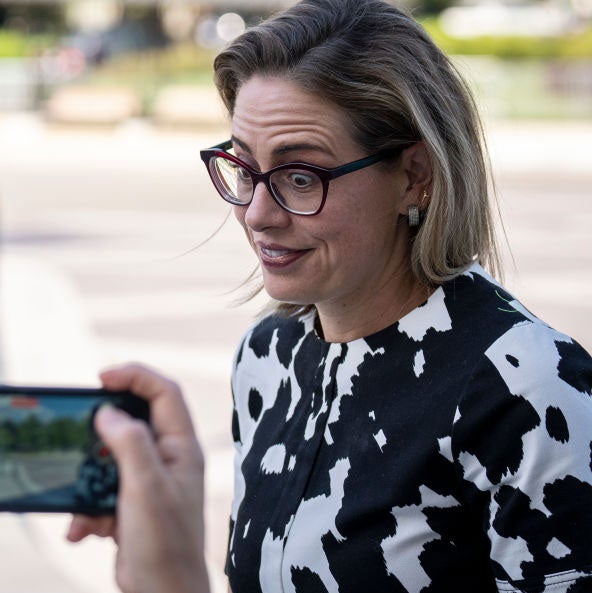 Heading out the door? Read this article on the new Outside+ app available now on iOS devices for members! Download the app.
Earlier this week, reporter Christina Cauterucci at Slate published this story about Arizona senator and passionate triathlete Kyrsten Sinema selling off her triathlon gear on Facebook Marketplace, prompting rumors that she may be planning to (gulp) switch sports. 
Senator Kyrsten Sinema of Arizona announced on Friday that she would leave the sport of triathlon and become an independent athlete, unsettling the already divided world of endurance sports. 
"I have joined the growing numbers of Americans who reject buying into a specific athletic identity, insofar as that identity no longer benefits me directly, and it becomes more advantageous to abandon it," says Sinema in a written statement, also expressing that she'd be happy to re-register as a triathlete if she were given the chance to compete at Kona. 
The announcement was accompanied by numerous listings on Facebook Marketplace that include a cycling kit, an $80 cycling jersey, a $500 bicycle travel case, and a $150 fitness tracker ring. (Can Oura rings detect rhetorical overreach?) While it's unclear if this move indicates Senator Sinema will be focusing more on the run or swim elements of the sport, she indicated that she'd be keeping her appointments on various cycling committees, and fully intends to continue to frustrate any and all efforts at accomplishing anything. 
It's unclear why someone who wants $175 for a used windbreaker would also repeatedly vote against raising taxes on the wealthiest Americans. Perhaps the value of a windbreaker seems higher when unbroken gusts make it harder to repeatedly pat oneself on the back. 
The move has rankled dozens of Arizona triathletes, including some who took time away from the busy schedules of training, recovery, and buying expensive if impractical products online to volunteer for her 2018 campaign.
"You can't just change your sport affiliation like that," says Elizabeth Grimes, a long-time registered triathlete in Arizona. "This is offensive to the thousands of triathletes that supported her in good faith."
A cursory glance at her Strava profile (and voting record) reveals a fraught history. Two years before facing a tough reelection bid, Sinema also listed a new bike saddle ($85) and brand new cycling skinsuit ($215). There's no bike seat that can fix what a saddle-sore Sinema has been for the triathlete agenda. While she repeatedly stalled attempts to pass the Inflation Reduction Act, it's at least a small comfort to know that her perineum is also feeling the pains of runaway inflation. She might not protect voting rights, but she'll always put protection of her own ass first, so this move comes as a surprise.
Behind closed doors, even Joe Manchin wants to be distanced from her. "I'm from West Virginia, so no one expects me to be a triathlete. She's from a state that consistently supports triathletes, what's her excuse?!"
One triathlete who spoke on condition of anonymity, characterized her as difficult and contrarian, who's "just in it for the kudos," and had been openly identifying as a "trail runner" in tri circles for some time. Sinema's decision prompted a quick backlash in the world of tri. 
"Today, Kyrsten Sinema told us what we've already known for years: She's not a triathlete, and she's simply out for whatever endurance sport is most conducive to enhancing her brand in the moment," said one triathlete. "Plus, she drafts."
Lead Photo: Drew Angerer / Getty Images