Bike Snob
The Importance of Dressing Down
You don't need to get kitted up before every ride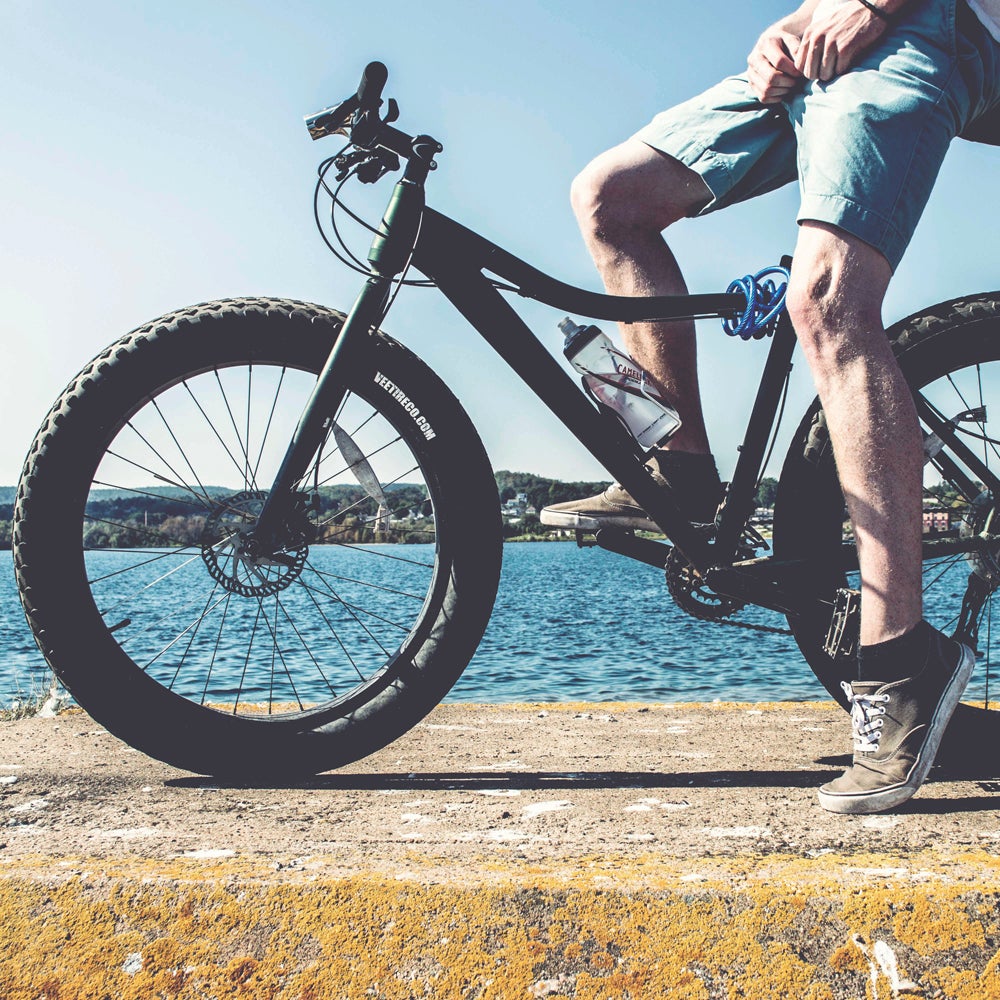 Heading out the door? Read this article on the new Outside+ app available now on iOS devices for members! Download the app.
Once upon a time, kids grew up riding bicycles—by themselves. Exploring the neighborhood, fleeing from the bigger kids who wanted to steal their bikes, discovering a series of supernatural tunnels beneath their small town…wait, sorry, that's the plot from "Stranger Things."
I was fortunate enough to have caught what was probably the tail end of that age, when my bike was the embodiment of freedom and adventure, all rolling on a pair of sweet mags.
I was also fortunate enough to catch the tail end of the BMX boom. When I was about 12 or so someone told me about a track on Long Island, and I showed up to race in a skateboard helmet, ripped jeans, and a Circle Jerks T-shirt I'd drawn myself. I was trembling with anxiety at the start, but as soon as the gate went down, I was hooked.
I was also, I soon realized, woefully underdressed. Sure, I did okay out on the track, but as my nerves steadied and I was able to size up the competition, I began to notice that with their motocross pants and full-face helmets, they looked just like the racers in BMX Plus! magazine. I also noticed that they were looking at me funny, possibly because they didn't know who the Circle Jerks were, but just as likely because they did and I'd drawn their logo really badly.
Clearly I had to up my game.
Having thus far spared my father the time and expense of participating in organized sports, he indulged me by taking me to my favorite bike shop for some new apparel. I chose some padded and embroidered nylon pants, a perforated jersey, and a formidable helmet. Now I was the real deal.
What I wasn't was comfortable. The jersey was okay, but the pants were stiff and whooshy, and the helmet obscured my vision and felt like it weighed more than my bike. Still, I refused to admit that it felt much better to race in my jeans and T-shirt, and I wore my padded clown suit for the rest of my BMX career.
Then came adulthood. And road racing. And Lycra.
Bike fit, saddle choice, and hygienal common sense are more important than bib shorts and chamois.
Of course, the roadie ensemble differed from the BMX gear in one crucial respect—which was that it was light and comfortable. After all, a 50-mile road race in jeans and a T-shirt would be less than ideal. At the same time, putting it on was no less of an obligation. In fact, it was even more of an obligation, since at least in my BMX days, I'd still wear regular clothes the rest of the time. Now I couldn't get near a bike without putting on my superhero costume first. Maybe I'd commute in street clothes, but everybody knows your commute isn't a "real ride."
Why did I think this way? Well, part of it was that I was way too proud of being on an amateur bike racing team, like Ralph Kramden was of bowling for the Hurricanes. Another problem: I put too much stock in the popular ideas about cycling and clothing, including but not limited to:
Don't worry about using a comfortable saddle, just ride with padding sewn into your shorts at all times; 
Cycling in underpants is for noobs and will cause your crotch to explode in saddle sores and fungus; 
Cotton is no good for riding, it won't wick the moisture, and in winter you'll freeze to death and die. 
And so I persisted in this state of profound weeniedom until I had kids and more or less stopped racing, which is a fairly typical sequence of events. But while you'd think this would curtail my riding, it had the opposite effect. For one thing, when I did find time to ride, I made every second count. For another, when you're making every second count, you learn not to squander them on selecting exactly the right racing silks. Sometimes a window opens up unexpectedly and you strike out for a ride in the very clothes on your back.
When it came to breaking my addiction for cycling-specific attire on every ride, I caved first with mountain biking. I'd already been commuting in streetclothes past some local mountain bike trails and thinking to myself, "Wow, I'd sure like to take a detour through there if only I were dressed for it." Then I realized it was a county park and not a Bar Mitzvah and I could wear whatever the hell I wanted. So I started commuting on my mountain bike once in awhile and working some singletrack into my commute, and when my crotch didn't explode and I didn't die, I found myself forsaking the bikey clothes more and more often. 
Yes, cycling clothes are great, but they're also expensive and limiting and chances are you need to wear them less often than you think. You know what's a nice cool-weather cycling garment? A $130 Rapha Core Long Sleeve Jersey. You know what's also a nice cool-weather cycling garment? That wool sweater you've had for like 15 years. As for cotton, you spent your entire childhood running around in a T-shirt and jeans, and apart from marketing, there's nothing stopping you from doing that now. You sweat, it gets wet, then it dries. Big deal.
And what about riding in underwear, anyway? Granted, a hundred nonstop miles in August might be asking for trouble, but other than that it's really not such a big deal. Bike fit, saddle choice, and hygienal common sense are more important than bib shorts and chamois. Nevertheless, the first thing we teach the noobs is to never wear underwear with cycling shorts, even though we've totally lost sight of how to ride a bike without first putting on cycling shorts.
I'd never ditch my cycling clothes altogether. But if you too were lucky enough to grow up riding, you may remember the joys of moving seamslessly from activity to activity without having to execute a complete wardrobe change each time. Sure, you can't time-travel, but you can totally recapture the freedom and excitement of ripping around town in jeans and a T-shirt.
Trending on Outside Online