Bike Snob
The Importance of Utility Cycling: FAQ
Because why are you even riding if you can't haul your family, your dog, your friend's dog, and groceries for the next year on a bike?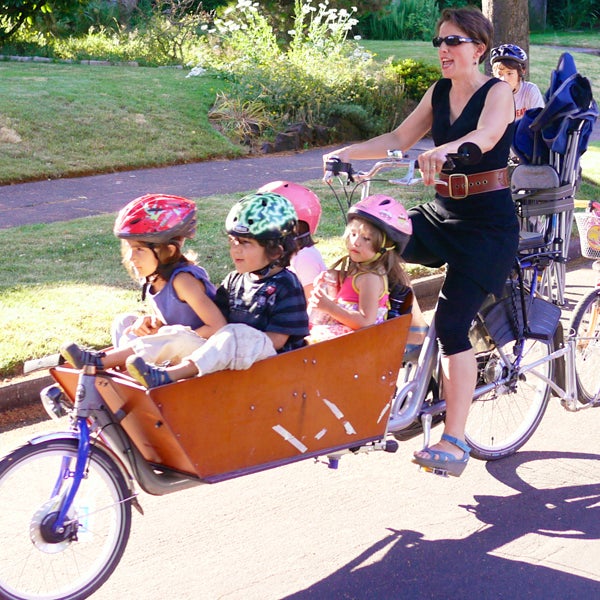 Heading out the door? Read this article on the new Outside+ app available now on iOS devices for members! Download the app.
Are you a dedicated cyclist who strives for proficiency on all terrains? Do you have a road bike, an adventure bike, a gravel bike, and an endurance bike (these are all different things now), plus six kinds of mountain bike? Or maybe you have one of those weird bikes that attempts to be all of those things at the same time, like the rolling spork that is the Cannondale Slate.   
Well, you may fancy yourself an all-arounder, but the truth is you're not a complete cyclist until you embrace and master utility cycling.
At this point as a reader of glossy lifestyle magazines you may have some questions, such as:
What is utility cycling?
A popular user-edited online encyclopedia defines utility cycling as "any cycling done simply as a means of transport rather than as a sport or leisure activity." However, there's more to it than simply riding your carbon fiber Fred/Frederica sled to the office in your stretchy clothes and then taking a shower. Utility cycling is about using your bike in your everyday life. It's about wearing regular clothes. It's about carrying lots of stuff. It's about getting stuff done, and and it's about problem-solving along the way.
Until you can carry two kids, three bags of groceries, and a 12-pack of beer on your bike, you're not a real cyclist.
Do I need a special bike?
As a reader of glossy lifestyle magazines you're probably hoping the answer is "Yes!," followed by a link to an article titled "Cargo Bike Shootout," but before you go shopping here's a test:
Open your fridge and make a list of everything you need. Now choose a bike from your vast stable, ride to the store, and go get it all. If there's no way in hell you'll pull it off, you may need another bicycle.
Congratulations! Now you get to spend the next six weeks researching the relative merits of front-loaders and longtails!
But don't unleash your inner consumer just yet, because it's entirely possible there's also a bike in the recesses of your quiver that can be adapted for utility cycling. For example, see that old 26″ mountain bike? The one hiding behind the fat bike you bought last winter and rode twice? Its diminutive wheels may be hopelessly out of fashion now, but with a few accessories you may be able to rehabilitate it for a life of practicality. Racks, panniers, baskets, and trailers are just a few of the items you have at your disposal.
Also, a rule of thumb: if you have children and any of them have not yet reached riding age you should have at least one (1) bicycle capable of carrying them all simultaneously.  
What happens when World War III breaks out an an electromagnetic pulse renders every car on earth undriveable? How are you going to transport your family? In a shopping cart like in Cormac McCarthy's The Road?
Please.
And if you don't own a single bike with a centerstand you need to reevaluate your life.
My coach has never heard of utility cycling so how do I train for it?
Not only does utility cycling require all of the skills you've gained from years of recreational cycling, but you can also go ahead and fire your coach because putting your bike into heavy service will hone these skills and teach you new ones at the same time.
Climbing, gear selection, and braking: When you're hauling 50 pounds of stuff on a 60-pound bike every gentle rise is Alpe d'Huez and every descent is potentially hair-raising.
Cornering and traction: You already obsess over tire choice, but on that return trip from the store considerations of width and pressure cease to be theoretical almost immediately.
Core strength: Utility cycling requires all your muscles, whereas recreational cyclists only use the upper halves of their bodies when they're lifting their bikes off the hitch racks of their SUVs.
Bike handling: When you're utility cycling the width and weight distribution of your bicycle is constantly changing, which means when you encounter an irregular road surface or a gap in traffic you've got to think differently each time. It's like snaking your way through tight singletrack, except instead of clipping your bars on a tree you snag your groceries on the rear-view mirror of a parked car—on a bike that weighs as much as a small motorcycle.
Bike loading: You may think you've mastered this after your successful bikepacking trip, but you got to plan everything meticulously beforehand, and while you may have taken precaution to keep your weed dry odds are none of the items you had to transport safely were eggs.
Also, at any point during your mini bike vacation did you receive a text that said, "Oh, and we need diapers"? I didn't think so.
Mental toughness: You know when you're at hour six of the big ride, you're still 30 miles out, and it starts raining? On an ambitious grocery run this experience can be compressed into a matter of a few blocks. Plus, nothing tests your fortitude and resolve like fighting the urge yell "Go fuck yourself!" at a driver because you've got a child with you. (Or because you're so loaded down you can't go more than six miles per hour.)
Is there a big event I should be preparing for, how much does it cost to register, and what tire pressure should I be running?
Yes, that event is called "life," and it's the biggest one of all. Registration is free, but like any revelation you can only arrive at the proper tire pressure through experience and soul-searching. Enlightenment doesn't happen overnight.
Now get out there and go get 'em.
Oh, and pick up 36 rolls of toilet paper while you're at it. 
Trending on Outside Online