The Outdoor Industry's Protests Won't Save Public Lands
The outdoor industry has been a fierce advocate for the now-decimated national monument—but it may have been too little, too late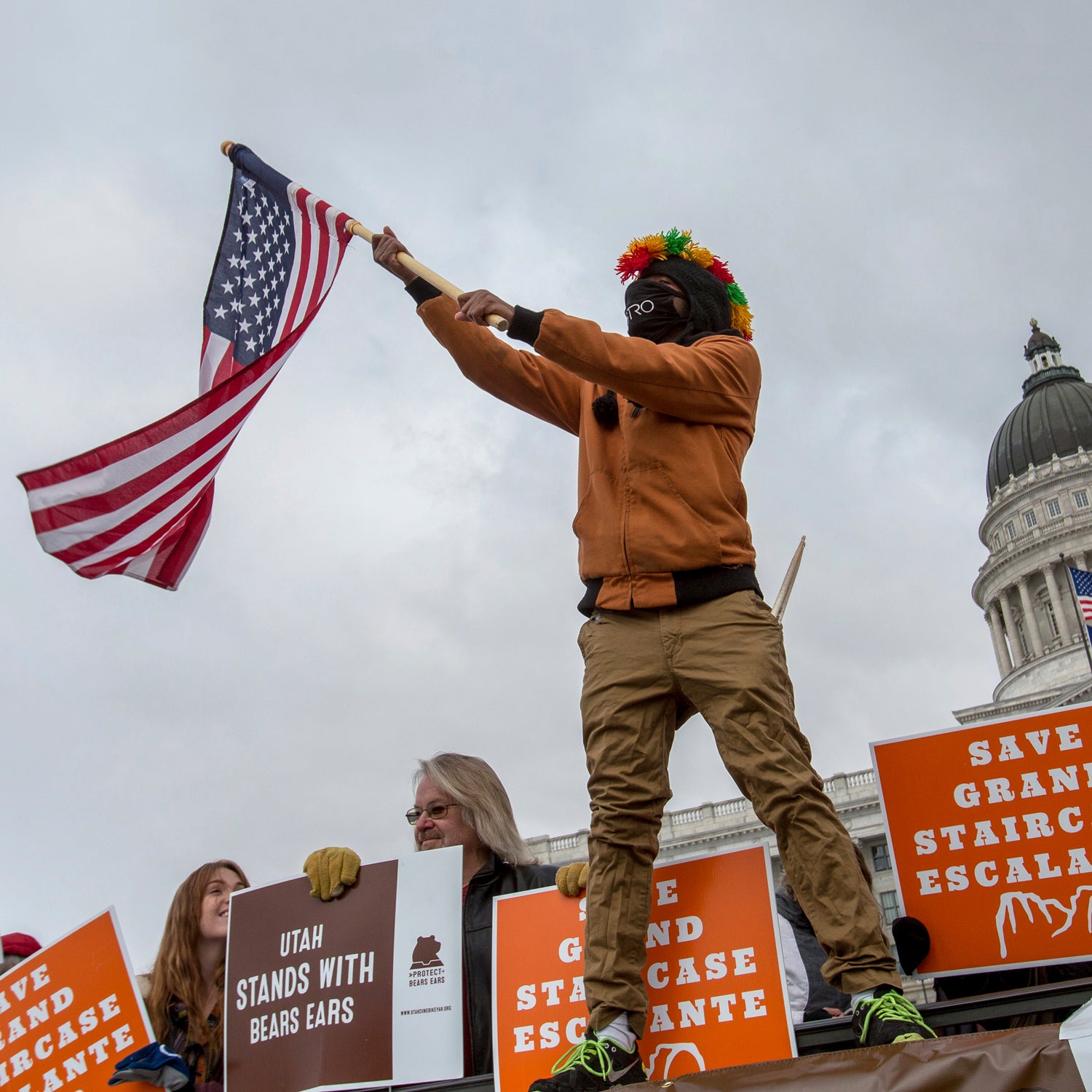 Benjamin Zack/Standard-Examiner/(Photo)
Heading out the door? Read this article on the new Outside+ app available now on iOS devices for members! Download the app.
In February, the outdoor industry exerted political strength for the first time when it elected to remove Outdoor Retailer, its $45 million trade show, from Salt Lake City, on account of the Utah Congressional delegation's anti-public lands stance. Shortly afterward, Rose Marcario, the CEO of Patagonia, the company that facilitated the move, told me that the industry had to be "as relentless as the NRA," and that it couldn't "give up an inch" of protected public land. In April, the Outdoor Industry Association (OIA) released figures estimating the collective recreational business's economic impact at $887 billion. In July, at the summer Outdoor Retailer show in Salt Lake City, thousands of people in flat-brimmed caps and plaid took to the streets, prompting the New York Times to run a rather credulous piece on the industry's newfound clout. Celebrations were in order; the once timid business, it seemed, was woke and ready to rumble.
Then came yesterday. President Trump, standing in the Utah capitol underneath a mural that read PEACE WITH THE INDIANS, took a cleaver to Bears Ears National Monument, cutting it by more than one million acres. He also halved its neighbor, Grand-Staircase Escalante. The action was most damaging to the tribes that had spent years lobbying for the protection of Bears Ears, an area they consider sacred. Shortly after the announcement, Navajo Nation vice president Jonathan Nez raised Trump's recent treatment of his tribe's revered code talkers. "One week ago today our code talkers were disrespected," Nez said, "and one week later we get this. It just shows this administration does not respect indigenous people."
But the resizing of Bears Ears also stung the outdoor industry. The Access Fund rallied climbers to go to Salt Lake City this weekend, where they were joined by representatives from Patagonia and Black Diamond. They gathered outside the capitol building on Saturday, at a 5,000-person pro-monument rally, and then yesterday, at a smaller event to protest Trump's arrival. Their mood was not joyful or triumphant; rather, they carried a newfound doubt. "There's a certain feeling of fatigue," said Peter Metcalf, former president of Black Diamond, who attended both the Saturday and Monday events. "Like 'I gotta be here, I'm glad I'm here representing my beliefs. However, I'm questioning whether this has substantial value.'" Everyone, he said, was "sharing a degree of absolute frustration and weariness with what's going on."  
"This action," Amy Roberts, the executive director of the OIA, told me, "will go down in history as one of the most unpopular things [Trump] has done."
Ron Hunter, Patagonia's environmental activism manager, also attended yesterday. "I wish we had gotten it together earlier as an industry," he said. "If we had been showing up five or ten years ago, we might not be here."
Last night, the Navajo Nation and the Hopi, Zuni, Ute, and Ute Mountain Ute tribes filed a complaint against President Trump seeking an injunction to prevent the modification of Bears Ears. This morning, a coalition of environmental groups led by Earth Justice announced their own suit seeking to protect Grand-Staircase Escalante. Patagonia intends to sue over the Bears Ears action as well, using a novel legal strategy; Brady Robinson at the Access Fund, which advocates for climbers, told me the group is "evaluating our legal options," since yesterday's action would leave many of Bears Ears's crags unprotected.
But a judge might very well consolidate related suits. That is to say, it seems likely that the outdoor industry's legal efforts will end up in a supporting and potentially symbolic role.
What, then, of the industry's supposed newfound strength? Metcalf said yesterday amounted to a declaration of war. "I feel it's like a Pearl Harbor-type event," he said, "and it's our job as citizens and industry to make those who did this rue this day by responding with incredible strength." The North Face and Keen are financially supporting a "Visit With Respect" educational center near the outskirts of Bears Ears; yesterday Patagonia unveiled a banner on its homepage reading THE PRESIDENT STOLE YOUR LAND. It was widely circulated, yet its "Take Action" button did little more than allow visitors to fire off an indignant tweet.
Being woke and winning are different matters. These days, lasting victories come from the courtrooms and the ballot box. Hunter, at Patagonia, told me, "We've got to get involved in electoral politics." To that end, the OIA has a political action committee that is seeking to back a few candidates in next year's midterm elections. The Democratic Conservation Alliance PAC was founded earlier this year to capitalize on pro-public lands sentiment as well. And Metcalf, an independent, told me he is exploring the founding of a Utah-based political action committee to potentially target anti-public lands legislators in next year's Republican congressional primaries and in the state's county commission races. "We need to carefully pick campaigns and districts to get involved with," he said. "The one thing we have to do is find candidates aligned with the public land agenda—and help them."
The outdoor industry has until now proved effective at praising itself and raising money for feel-good causes. Whether it can organize its economic muscle into something more consequential remains to be seen. Yesterday, the president stripped away protections from many millions of inches of land. It happened on the industry's watch.
Lead Photo: Benjamin Zack/Standard-Examiner/
Trending on Outside Online