The Politics of the Lumbersexual
A new initiative aims to bring lumberjack fitness to city folk. How much eye-rolling should follow?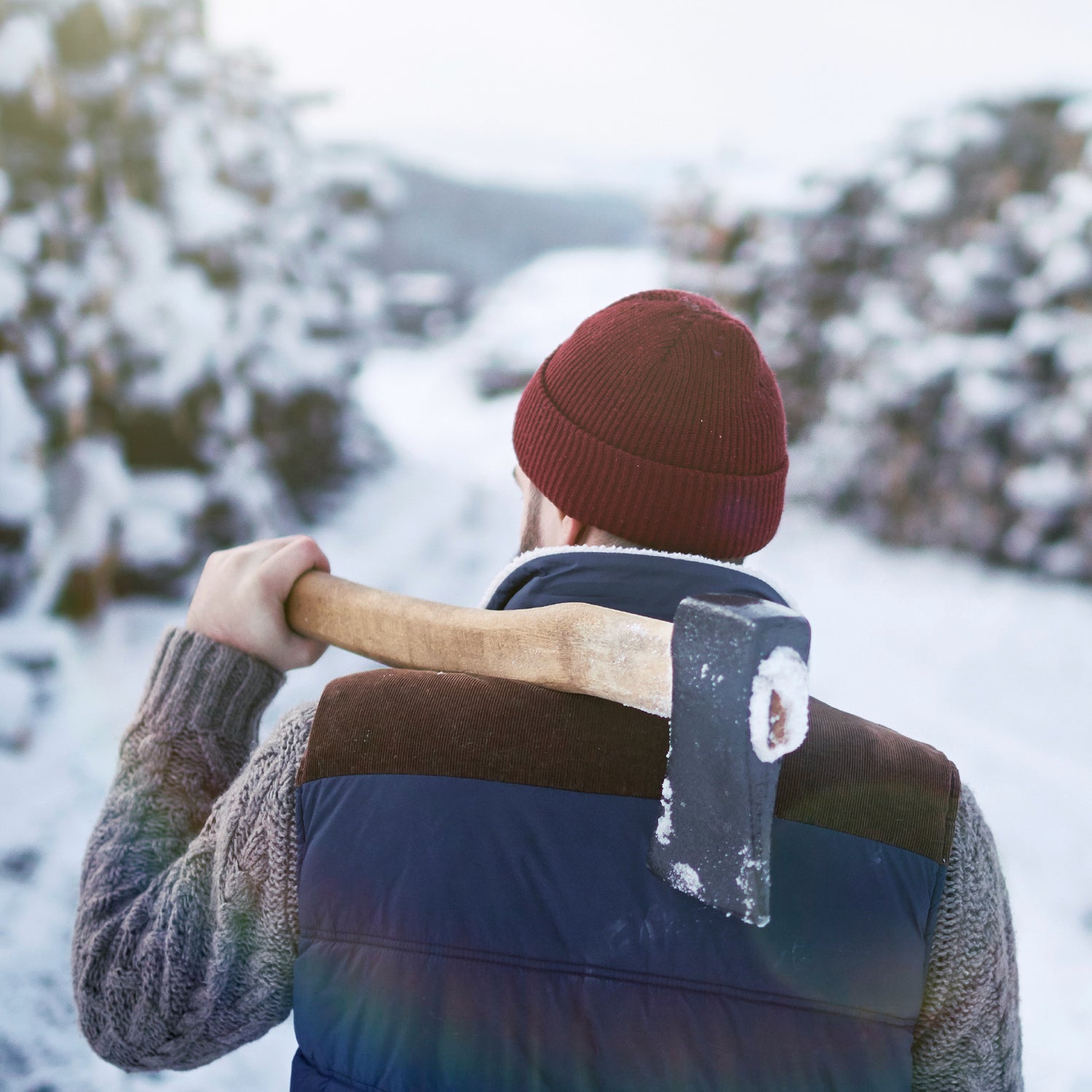 mediaphotos/iStock(Photo)
Heading out the door? Read this article on the new Outside+ app available now on iOS devices for members! Download the app.
Industry City is an industrial complex in Brooklyn that became the site of an urban renewal project in 2013. Vast sections of its six million square feet have been repurposed into artist studios and tech startup offices. The Brooklyn Nets have a new $50 million training facility on the top floor of one former warehouse building. On the lower level of another, visitors to the food hall can purchase bahn mi sandwiches and artisanal ice cream. And in one small rented workspace, among containers of linseed oil and WD-40, two Brooklynites in their 30s spend their spare time refurbishing old axes while hatching a plan to transform white collar workers into lumberjacks.
Paula Pou and Caitlin Barrett work long hours at a branding agency in Manhattan, but share a love of CrossFit, strongman competitions, and other hardy recreational pursuits. Last summer, they spent a week in upstate New York attending the Adirondack Woodsmen's School at Paul Smith's College. The experience—canoe-making, tree-climbing, wood-chopping—felt more "real" than anything they had done in a long time. "We had changed so much over the course of that week, we wanted [to share it with] other people we knew from the fitness community, city people who would love having this experience," Barrett said.
The resulting initiative is called Project Woodchips. A week-long summer retreat in the Adirondacks is planned for those interested to learn how to throw an axe, run a chainsaw, and get their hands dirty working in the woods. Eventually, the goal is to make such activities available closer to home by means of urban lumberjack "gyms."
This back-to-nature ethos should be very familiar to anyone who's taken even passing note of cultural trends the past few years. There's a certain demographic for whom everything needs to be organic or locally sourced—from the produce we buy in the supermarket to the cotton in our socks. Our children need to be unschooled lest they turn into spooky little drones, addicted to their iPads. Maybe we even need to build our own tiny home. An initiative to teach urbanites chainsawing and cast-iron cooking techniques fits right into that movement. Some would consider it pretentious (more on that later); others would consider it a consumer's pushback against a mindless state of affairs in which nobody even knows how their lunch came to be.
More specifically, though, Project Woodchips might sound suspiciously like a play for the lumbersexual, who, as our Encyclopedia of Gear explains, is "a fashion-conscious male urbanite whose clothing and accessories project an aura of rugged manliness."
Unsurprisingly, the lumbersexual has received his share of criticism, much of which is rooted in the belief that cold brew-sipping yuppies adopting the image of rugged outdoorsmen is a charade–one that's laughable at best and, at worst, insulting to those who are, in whatever sense, the "real deal." In the words of one reader who commented on this Outside article on how to dress like a lumbersexual, "What some people will do to look like something they're not." It's doubtful that the IT specialist in Red Wings and suspenders is trying to fool anyone into thinking that he spends his spare time felling 250-foot firs. But as a wiser man once wrote about hipster affectation, there's a difference between a lifestyle and a life.
As a wiser man once wrote about hipster affectation, there's a difference between a lifestyle and a life.
But wherein, exactly, does the difference lie? Pou and Barrett are hoping that Project Woodchips will give some people the chance to find out by learning from professional woodsmen. As Pou put it to me, "Growing a beard, wearing flannel, or hanging an axe on your wall does not a lumberjack make. Axes were made to be swung." 
As such, Barrett and Pou hope to create spaces in and around Brooklyn that will be like gyms for timber sports enthusiasts. Rather than Zumba or kickboxing, so the idea goes, the Wall Street professional will be able to decompress by throwing axes or splitting wood. While the fitness component will certainly be a draw, the founders of Project Woodchips hope to retain an element of authenticity: the emphasis should be on proper chopping technique, rather than getting mega ripped.
Project Woodchips will also be holding their first annual lumberjack camp in the Adirondacks this summer, in collaboration with the professional instructors from Paul Smith's College. For a tuition of $1,095, participants can learn chainsaw basics, river-based log driving, bow drilling, and wooden spoon making—all while staying in a pondside yurt (a CSA local food box costs extra). The retreat is about, as the website states, "taking back the outdoors and making it your playground. It's a roll-up-your-sleeves, get-some-dirt-on-your-hands, make-some-real-shit kind of outfit."
Back in Industry City, the real shit Pou and Barrett currently dedicate much of their spare time to is axe-making, a hobby they picked up following their upstate adventure. The process involves buying old axe heads online or at flea markets (they won't pay more than $15 for a fixer-upper), soaking them in vinegar to facilitate rust removal, and eventually re-hanging the heads on new handles. Much sharpening and re-profiling ensues, and the finished products look pretty damn good. While some tools are merely fixed up for decorative purposes, others will be used at lumberjack camp this summer.
As I admire a small arsenal of axes and hatchets, Pou explains the significance of some of the markings on the heads. It feels like we're in an episode of Antiques Roadshow, weapons edition. 
"See that mark that looks like a manufacturing error?" Pou says, pointing to a tiny diamond-shaped indentation on an axe head. "That's how we knew it was a Plumb," referring to the American hardware company founded in the mid 19th century—a favorite brand of Boy Scouts. Nodding, I take care not to trip over a paint bucket where another vintage axe head is submerged in vinegar, awaiting resuscitation. 
"I think we found that one on Etsy," Barrett says.
---
Skeptics might object that Project Woodchips is the latest faux-authentic twist on the back-to-nature movement—another example of white-collar romanticization of old-timey, blue-collar life. Perhaps even fetishization. Call it the world's most menacing fashion accessory, but the axe has become a totem for the extra-committed lumbersexual. Pou and Barrett told me that some of their Brooklyn friends "just want to own an axe."
As others have pointed out, the life of real lumberjacks at the turn of last century was no picnic: it was backbreaking, dangerous work for low pay and little chance of getting ahead. The affluent cosmopolite who appropriates elements of the vocation, sartorial or otherwise, can feel a little disingenuous. 
But the founders of Project Woodchips don't have any illusions about the limits of their own experience. "We're not pretending to be woodsmen doing this for 25 years," Barrett says. "We're more the connectors helping to bring all of this together."
What is it that Pou and Barrett might be connecting their outward-bound city brethren to? 
Brett McLeod is the founder of the Woodsmen's School program, a former professional lumberjack, and associate professor of forestry at Paul Smith's College. (Barrett and Pou refer to McLeod as their "mentor.") He believes that the appeal of outdoor manual labor among young urbanites represents a yearning for greater self-sufficiency.
"I think oftentimes, living in the city, people are outsourcing every bit of their life. They are not responsible for where they live or what they eat," McLeod says. "Contrast that with living off the land. I built my own house. I heat with my own wood and grow my own food, so it's sort of the opposite." 
Framed like this, Project Woodchips is of a piece with the rise of the "maker community" and its slew of earnest woodworkers, artisanal sausage makers, and urban farmers. This reaction against mass-produced fare means, among other things, that we are less frequently condemned to violating our taste buds with watery mass-produced lagers (thank you, craft brewers!). However, some argue that it has also given rise to a new, overly precious, cultural elite.
"Growing a beard, wearing flannel, or hanging an axe on your wall does not a lumberjack make. Axes were made to be swung."
In a recent New Yorker article, food writer Dana Goodyear skewered the Mast Brothers, the Brooklyn-based purveyors of $9 "bean-to-bar" chocolate, for their particular brand of retro snobbism. "Going backward is charming only to the exceptionally privileged," Goodyear writes, "those who have tired of modernity and would like to try something else for fun." For a case in point, she references a PR stunt that feels like a high-budget episode of Portlandia, minus the irony; the Mast Brothers once ferried 20 tons of cocoa beans from the Dominican Republic to Brooklyn on a wind power-only schooner, as if the industrial revolution never happened. And you thought your friends were pretentious.
Whatever it is that is so grating about the Mast Brothers, I would argue that it comes from a similar place as that which gets people going about poseur lumbersexuals. In both cases, there's a sense of phoniness about the image being purveyed–like we're being had in some kind of marketing scheme. There's something, dare I say it, inauthentic. 
That's why it's to Project Woodchips's endless credit that it really isn't about affecting a particular look, or cultivating an image. (Rather than mounting them above the fireplace, Barrett keeps her axes hidden in a closet a home—less hipster, more serial killer.) The founders' enthusiasm about their lumberjack experience last summer, and the reason why they have remained so committed ever since, stems from the personal joy and fulfillment they got out of actually doing real shit. Just because that real shit doesn't occur naturally in Brooklyn, should participants feel guilty for wanting to get outdoors and give it a shot? Barrett and Pou don't think so. 
"Doing manual things felt so different from my day to day," Barrett says. "Learning so much new stuff, I found it very restful in a weird way. I just felt like I'd had a reset." 
Despite the purity of their intentions, Barrett and Pao know the concept will always be viewed cynically by some. Let's face it: Brooklynites aspiring to be lumberjacks seems like a punchline waiting to happen. 
I bring this up to Barrett and she responds with an anecdote from a recent experience she had down south, where she attended blacksmith school for a few days to bolster her newfound appreciation for manual labor. When she told people that she was from Brooklyn, she got the reaction you'd expect. 
"You do not know how hard an eye can roll until you're the only person from Brooklyn at a North Carolina blacksmith school," she says. "But by the end of the week, I was getting pretty good at it and the vibe changed. Everyone was like 'Oh, maybe I can connect you with so-and-so who has a forge outside the city.'"
You're a wannabe, it seems, until suddenly, you're not.
"These days, everyone is wearing flannel and the lumbersexual thing is thrown around like an insult," Pou says. "It's like 'Okay, go prove it.' Go see what it's like to be a lumberjack."
Lead Photo: mediaphotos/iStock
Trending on Outside Online