Bike Snob
Want to Save the Environment? Subsidize E-Bikes.
When it comes to CO2 emission reduction, it's no contest between e-bikes and electric cars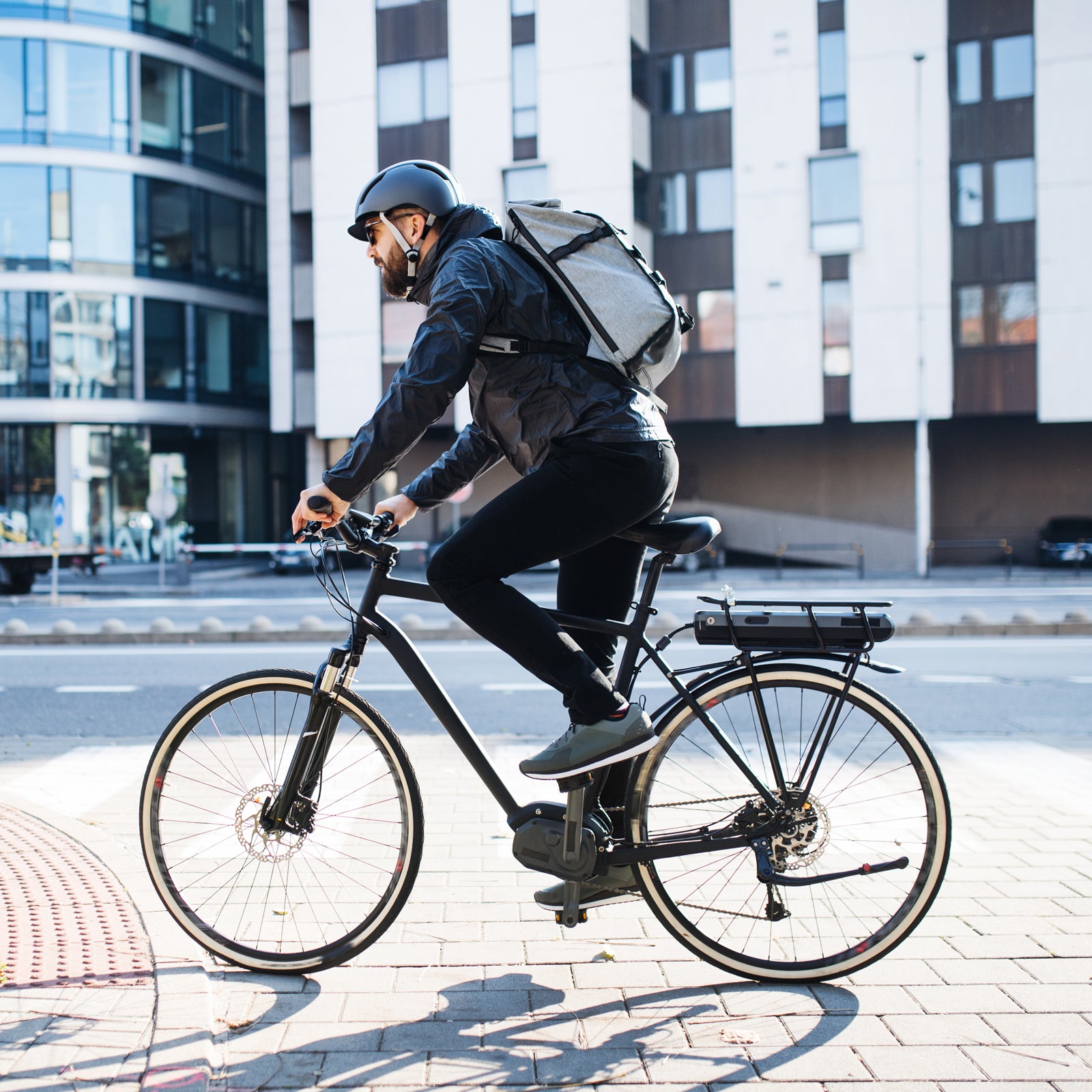 Heading out the door? Read this article on the new Outside+ app available now on iOS devices for members! Download the app.
Hey, not sure if you've heard, but here on planet Earth we're in the midst of a climate crisis. In fact, the UN warns that we've got only 11 years left to prevent "irreparable damage to our planet." So unless you're one of those people who hates the UN because they're constantly buzzing you with their black helicopters, at this point you may be getting at least a little bit concerned for the future of humanity.
One thing we can do to help reduce greenhouse gas emissions and secure our future is to stop burning gasoline in order to get around. According to the EPA, the transportation sector accounted for 29 percent of the total greenhouse gas emissions for 2017. To that end, the federal government will give you a tax credit if you decide to purchase an electric car. For example, if you buy a Tesla, you could be eligible for a tax credit of $1,875 on your federal return, plus any other perks and incentives your state might offer. (Federal incentives are subject to a phase-out schedule and therefore vary from manufacturer to manufacturer.)
Our current electric vehicle incentives are arguably half-assed, but even encouraging people to buy electric cars with the entirety of our asses isn't going to solve the real problems. These vehicles may not have tailpipes, but they still have tires and brake pads which also pollute the air, and in fact the particles those wear items emit can potentially offset the reduced emissions from more efficient motors. They also cause traffic congestion, just like regular cars do (Elon Musk's marketing gimmick of a tunnel notwithstanding). And even tax breaks and subsidized car charging stations do nothing to liberate us from our institutionalized automobile dependence or spare us from the devastating physical and economic toll of living in a country where you can't fully participate in life without indenturing yourself to a car.
Ultimately, switching from gasoline-powered cars to electric ones is like ditching your smoking habit for a vape pen. Sure, you may be spewing fewer toxins, but you stay just as addicted, and you're still passing that addiction down to the next generation.
Of course, the cheap, efficient, and liberating alternative to the car has always been the bicycle. Americans have long been adept at coming up with excuses not to ride bikes for transportation, but e-bikes have upped the convenience factor of doing so exponentially, and now you can ride to work without breaking a sweat, or haul two kids and some groceries without having the aerobic capacity of a Grand Tour rider, or simply ride more comfortably well into old age. In the Netherlands, e-bike sales are already outstripping analog bike sales, and here in America industry analysts say we could be on the cusp of an "e-bike revolution."  
Of course, the cheap, efficient, and liberating alternative to the car has always been the bicycle.
In light of all this, it makes sense to subsidize ebikes even more so than it does to subsidize electric cars. According to one study that looked at promoting cleaner transportation options in the U.K., "the cost of saving a kilogram of CO2 via schemes to boost e-bikes is less than half the cost of existing grants for electric cars and at a cost per purchase of less than one-tenth of the grant for electric cars." Moreover, e-bikes are cheaper than electric cars to begin with—even a deluxe e-cargo bike like the Urban Arrow Shorty ($5,750) is about one-third the price of a Kia Rio ($15,390) and arguably way more practical—plus they take up far less space and don't require a coast-to-coast charging infrastructure that will inevitably be blocked by profoundly insecure pickup truck drivers.
Most crucially, almost 60 percent of car trips in the U.S. are six miles or less. E-bikes have serious potential to replace a good chunk of those car trips: according to one survey, e-bike owners reported that 76 percent of their trips would have otherwise been made by car. But the biggest obstacle for many people in obtaining one is price. 
So what incentives exist here in America to help you ditch your Toyota Yaris and instead purchase a clean and capable vehicle that places virtually no strain on our decrepit infrastructure and doesn't require you to circle the block looking for parking? Well, none really. Currently the federal government does not provide any type of tax credit for purchasing an e-bike, nor does any state. The California Bicycle Coalition is pushing the state to add bicycles (including e-bikes) to its existing clean vehicle incentive program, though legislative efforts are still in the information-gathering stage.
Alas, instead of figuring out how to get more people on e-bikes, many American municipalities are still reacting to them like cats to cucumbers, and laws pertaining to their use are all over the place. The New York State legislature only recently passed updated e-bike legislation, which governor Andrew Como has yet to sign. Presently, the new law contains language that would prohibit children under 16 from riding as passengers on e-bikes—which, for many users, is sort of the whole point of an e-cargo bike in the first place. And until the bill is signed into law the NYPD continues to crack down on delivery people who use e-bikes.  
Meanwhile, London is offering a subsidy for businesses that purchase e-cargo bikes, and Sweden, Norway, and France are just a few of the countries that will kick in some serious coin towards your new e-bike (Sweden will cover a whopping 25 percent of the purchase price). Here in America the electric car subsidy might nudge you towards buying a Chevy Volt instead of a Chevy Cruze—though that subsidy is dwindling, and under the current administration it could go away altogether.
Even so, in 2016, American taxpayers got $375 million in electric car tax credits. That kind of scratch could have bought a lot of e-bikes.
Lead Photo: Halfpoint/iStock