Indefinitely Wild
Hunters Need to Stand Up for the Clean Water Act
EPA proposes stripping protections from 50 percent of streams and 110 million acres of wetlands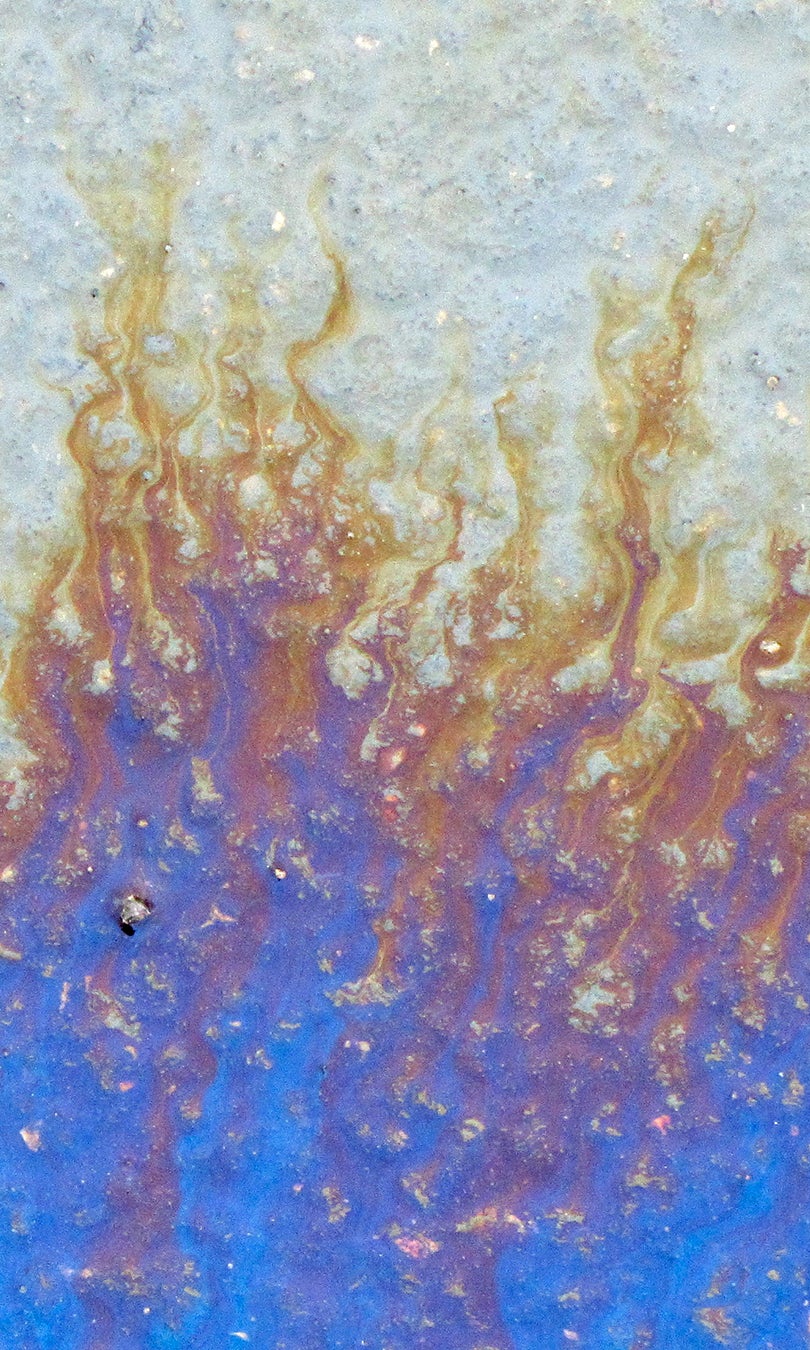 Heading out the door? Read this article on the new Outside+ app available now on iOS devices for members! Download the app.
Billed as a rollback of Obama-era "overreach," the Trump administration announced the most far-reaching assault on environmental protections our country has ever seen. The proposed regulations from the Environmental Protection Agency would strip protections from 50 percent of stream miles in the Lower 48 states and from 110 million acres of wetlands, as well as the larger bodies of water all that flows into. In short, top up your water bottles now, because clean drinking water might just become a thing of the past. 
When it was passed in 1972, the Clean Water Act set out to maintain the "chemical, physical and biological integrity of the Nation's waters." To do that, it banned polluting our nation's "navigable waters." As our scientific understanding of how pollution makes its way from groundwater into streams, rivers, lakes, and oceans has progressed, so too has the list of areas and types of water sources protected by the CWA. The volume of toxic chemicals released into water sources has thus decreased 48 percent between 1988 and 2003. Now, the EPA is proposing a return to pre-1988 levels of protection.
"Big polluters could not have crafted a bigger free pass to dump if they wrote it themselves," says Blan Holman, managing attorney for the Southern Environmental Law Center's office in Charleston, South Carolina. He tells me that state could lose up to 70 percent of its wetlands as a result of the new move. 
The announced change to the CWA would alter the definition of "waters of the United States," or "WOTUS." The exact terms of that definition have been a legal and political battleground since the Clean Water Act's inception in 1972. The expansion of that definition to include seasonal bodies of water and flood plains during the Obama administration provided much political fodder during the run up to the 2016 election. Conservative entities seized on it as an example of big government going too far. President Trump campaigned on a promise to repeal that ruling, calling it "one of the worst examples of federal regulation," and issuing an executive order soon after he took office calling for the EPA to abolish it. 
The administration claims that this week's ruling would simply eliminate that perceived Obama-era overreach (what EPA administrator Andrew Wheeler called a "power grab" during a news conference), but it actually goes much further. The new definition would strike down protections created by Republican presidents going all the way back to Ronald Reagan. 
"What they've done is say, 'Yeah science, that's not really what we're going to do here. We're just going to see if things are connected by a shiny blue line or not,'" says Holman. Basically, if it's not illustrated as a major body of water on a map, it will no longer be subject to federal protections. 
"Specifically, the administration is proposing to remove protections for a host of upstream waters, such as smaller streams, tributaries and millions of acres of wetlands, currently protected under the Clean Water Act," SELC wrote in a statement. "We all know pollution flows downstream and this action allows polluters the ability to dump waste into, or fill in, headwaters that flow into our rivers and lakes, contaminating waters used by everyone, especially outdoor enthusiasts."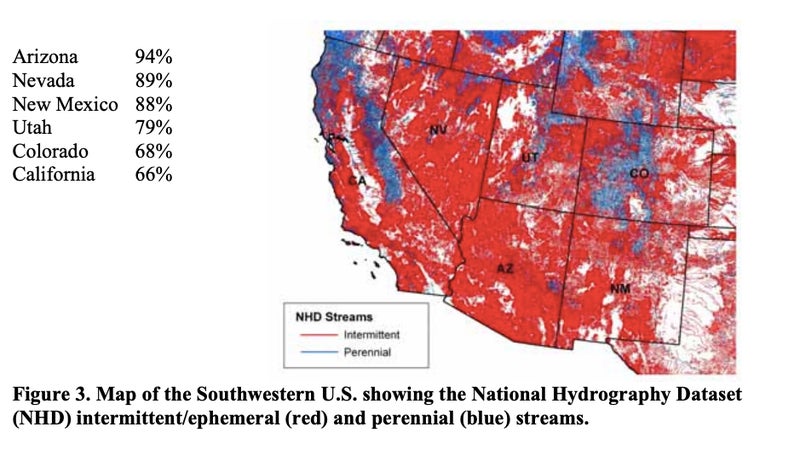 As we all know, the water in even giant rivers comes from innumerable small tributaries. Under the new definition of WOTUS, you still won't be able to throw a dump truck full of old car batteries into the Colorado River, but you would be able to do that in one of the small streams that flows into it. So the result—polluting that river—will be the same. And the same will be true for every other river in this country. Want to discharge a bunch of toxic waste into wetlands? So long as the spot you chose isn't immediately adjacent to a major body of water, that'll be totally fine, too. 
SELC details the impacts caused by stripping protections from small bodies of water and wetlands:
Eliminate safeguards for more than 50 percent of stream miles in the lower 48 states—almost 2 million miles of streams across the U.S.; 
End protections for most of the 110 million acres of wetlands in the continental U.S., particularly those wetlands that absorb runoff and keep rivers clean by filtering out harmful pollution.
The scale of this environmental degradation is hard to comprehend, but by allowing pollution of our wetlands, the biggest loser may be our wildlife. Half of all wild bird species in this country depend on healthy wetlands for their survival. One-third of all our endangered species call wetlands home. Ninety-five percent of commercially-harvested fish and shellfish are wetland-dependent. If this new rule becomes law next year, it will devastate the waterfowl hunting, recreational fishing, and commercial fishing industries.
Thus, it's not just environmentalists who are up in arms about the proposed regulations. "From wetlands in the prairie potholes region to the riparian areas that are critical to 80 percent of all wildlife—including big game—our hunting and fishing traditions can't exist without clean water," says Land Tawney, the CEO of sportsman advocacy group Backcountry Hunters and Anglers. "Hunters and anglers will not stand for shortsighted policies that weaken protections and threaten the integrity of fish and wildlife habitats currently safeguarded by bedrock conservation laws like the Clean Water Act."
The rollback is so far reaching that it's easy to spitball possible consequences to virtually every element of our lives. Holman suggested that even the beer industry will be affected, as producing that beverage relies on access to pure water sources. Western states stand to lose vast amount of their drinking water; the proposed regulations would strip protection from 81 percent of water sources in the Southwest. 
The proposed regulations will be given a 60-day comment period next year, and the administration says it will consider that public input before implementing the ruling. No act of Congress is necessary to amend the way the EPA defines its current regulations. Significant legal challenge is expected, but while it may alter these regulations at some point in the future, it likely cannot prevent their implementation. 
I asked Holman how much damage our country stands to sustain from these new rules, assuming there'll be a return to science-based practice under a hypothetical new administration in 2021 or 2025. Even in that short time, he told me, significant harm could be done. "It only takes one major incident to pollute an area for a long time," he says. 
Before we got off the phone, I asked Holman for a frank assessment of how screwed we're going to be here. His answer? A simple, "Oh my God."