Bike Snob
Into the Woods
Getting acquainted with nature's carbon fiber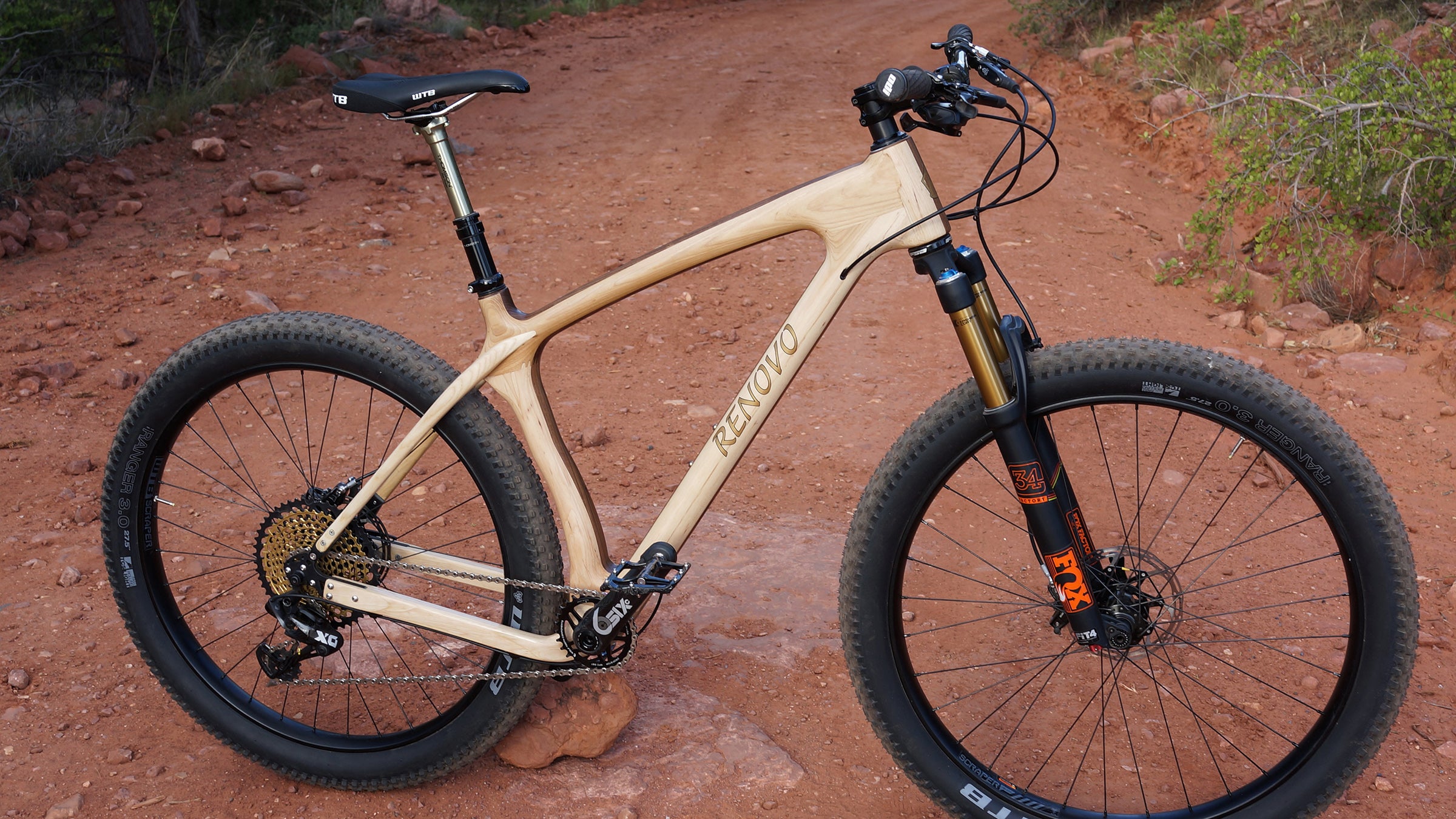 Heading out the door? Read this article on the new Outside+ app available now on iOS devices for members! Download the app.
I was recently stepping out of my building when UPS pulled up with a coffin-sized box that was way too large to be the phone charger I'd ordered. Having been spared by a matter of seconds the indignity of a yellow door tag, I gratefully relieved the driver of his burden and diverted it straight to the basement. Once ensconced in my subterranean lair, I set upon the package with a box cutter, and within moments I'd opened it to reveal an exquisite wooden bicycle.
The bicycle was a Renovo Aerowood, and I'd leapt at the opportunity to test it for two reasons:
The novelty factor of wood as a frame material; 
A solid month's worth of easy arboreal puns, though to be perfectly honest I got sick of those pretty quickly.
As cyclists, many of us identify with our bikes, and often the aspect we identify with most is the material from which they are made. Carbon, aluminum, steel, titanium…each has its relative merits, but you can make a fantastic bike out of any of them. Therefore, whether we admit it or not, when we chose one over the other, what we're really doing is expressing something about ourselves and our intentions on the bike. Carbon says "I'm a racer;" aluminum says "I'm a racer who's smart with money;" steel says "I wear practical shoes;" titanium says "I have a lucrative law practice."
And so on.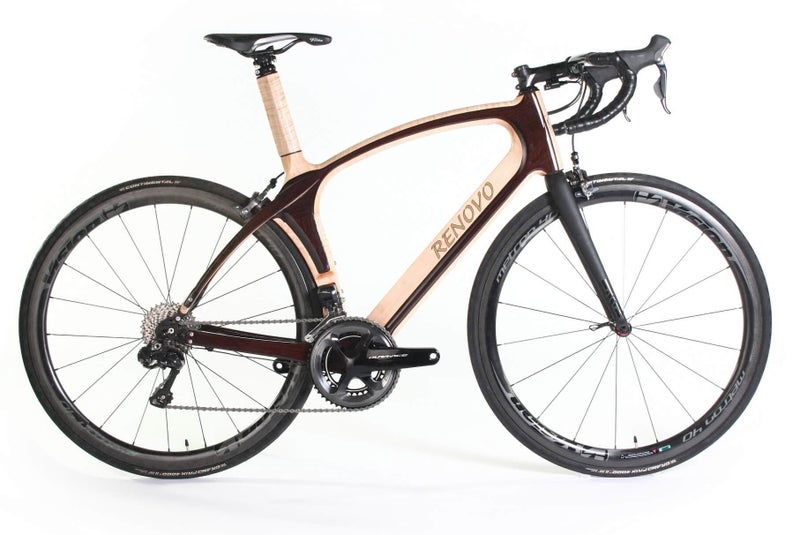 So what does a wood bike say about a rider? Well, it's a lot tougher to generalize for the simple reason that they're aren't too many of them out there. As far as bikes that grow in soil go, bamboo is a bit more common, and those run the gamut: a high-end one like a Boo or a Calfee says "I'm as smug as I am fast," whereas the one you built in the local co-op says "I ride in sandals, dig 'Gilligan's Island,' and am still kinda high off the epoxy." Still, it's fairly safe to say that anyone riding a wood bike is the type of person who goes against the grain and is not one to bough to convention. (Hey, I said I was sick of wood puns, not that I was above making them.)
As I removed the Renovo from the box and began to assemble it, my perception of the bike and who it was meant for began to evolve. For one thing, it was packed more meticulously than any bike I've ever unboxed. It even came with tools. In fact, the box itself transformed into a bike stand to facilitate the process—a billionaire could have this thing shipped straight to his yacht and be cruising around Cap d'Antibes inside of an hour. The manual also came in an embossed folder instead of the usual plastic bag. On balance, being on the receiving end of a Renovo is like taking delivery of a box of 12-year-old single malt Scotch. (Renovo even offers a bike made from Glenmorangie whiskey casks, because of course.) 
Then there was the look of the thing. While I had no problem thinking of wood as a suitable high-performance frame material (it's a bit late in human history to start doubting the stuff), I can't say the look of the bike excited me when I viewed it on a computer monitor. Frankly, as someone partial to metal bikes, I got sort of an executive-desk-set vibe from it. However, in person the sheer worksmanship of the thing was inspiring, and despite my fondness for bikes that come from mines, you've got to be kind of dead inside not to appreciate a nice woodgrain. So if taking the bike from its box made me think of Scotch, rolling the bike back and forth once I'd gotten it together was like handling a pool cue idly between my fingers while sipping said Scotch.
And what of the ride? According to Renovo, wood has all the performance qualities people typically ascribe to carbon fiber—you know, the old "laterally stiff yet compliant" saw (oops, there I go again)—with the added benefit of being a renewable resource. That may be, and certainly the delightful ride quality gave no evidence to the contrary. I'd even go so far as to say the Aerowood handles like a No. 2 pencil: it inspires confidence, yet it's easy to quickly correct your line. (Oh god, make it stop.) Then again, this is also a bike setup with carbon wheels, electronic shifting, and other posh componentry, so I'd expect similar sensations from a well-designed frame of any material. Swapping parts between the Renovo and my other bikes should provide more insight in this regard.
But of course what really sets the Renovo experience apart is that people notice it—like really notice it. Shortly after receiving the bike, I took it with me to the Philly Bike Expo, and while I expected people at the show to remark on it, I also found that every time I walked through the hotel lobby, the non-cyclists wanted to talk to me about it, too. This is because the Renovo shouts "expensive" in a way that transcends bikes. Carbon weave and matte titanium only speak to a sliver of the population, whereas woodgrain evokes luxury car consoles and private jet cabins and R&B music videos and all the rest of it. You're guaranteed attention from the bike weenies and the laypeople alike.
As it happens, I don't particularly crave attention while I'm out on the bike. On my last ride, when someone called out from a car, "IS THAT BIKE WOOD?," I pretended not to hear him and slipped away through a gap in traffic. Nevertheless, I understand pride of ownership, and can see how someone might find this level of attention gratifying. Plus, while these bikes ain't exactly cheap, they're still in line with similar offerings from the big companies. And if you're going to spend a lot of money on a bike, what's more ridiculous: helping to foot the bill from some UCI WorldTeam or buying from a small operation in Portland and getting some woodgrain in the bargain?
Most importantly, the bike is a lot of fun to ride. So while I may not need the attention, the last thing I'm gonna do is knock wood.
Trending on Outside Online