A Sticky Day in the Life of a Vermont Sugar Maker
Meg Emmons wakes up and puts on her sugaring boots one at a time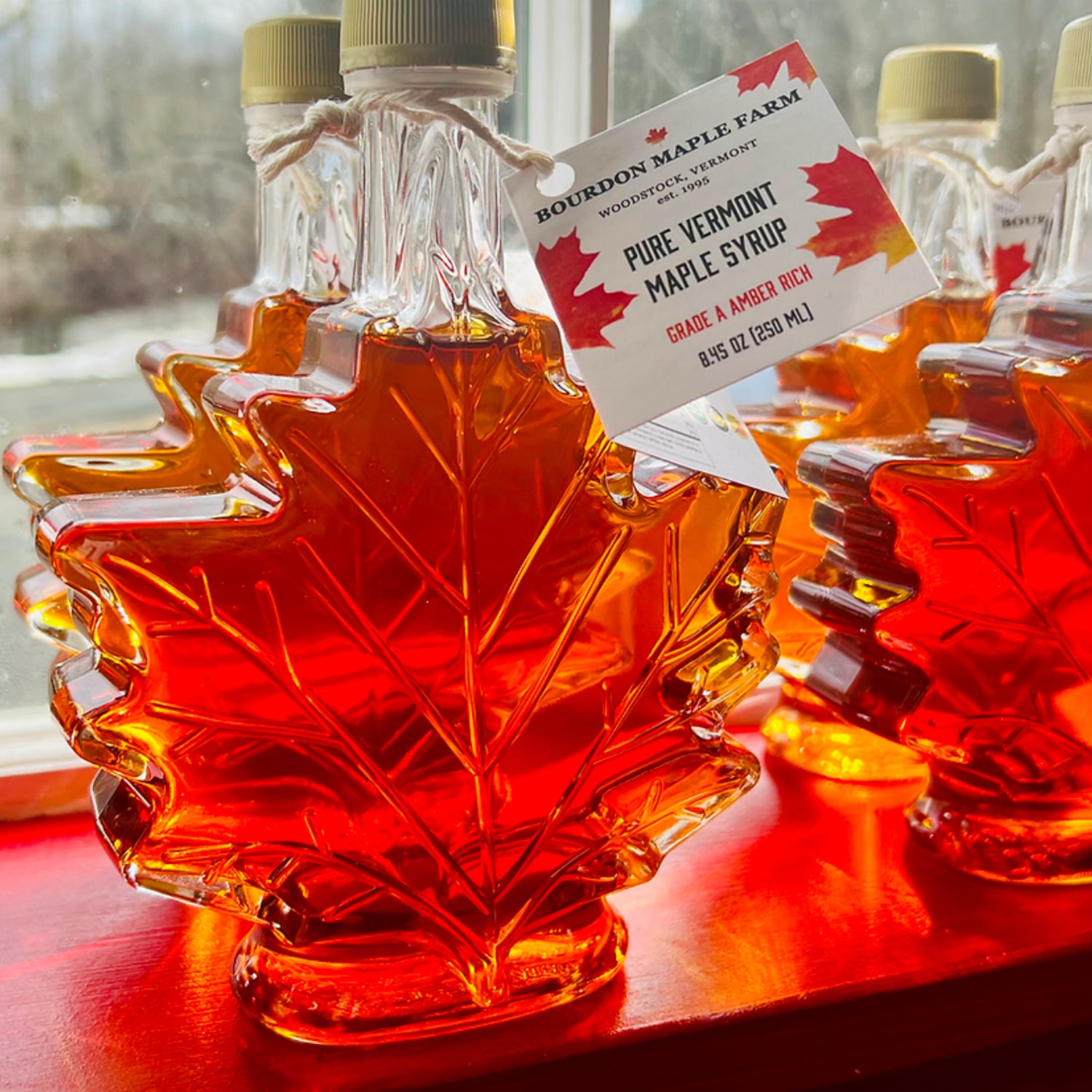 Bourdon Maple Farm
Heading out the door? Read this article on the new Outside+ app available now on iOS devices for members! Download the app.
When I called Meg Emmons, operations manager and marketing director of Bourdon Maple Farm in Vermont, she had just emerged from the woods after the season's first day of tapping trees.
Bourdon Maple Farm consists of 10,000 maple trees and two full-time sugar makers, owner Don Bourdon and Meg Emmons. The farm has been running for over 30 years as a sustainable, organic maple syrup producer in Woodstock, Vermont, where maple trees are abundant and sugaring is a way of life. 
Emmons lives in a sweet world of sustainability and natural resources. She grew up working with her parents on their family own local farm and restaurant, Cloudland Farm, also in Woodstock, and had neighbors who had their own small-scale, rustic sugar houses in their backyards. As a kid, she could open her windows and smell the maple steam wafting from next door. 
Emmons started working at Bourdon Maple Farm in 2012 to get some real-world experience before college. Her job duties initially included helping Don carry tools and debris around in the sugarbush, the term for a group of Sugar Maple trees growing in the same area and used to produce maple syrup or maple sugar, and then eventually took on more responsibilities like managing sections of the forest and monitoring the sap boiling process. After a year, Emmons went to The University of Vermont to study agriculture, but returned every winter break to tap trees. Even after she graduated, sugaring really stuck with her and became a full-time job.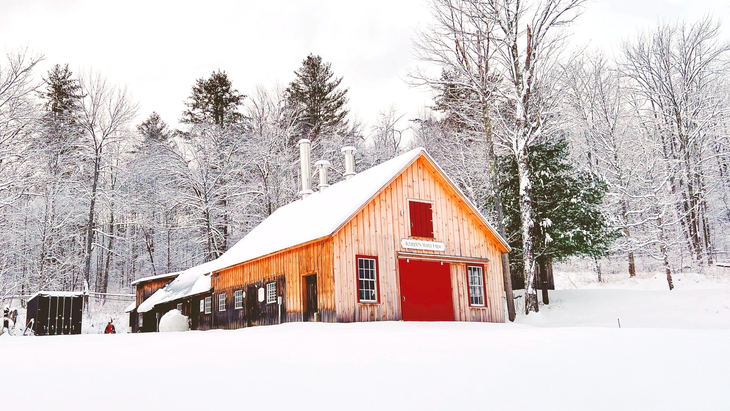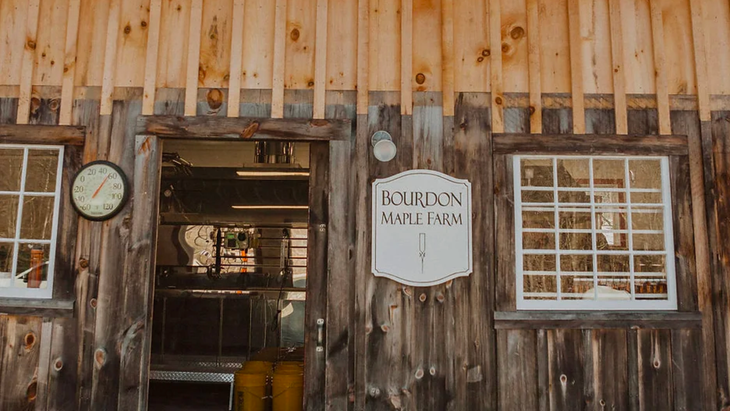 A Day In The Life of Sugar Maker 
Emmons wakes up before sunrise and heads 20 minutes down the road to Bourdon Maple Farm. In the sugarhouse, she packs her backpack full of coffee, snacks and all the tools she needs before heading into the forest on a six-wheeled ATV.
"A lot of the time, we don't come out of the woods all day," Emmons says. "So we have to have anything we possibly need to fix anything we come across."
Her pack includes: a splicer, pruning shears, extra tubing and wire, a handsaw tucked in her boot, and a bit of maple syrup to get her through tough afternoons. 
Equally important is putting together a plan of what she'll be working on that day out in the woods, which entirely depends on the season. From November to December, Emmons and Bourdon walk through the forest checking each section and clearing out any dead branches or debris. They check the sap pipeline system, which is made of a complex field of tubes that lead back to the sugarhouse. In January, they begin tapping. 
How to Tap A Maple Tree
For tapping, Emmons has a tool belt with a drill hoop, hammer loop and nail pouch that she fills with spouts. They recruit a small team for tapping season, so any day Emmons could be working solo or with three to five people. 
Tapping involves drilling a hole into a clean, healthy spot in a tree, keeping the drill steady to create an exact circle rather than an oval that might leak. Then, Emmons will hammer a spout in the hole. The day we talked, Emmons and a recruit tapped around 300 spouts, which will produce about 21 gallons of sap each,
"We do that 10,000 times to cover all the trees," Emmons says, laughing. "But it's okay. We listen to podcasts and music and have fun with it, even if it's a lot of work.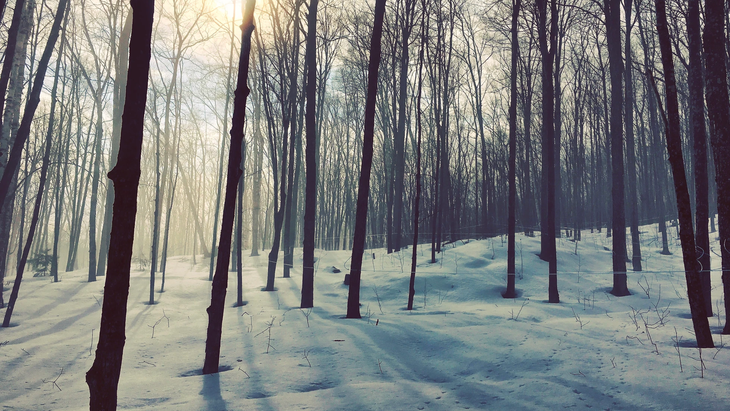 What Happens After Tapping?
Once all the trees are tapped, around the end of February, Bourdon Farm needs the perfect string of days before they can pull the sap through the system of pipelines they've established. 
"We need warm days, a freezing night and then a warm day afterwards," Emmons says. "When that happens, we'll turn on the vacuum in the sugarhouse to get that sap. It flows down naturally, anyways, but the vacuum system maximizes productivity." 
At that point, collecting the sap is a two-person job. Emmons says one person stays and manages the boiling of the sap while the other goes into the forest to monitor the pipes and make sure nothing is leaking. 
"We collect the sap into these huge tanks and run it through a reverse osmosis system that pushes raw sap – two percent sugar – through membranes into another tank," Emmons says. "It filters all the water out of it. We can take 75-80 percent of the water out immediately and concentrate it to be 15-16 percent sugar."
The osmotic pressure is an essential, efficient part of the process, as it cuts down the boiling time. 
"If we only boiled raw sap, we'd be boiling day and night for weeks," Emmons says. 
What Makes Maple Syrup Organic?
Bourdon Farm's maple syrup is certified organic, which means Emmons and Bourdon have to manage the forest and boiling process to meet sustainability standards of the Northeast Organic Farming Association of Vermont. 
"We don't over tap trees, which is super important to us because we want to make sure the forest remains healthy and each tree is growing well," Emmons says. "The healthier the tree is, the faster it'll grow and the more sap and the sweeter sap it produces."
Emmons says the Bourdon Farms forest has a diverse array of foliage – from sugar maples, red maples, ash trees, beech trees, birch trees – to mitigate disease and prevent pest pressure. 
What's the Difference Between "Pancake Syrup" and Maple Syrup?
You might be surprised to know that one of America's favorite topping for pancakes and waffles has been masquerading as something that it's not. Brands like Mrs. Butterworth's and Aunt Jemima aren't technically maple syrup. That's because pancake syrup's number one ingredient is corn syrup, followed by high-fructose corn syrup. The first and only ingredient in pure Vermont maple syrup? Pure, boiled maple sap. 
"Pure maple syrup has vitamins and minerals and antioxidants," Emmons says.
The Canadian Connection: Why Canada is a Maple Syrup Powerhouse
Canada produces 85 percent of the world's maple syrup. The abundance of maple trees and perfect weather conditions create the most optimal environment for maple syrup production. Today, there are over 53 million maple taps in Canada, versus the U.S.'s 13.3 million. 
"We're competing with them, but actually a lot of our machinery is made in Canada," Emmons says. "Like our evaporator and osmosis machine." 
As far as flavor profiles, Emmons says flavor depends on the micronutrients in the soil of maple trees, so of course Canadian and Vermont syrups might taste different, but only slightly. 
Lead Photo: Bourdon Maple Farm
Trending on Outside Online