A Brief History of the East Coast's Craft Beer Paradise
Asheville, North Carolina, has figured out the best way to lure new breweries: offer great places to play outside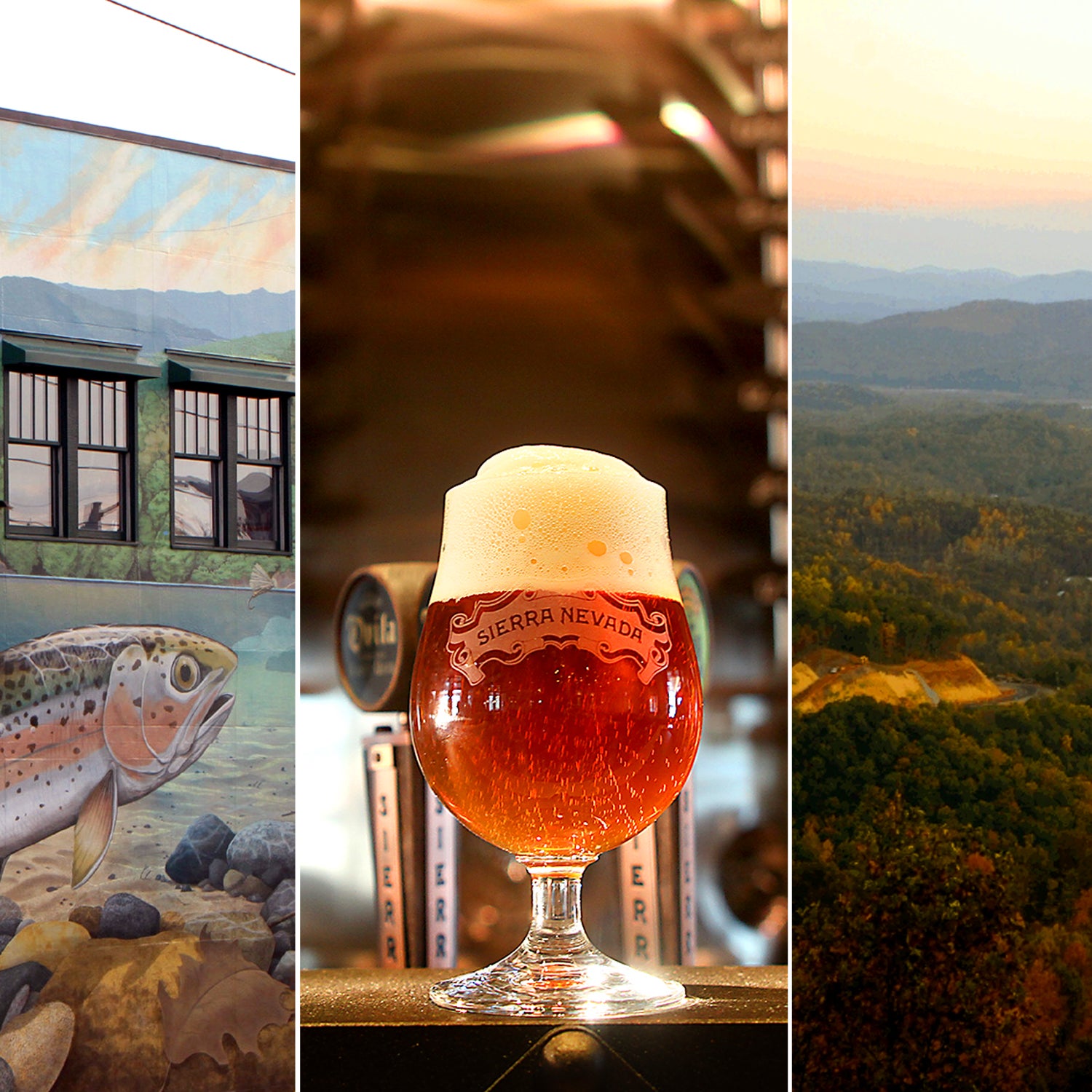 Heading out the door? Read this article on the new Outside+ app available now on iOS devices for members! Download the app.
Let me tell you about the small town where I live in East Tennessee. It's rural, it's stunningly beautiful, and there isn't a drop of craft beer to be had in the county. Keystone Light and Natural Ice take up the majority of shelf space at the local Super Wal-Mart, and the one time I saw Fat Tire bathed in the fluorescent glow of big box store lights, I nearly cried tears of joy. 
But less than two hours away, another Appalachian town is fast becoming one of the country's best craft beer destinations. In the past two years, both New Belgium and Sierra Nevada have chosen Asheville, North Carolina, as the site for new breweries. Oskar Blues, meanwhile, has opened a satellite brewery right up the road in Brevard, North Carolina. 
Those are just the big guys. Asheville claims to have more breweries per capita than any other city, and it recently netted eight medals at the 2015 Great American Beer Fest in Denver. 
So how has this city of just 88,000 residents in the traditionally alcohol-averse south become such a hotbed for brewers? The answer is complicated, but ultimately it boils down to Asheville's proximity to three things we already love: clean water, pristine forests, and gorgeous mountain peaks.
From its earliest days, Asheville drew many of the East Coast's nature-loving elite. "You can look back at Asheville's history as a mountain resort and see that the outdoors have always been a draw here," says Dodie Stevens, director of communications for the Asheville Visitor and Convention Bureau. When George Vanderbilt first began buying up the land for his mountain retreat in 1888, he secured much of the land that the family would eventually sell to the federal government as Pisgah National Forest. As art lovers and collectors, the Vanderbilts also secured the area's future as an art-supportive community.
"It kicks ass here in Western North Carolina. So the tax structure isn't perfect. My front yard is literally the Pisgah National Forest, so darn."
"We're fiercely independent, creative people" to begin with, says Ben Teague, executive director for Asheville's Economic Development Coalition. He says that the area's Scotch-Irish settlers developed deep traditions of craftsmanship—including making their own beer and moonshine. "If you couldn't get it, you'd do it yourself." Today, both fine art and craft are still part of the area's DNA. The area is home to the Center for Craft, Creativity and Design, multiple folk art centers and guilds, and an entire arts district with more than 180 working studios. On any given weekend there's some sort of art festival happening around town, like the Asheville Fringe Festival, the Big Crafty (a juried competition), or the Biltmore Village Arts and Craft Fair. 
  
Asheville's beer community has a history of getting creative to keep up with the times. Like much of the south, North Carolina still had many archaic, prohibition-era laws in place, even in the late 1990s. The most crippling one stipulated that no beer sold or brewed in the state could be above 6 percent ABV. 
"It just made no logical sense," says Sean Wilson, who led the effort to repeal the rule alongside a group of friends. Wilson now owns Fullsteam Brewing a few hours out of Asheville, but he says that when he started lobbying for the change in 2002, he wasn't planning a brewery. He just wanted to be able to drink better beer with his buddies. They dubbed their effort "Pop the Cap." After three years of petitioning, meeting with leaders, and pounding the pavement, the group was successful, celebrating with brassy mugs of high-octane beer. 
It established North Carolina as one of the most progressive states in the south when it comes to beer legislation, and breweries could see that Asheville has a lot of other craft-specific perks. It's almost equidistant between Miami and New York, ideal for distributing product. The south has a long and productive growing season, which makes getting local malt and grain relatively easy. And Asheville gets first dibs from the North Fork Reservoir, so "the water is amazing," says Suzanne Hackett, a community and media relations specialist at New Belgium Brewery. Add in a million acres of forest surrounding the city and more than 40 peaks over 6,000 feet (some of the biggest on the East Coast) in its backyard, and it's a craft enthusiast's paradise.
"It kicks ass here in Western North Carolina," says Brian Grossman, Sierra Nevada Brewing Company's general manager and a California native. "So the tax structure isn't perfect. My front yard is literally the Pisgah National Forest, so darn."
But what do Asheville natives think? Too much competition? 
"I don't think we ever thought that New Belgium or Sierra Nevada would be in our backyard," says Drew Stevenson, who handles marketing and community outreach for Asheville's original brewery, Highland Brewing. "Having them here definitely keeps us on our toes, it keeps us from becoming complacent."