Build the Perfect Outdoor Bar
Let summer live on with a few more luaus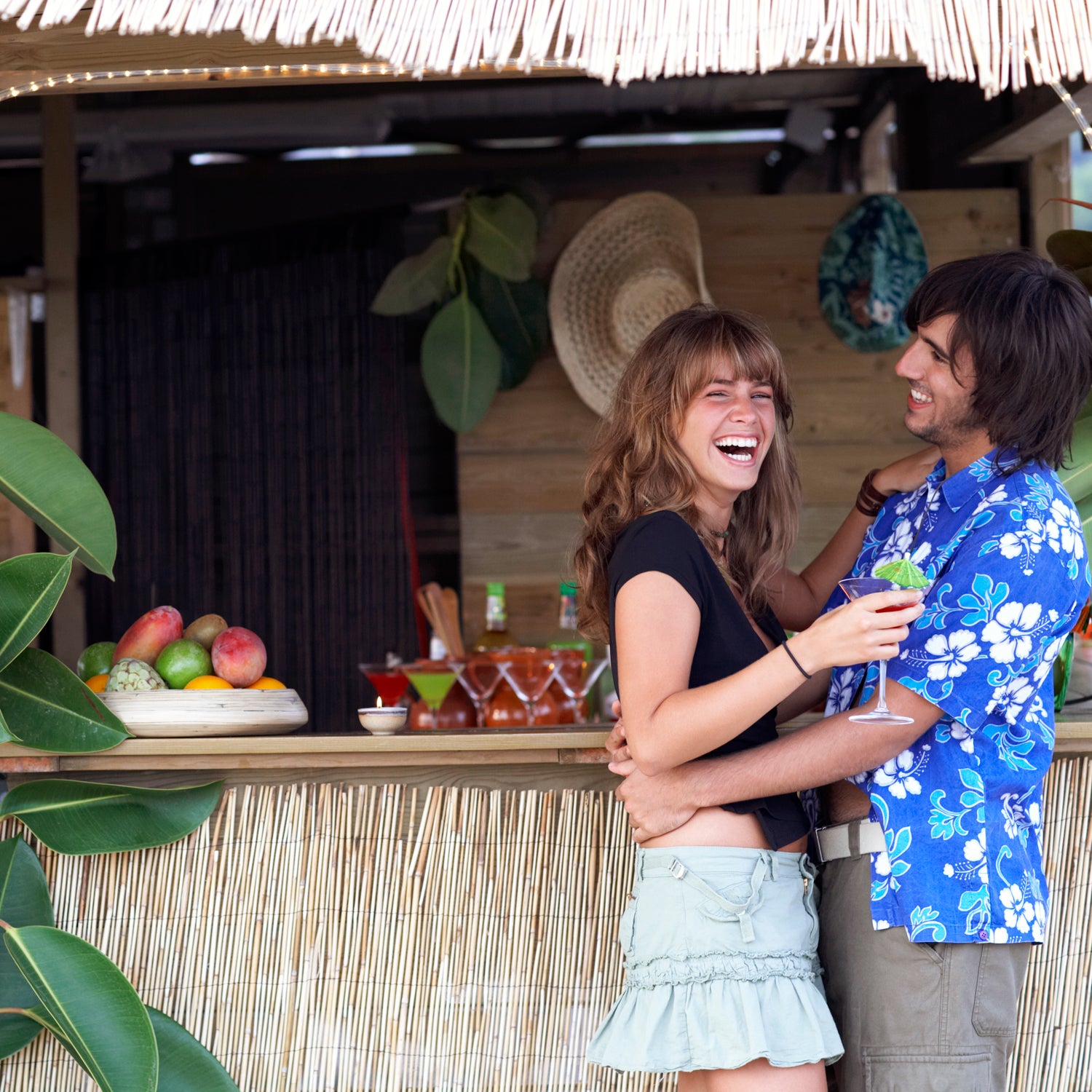 Heading out the door? Read this article on the new Outside+ app available now on iOS devices for members! Download the app.
Please stop rushing summer out the door. Sure, Starbucks has its pumpkin spice latte for sale, but technically we've got almost three more glorious weeks to go before fall begins on September 23.
Instead of hanging those Halloween decorations, why not spend these last sun-soaked weekends in your DIY tiki bar? After all, the best way to resist gourd-infused coffee is to keep your fists full of icy umbrella-topped drinks. Here's how to build your very own tiki bar and bring just a bit of endless summer to your backyard.
Pick Your Spot
You'll want to choose one of the flatter spots in your yard. Since you'll be manning the bar mostly at sunset, build in any direction except facing west, or you'll spend the entire evening squinting into the sun. If you can, construct the bar under a tree, which will provide shade in the summer and protection from the elements in winter. 
Plan the Dimensions
A typical bar is 42 inches tall. This height works perfectly with a 30-inch barstool and is comfortable for standing users. Make the bar about 24 inches wide to allow plenty of room for mixing drinks. For length, you'll want about three feet of space for each barstool, so if you want the bar to seat three, make it about nine feet long.
Also, you'll need to decide where to keep your liquor. You can either build shelves beneath the bar or build a back bar. If you opt for a back bar, you'll need about five feet of space between the main bar and back bar to move around comfortably.
If you get stuck, visit TikiRoom.com, a forum where hundreds of tiki enthusiasts share images and plans for their homemade tiki lounges and bars. (You can also buy a completely finished tiki bar from EndlessSummerSun.com, but where's the fun in that?)
Choose a Finish
Since you're probably not actually in Hawaii, you'll want to protect your bar from rain and (sigh) snow. You can do this either by adding a weatherproof varnish or burn-finishing it—gently charring the outside of the wood with a handheld torch. The finished effect looks authentically retro and is much more weather resistant than untreated wood. (You should only ever burn-finish wood outside. If you built your bar inside, take it outside before you torch it.)
Decorate Your Bar
This is not the time to go for an understated look. Add vintage hula girl lamps, fishing nets and buoys, paper lanterns, ukuleles, and hand-carved tikis (see below) ad nauseum.
Carve a Tiki
These traditional Polynesian figurines can be as scary or as funny as your imagination desires. You'll need a hefty piece of wood, a set of chisels, and some creativity. Google is full of sample images; for a step-by-step tutorial, visit Instructables.com. 
Light Some Tiki Torches
Sure, you can buy the traditional type at a party supply store, but you can also upcycle used wine bottles into sleek, modern torches using just a few items from the hardware store. Plus, when you make your own, you can fill them with citronella oil, which keeps late-season mosquitos at bay. Check out this neat tutorial from DIY design site Apartment Therapy. 
Pick Your Tunes
You can't go wrong with Don Ho's Greatest Hits album, which includes "Tiny Bubbles," "Beautiful Kauai," and other classics. For a mellower mood, pick up the Hawaiian Slack Key Guitar Masters Collection. For a more lively choice, Tahiti Rey, a Hawaii-based acoustic soul and folk singer, recommends Johnny Aloha's newest album, Lavapalooza. Aloha transforms modern pop songs into tiki lounge-appropriate music. The result is unexpected, a bit silly, and totally fun. 
Stock Your Bar
This may be your most important step of all. Sure, you have to have the makings for a good mai tai (rum, orgeat syrup, triple sec, lime juice, and simple syrup), but don't stop there. In the past decade, the craft cocktail movement has hit downtown Honolulu in a big way. In many of the city's trendiest bars, mai tais aren't even on the menu. In their place are all-grown-up cocktails full of fragrant, locally grown aromatics and freshly muddled fruit. Many of these drinks star island-produced craft liquors like Hawaiian Vodka, which is filtered through lava rocks, or Koloa Rum, made from Kauai-grown sugarcane. Stock up and repeat as necessary.
Trending on Outside Online