How to Cook a Turkey Over a Campfire
Longing for a wilderness Thanksgiving? Steven Rinella, host of the podcast and Netflix show 'MeatEater' and a consummate outdoorsman, teaches us how to cook a turkey in the backcountry.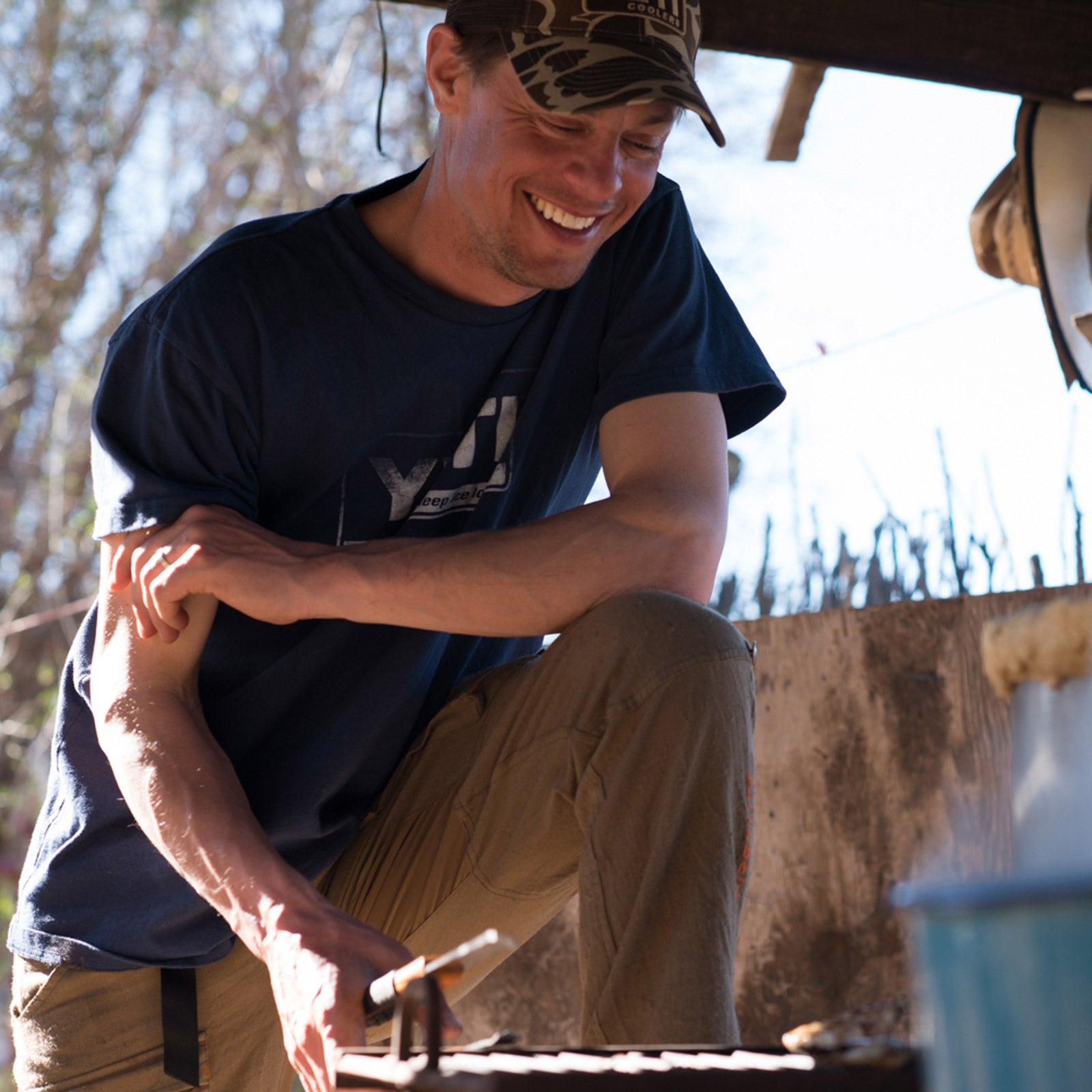 Courtesy Steven Rinella(Photo)
Heading out the door? Read this article on the new Outside+ app available now on iOS devices for members! Download the app.
If the current news cycle makes you want to run screaming into the woods for Thanksgiving, we understand. The upshot? If you know what you're doing, you can cook a turkey over a campfire.
Especially if you follow Steven Rinella's advice. An expert outdoorsman and hunter, Rinella is also a damn good cook. He's the author of six game and wildlife cookbooks. His newest, The MeatEater Fish and Game Cookbook: Recipes and Techniques for Every Hunter and Angler, comes out November 20.
But first, a caveat: Rinella doesn't actually eat turkey on Turkey Day. "The first Thanksgiving was described as an impromptu affair," says Rinella, who is based in Bozeman, Montana. "They would have eaten whatever they had on hand." The time to hunt wild turkeys—the only kind of turkey Rinella eats—is in the spring. Freezing a bird for six months seems silly, especially when there's so much else to be harvested in the fall. Take, for example, venison, "which was surely on the original Thanksgiving menus," Rinella says.
"But I've cooked a boatload of turkeys," he assures us, adding that his new book has a flock of great wild turkey recipes. And you can use the recipes below on domesticated birds—just increase the cooking time, since farmed turkeys are almost always larger than wild.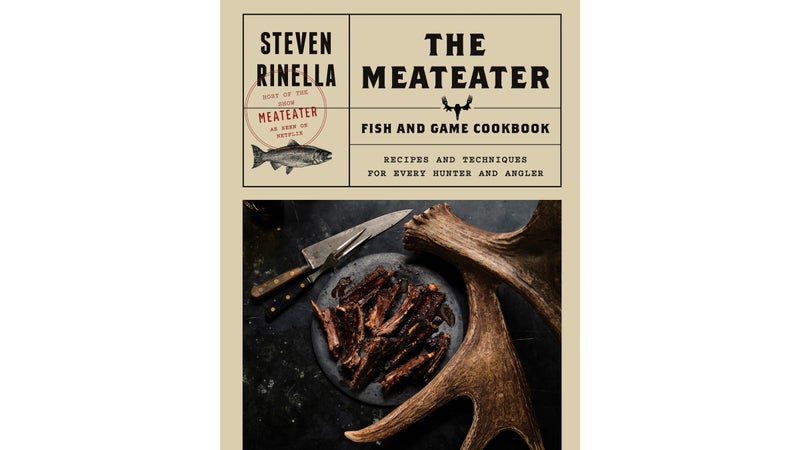 Before diving in, consider this advice from Rinella. Lose any notion of cooking the bird à la Rockwell—that is, intact. "I would compare that to flying a helicopter," he says, explaining that you'd work so hard to keep the turkey cooking evenly on all sides that it would stress you out. "Lower your expectations."
Here is Rinella's step-by-step guide.
1) Brine, Baby, Brine
"Some people say brining doesn't make a difference, but screw those guys," Rinella says. Soaking your turkey for at least a few hours in a salt, water, and sugar bath makes "the impossible possible." Meaning? It adds a ton of flavor and helps keep the bird from drying out as it cooks. (See Rinella's turkey brine recipe below.)
2) Choose Your Adventure
There are two ways to cook a bird over a fire. The first is to spatchcock it. To the uninitiated, spatchcocking means butchering a bird so it lays flat. Basically, you cut down the backbone with kitchen shears, then either break or remove the breastbone. "Spatchcocking takes a 3D thing and turns it into 2D," which makes it much easier to cook evenly, Rinella says. If you want to serve your Thanksgiving meal as One Big Bird, choose this route. The other option is to cut your bird into pieces. Rinella likes to butcher a raw turkey into two breasts, two bone-in thighs and drumsticks, and two wings. The benefit here is that you can cook each piece for exactly as long as needed.
3) Build Your Fire
You'll need a good, mature burn with plenty of hot embers. The cooking doesn't happen over the flame part of the fire, Rinella says. "If your fire is like a house, you're going to cook over where the garage would be," he says. So pull a few embers slightly aside but still adjacent to the fire. This is what you'll cook over, and you can replenish the embers as needed.
4) Put Your Grate Over the Hot Embers
If you're going with the small-pieces method, the grill should be about three inches over the embers. If you're spatchcocking, put the grate about five inches above the embers. "When the embers are too hot to hold your hand over them for a count of three, you're ready to go," Rinella says.
5) Begin Cooking
If your turkey has been brining (it has, right?), pull it out of the brine and pat it dry before putting it over the fire (see next instructions).
For a Spatchcocked Bird
Place it over the grate, skin side down. (Don't remove the skin before cooking for either of these methods. Skin keeps the bird moist, and it's delicious.) After about four minutes, give the turkey a light baste with clarified butter, then turn it over. You'll keep basting and turning every four minutes or so as it cooks. Your turkey will not cook evenly, no matter what you do. "So you're going to eat in stages," Rinella says. You know how in old cowboy movies they cut off a bit of meat at a time and eat it as the giant hunk-o-meat keeps cooking? That's precisely what you'll do with this method, basting and turning as you eat. If you have plenty of wine on hand, snacking on the bird bits at a time feels festive and communal, and you won't regret not having a finished, sit-down meal. Depending on the size of your bird, it may be 40 minutes or an hour before you can start digging in. (It's done when a meat thermometer reaches 160 degrees and the juices run clear.)
For a Precarved Bird
Once your grate is piping hot, place your turkey over the grate, skin side down. Baste the bird with clarified butter, but you need to be more careful in this setup, because the meat is closer to the embers. "Over-basting will result in flare-ups," says Rinella, adding that you'll get this gross ashy/burned flavor from the singed butter. Get the skin nice and crispy, then flip. FYI, the pieces may cook at different rates. The boneless breasts will likely be done before the legs, with the wings falling somewhere in the middle.
Serve your bird with Rinella's brandied cherries, a nice change from traditional cranberry sauce. "Cooking brandied cherries as a side is easy, fun, delicious, and allows you to stay focused on the real job, which is cooking the turkey," he says. The cherries cook in just a few minutes.
Steve's Brandied Cherries Recipe
3/4 cups water
3/4 cups granulated sugar
2 juniper berries, lightly crushed (optional)
1 cinnamon stick
Pinch of kosher salt
1 cup brandy
1 pound cherries, stemmed and pitted
In a medium saucepan, combine the water, sugar, juniper berries (if using), cinnamon, and salt. Over medium-high heat, bring to a simmer, stirring until the sugar dissolves, about five minutes. Add the brandy and cherries; stir to combine. Remove from heat and set aside to cool.
Steve's Brine Recipe
1 gallon water
1 cup kosher salt
1 cup packed brown sugar
10 black peppercorns
3 bay leaves
Bring all the ingredients to a boil to dissolve everything, then chill before adding the turkey. Let the meat brine for 12 to 24 hours. Double the recipe for a bigger bird.
Lead Photo: Courtesy Steven Rinella
Trending on Outside Online