How to Best Organize Your Pantry
You'd never hit the trail with an untidy pack, so why keep your pantry in disarray?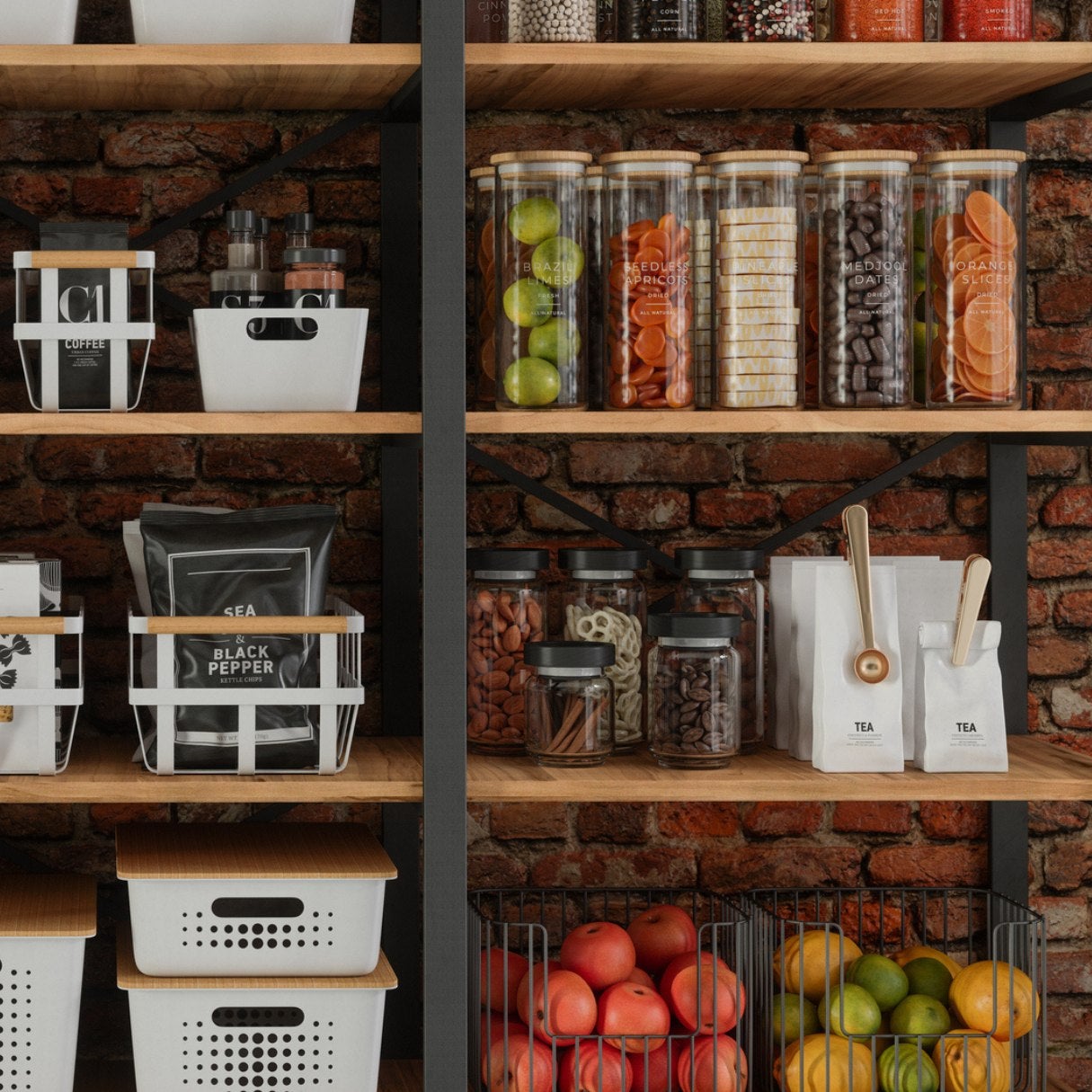 Getty Images/onurdongel
Heading out the door? Read this article on the new Outside+ app available now on iOS devices for members! Download the app.
A clean, tidy, and well organized pantry can not only save you substantial amounts of time, it can make you a better cook and baker. It's not unlike the expression: "clean desk, clear mind." You wouldn't head out on the trail with a cluttered backpack, would you? The same attention paid to your camping pack should be applied to your kitchen pantry. 
Remove the clutter, stock up on the essentials, create a system to organize your ingredients and equipment, and you'll be whipping up dishes like a chef in no time. 
As a recipe creator and professional baker, I've refined my pantry know-how over the years. I've learned from mistakes big and small, often with a helpful nudge from a roster of skillful chefs and bakers. The key takeaways are this: observation and repetition.
How to stock your pantry 
I know what I love to eat, therefore, I know what I need to stock. This—knowing your staple dishes and identifying your must-have ingredients—is at the very center of this project.
However, if you're new to cooking and baking, or simply have never taken steps to be more efficient and organized, it's never too late to start. Start simple. Begin with what you can use confidently. 
Choose 10 of your favorite recipes and familiarize yourself with the ingredients. Stock up on these often-used items—maybe that's only spices, olive oil, and nut butters, and that's fine—then branch out based on what you want to master. 
The more you become familiar with the recipes you plan to make, the faster your reflex for what you'll need will develop. Eventually it will become more natural and that, my friend, is called efficiency. 
There are no dumb questions
My culinary education started when I was a child cooking with my mother and grandmother (a published chef). Both excelled in the kitchen, and I asked them a million and one questions. I also observed and noted every tool and ingredient.
In addition, I asked about the science of cooking: why baking soda and not baking powder? If you don't have that, what can you substitute? My mother and grandmother had the most organized pantries, and a good flow to the kitchen space—all things in their place, and a place for everything.
With that said, I encourage you to observe experienced chefs—whether they are family members, friends, or true professionals (if possible)—and ask questions. Then take that knowledge and apply it to your practice.
How to organize your pantry 
Being neat isn't accidental; it comes from having a system. Start with the following tips, and then apply the same formula far and wide:
1. If you use a variety of flours, invest in big glass jars with wide mouths that make it easy to scoop. Label everything so you know what type of flour it is: almond, whole wheat, bread, oat, etc. Ditto for grains like rice, quinoa, bulgur, etc. Do the same thing with spices. Ditch the small containers they come in. Organize them on an easy-to-see shelf or lazy Susan. Label everything, add a personal touch if you care to, and then alphabetize the whole lot. 
2. If you are a soup lover like me, stock up on as much broth (vegetable, chicken, and beef) as you can fit in your space, especially for the long winter months. The same can be done with beans since they last so long. If you prefer dry beans, the same rules apply: airtight glass jars with wide mouths, and label everything. 
3. If you have kids at home, you likely have a stock of pasta. Use a basket to corral the various shapes. My 7-year-old daughter loves noodles and she knows which basket it's in and she's able to pick out whatever shape she's craving. Do the same with a snack basket filled with healthy snacks that the kids can easily access without bothering you about it. 
4. Keep things fresh by rotating the pantry—put the older items in the front so they don't go to waste.
In terms of how much to stock, here's where your high school math skills come in handy. Calculate how much you'll need based on what you expect to make in a two-week period. For example, my daughter loves banana-oat pancakes. I know how much oat flour I need for those two weeks by how many days a week I'm making the pancakes. Easy equation. Apply that across your many ingredients to shop wiser and reduce waste and unnecessary trips to the market.
How much is too much? You'll know your pantry is well stocked for your purposes when, most of the time, you need only shop for one or two fresh ingredients to cook a fabulous meal.
Finally, use a whiteboard or a scrap of paper to create a shopping list of the things that you're running low on. (Keep it inside the pantry to both keep track of what you have and what you need.) Don't wait until you run out of something; buy it as soon as you go to the grocery store and purchase in bulk if you can.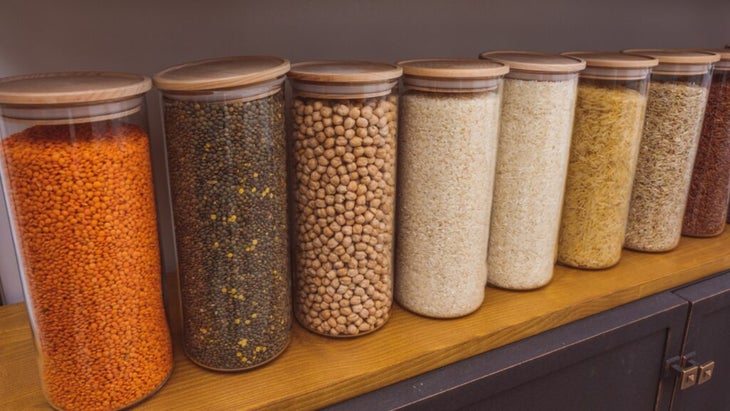 Create a system for your pantry 
Now, how to organize all these ingredients? Create a system and stick to it. 
I like to keep canned goods such as beans, pumpkin puree, and coconut milk on the top shelf—these are ingredients I don't use that often but they last the longest. My flours and other oft-used ingredients are at eye level, which makes it easy to access and quickly grab. Next to the flour, I place all my cooking oils; group by association when applicable.
Alongside those are ingredients for dressings and sauces, which I use for almost every meal. Next come the nuts. I have an assortment of nuts in small jars, but I keep the bulk of them in the freezer to retain freshness. Buying in bulk saves money, time, and resources.
On the bottom shelves are baskets for kid-friendly access: One is filled with healthy snacks and the other with pasta. 
Interestingly, I don't store my spices in the pantry—a function of how often I use them. They are in the middle of the kitchen, right next to the stove. However, if you have the space or desire to keep your spices out of sight in the pantry, I suggest buying or building a tiered shelf so you can easily find what you're looking for. And don't forget to alphabetize.
Finally, over time, your pantry will become disorganized and cluttered, especially if the kids raid it on a daily basis. To avoid this, schedule a quick cleaning a few times a month; check in to see if everything is up-to-date and in place. Coach your family to keep food accessible and visible. Your pro pantry will be happy and well organized, and so will you.
Lead Photo: Getty Images/onurdongel
Trending on Outside Online