Could This Zombie Deer Disease Infect Humans Through Venison?
A sickness some are referring to as zombie deer disease is being flagged by wildlife departments across the country.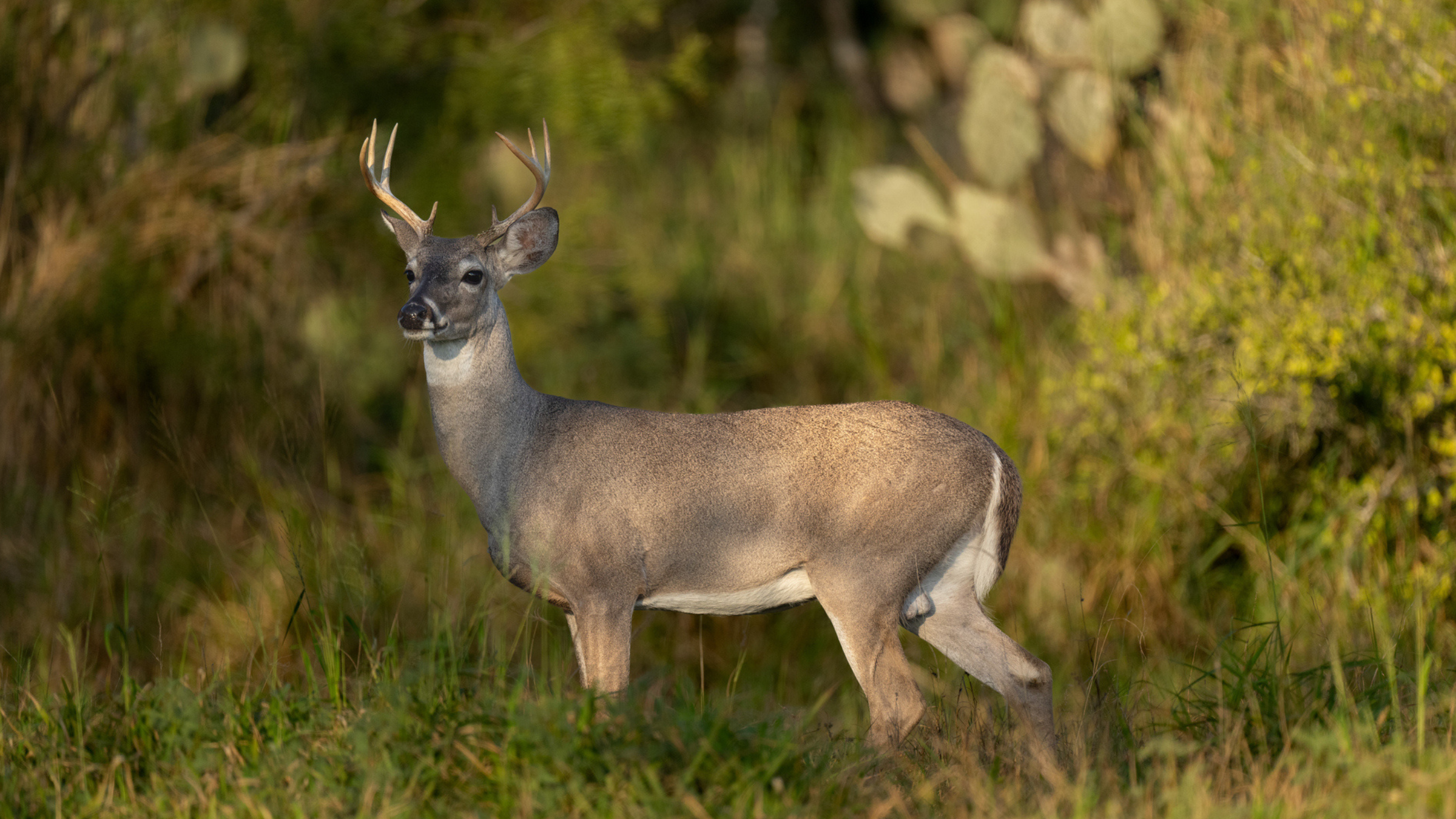 Getty Images/Angie Birmingham
Heading out the door? Read this article on the new Outside+ app available now on iOS devices for members! Download the app.
A sickness some are referring to as zombie deer disease is being flagged by wildlife departments across the country. A recent case discovered in Wisconsin brings up several important questions: Could this spread to humans and what can be done to stop it? 
Chronic wasting disease (CWD) is a 100-percent fatal neurological infection found in deer, elk and moose that causes degeneration of the brain. An animal with CWD may become emaciated and exhibit abnormal behaviors that mimic dementia symptoms. People who have seen infected deer firsthand report the deer being in zombie-like states, hence the nickname. 
CWD was first documented in a deer in a Colorado research facility in the 1960s, then in several wild deer in 1981. Since then, CWD has been detected across 30 U.S. states. The Center for Disease Control (CDC) says that once the infection is established in an area, the risk can remain in the environment for a long time and affected areas are likely to expand.
That's why deer hunters in Buffalo County, Wisconsin were startled Dec. 23, 2022, when a deer tested positive for the disease. Wisconsin is third in most cases of CWD (37) in the U.S., only behind Nebraska (43) and Kansas (49). 
This comes shortly after the November incident when The Minnesota Department of Natural Resources (MDNR) also identified an infected deer. Because Minnesota is one of the states with only few cases, the MDNR is taking the report of a new infection very seriously. 
"While disappointing, this find is not completely unexpected," Kelly Straka, wildlife section manager for the MDNR, said in a statement. "We're announcing this preliminary CWD positive result to encourage hunters in the Bemidji area to have their deer tested."
Can Humans Get CWD?
Scientists believe that CWD is likely to spread between animals through saliva, feces, blood urine or direct contact. A study conducted on monkeys showed CWD was transmitted to primates that were fed infected meat or brain tissue from a CWD-infected deer. 
However, you can breathe a sigh of relief, because to date there have been no reported cases of CWD infection in people. Still, the Center for Disease Control advises against eating meat from infected animals.
What Can Hunters Do About CWD?
Statewide, parks and wildlife departments are calling for hunters to follow guidelines and regulations to stop CWD spread. Hunters can unknowingly transmit CWD by transporting an infected carcass across counties, which is why all states which have detected CWD cases have enacted transport restrictions in counties where diseased animals have been reported.  
Other than following the proper guidelines each state has enacted, there are a few other ways hunters can take action. Because CWD can be transmitted through animals through the common ground like feed and baiting stations, eliminating those areas may help slow the spread. Hunters can also check wildlife and public recommendations on testing of meat before transporting, selling or consuming it. 
A Wolfy Solution
In 2020, researchers at Penn State University began an ongoing study on how deer's natural predators, wolves and mountain lions, might assist in cleansing the population of the infected animals. The Sierra Club reports that often predators are capable of sensing animals that are sickly and therefore easier to pick off. Plus, there is no evidence that CWD can infect predators. 
The Penn State study is not yet published and researchers continue to work on providing an answer to whether or not predators can be a useful method of tampering down the CWD-infected population. 
Lead Photo: Getty Images/Angie Birmingham
Trending on Outside Online