Craft Beers Take Flight on Delta
America's second-largest carrier is boosting its in-flight beer profile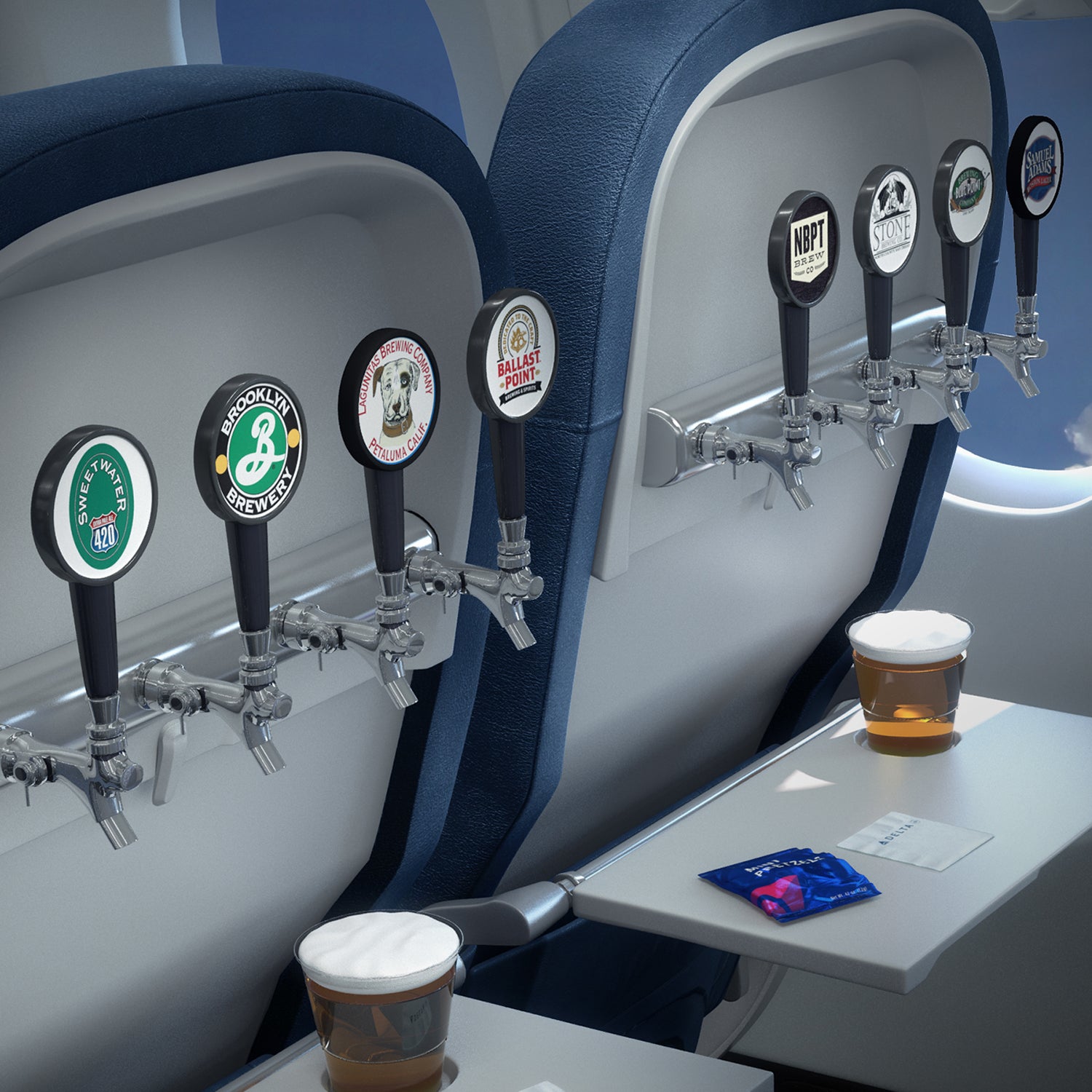 Heading out the door? Read this article on the new Outside+ app available now on iOS devices for members! Download the app.
Coach sucks. But Delta is trying to take the sting out of those tiny seats with the thing that assuages misery better than all other things: booze.
The Atlanta-based airline is offering regional craft beers aboard certain regional flights. It's a tactic deployed in recent years by rival carriers. (Southwest offers Fat Tire, for example.) But Delta is going a step further to highlight the locality of craft beer by stocking brews that mesh geographically with the airline's flights. "We wanted to be thoughtful about how we approached it," says Brian Berry, director of Onboard Services and Strategic Planning for the brand.
If you fly to Boston from D.C. or New York, you'll have your choice of suds from either Blue Point Brewing Company or Newburyport Brewing Company. If you're flying on a San Francisco to L.A. shuttle, you'll get to choose from Lagunitas or Stone Brewing. And if you're on a transcontinental flight, you can pick from either Ballast Point Brewing or Brooklyn Brewery.
Even better, the brews on the East- and West-Coast shuttles are complimentary. The ones on transcontinental and southeast flights cost $7.
When Delta first planned this promotion, it worried whether small, independent brewers would be able to keep up with the mega-airline's demand. That was one of the first things Delta officials asked Newburyport Brewing Company's co-founder and CEO, Chris Webb, when they approached him about partnering up. He says that he never doubted that his one-and-a-half-year-old brewery could pull through. 
"We shipped our three styles to Delta for them to try, and we received a call several weeks later saying they'd chosen our Newburyport Pale Ale," he says. The hoppy, American-style pale ale is now being served at 40,000 feet, and Webb hopes it will entice some frequent flyers to become frequent Newburyport drinkers, too. "We hope when people land they'll go to the local liquor stores—or a packy, as they're called in Massachusetts—and buy it."
Berry says that craft beer is just one of several initiatives Delta is embarking upon to differentiate the airline as a lifestyle brand. "We're a big company. The expectation that comes with that is that we're not going to be innovative. But we are. The first step is to put craft beer and regional, seasonal fare on planes. We don't believe that eating onboard has to be a bad experience."
That's definitely one of those things we're going to have to see to believe, but free craft beer seems like an excellent place to start.
Lead Photo: Courtesy of Delta