Editors' Picks for Dry January
When soda and sparkling water won't do the trick during your dry-January journey, reach for these dazzling alcohol-free drinks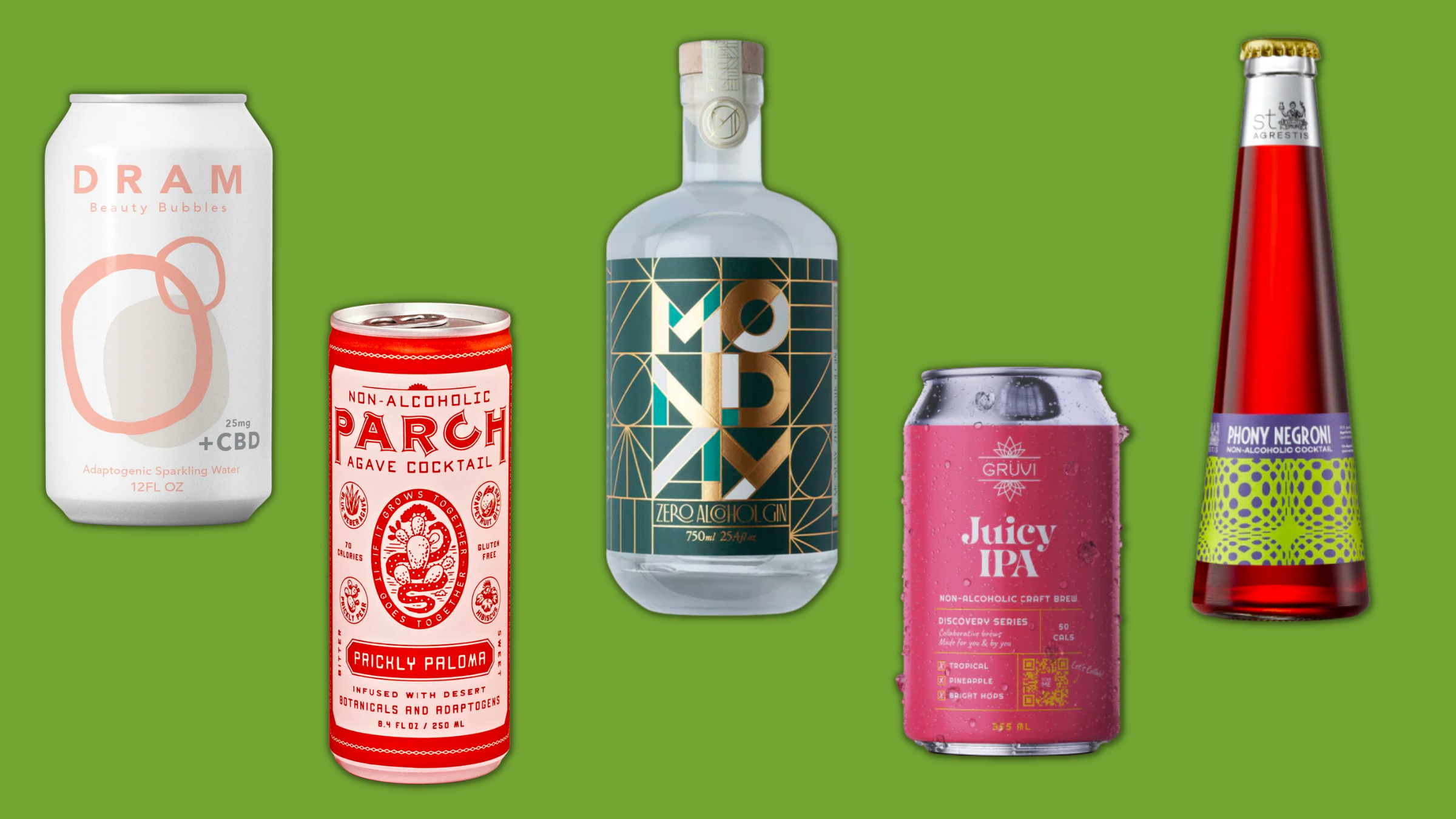 Heading out the door? Read this article on the new Outside+ app available now on iOS devices for members! Download the app.
After spending the first day of 2023 hungover on the couch nursing a Liquid I.V. and chomping on saltine crackers dipped in ketchup (because there was no way I could make it to the grocery store) I knew alcohol and I needed a long break. So, like 35 percent of legal aged adults in the U.S., I weakly exclaimed, "I'm doing dry January!" and promptly fell asleep.
But I've been sober at social gatherings before and sometimes clutching a can of Coke or glass of water is… lackluster. I want to sip on the same fun cocktails and brews as my friends, minus the alcohol. So I reached out to my fellow Outside team members and compiled our favorite nonalcoholic beverages. 
Editor's Picks for Dry January
Grüvi says its beer is just beer, only without the alcohol. The brewing process still utilizes malted grain, hops and a form of fermentation, and while most of the ingredients are the same, the alcohol is not. Grüvi's wine has the right balance of sweetness, tartness and bubbles – not to mention the wine contains zero added sugars. 
"Personally I like to make fizzy drinks with the Grüvi Prosecco or Rosé. As far as the beers, I like The Juicy or The Wit!" —Outside photo editor Hannah DeWitt
Average price: $32.40 per eight-pack of Bubbly Rosé
Monday spirits can seamlessly replace the alcohol in your weekend cocktails. Created for all lifestyles—paleo, keto, gluten-free, low-carb—Monday is handcrafted in small batches and made from natural ingredients like spring water, monk fruit extract and cucumber extract. Monday's gin has a strong juniper flavor with notes of bitter grapefruit and lemon. 
"I found it tasted best when making a cocktail versus as a gin and tonic. I dry shake it vigorously with fresh lemon juice, an egg white, and simple syrup, then add ice and shake until it is cold and frothy for a boozeless gin fizz." —Outside art director Erin Douglas
Average price: $40 per bottle
Parch stems from ancient botanical infusions across Mexico and Southwestern U.S. The company's ethos—"What grows together, goes together"—is apparent in its desert ingredients and natural flavors. The Prickly Paloma, for example, features prickly pear cactus fruit, organic blue weber agave, floral tart hibiscus and more. The Spiced Pinarita, on the other hand, is made with spicy mole bitters, cocoa extract and desert botanicals. 
"I'm a big fan of seltzers, so I've been looking for something canned and bubbly to substitute my weekend Whiteclaws. Parch is exactly what I needed. Plus, if I'm feeling fancy, I add some frozen strawberries and mint to make an impromptu cocktail." —Outside assistant editor Mallory Arnold
Average price: $60 per 12-pack
The Negroni for when you're not… Negroni-ing. That's what St. Argestis says about its nonalcoholic Negroni. Made with nuanced juniper, citrus and floral notes, this "phony" spirit offers that same bitter bite Negroni drinkers enjoy. Enjoy chilled, over ice with an orange twist or top with prosecco. 
"It tastes like a real Negroni!" —Outside director of digital media and operations Scott Burgess 
Average price: $59.99 per 12-pack
We know you're never supposed to judge a can by its artwork, but that's exactly what we did when spotting DRAM CBD Sparkling Water's colorful, modern cans. Female founded and Colorado based, DRAM drinks are infused with adaptogens and 25 milligrams of CBD, with natural herbs said to offer health-boosting benefits. For example, DRAM's Beauty Bubbles contains silver ear mushrooms, said to support collagen production. Drinking and de-aging? Yes, please.
"I'm fascinated by adaptogens. Many of the herbs and mushrooms in DRAM drinks are being studied for their effectiveness in helping the body respond to stress, fatigue, and anxiety." —Outside assistant editor Mallory Arnold
Average price: $49.50 per 12-pack