Eat and Run (and Clutch Your Chest In Agony) at a Bacon Race
It's a predictable but delicious fun-run phenomenon. All that's left to figure out is: How concerned should you be that it'll kill you?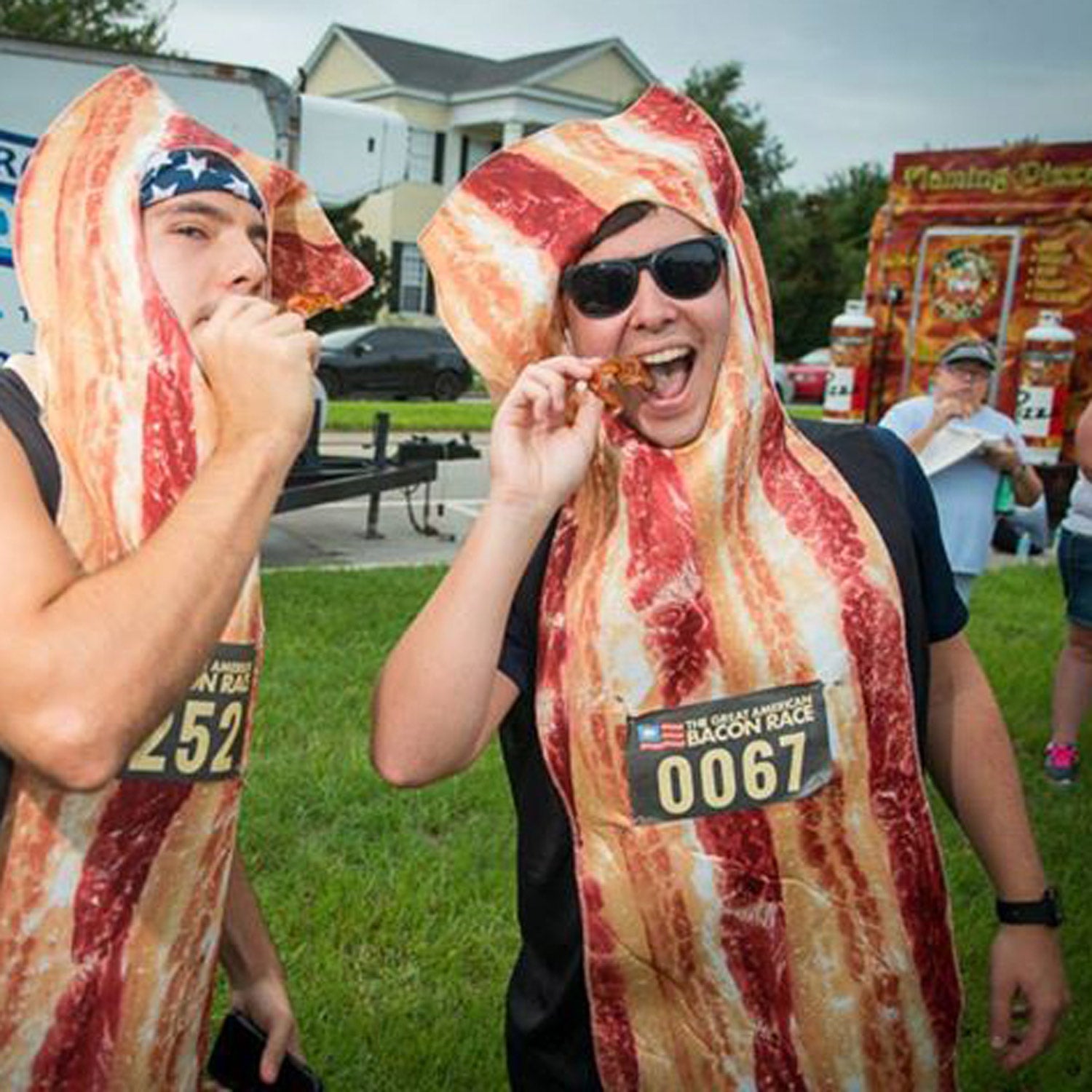 Heading out the door? Read this article on the new Outside+ app available now on iOS devices for members! Download the app.
Move over, beer mile. The newest trend in running races is going to need quite a bit of room to squeak past you.
If you haven't yet entered a bacon race, you're probably either a vegetarian or you like your coronary artery in its current, unblocked form. But the run, eat meat, repeat race trend is growing faster than the waistband of your favorite buffet pants. 
"People always ask me, 'What's the vegetarian option?' And I tell them it's the Color Run," says Garfield Griffiths, the operations manager and "bacon meister" (a self-appointed title) for the Great American Bacon Races, a series of bacon-centric 5Ks in Florida. Griffiths decided to start a bacon-themed race after adding a bacon-themed aid station to a mud run in 2013 and seeing social media go absolutely nuts for it. "So I thought why not put together a race that's all about bacon?" In 2014 he launched his first bacon-themed 5K and now he wants to take the concept national. 
Griffiths wasn't the first to create a bacon-themed race. That honor is claimed by the Race for The Bacon 5K, "which was the very first to incorporate bacon, at least as far as we know," says Chris Ponteri, director of Race for the Bacon 5K. But it's easy to see why race directors are following suit. Ponteri's race has more than doubled in size in the past few years—from 400 runners three years ago to about 1,000 this year.  
At both the Race for the Bacon 5K and the Great American Bacon Race the bacon is served hot and fresh at aid stations, and it's optional. But that's not always the case. The Iron Pigs, a Lehigh Valley minor league baseball team, is hosting a Bacon 5K Challenge in September where participants will have to consume a half-pound of bacon midway through the race.  
"People always ask me, 'What's the vegetarian option?' And I tell them it's the Color Run," says Garfield Griffiths.
Which raises an interesting question: Is this safe? Aside from maybe spewing mid-lap on the guy next to you, so long as you have a DD, beer runs are pretty innocuous. But considering cardiac events sometimes happen at running races, loading up your blood lipid profile with saturated fats mid-race seems potential risky. 
"The guy eating a huge, high fat meal and then keeling over from a heart attack is not totally an old wives tale," says Stan Reents, PharmD. Reents is a fitness and wellness coach based in Phoenix, Arizona and is the author of the academic textbook "Sport and Exercise Pharmacology." He cites a 1997 study from the Journal of Cardiology that found subjects who ate a high-fat meal had "reduced "flow-dependent vasoactivity" for six hours after the meal. Another study in the journal Arteriosclerosis, Thrombosis, and Vascular Biology found that blood coagulability, or blood's ability to form clots, increased for up to eight hours after a fatty meal—but not after a low fat meal. 
"It suggests that, for several hours after consumption of a high-fat meal, your blood is more prone to clotting and your arteries are less responsive," says Reents. "If you exercise during this time period, they may not dilate adequately when you need it most."
But cardiologist Morton Tavel says that so long as you didn't just have a triple bypass, you're probably fine to compete in the occasional bacon race—with the key word being occasional. In his book, Health Tips, Myths, and Tricks, Tavel discusses at length the health risks associated with red meat consumption (yes, the other white meat is actually considered to be red meat in this context). He advocates that everyone should keep their red meat consumption to one serving a week—but if you want to eat that one serving while running, if you're otherwise in good cardiovascular health, you'll most likely arrive at the finish line with your aorta still in tact. 
And if you do decide to go for it, here's a pro tip: "Eat the bacon slowly… hold it in your mouth, and just kinda leave it there for a bit," says Mary Flaws. Flaws is one half of the team that runs the website RunningInTheUSA, and she's run the Race for the Bacon 5K every year it's existed. She adds that you should treat the bacon like the meat candy it is and, "chew small pieces of it; take about a mile to get the whole thing down." In other words, don't be a pig. 
Lead Photo: Peter Jensen 407-852-9058