Best Instant Mashed Potatoes for Camping, Ranked
What word better describes the perfect camping meal than "instant?"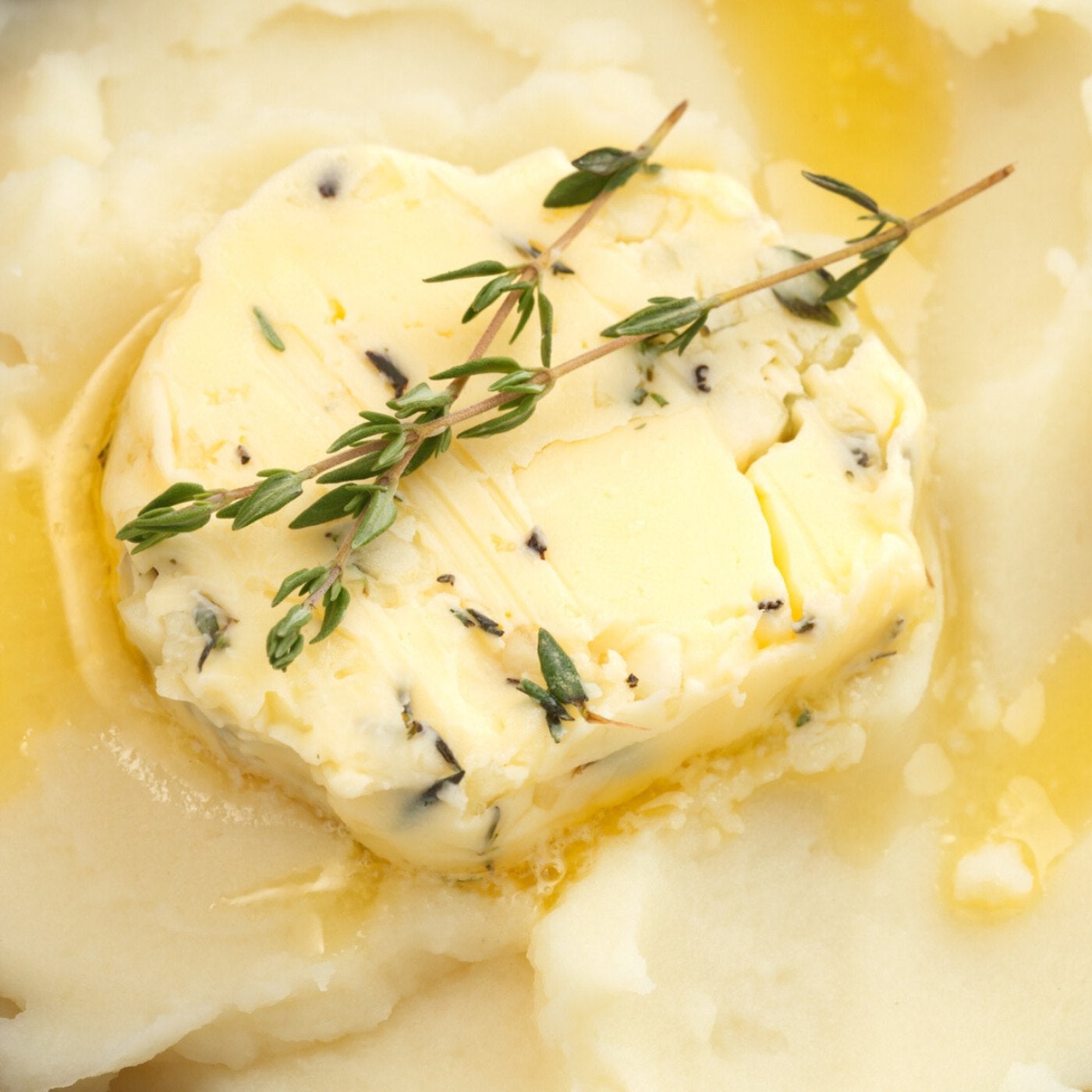 phasinphoto, Getty
Heading out the door? Read this article on the new Outside+ app available now on iOS devices for members! Download the app.
There's nothing more comforting than a steaming bowl of mashed potatoes – especially if it's enjoyed after a long day of hiking and setting up camp. But who has the back strength to carry a big ole' sack of potatoes in their camping gear? Nevermind the time it takes to peel, boil, and mash them into a deliciously whipped starchy side dish. No, we want mashed potatoes, and we want them now.
While we encourage tenacity and creativity when cooking up a campfire meal, sometimes it's best to keep things simple. Instant mashed potatoes, for example, will never do you wrong. While campfire gumbo might boil over into flames and skillet bacon may get charred to bits, potatoes rarely fail. Instant 'taters are in your corner, nearly impossible to get wrong. 
That's why they've been an integral part of the backpacking staple called 'ramen bombs' – a carb-loaded potato and noodle meal made by combining packaged ramen noodles, instant mashed potatoes, and spam. But if you're not craving that particularly explosive meal, plain instant mashed potatoes are just fine. They're more than fine, they're spud-tacular.
"As a backpacking food, instant mashed potatoes have a lot going for them," says Backpacker editor Adam Roy. "They're cheap, widely available in grocery stores, and easy to rehydrate with any or no stove. Plus, they're versatile–you can use them any number of ways!"
Peeling Back the Years: History of Instant Mashed Potatoes
Attraction to convenience foods spurred RT French Company (now known as French's) to bring flash-dried mashed potato granules (that can be used for binding in recipes, breading, and color enhancer) to the market in the 1950s. Though initially made for commercial purposes, potato granules became a staple food for soldiers in WWII, as they had a long shelf life and were easy to rehydrate.  
Shortly after, food scientist Edward Asselbergs created potato flakes that, when doused with hot water, broke down and became smooth, fluffy mashed potatoes. This is what you'll find in grocery stores across America, and what we're testing today for our compilation of the best instant mashed potatoes for camping.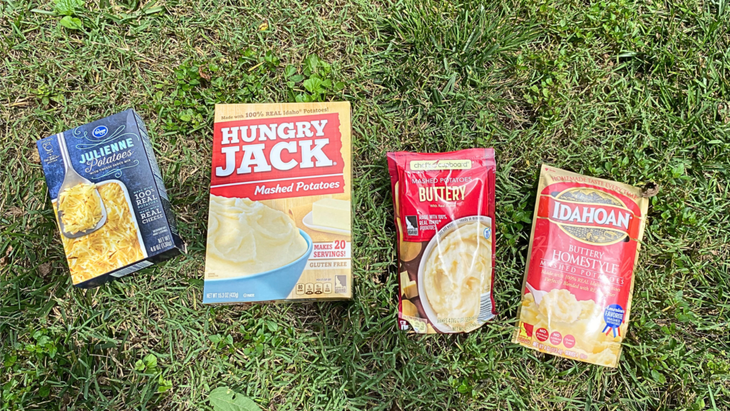 Testing the 'Taters 
To test whether or not these instant potatoes were camp-worthy, I had a few requisites. I had to be able to make these potatoes with one cup (the GSI Outdoors Stainless Steel Cup), one fork, and boiling water. That's it. This makes this review fairly different from others, as most instant mashed potato recipes call for butter or milk. But when camping, you might not have the luxury of packing perishables like milk and butter. I used a Lite Solo Stove to boil the water, but you can also use a JetBoil or regular pot over a campfire.
Preparation: While each instant mashed potato has a different serving size, thus different measurements, the basic instructions I followed for each brand was to boil water, add flakes, and stir.
Hot Potato Meter
🥔 Tater-ibile
🥔🥔 OK – small fry
🥔🥔🥔 Getting totter!
🥔🥔🥔🥔 HOT, HOT POTATO!
First Place
🥔🥔🥔🥔
Chef's Cupboard Buttery Mashed Potatoes, $1.05 for 4 oz.
I wasn't expecting my favorite instant mashed potatoes to come from an ALDI brand I'd never heard of before, but here we are. Even among the potato goliaths – Idahoan and Hungry Jack – these instant potatoes whipped up into peaks almost immediately after I added boiling water. Unlike Hungry Jack or Idahoan, these instructions boast, "Just add water!" so the recipe was more suited for my water-only rule. The mashed potatoes were pre-salted to perfection and produced smooth, fluffy mashed potatoes.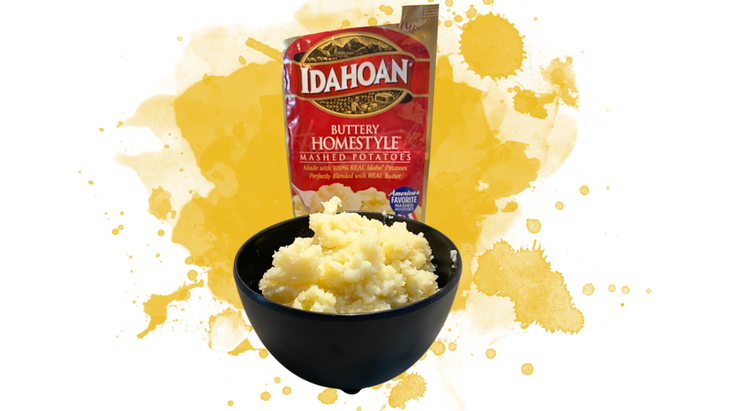 Runner-Up 
🥔🥔🥔
Idahoan Buttery Homestyle Mashed Potatoes, $1.44 for 4 oz.
These Idahoan potatoes, for some reason, had the most clumps out of all the brands I tested – but I wasn't complaining! The clumps weren't uncooked flakes, but the kind you'd get when making homemade mashed potatoes, so I thoroughly enjoyed them. There was definitely a strong presence of salt, but not enough where it was unbearable. It just made me a tiny bit thirsty.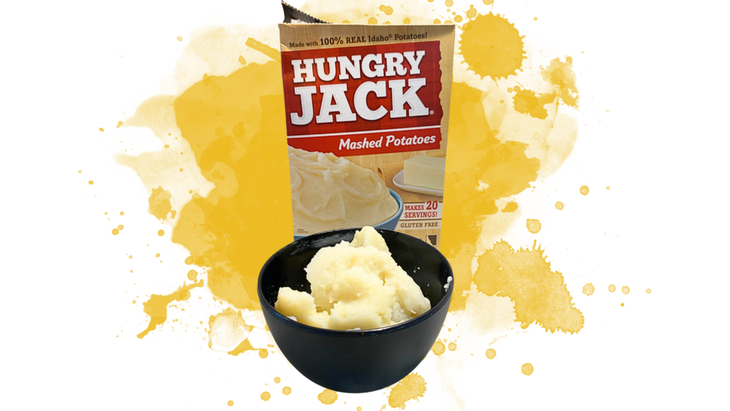 Third
🥔🥔🥔
Hungry Jack Mashed Potatoes, $1.98 for 15.3 oz. 
Though unsalted, these potatoes were ridiculously smooth. It took a bit more vigorous stirring to get the fluffy consistency I wanted, but then again, maybe it's because Hungry Jack is meant to be made with lots of milk and butter. Even still, with just water, I enjoyed these instant mashed potatoes. One thing to note is that when I let them sit for a few minutes, they did get very stiff. So this might be best for personal portions, rather than making a bunch of potatoes for you and your fellow campers.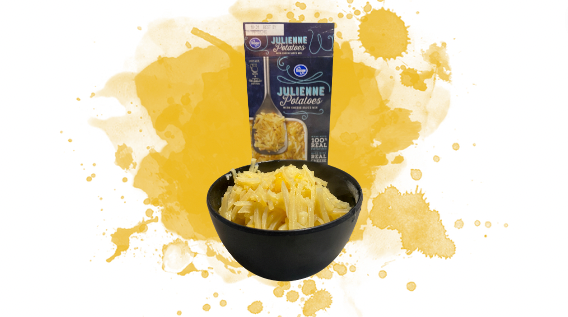 Bonus Round
🥔🥔
Kroger Julienne Potatoes, $1.39 for 4.6 oz.
While these aren't instant mashed potatoes, I couldn't resist throwing a different style of starch into the mix. While the julienne potatoes took fifteen minutes to cook (compared to the instant mashed potatoes, which took mere minutes), the wait was worth it. The potato shreds were tender, cheezy (thanks to the cheese powder that comes with the box), and hearty.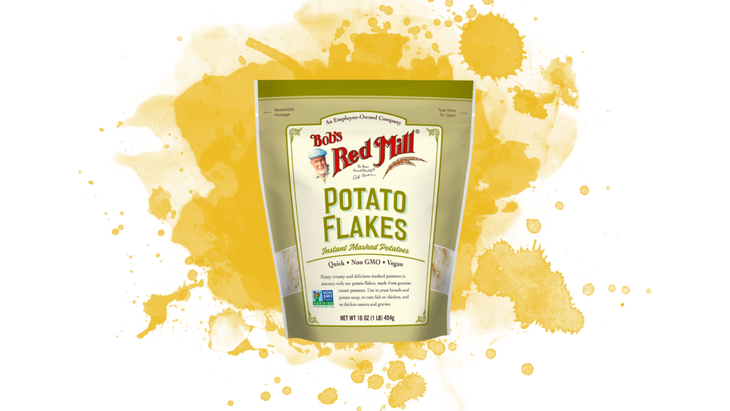 Honorable Mentions
🥔🥔
Bob's Red Mill Potato Flakes, $4 for 16 oz.
I'm normally a huge fan of Bob's Red Mill – I eat the brand's oatmeal almost every morning. However, in the realm of camping, these instant mashed potatoes gave me some trouble. Even using the proper water-to-flake ratio, the potatoes went rock hard on me minutes after cooking them. My fork was sort of like the legend of the sword and the stone – stuck. But, I will say, I attempted a second round of Bob's Red Mill Potato Flakes on my kitchen stove and had great results. What went wrong in the camping trial? I can't say. 
Lead Photo: phasinphoto, Getty