The Daily Rally
Luke McFadden Will Chart His Own Course
When the commercial crabber faced racism and bullying on the Chesapeake Bay, it fueled his willingness to take even bigger risks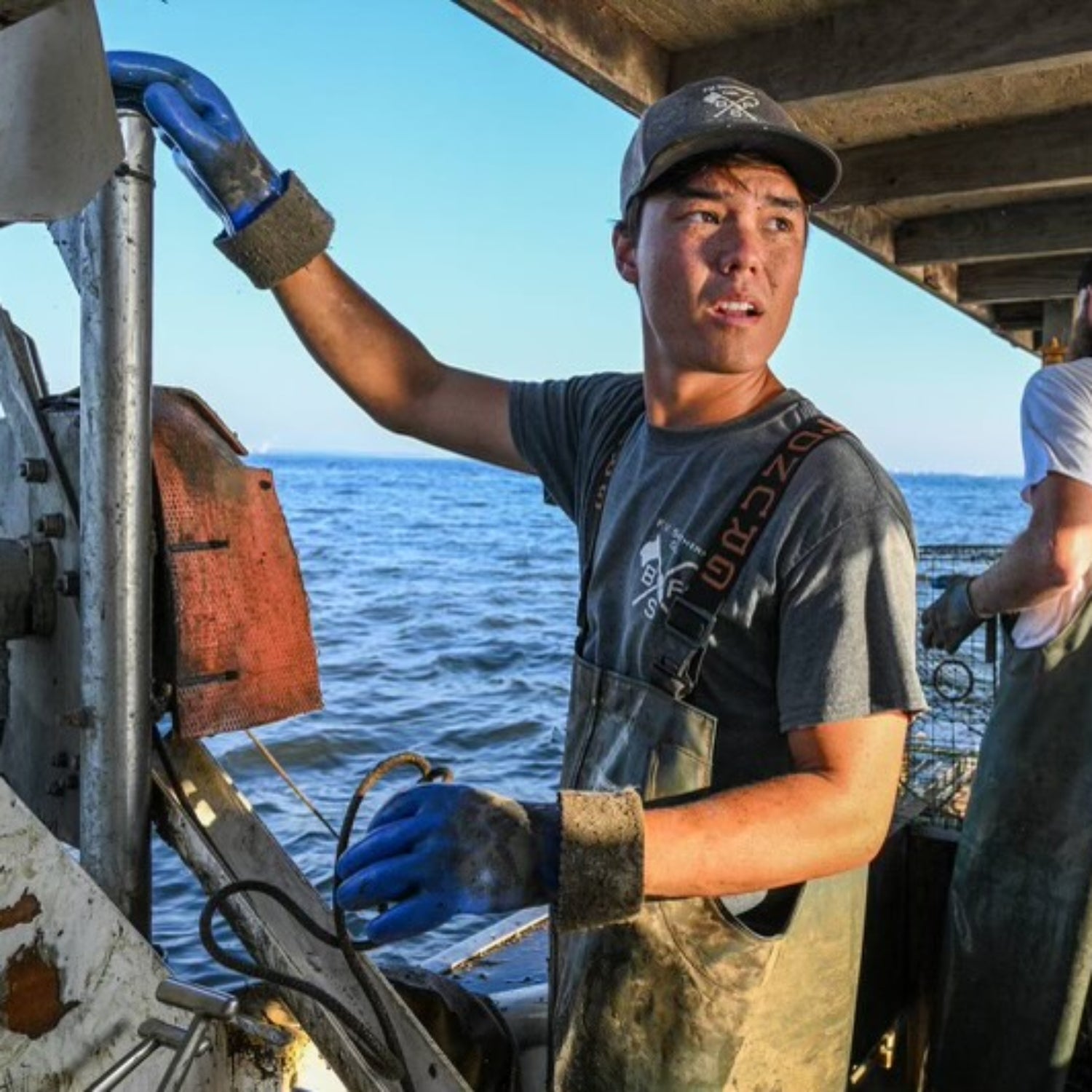 Jerry Jackson from the Baltimore Sun
Heading out the door? Read this article on the new Outside+ app available now on iOS devices for members! Download the app.
Luke McFadden told his story to producer Shweta Watwe for an episode of The Daily Rally podcast. It has been edited for length and clarity.
That was sort of a defining moment to me where I was like, Man, I'm at the bottom. There's gonna be real life resistance by real people and conflict. This is not some kind of sit back and close the computer and it's gone kind of deal. If you want this, you're gonna have to be really dedicated. You're not only gonna have the struggle of making it happen for yourself, there's gonna be the struggle of human to human.
I get called all kinds of stuff, but, "Crab Guy from TikTok" or "Captain TikTok" have been the ones that have stuck around the most here in the past few years. I am from Pasadena, Maryland, pretty much raised here, and I am in Pasadena, Maryland now.
I'm a commercial crabber, or a waterman as they call us, here on the Chesapeake Bay in Maryland.
People ask me, "What would you do if you weren't a waterman? What would you do if you weren't crabbing?" And I say, "I don't even know. I've never considered it."
I'm an outlier in my industry. I'm Asian American. I'm also young; I'm 26. I started my business when I was 18. I'm also a first generation fisherman, meaning I didn't come from a family of fishermen, which is very uncommon among watermen here, but really everywhere. I had a lot of resistance from a lot of other watermen, and they were not bashful about letting me know.
I remember one summer, I was down crabbing below the Bay Bridge on the Western Shore here. It was probably August because I remember it being real hot. One of those days where you wake up and you walk outside and you just feel like you walk right into a wall of humidity. There ain't a stitch of wind. It just kind of sucks to be honest. It's one of them things where it's like you gotta just embrace the fact that it ain't going to be that fun. You gotta get in your groove and just make it happen.
I mostly stick to crabbing above the Bay Bridge, but I had this new boat, I could go a little further than I usually do. I was just trying to expand my reaches a little bit. Dipping my toe into some new territory wasn't a welcomed thing for sure.
I came down to check my crab pots, and I was going down the line working some floats, and I pulled up a float and it had some racial slurs written on the float. I was working down and I'd have pots that were smashed up. There were other watermen that were just destroying my fishing gear and writing pretty nasty racial things on my crab floats telling me to go home. And that my kind wasn't welcome here.
I took it hard. At first it was like Wow, I don't understand, why are people being like this? It kind of cuts me deep because I put so much effort into really trying to be considerate of other people and how my actions will make other people feel or affect them. So when things like this happen, it hurts me. I beat myself up.
I actually put a picture of it on Facebook. I knew who it was and I tagged like the guy that had done it. But every crabber that was on Facebook that saw it took the other guy's side.
It was this realization that, Wow, a lot of people really don't like me. It really was pretty hurtful.
The other side of that was all the people that were my friends, not a single one of them stood up for me because they didn't want anybody to know that they were friends with me at the time. That was a crushing moment to me.
I just was angry, because it was obviously this thing that, if it was anybody else, these guys would've been rioting and picketing and coming together to go take care of the situation. I felt completely humiliated and alone.
I just decided, You know what? They're not gonna get rid of me. I was like, I can't let 'em win now.
It is really hard to see the bigger picture in the moment. And when you're in the moment, it's emotionally driven. But use it as fuel to push yourself and take risks. Do better and be better than the people that are trying to hold you down, and recognize the fact that the people that are trying to hold you down are the most scared of you. They know where you're going. You just gotta know where you're going. You gotta see their vision of where you're going and then make it happen. They wouldn't do that to you if they didn't think that you were gonna be better and bigger than they are one day.
Now it's my personal goal to be the biggest and the best. And that's where that fire came from.
I saw the crab pot float with the slurs on it as the the physical thing of like, Hey, you're gonna have to fight. If you want this, you're gonna have to want it. You're gonna have to fight for it.
And honestly, from that day on, I've had a fire under myself to prove 'em wrong. That was the beginning of that where I was like, I'm not gonna stop at just crabbing. I saved up all my money and I bought my own piece of property, and then I switched to selling all of my own crabs that I catch. So I'm doing it now. It ain't a big restaurant yet or anything, but I'll have it. You gotta start somewhere.
And one of these days, there's gonna be a place with my name on it. I promise.
Four years after Luke McFadden's equipment was defaced, he started a TikTok account, chronicling his experiences as a commercial crabber in the Chesapeake Bay. He now has 1.3 million followers. You can find him @FVSouthernGirl, the name of his boat, on TikTok, and on Instagram, he's @Luke_McFad.
You can follow The Daily Rally on Spotify, Apple Podcasts, Stitcher, or wherever you like to listen. Subscribe to our newsletter and nominate someone to be featured on the show.
Lead Photo: Jerry Jackson from the Baltimore Sun