Foil-Pack Cooking Is the Best Way to Get Juicy Meats and Vegetables, According to James Beard
The easiest way to cook in the outdoors is also the most delicious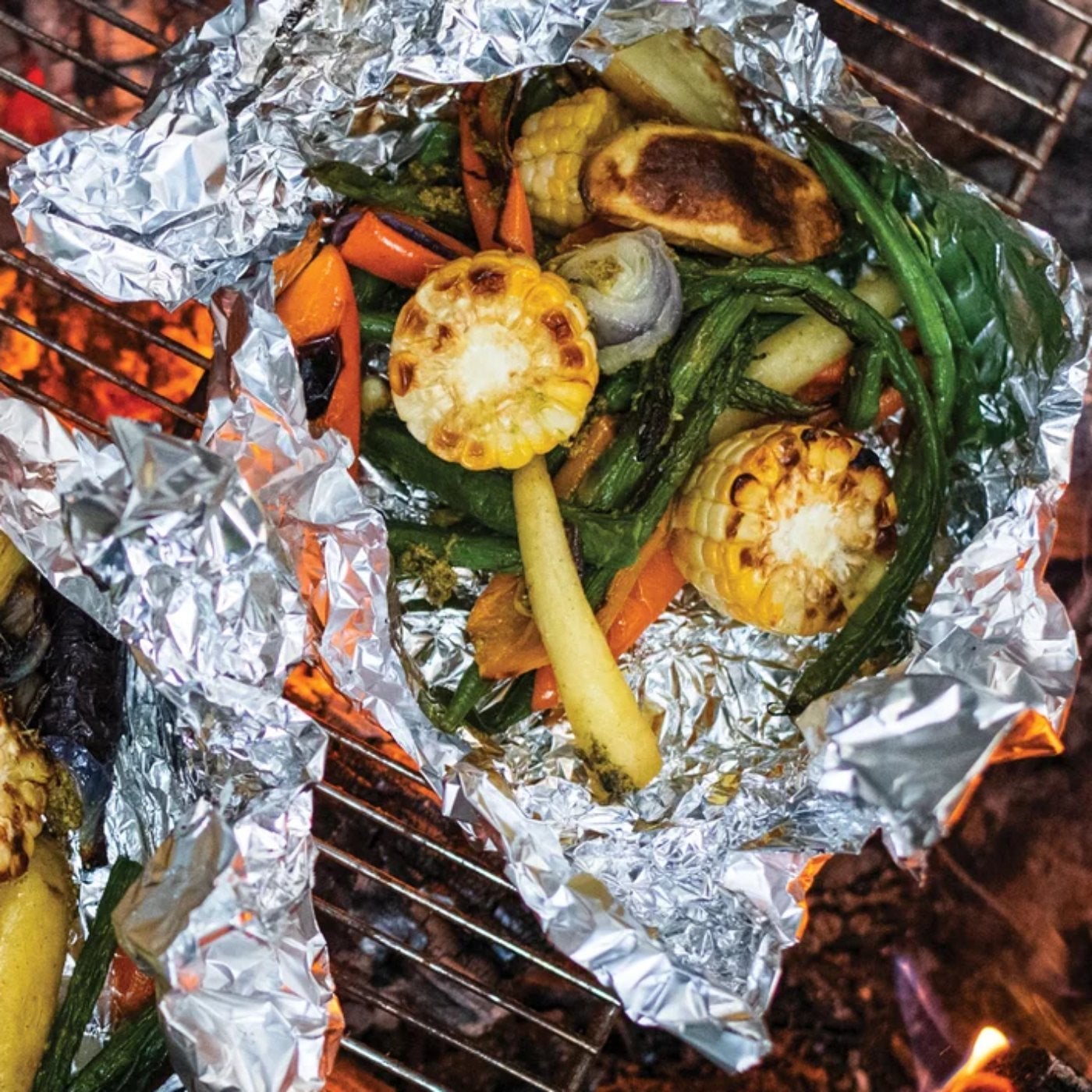 Nick Cote
Heading out the door? Read this article on the new Outside+ app available now on iOS devices for members! Download the app.
Foil-pack meals are essentially a cheat code to grilling or cooking hearty campfire meals. For the unacquainted, making a foil-pack meal involves piling either protein or vegetables on to a piece of aluminum foil, wrapping it up, and tossing it on the grill or grate to cook. The ease of the process and the flavorful results have made this method of cooking perfect for outdoor grilling and camping. 
According to legendary cookbook author and American food authority, James Beard, the foil-wrap method was developed way before campers started using it.  
In 1955 he wrote, "Cooking with aluminum foil is the latest thing in outdoor cookery and yet it is but an adaptation of a very old method-that of wrapping food in wet leaves, husks, seaweed, or even wet clay before cooking," in The Complete Book of Outdoor Cookery , co-authored by Helen Evans Brown. "This method keeps the juices in but allows the food to cook evenly. It must be remembered, however, that just as it keeps the juices in, so does it keep the charcoal flavor out."
Cooking vegetables in a foil is great for camping because of the individual portions you can dole out, as well as the little clean-up and hassle involved in the process. There are a few things to keep in mind when foil-pack cooking: always, and I mean always,  use heavy-duty foil. The thicker material will withstand high temperatures, especially if you're cooking on a grate over a campfire. Additionally, heavy-duty foil holds its pinch better when you seal the packet, eliminating air leaks. The foil won't tear while folding the ends over the vegetables into tight seams, nor will it break open if it catches on the grate. And when you play with fire, you don't have to get burned! Always remember to poke a small hole in  the foil when the vegetables are done cooking. This will release a burst of steam so when you unwrap the packet, you don't get a face-full of heat. 
Most importantly, don't forget to brush your vegetables with olive oil and season with salt and pepper! We don't want bland vegetables. You may be cooking outdoors, that doesn't mean you have to eat like an animal.
If you want a recipe to make your own foil-pack veggies, click here.
Lead Photo: Nick Cote