We Ranked the Best and Worst Pouched Camping Foods
From the delicious, to the palatable, to the borderline inedible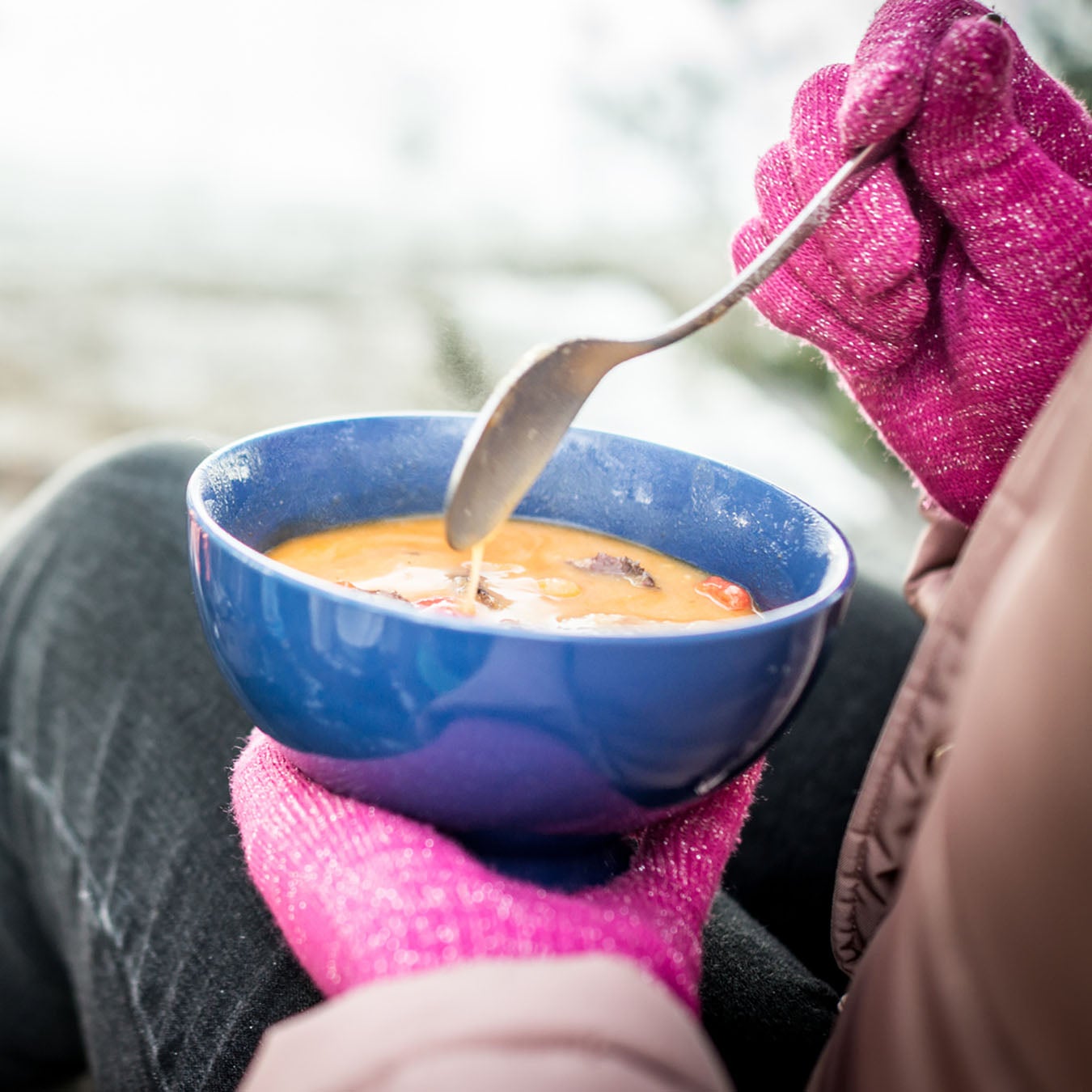 Jasmin Merdan/Getty Images
Heading out the door? Read this article on the new Outside+ app available now on iOS devices for members! Download the app.
In an ideal world, you would cherry-pick your very favorite dehydrated backpacking meals far in advance of an epic wilderness outing. But in reality, most of us are scrambling until the last minute, racing to our local outdoors store to grab something off the shelf on the way out the door. The problem? You have no idea what your meal is going to taste like. It may sport a photo of a beautiful bowl of artfully styled green chile mac and cheese crowned with a sprig of parsley, but the reality is often closer to cafeteria mash. 
With that in mind, we set out to taste-test and rank a wide range of dehydrated backpacking food brands. (You can find the best backpacking meals broken down by category by digging deeper into Backpacker's Pouch Wars column.)
This ranking is divided into bottom, mid, and top-shelf categories; like with spirits, there is a spectrum of price-points and ingredient quality. That doesn't mean bottom shelf backpacking meals are bad by any stretch—some of our favorites are budget picks. We've also included a ranking for consistency to give a better sense of the gamble you'll be taking by bringing an untested flavor into the backcountry. And nearly all of the brands we tested make cook-in-pouch meals, because, let's face it, the worst part of backpacking is cleaning gummy residue from your dinner plate. (Luckily, many brands now offer omnidegradable packaging). 
Top Shelf
Taste: 5/5
Consistency: 5/5
Average Price: $16
This small-scale Tillamook, Oregon-based company has completely changed our understanding of what is possible in a backpacking meal, with dishes like Lamb Bourguignon and Bison Beer Black Bean Chili. The best way we can describe the difference: The taste of instant coffee vs freshly-ground pour-over. When you'd rather eat a dehydrated pouch meal than feast on a freshly-grilled burger during a resupply run, you know something is different. 
Best Flavors: La Pasta Nostra, Miso Salmon Okayu, Thai Curry with Shrimp
Taste: 4.5/5
Consistency: 4/5
Average Price: $15
Chef-founder Shannon Waters climbed the culinary ladder at some of the top restaurants in New York City and San Francisco before turning her attention to the underdeveloped dehydrated meal market. We're glad she did: Gastrognome's pouches are fresh and surprisingly complex, turning out comfort food flavors like pozole and bison hash without cutting corners in regards to spices and regional ingredients. 
Best Flavors: Bison Chorizo Hash, Thai Green Chicken Curry
Taste: 4.5/5
Consistency: 3/5
Average Price: $15
We are consistently blown away with Fernweh's plant-based meal offerings for their clean, flavor-packed concoctions. And while the Portland, OR-based operation has successfully redefined vegan dehydrated meals, with meaty mushroom pot pies and pepper-packed Southwest stews, they do suffer from somewhat inconsistent rehydration times that can lead to the occasional crunchy bite. 
Best Flavors: Green Tamale Pie, Mushroom Pot Pie, Southwest Stew
Taste: 4/5
Consistency: 3/5
Average Price: $13.50
Farm to Summit dehydrates fresh produce from local farms in its home state of Colorado, and it shows: Its vegetable-heavy pouches regularly have better texture and whole, recognizable hunks of flavor-packed greens than almost any other brand on the market. (Salt and acid levels are sometimes inconsistent, however.) Farm to Summit's Garden Mac & Cheese with white cheddar, zucchini, squash, kale, chard, and spinach is a particularly good showcase.
Best Flavors: Garden Mac & Cheese, Green Chile Mac & Cheese, Thai Red Curry
Taste: 4/5
Consistency: 3/5
Average Price: $16
With meals like Herb Roasted Chicken with White Cheddar Dumplings and Chipotle Beef Burrito Bowl with Corn and Cilantro Lime Rice, Pinnacle sticks to hearty, crowd-pleasing flavors in the same way lower-tier brands do, but uses restaurant-level technique and never takes shortcuts—to great effect. If we have one complaint, it's that the rehydration directions aren't quite perfect, leading to occasionally watery/chicken-stocky meals. 
Best Flavors: Jalapeno Cheddar Biscuits and Herbed Sausage Gravy, Thai Peanut Curry with Roasted Vegetables and Rice Noodles
Taste: 3.5/5
Consistency: 2/5
Average Price: $16
Organic, wild proteins are front-and-center at Heather's Choice, which regularly utilizes meats like Alaskan salmon and grass-fed bison in its pouches. Seasoning and acid levels are often out of whack, but the brand recently overhauled its entire line of recipes, and we are eager to sample the new and improved offerings. 
Best Flavors: Grass-Fed Bison Chili, African Peanut Stew
Taste: 3.5/5
Consistency: 2/5
Average Price: $14
We appreciate Bushka's heavy use of vegetables, game meat, and proficiency with herbs—it's clear that the folks in the kitchen care about the quality and sourcing of their pouches. Across the board, however, seasoning needs work. A zucchini noodle meal was way too acidic, while two other meat offerings sorely needed salt. With some tinkering, Bushka's could be outstanding.
Best Flavors: Hearty Harvest Bowl with Wild Boar
Mid-Shelf
Taste: 4.5/5
Consistency: 4/5
Average Price: $8 per 1-person serving
Right on Trek is an entire meal, trip, and gear-planning operation, but you can purchase its food a la carte in a range of meal sizes. This brand has essentially taken all the familiar flavors (stroganoff, bolognese, shepherd's pie) and cranked the fat- and flavor-levels up to 11. Its mac, for example, comes with a hacky sack-sized pouch containing cheddar, whey, buttermilk, and whole milk powders makes for a traffic cone orange, uber-gooey and luxuriant cheese sauce that epitomizes what this dish is all about. The only downside? It's not a true cook-in-pouch meal, although no draining or straining is required, and it has a very short cook time. 
Best Flavors: Cauliflower Forest Chicken Risotto, Bechamel Style Mac and Cheese
Taste: 4/5
Consistency: 4/5
Average Price: $13
One of the best mid-tier backpacking food brands on the market, Packit makes calorie-dense, flavor-packed pouches with excellent texture that often make it to the top of our rankings. That said, the brand relies heavily on processed ingredients like palm oil and corn syrup, and often includes an onslaught of tiny seasoning and topping packages that create microtrash. If you're in the market for a filling and delicious at-all-costs meal at a mid-level price-point, however, you can't do much better than Packit. 
Best Flavors: Texas State Fair Chili, Shepherd's Cottage Pie
Taste: 3.5/5
Consistency: 4/5
Average Price: $7.50
Unlike Patagonia's apparel, its small Provisions line—made up mostly of stews and soups—is a steal. For anywhere between $5-8 you get a well-spiced, well-seasoned, impeccably-sourced pouch of all-organic vegan stew that maintains excellent texture, whether it's pinto beans or slices of red pepper. On their own, though, these meals (which can't be cooked in-pouch) are a bit scant. They're best enjoyed when other fixings, like tortillas, cheese, and avocado, are abundant.
Best Flavors: Organic Spicy Red Bean Chili, Organic Black Bean Soup
Taste: 3/5
Consistency: 2/5
Average Price: $14.75
Good To-Go was a real revelation in the early 2010's under the guidance of former NYC-based chef and restaurant owner Jennifer Scism, when spice use, unusual ingredients, and international flavors were a rarity. Nowadays, it's a passable—if pricey for the offering—option with a few great finds still in the mix, like the brand's Thai Curry. (Although duds with odd textures, off-flavors, and wildly variable seasoning are all too common.)
Best Flavors: Thai Curry
Taste: 2.5/5
Consistency: 2/5
Average Price: $12.72
Plant-based Nomad gets an "A" for international representation (see Ukrainian Borscht and Kathmandu Curry) and a "C" for execution. Extra points for the organic, whole vegetable ingredient lists, but textures and spices are often muddled and mashed. Vegans in a jam will undoubtedly feel nourished (if a little joyless) if Nomad is their only option on the trail. 
Best Flavors: Caribbean Curry
Taste: 2/5
Consistency: 1/5
Average Price: $9
This vegan and vegetarian brand received bottom marks in most meal categories. An unholy mix of alternative flours (like quinoa) and seasonings (like nutritional yeast), along with a poor balance of proteins, vegetables, and salt and acid levels made these meals like a college co-op dinner gone awry. Vegans deserve better. 
Bottom Shelf
Taste: 3.5/5
Consistency: 4/5
Average Price: $10
One of the oldest names in the game, Mountain House has been churning out dehydrated meals for backpackers since the late '60s (and even earlier for the U.S. military). And it shows. Flavors are consistently inoffensive and occasionally crave-worthy (don't sleep on the lasagna), as you would expect from decades of recipe-tweaking and a tightly-controlled industrial operation. Most importantly, it's nearly ubiquitous across the country: walk into any REI or Walmart, and odds are good that you'll find a pouch that you agree with.
Best Flavors: Lasagna with Meat Sauce, Chicken Teriyaki, Classic Spaghetti with Meat Sauce
Taste: 3/5
Consistency: 3.5/5
Average Price: $12
The offerings from Mary Jane's Farm are a bit like mixing a grab bag of instant food powders from your local co-op. The formulas are often successful (and organic), but everything has a mashed, baby-food like texture owing to the powdered, instant-cook ingredients MJ Farm uses and a general lack of substance (both in terms of proteins and vegetables). Another ding: Meat pouches can get quite pricey considering you're essentially eating slightly-addictive gruel. 
Best Flavors: "Eat Your Veggies" Pasta, Shepherd's Meat Pie
Taste: 2/5
Consistency: 2/5
Average Price: $10
Alpine Aire is best described as a line of repackaged MREs (a military field ration). The occasional pouch will do the trick in an emergency, like the brand's Mexican Style Grilled Chicken Bowl. Other flavors, like the "Mountain Chili" with its "caramel-colored textured vegetable protein" will leave you sad and likely constipated. 
Taste: 2/5
Consistency: 1/5
Average Price: $9
Despite its enticing packaging and wide availability, Backpacker's Pantry is a brand to avoid. At its best, BP is reminiscent of non-descript cafeteria mash. At its worst, off-putting chemical flavors permeate the pouch after rehydration. Whether things are going wrong in the development, cooking, or dehydration processes, we don't know, but even after a long day of brutal exercise, this food is still borderline inedible.
Lead Photo: Jasmin Merdan/Getty Images