Yes, You Can Eat Healthy on the Pacific Crest Trail. Just Ask These Thru-Hikers.
A lot of what thru-hikers eat on the trail is far from good for you. But some nutrition-minded backpackers are trying to buck the trend.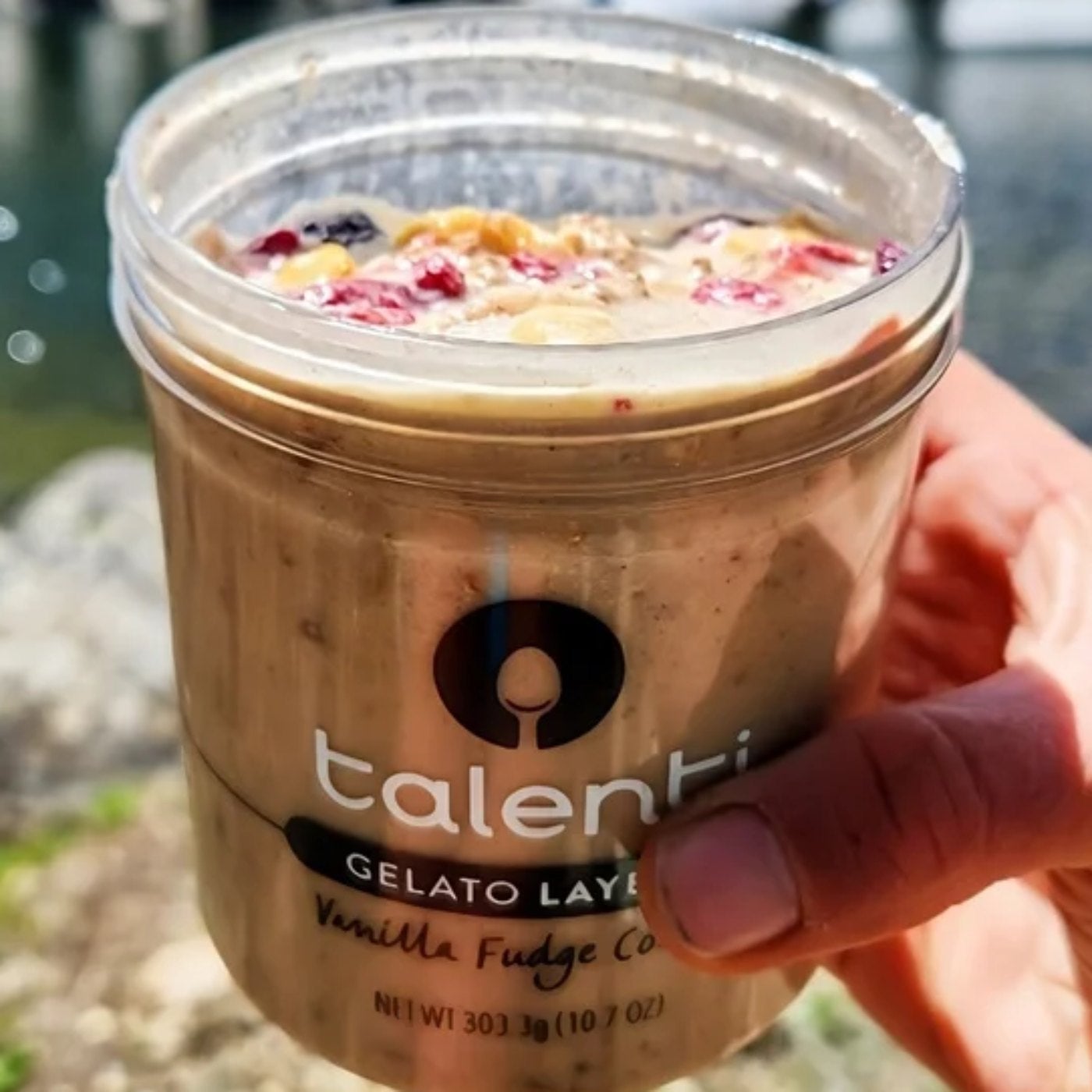 Melanie Matta
Heading out the door? Read this article on the new Outside+ app available now on iOS devices for members! Download the app.
This article was originally published on Backpacker.
As Backpacker's 2023 Pacific Crest Trail correspondent, David Gleisner is reporting on this year's PCT season as he attempts a thru-hike of his own
For most thru-hikers, nutrition comes down to eating enough calories to get through the day. This may come in the form of honey buns, instant mashed potatoes, ramen, candy, corn chips, or any other concoction of processed carbs, fat, and, hopefully, protein. But some thru-hikers are bucking the junk food trend, planning out key nutrients and looking for short ingredients lists and whole foods as they prepare their resupplies.
I first met Melanie "Poppi" Matta on day two of my PCT journey, waiting out the desert heat under some cottonwood trees next to a creek. She told me that in the next week she would be stopping in Warner Springs to pick up a resupply package, the first of many she had waiting for her. It turned out that Poppi had pre-planned every one of her resupplies for the entire 2,650 miles, a logistically impressive feat that came from a desire to eat foods that she knew worked for her.
Poppi's background informed her thru-hiking PCT prep. After graduating with a college degree in dietetics, she went on to get her master's in holistic nutrition from the National University of Natural Medicine in Portland, Oregon. In the months leading up to her start date, she took her expertise to the kitchen, dehydrating veggies, making protein granola, and buying bars and dried fruit in bulk.
Thru-hiking presents a unique nutritional challenge: How can you maximize caloric density, minimize weight, and make sure to get enough nutrients along the way? For Poppi, it started with a basic formula.
"Every morning, I'll have greens and a protein bar," she said. "I make sure that I'm having my protein granola for lunch. Always two servings of jerky, six servings of dried fruit, always a staple dinner, and then a certain amount of snacks."
From there, Poppi started filling her boxes with Rx Bars, protein powder, couscous with dried veggies, and snacks to fill in the gaps. She's had to up her caloric intake since starting, having her partner and package-sender at home add more snacks to each box. But overall, her staples have stayed the same.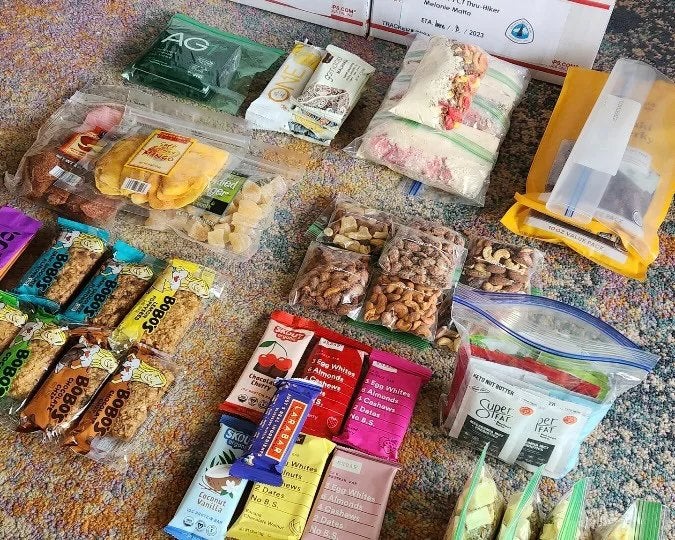 "For me, it was very much worth all the time ahead of time to be able to plan out my nutrition with certain foods that I know are gonna agree with my digestion," Poppi says. "The important thing was finding food that I genuinely enjoy."
In my three months on trail, I've seen thru-hikers taking daily superfood capsules, packing out avocados, sprinkling dried greens on their dinners, and trying their best to eat healthy within the confines of backpacking food. Kale salads, fresh watermelon, and probiotic-rich yogurt are ever-popular town foods as we try to fill in the gaps of what we may have missed on trail.
As a vegetarian, I've faced nutritional challenges of my own. I came into this thru-hike knowing I would need to be mindful of getting enough protein, iron, and other nutrients. Dr. Brenda L. Braaten's "Pack Light, Eat Right" recommendations helped me in my planning, but most of my learning has come from experimentation, trying out new combinations of food and different schedules of eating until I've found what's worked for me. Oats for breakfast, rice and beans for dinner, and lots of peanut butter, protein bars, chips, and dried fruit in between have helped me keep the energy up day after day.
Another key tip? Consistency.
"One big thing that I focus on is eating every one to two hours," Poppi says. "Getting in that snack that's anywhere from 100 to 400 calories, you're constantly putting coal in the fire."
There's no one right way to eat, and most thru-hikers aren't going to be able to plan every resupply box for a five-month hike. The foods we eat vary from day to day and person to person. But there are simple ways to pack in nutrients and get the best out of our trail food.
"Definitely look at ingredients lists and try to find things with shorter lists," Poppi says. "Focus on some protein staples. Even just nuts are a great source of proteins and fats."
I'm not sure that ramen bombs (instant ramen with mashed potatoes as a thickener) are going anywhere. But with more and more options for lightweight, packable, nutritious staples, thru-hikers can more easily get nourishing food in every resupply.
"The biggest thing is to think about is what's going to fuel your body to hike your best hike," Poppi says. "Put the things in your body that are going to allow it to feel really good and strong, not just in the beginning, but until the very end when you're touching that terminus."
Lead Photo: Melanie Matta