It's Thriller Time!
One man, one idiotic quest: to find El Mirador, a mysterious beachfront bar in a very remote and very dangerous part of Colombia. Who knew there would be complications?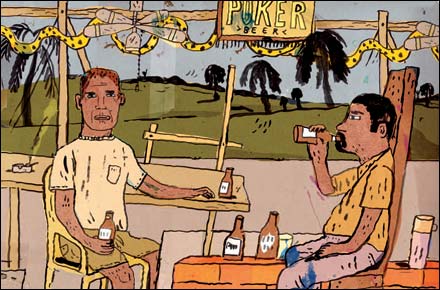 Heading out the door? Read this article on the new Outside+ app available now on iOS devices for members! Download the app.
BEFORE 7,000 MILES. Before the three planes, the two minibuses, the motorcycle, and the cargo ferry. Before the troop transporter, the seven taxis, and the tiny, rattling Lada 4×4. Before Paula. Before the landslides. Before the guerrillas in the mist. Before all this, there is the challenge of the undergarments—namely, which Jockey shorts to take on my trip to Colombia.The sun has long set. Bags containing clean white cotton boxers, my preferred undergarb in hot tropical places, sit ready by the door. Thumbing through Lonely Planet Colombia for a bland passage that might ease the slide into sleep, I happen upon the last paragraph of the What to Bring section.
Colombia

Colombia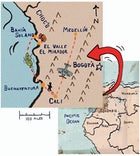 Colombia

"Whatever you pack," it says, "don't bring any khaki-colored clothing or any army surplus uniforms. You will look like a soldier, paramilitary, or guerrilla, and shooting is the only form of communication among these three." You don't want to look too norteamericano, either. There's a possibility you'll be kidnapped for ransom.
Now, if I were just winging off to Cartagena for a beach vacation, maybe that would be that. But I'm not. Not even sort of. Guided by a transplanted New Zealander and champion online gambler named Kelvin Leeming, I'll be traveling into a zona roja so dangerous that both the guidebook and the U.S. State Department warn against going there.
After puddle-jumping south from Medellín (population two million) to Cali (population three million), we'll ride a bus 100 miles to Buenaventura (population 300,000), an industrial port through which much of the world's cocaine passes. Then we'll catch some sort of boat north to Bahía Solano, where one of the town's 7,000 residents was kidnapped just two weeks ago. After that we'll hire a cab to take us ten miles south to our final destination, the poor fishing village of El Valle, a once popular vacation spot for Colombians that's just now recovering from the bad PR generated in 2002, when guerrillas snatched 27 tourists at a nearby national park.
Roaming around in territory 50 miles inland, guerrillas with the anti-government Revolutionary Armed Forces of Colombia (FARC) have terrorized the indigenous Wounaan to the point that 700 just fled their village en masse. A couple of weeks earlier, these combatants laid siege to Quibdó, a city of 140,000, allowing only UN vehicles to pass their machine-gun nests. On top of all this, I'll be in Colombia during Easter week, the lead-up to the presidential elections—which supposedly inspire serious coming-out parties by the guerrillas.
Do they? I have no clue.
Idiot!
I leap out of bed and grope deep inside my backpack, pulling out anything that looks remotely military, tossing it overhead like an erupting geyser. I stuff in fresh clothing, including two monochrome T-shirts with faded J.Crew emblems, one JS-67 gym shirt, one pair of navy-blue BDG pants—all designs that seem vague enough not to arouse suspicion of military or Yanqui associations . . . except—shoot—I see that the labels sound exactly like the names of guerrilla organizations.
I picture myself surrounded by little men with big guns, the littlest guy inspecting my tags.
"FARC?" he asks.
"No," I reply, "I'm with the Gap insurgency."
Underwear proves a stumper. My Jockeys are so white, so gringo! I need imports.
Deep in the bottommost sediment of the laundry hamper, I unearth three pairs of Chinese-made ManSilk. They are polka-dot, paisley, and candy-stripe red, very stiff and smelling tangy, like papaya.
Bingo. I fall asleep, dreaming of the adventure to come.
AFTER A THREE-HOUR American Airlines flight to Medellín, I board a turboprop commuter plane that takes me over 7,000-foot mountains rising between Medellín and Cali. By the afternoon of my second travel day, I'm sitting with Kelvin—a six-foot-tall man of doughy bulk, pale skin, and button eyes—on the patio at the Iguana Hostel, enjoying the botanical exuberance of aloe, orchid, mango, and passionflower, all growing virtually untended.
In person, Kelvin has an incongruous timidity about him. His eyes never meet mine, and he's sulking because he wanted to press on toward the coast this very afternoon. But I need downtime. He nags that we should take off at 4:30 a.m. No: I also need fun time, and I don't want to wake up drunk. Kelvin looks at his sneakers; our "road buddy" dynamic is off to a bad start.
The fun quotient increases when Paula shows up out of the blue. A quick-witted, cappuccino-skinned 28-year-old, Paula is on her way home from her job as a secretary and stops in to see a friend who manages the Iguana. She sees us sitting there drinking and decides to join us. (What a country!)
"El Valle es peligroso?" I ask, genuinely interested in how dangerous the town is or isn't. I'd noticed that only one of the past 1,500 entries in the hostel's logbook lists anything in that direction as the next destination.
"No, all of Colombia is safe," she says. "Except me."
Before long, Paula insists that Kelvin, I, and a Parisian photographer named Jean-Paul Loyer go dancing with her at Salamandra, a monstrous neon salsoteca just off Avenida 6N. But Kelvin doesn't want to. He has a girlfriend back at the Black Sheep, and he's miffed that he's taken time off from his hostel only to end up in another hostel. He'd rather lay his big body in the hammock with a beer. Or 12. His idea of fun is self-lubrication—and logging on to PokerStars.com as the much feared "Kiwipaisa."
We leave the club at 2 a.m. on April 12. Unknown to us, at that exact hour, heavy rains have started triggering mudslides on the highway from Cali to Buenaventura, our road to the Pacific coast. Before the rains stop, the slides will devastate much of the province of Valle del Cauca. By early that morning, swollen tributaries of the Dagua River have started 17 mudslides, closing 13 miles of the highway and wiping out two villages. Thirty-three people die, mostly families caught in their homes. Thirty more are injured. Three hundred are left homeless, to be evacuated by government helicopters to a nearby sports stadium. A few days later, Colombia's president, Álvaro Uribe, will helicopter in to declare a state of emergency.
Upon hearing the dark rumors circulating around the spotty news coverage, Kelvin gets pissed that I delayed us. "If we'd left at 4:30 like I wanted to, we'd be there by now," he says at dinner the third night.
"No," I fire back. "If it weren't for me, we'd be dead under the dirt."
It turns out we're both wrong—the road was impassable even at 4:30—but my comment has the desired effect: Kelvin leaves for the bathroom. When he returns, I politely tell him to get off my back. "Listen, Kelvin. I'm still excited to go, but you're not obliged to do this."
"No," he says, setting down his beer. "We're going, and we're going to bed tonight at midnight."
Cheers.
IN A 5 A.M. DAZE, Kelvin and I and three other passengers leave Cali in a white diesel Chevrolet sedan piloted by a stick-figure man who claims he's the only driver heading toward the slides.
Call him Flaco. Sporting inky slicked-back hair and a caterpillar mustache, Flaco belts out the refrain to every song blaring on the stereo as he whips through the fog-obscured streets. He swerves left, skidding the wrong way around a traffic circle, and juices it up the on-ramp of a highway that switchbacks into Cali's forested western suburbs.
At 6 a.m., we reach the puesto de control in Lobo Guerrero, a multilane tollbooth commandeered by soldiers who are turning away civilian cars. We hire two bored-looking men with 100cc motorcycles to take us past the checkpoint. Soon, my driver's Kawasaki Sun is sputtering through a hyper-verdant 3,000-foot-deep canyon plucked straight from Land of the Lost. In the hamlet of Cisneros, about 30 miles from the coast, a soldier waves us to a stop.
We set off on foot. Just down the road, I meet Alessis, a spunky Afro-Colombian fishmonger from Cali determined to get to the coast in time to collect on a big shrimp harvest. Given that he's walking, I don't know what he'll do with the shrimp once he gets there, but that's his issue.
Maybe in his early thirties, maybe four and a half feet tall, Alessis bounces along with an oversized swagger and catcalls at girls twice his weight. He has leg muscles like pistons, and I have no doubt he could piggyback me all the way if I didn't mind dragging my toes.
At 7:45, after about four miles, we arrive at the first mudslide, a triangular slump of orange ferrous soil released from a steep, bird-noisy, three-tier tropical rainforest. Following Alessis on foot, we skirt the tailings close to the river's edge, stride around a languorous crowd of soldiers charged with guarding the dirt, and bop along the pavement, which resumes 100 yards away. The first four slides are virtually identical and spaced about half a mile apart. Slides five through eight present bigger challenges, fun tangles of root balls and tree trunks resting higgledy-piggledy on high plateaus of mud. Then we're back on pavement, following the double yellow line until it disappears in another barricade of mush.
At one point, we stop where two teenagers have set up a roadside lemonade stand. Alessis takes the first sip. "Mmmmm!" he says. Quenched, he flexes his biceps like a dwarf bodybuilder.
A feeling of camaraderie pervades these hardships. There are hundreds of people making their way along the ruined highway. Teenagers set down their BMX bikes to assist a chunky woman balancing a suitcase on her head. A well-dressed man, carrying his wing tips, pulls two schoolkids up a slick embankment. Everyone in the mini-migration seems to be in good spirits, but no one even approximates the skull-half-full enthusiasm of my man Alessis.
"Can you make it?" a woman calls to him.
"Of course," he yells back, throwing his hands up at the utter preposterousness of the question and mentioning an empty city bus we saw roll by. He's certain it rammed through the two-story walls of mud like a monster truck. "Didn't you see that bus?"
"Yes. But how do you know the bus isn't from this town?" she asks.
"No, no, no, it drove in over the slides!"
"How do you know?"
"Of course it drove in over the slides!"
He turns to me: "Mamacita . . ."
By one o'clock, according to Alessis's count, we've traversed 37 slides (my notes say ten). I'm feeling excited. We are a merry band of travelers! We will get shitpindled at the world's most hard-to-get-to bar!
We round a bend and—wham!—we see our last slide and the first obviously buried village. With that sight, I realize that—wham!—I am a royal ass.
The pavement disappears under a one-acre cesspool of mud and boulders and tree trunks stripped of their limbs. Various household items such as toilets and TVs float on the surface.
The mini-migration freezes. People cover their noses with handkerchiefs to block the smell of sewage. The slump is up to or over the eaves of more than two dozen homes. Rescue workers wade through the mess, hoping that someone might still be alive but carrying body bags nonetheless. Soldiers circle the foul sludge, bandoliers of shiny brass ammunition wrapped around their chests, while two yellow earthmovers scrape away at the edge.
In front of us, a mother and son, stuck up to their knees, struggle to salvage an electric air conditioner. They offer chagrined smiles as we slop past, and this sight, of all things, hits hardest.
I feel like a funeral crasher. Here they are, at what is essentially a mass grave, and, in the middle of humbly clinging to one little piece of their lives, they smile at me, a lucky twit passing through for his own sudsy amusement.
My grand quest is absurd.
SOON AFTER KELVIN, Alessis and I slog over the last slide, we pause at the awning of a shuttered truck stop. Right then, three soldiers spring from their post, a sandbag bunker with a flimsy tin roof. They clomp down the street through a light drizzle, rifles pointed straight ahead. Other soldiers appear, stepping into view on a jungly ridgeline above the road. Am I hallucinating?
"What's going on?" I ask Kelvin.
"I dunno. There were shots fired," he says. "They're going to fight."
"You can't find out anything more?"
"No."
That's the way it goes in Colombia, a profoundly screwed-up country that's been that way since it became a country, in 1819. At first, it appeared just typically screwed, going through the usual South American saga of rich against poor, righties versus lefties. Then, in the early seventies, cocaine confused everything.
Seeing that a kilo of coke costing $1,500 to produce would sell for $50,000 in the United States, Colombian drug smugglers like Pablo Escobar—a fat wake-'n'-bake thug—got busy amassing fortunes. Escobar's Medellín cartel bribed government officials, hired guerrillas to protect remote labs, and intimidated civilians by summarily murdering suspected enemies. Meanwhile, the guerrillas—primarily the 18,000-strong FARC—followed their own business plan, one built around arms smuggling and ransom.
Little changed after Colombian police gunned down Escobar in Medellín in 1993. One year later, guerrillas occupied half the country and the Cali cartel was delivering 80 percent of the world's coke supply. And so it went until hard-liner Álvaro Uribe became president in 2002.
Rightists point out that, since then, cities and highways have gotten safer. But leftists spotlight the record-setting growth of cocaine production and say Uribe (who was reelected in May) has simply forced the violence into rural areas. However you break it down, the fact remains: Bad dudes with guns still roam the countryside, looking to show off their power in any way.
As for the bad dudes running around with guns on the road to El Mirador, 45 minutes pass after the hubbub starts. Then things settle down, and 30 of us pilgrims pack into two personnel transports, flatbed trucks with blue awnings that cast a melancholy tinge. Two armored vehicles pull out in front, and soldiers on motorcycles zip in behind. Our military convoy lurches off toward Buenaventura. The 20-mile ride ends 40 minutes later with me giving a big goodbye to Alessis. I say "Mucho gusto" and mean it. May all your shrimp be plump!
Stepping around puddles of shit and avoiding feral dogs in the outer slums of Buenaventura, Kelvin and I stumble upon a fenced-off shantytown/dock. Thirty-seven dollars later, we're riding a boat, embarking on a 25-hour ride north, a time frame that will give me ample opportunity to reflect on my stupidity.
The SS Pizarro, or good ship Bizarro, as I rename her, is a 75-foot-long, single-prop, steel-hulled powerboat generously painted with rust and offering lavish accommodations in any of six coffinlike bunk rooms. Ours is missing the door. Complimentary meals of rice, boiled potatoes, and line-caught fish (fried to leather) are served at a picnic table in the fly-swirled kitchen. Constipation is encouraged, as the toilet has neither seat, flush handle, nor toilet paper.
We chug due west at a ponderous five knots, and I fall asleep soon after the sun starts boiling the horizon.
At 4:30 p.m. the next day, we disembark in Bahía Solano, and because God is a master of irony, there are no buses, cabs, or Lamborghinis willing to take us the last ten miles to El Valle. It's Good Friday. We spend the night at an empty motel in the moon shadow of a steepled church, which itself is in the shadow of a colossal military watchtower.
The next morning, we opt for the Playa Alegre hotel shuttle: a dumpster-size, candy-apple-red, Russian-made Lada Niva known as "the 4×4 that'll get you there but won't get you back." It stalls at every chuckhole.
We emerge from the forest canopy one hour later, pass through El Valle, and sputter onto a black-sand beach at low tide, pink sand crabs scattering sideways as we approach. The exposed tidal flats mean we can drive all the way.
"Is that it?" I ask Kelvin, pointing to a colorful little smudge on a distant peninsula.
"That's it."
THE PLACE IS EVERYTHING Kelvin promised—and more. Dense rainforest crashes down from the hills right up to its back wall. Oregon-type sea stacks pop out of the surf to the northwest. Our lonely, palm-lined beach reclines to the southeast.
Wading across a tiny stream, we climb two flights of wooden stairs up the back. At the top, just to the left, is the first of two yellow-orange-and-green wooden stages for dancing, this one butting up to the jungle, the pitched roof sagging from the weight of dirty stadium-rock speakers. In front of that is a barred window where a mellow, crew-cut guy in his thirties serves just one brand of beer (called Poker) from a single, glass-doored Coca-Cola refrigerator.
A gravel patio stretches a hundred feet out to the end of the peninsula, with dozens of brightly colored plastic chairs arranged in circles on its edge. Farther along, the second dance floor cantilevers over the surf. The best spot is at the very tip of the patio, where rough-hewn benches balance on rock nubbins and waves crash, misting the air.
We are the only patrons today. The next evening, the place will be packed with Afro-Colombian locals who've stumbled down the beach from town—most of them dee-runk on rum, barefoot and dripping salt water, and ready to dance to salsa music that's loud enough to rattle my teeth.
But that's the second night. This is the first night. Kelvin, sitting at the very tip of the patio, has a lager waiting for me.
"So?" he asks. I lean back, take the first tug, and feel the syrupy 82-cent liquid tumble down my throat. It is the best equator-warm piss water I've ever tasted.
"Awesome," I say, unable to find a better word to describe that rare joy when reality lives up to a dream. Kelvin and I are not the best of friends, but maybe we weren't meant to be. I'm the client, he's the guide, and for the next couple of days we'll be easygoing boozers, each with a private room, neither verbally rehashing the tweaked details of what we've seen.
We can do that in our own minds, and I start right away, staring north toward Panama. What happened with the guerrillas? Are landslides common? Did I really need Chinese underwear? Big questions, but not as big as the one I ponder next: Why is the image of that mother and son rescuing their air conditioner stuck in my mind?
The reason is obvious: That memory represents the spirit of the country. The mother and son are average Colombians, smiling, showing both the gritty pluck and animating hope I've seen throughout my journey—in Paula, Alessis, folks in the slides, even Flaco in his lead-footed way. All of them are trying to pull together a life amid Colombia's bigger landslide, the random violence of a civil war that ruins the lives of peaceful citizens everywhere.
Much to my surprise, I no longer feel a need to get blotto. Instead, with a sober mind, I'd like to continue processing, analyzing, and ruminating on what I've seen. And it strikes me that this change from passionate drunk to reflective abstainer is just the kind of personal transformation that's the reward of any adventure. It's an example of the power of a place to change a person, of getting far gone both physically and psychically, of looking in the mirror and wiping away the fog, and of the compulsion to blather on about your own shit in trite metaphors without ever feeling ridiculous.
Jesus, I hope it's not permanent.