The Perfect Cocktails for Late-Summer Campfires
There's time for one or two more gatherings around the flames before summer is officially over. Here are some libations to end the season right.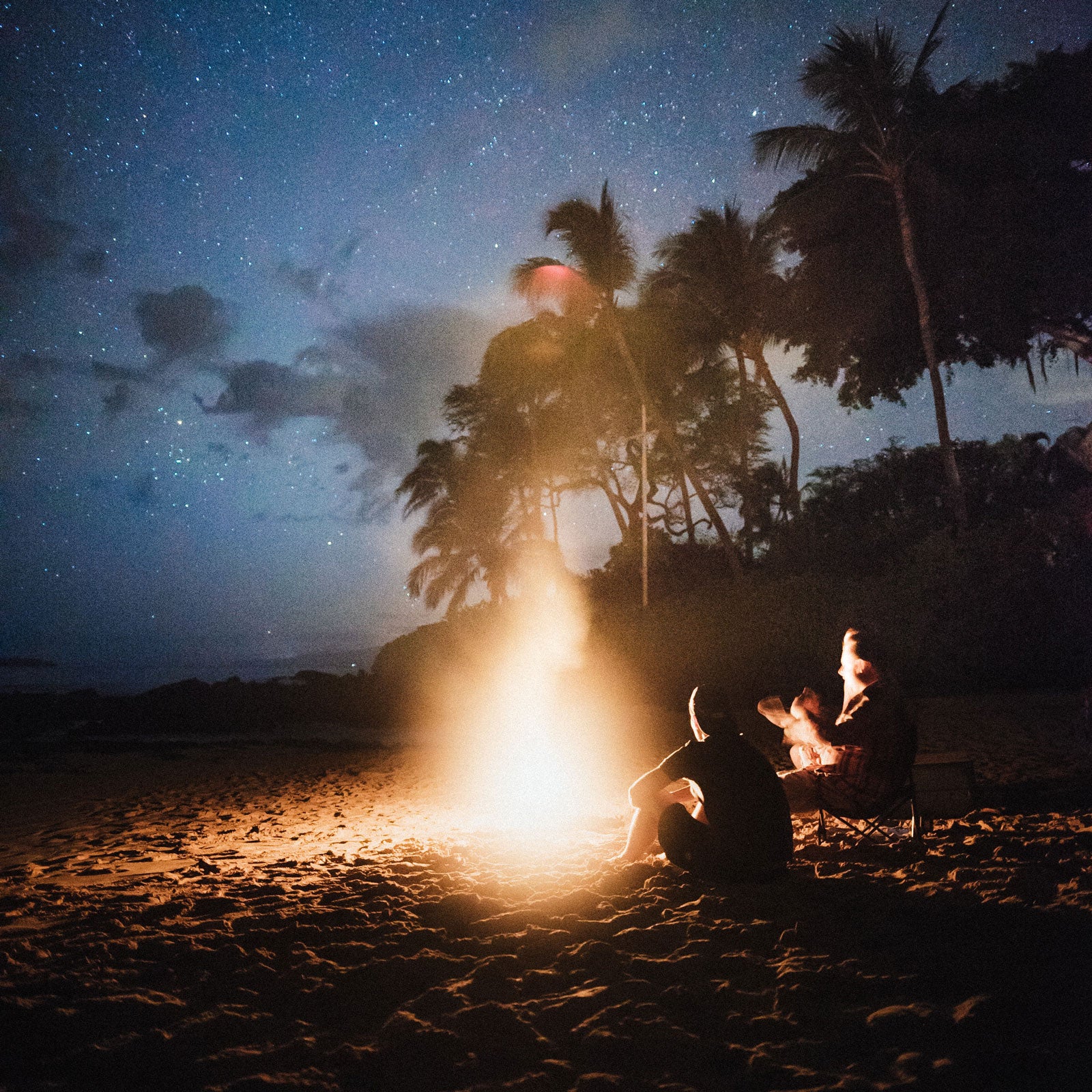 Heading out the door? Read this article on the new Outside+ app available now on iOS devices for members! Download the app.
It's been a good summer. Karel Sabbe set a new FKT on the Appalachian Trail. We roasted Backpacker over its cheddar cheese s'mores. And we hiked and camped and got bug bites from ear to ankle. But before pumpkin spice latte season kicks off, let's take one last weekend to sit back and watch the campfire flames through the sheen of a tasty cocktail. Here's what we'll be sipping.
Dusk
This is what Rob Guimaraes, who tends bar at Union Common in Nashville, Tennessee, likes to drink on campouts. "All three main ingredients are perfect sippers on their own," he says. "But together in a glass, with a single large cube, they make for a great roaring-fire drink."
1 1/2 ounces High West Campfire Whiskey
1 ounce Punt e Mes vermouth
1/2 ounce Green Chartreuse
2 dashes Angostura bitters
Add all ingredients to an empty water bottle. Shake, then pour over a single ice cube. If you didn't bring ice, don't worry: It goes down fine at the ambient temperature.
Floodwall Nights
If it already feels like fall in the mountains, set the kettle over your fire and make this tea-based cocktail. The recipe is from Eron Plevan, a bartender at ALEX&NDER in Louisville, Kentucky.
1 ounce Copper & Kings Floodwall apple brandy
1 ounce Destillaré Intense Pomegranate
2 ounces hot rooibos tea
1 ounce honey syrup (or to taste)
Cinnamon stick, lemon wedges, and rosemary sprigs, for garnish
Heat a kettle and steep your favorite rooibos tea. In a fresh mug, add all the other ingredients, then top with two ounces of the hot tea. For extra pleasure, garnish your cup with a cinnamon stick, a squeeze of lemon, and a sprig of rosemary. Pleyan suggests singeing the rosemary just a touch in the fire for a bit of smoke flavor.
An Improved Vodka Tonic
This woodsy iteration of the vodka tonic comes courtesy of Yana Volfson, beverage director for two of New York City's trendy Cosme and Alta restaurants.
2 ounces Zirkova Together vodka
1/4 ounce Zirbenz Stone Pine Liqueur
1/4 ounce lime juice
3 ounces Q Tonic
Pine sprig, for garnish
Add all ingredients to a highball glass or (more likely) your Hydro Flask, mixing in the tonic water last. If bringing ice along is impractical, you can stick the tonic water in a cool stream or lake for an hour. Browse the forest for a perfect pine sprig and use it to give the whole thing a stir.
The Smoky Bear
The best smoky cocktails are made with mescal. We love that this one uses ingredients we usually have on hand at the campsite: hot cocoa and marshmallows.
Hot cocoa (pick your favorite)
1 1/2 ounces mescal
1 sugar cube
Toasted marshmallows
Make the hot chocolate according to package directions. Add the mescal and sugar cube to your glass and stir. Top with as many toasted marshmallows as you can handle.
Flapjack Old-Fashioned
Upcycle your leftover pancakes from breakfast with this maple-flavored Old-Fashioned from Lee Noble, who works at Art in the Age's Philadelphia tasting room.
2 ounces Art in the Age Maplejack
1/2 ounce maple syrup
4 dashes Bitter Housewife aromatic bitters
Blueberry silver dollar pancake, for garnish
Put a thin pat of butter on the pancake, and rest it on the rim of the glass until you are ready to drink. Then, wash the pancake down with the cocktail.
The High on Fire
This is a smokier version of your regular ol' Old-Fashioned. The recipe is courtesy of Chicago-based mixologist Eric Rosentreter.
1 orange peel
2 ounces Redemption High Rye Bourbon
1/2 ounce Averna (an Italian liqueur like Amaro)
1 tablespoon demerara sugar (Regular sugar will work in a pinch.)
1 orange peel
Start by thoroughly wiping the inside of your cup with the orange peel. Next, hold the glass upside down over the fire, allowing the smoke to catch inside. You want to do this pretty far above the fire—you don't need the heat, you need the smoke (and skip this step if you're using chemically treated wood). After a minute or so, when the glass smells of smoke and orange, fill it with the remaining ingredients. Add an ice cube or two, stir, and garnish with a touch more orange peel.
Lead Photo: Justin Kauffman/Unsplash