How a New Beer Is Helping California's Fire Victims
Sierra Nevada is making Resilience Butte County Proud IPA to raise money for the Camp Fire victims—and has inspired hundreds of other brewers to join the effort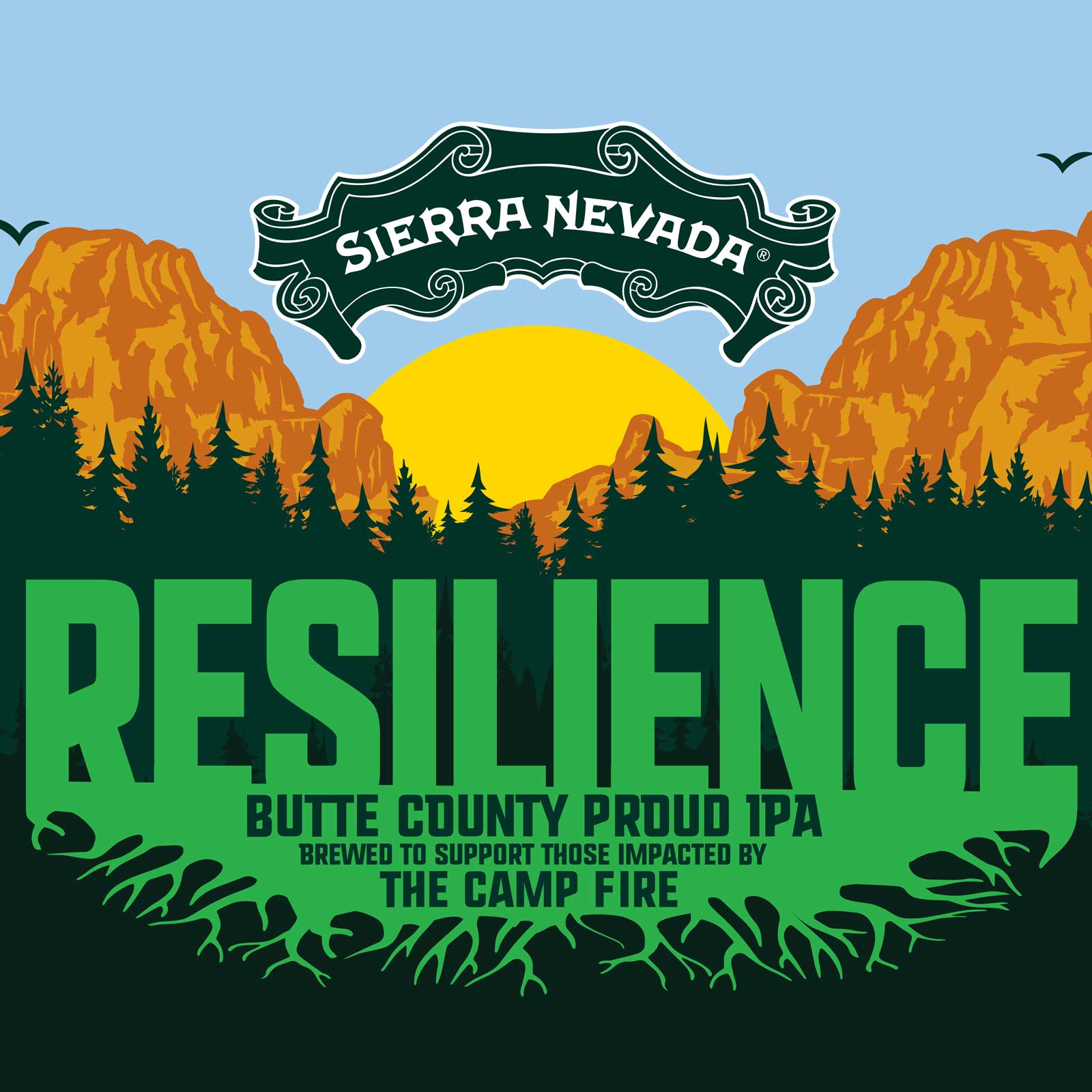 Heading out the door? Read this article on the new Outside+ app available now on iOS devices for members! Download the app.
On Giving Tuesday last week, Sierra Nevada employees in Chico, California, gathered around one of the company's brewing tanks. They were there to make what might become Sierra Nevada's most important beer to date: Resilience Butte County Proud IPA. All profits from the beer will go toward a fund to help victims of California's recent Camp Fire.
The Camp Fire, which destroyed as many as 14,000 homes and killed at least 88 people in Northern California's Butte County, was one of the deadliest, most destructive wildfires in American history. It entirely wiped out the small community of Paradise, just up the hill from Sierra Nevada's headquarters. Forty Sierra Nevada employees lost their homes.
To make the initial batch of Resilience IPA, Sierra Nevada called in locals to help. The first handful of Centennial hops was added by Kory Honea, the sheriff of Butte County, which is home to Chico and Paradise. "He's become a cult hero," says Terence Sullivan, a spokesperson for the brand. "Last year we had the Oroville Dam spill, and he had to evacuate a whole town. This is his second giant evacuation. It's absolutely amazing work that he and his team do."
When Grossman puts out a call for help, the industry fires up its tanks.
Next, the Sierra Nevada employees who lost homes threw in hops. Finally, Sierra Nevada founder Ken Grossman finished the batch by adding his own handful. "This effort is really heartfelt," Sullivan says. "It will probably go down as one of the proudest moments in my professional career, in helping so many people."
Sullivan lives in Chico, and his house was spared damage. But during the fire, reports of colleagues losing everything came rolling in. "I remember my wife saying, 'The sky looks weird.' I went out and was like, Wow, that's smoke," Sullivan says. "Ken got evacuated from his home. He went over to his property on the coast and chatted with his friend Vinnie Cilurzo at the Russian River Brewing Company about concepts for raising money for relief."
Cilurzo, the owner and brewmaster of Russian River, had been in a similar situation a year earlier, when fires swept through Napa and Sonoma. The idea for a collaborative beer came up. Cilurzo said he'd be happy to brew some in solidarity. Grossman wondered if other brewers would do the same.
Three weeks later, the answer is a resounding yes. More than 1,100 breweries nationwide have signed on to brew Resilience Butte County Proud IPA. "A majority of brewers today are brewers because of Sierra Nevada," says Keith Plunkett, marketing director for the Funk Brewing Company, in Emmaus, Pennsylvania, which is brewing a batch of Resilience. "They were the first ones in this space."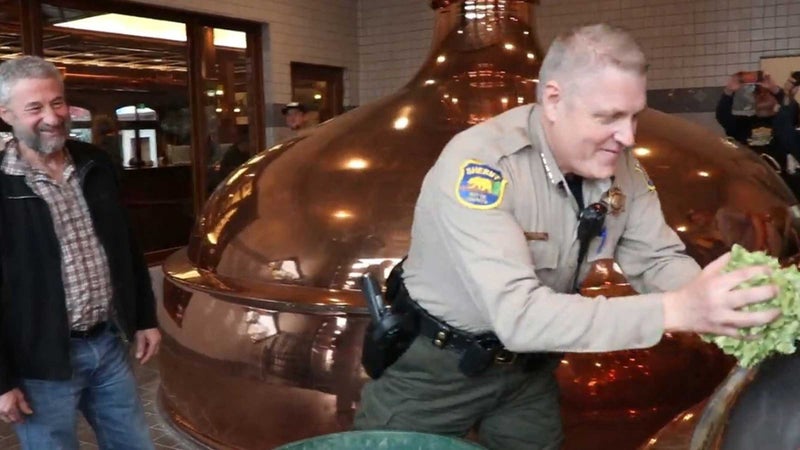 The 64-year-old Grossman is legendary. For many, Sierra Nevada was their introduction to craft beer. So when Grossman puts out a call for help, the industry fires up its tanks.
Resilience IPA is just one of several things the brewery has done for Camp Fire victims. "Right away we mobilized and helped get people sweatshirts and T-shirts," Sullivan says. "So many people had to evacuate in just their pajamas. They didn't have anything." The company has also passed out 10,000 meals, donated $100,000 to relief funds, and is now trying to help the thousands of displaced families by bringing in trailers to some land that Grossman owns in Chico.
Sullivan hopes that Resilience IPA will keep money coming to a community that's going to need it. Sierra Nevada is the only brewery selling Resilience in cans. It will be available nationwide starting in late December or early January. Your local brewer will likely have Resilience on draft in the next few weeks. Currently, Sierra Nevada plans to make 4,100 barrels, or about 172,000 gallons. Proceeds from sales will go into a fund set up at Golden Valley Bank in Butte County. "The funds will go directly to the victims," says Sullivan. It's not forming a nonprofit, which would incur administrative costs. Meanwhile many of the suppliers of hops and malt are donating the ingredients needed to make Resilience. "By the math, if breweries produce what's on paper and commitments are met, the beer-generated funds should be more than $10 million," says Sullivan.
Currently, Sierra Nevada plans to make 4,100 barrels, or about 172,000 gallons. Proceeds from sales will go into a fund set up at Golden Valley Bank in Butte County.
Sullivan says that a West Coast–style IPA was a natural choice for Resilience. "We wanted to focus on what our local community grew up on," he says. "This is Sierra Nevada. This is Butte County." The name was a little trickier to come by. Shilling Brewing Co., in New Hampshire, already has a Resilience in its lineup. But while there are plenty of stories about brewers suing each other over similar names, this is not one of them. "They were nice enough to allow us to use it," says Sullivan. As a thank-you, Grossman is heading to New Hampshire next week to brew a batch of Resilience with the folks at Shilling.
Meanwhile, Plunkett says that several Lehigh Valley, Pennsylvania, brewers—including Bonn Place, Two Rivers Brewing, and Lost Tavern—will join forces to brew a batch. "It's an excuse to get everyone together," he says. Even Dovetail Brewing, a Chicago-based brewery that had promised never to make an IPA, is setting aside its self-imposed rule to participate.
In the past decade, the beer industry has changed. "It's much more competitive," says Sullivan. Sometimes breweries squabble. "But when it comes down to the human aspect of what we all do, we're all in this together. Down to the core, we're all brewers." And all brewers adhere to one basic tenet: while beer won't always fix your problems, it can make a bad situation a little better. In this case, frosty mugs of Resilience IPA may make things in California a lot better.  
Lead Photo: Courtesy Sierra Nevada