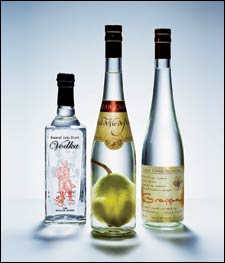 Mark Wiens
Heading out the door? Read this article on the new Outside+ app available now on iOS devices for members! Download the app.
In the early nineties, you couldn't turn around without spilling a microbrew on some goateed guy's flannel. Replace that six-pack with a bottle of brandy made from organic pears and you have the latest trend in happy-hour chic: craft distilling.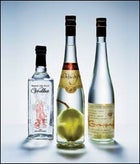 Looking for ways to spice up your holiday liquor cabinet? Here are a few places to start.
With liquor more popular among 21-to-27-year-olds than beer, and annual sales of spirits up $13.7 billion since 1999, craft distilleries have both fed and fed off of the boom. The American Distilling Institute lists 66 of them nationwide, up from an estimated five in 1990. Like microbreweries, these operations favor small batches, hip bottle art, and nuanced flavors, like the prickly pear vodka from Arizona High Spirits Distillery, in Flagstaff. "We wanted to do something that was uniquely southwestern," says co-owner Dave Williamson, "and prickly pear fruit is the gem of the desert."
While aspiring distillers often find themselves up against arcane Prohibition-era legislation governing the production and distribution of liquor—it takes an average of 15 months to make it through federal and local licensing procedures—the returns can come quickly. Spirits are ready for bottling in a matter of hours, versus weeks or months for beer and wine. Flag Hill Winery, in Lee, New Hampshire, recently turned to apple vodka after eight years in the wine business. "It's faster and easier than winemaking, and it can be more profitable," says president Frank Reinhold.
It also looks better in a martini glass.
BOTTLE ART

Looking for ways to spice up your holiday liquor cabinet? Here are a few places to start.
ARIZONA HIGH
SPIRITS DISTILLERY
Flagstaff, Arizona
928-773-8950 www.mogbrew.com
High Spirits Vodka ($28) comes in plain and prickly pear varieties.
CLEAR CREEK
DISTILLERY
Portland, Oregon
503-248-9470
www.clearcreekdistillery.com
Oregon pears, apples, cherries, raspberries, and grapes are transformed into grappas, brandy, and eau-de-vie ($22–$80).
FLAG HILL WINERY
Lee, New Hampshire
603-659-2949
www.flaghill.com
General John Stark Vodka ($25), named after the Revolutionary War hero who coined New Hampshire's motto ("Live Free or Die"), is distilled from locally grown apples.
VERMONT SPIRITS
Barnet, Vermont
802-748-6545
www.vermontspirits.com
Triple-distilled, charcoal-filtered vodkas include Vermont Spirits Gold ($28–$35), made with maple sap, and Vermont Spirits White, made with milk sugar.