Stranahan's Snowflake Whiskey
Snowflake, a limited-batch whiskey from a Colorado distillery, is so coveted that hundreds of people wait for hours in sub-zero weather just to get a bottle.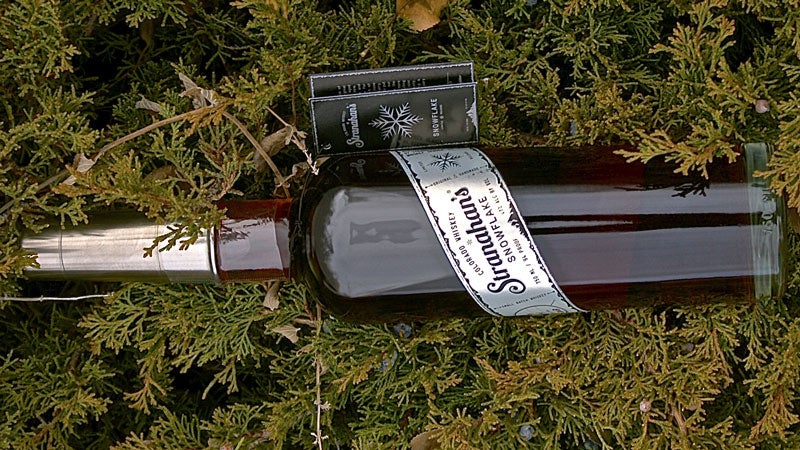 Heading out the door? Read this article on the new Outside+ app available now on iOS devices for members! Download the app.
I had heard rumors that Snowflake, the limited-batch liquor from Stranahan's Colorado Whiskey, is so coveted that people camp outside the night before its release to secure a bottle. I doubted that was true until 5 a.m. on Saturday, December 7, when I saw a line more than 120 shivering people long in the snow-covered alley behind the distillery.

Hundreds of hearty whiskey lovers lined up in the early, frigid, hours of December 7 in order to purchase the latest limited batch release from Stranahan's. Temperatures hovered around 0 for much of the morning.

Barrels of whiskey line the distillery.

Head distiller Rob Dietrich welcomes people in from the cold.

The line wrapped around the distillery amidst pallets full of whiskey barrels.

Stranahan's 2014 Snowflake limited batch release, Mt. Sneffels.
Lines this long, and in such cold, haven't been seen since the fall of the Soviet Union. On December 4, the Denver Zoo closed when the Denver International Airport marked a record low, 13 degrees below zero. Just three days later the temperature was minus ten degrees before sunrise. But this cult following around Snowflake isn't deterred by sub-zero temperatures.
For Russel Cowden, minus ten degrees was on the warmer side of temperatures that chilly night. He started the line before most people went to sleep the night before. A salty veteran of two previous Snowflake releases, Cowden not only wore the camouflaged clothes he typically hunts in, but he also brought a ten-by-ten-foot canopy wall tent, infrared radiant heater, sleeping bag, and propane turkey fryer to boil French Onion soup.
"It was pretty toasty," Cowden says. "I camped out at 8:30 last night because it's kind of a rite of passage. I got out here and braved the cold to be first in line." 
As I walked to the back of the line, everyone looked less and less prepared for this endeavor. In the top 100, many people had brought their own down-filled sleeping bags. They held their places in line like psychedelic-colored, upright earthworms. Farther back, a band of four, layered in coats, was huddled around a small pile of burning receipts, business cards, and trash. If bottles of Snowflake didn't cost $99 a piece, they might have thrown a couple bills on the fire.
Such is Colorado's love affair with Stranny's, as the locals call it. The craft distillery used to sell its regular batch nationwide until about 2010, when it decided to scale back to just Colorado in order to quell the state's appetite for its whiskey. Today, its signature 750-milliliter bottles with golden labels situated like a prom queen's sash can only be found on the shelves of Colorado liquor stores.
But Snowflake isn't found in any Centennial State liquor store. This prize is only sold on a first-come, first-serve basis out of the Denver distillery. About a week before the release of a bath, Stranahan's makes an announcement to its more than 32,000 followers on Facebook and Twitter. No ads and no marketing campaigns were required to get hundreds of people to wait outside of a distillery for hours in the freezing cold.
As the line continued to grow behind me, the passage of time was difficult to mark because the cold had drained my phone battery. But there's a wacky sense of comradery among those who voluntarily wake up before the sun on a Saturday morning for whiskey.
Cowdin ushered in as many strangers as he could into his heated tent. Farther back in line, a thermos of hot coffee was passed around. We were all in this together, especially after tickets were handed out at 6 a.m., ensuring that ticket holders would received a bottle.
By 7 a.m., the distillery opened the side door for as many people as could fit inside the small building—only about 100. I half expected to see a riot or a small group swarming the distillery, but those left on the outside didn't complain; we knew we'd soon be inside. Three hours after I first arrived, Cowdin received his prized first bottle, and bundled-up Denverites steadily began to vanish into the side door. 
People entering Stranahan's that morning looked a little like Charlie walking into Willy Wonka's factory for the first time. The building is filled with rows of American white oak barrels stacked from floor to ceiling. A bottle of Stranahan's is aged for no less than two years in these barrels. Farther inside, your nostrils fill with the woodsy aroma from the barrels and the sweetness of the whiskey being distilled. Year round, this distillery produces 100 percent malt barley from ingredients found in Colorado. Water is sourced from the El Dorado spring outside of Boulder, and barley is harvested from yoColorado's Western Slope, where Dietrich grew up.
Once inside, people who wouldn't risk opening their mouths outside for fear of losing valuable body heat were talking to complete strangers. There's something literally in the air, trace amounts of alcohol coming off of the stills. Some distilleries like Stranahans say that if you sleep overnight in the building, your blood-alcohol content will be too high to drive when you wake up the next morning.
The line inched slowly forward towards the mutton-chopped head distiller Rob Dietrich greeting people by the stills—Willy Wonka himself. To everyone in line, Snowflake is whiskey, but to Dietrich it's art. The head distiller handpicks and formulates each batch, and no two batches are ever alike. 
"It was originally called Snowflake because each batch is unique just like the snowflake," says Dietrich. "Every time I put together a Snowflake, it's never going to be the same." 
There have been 14 Snowflake batches to date, each named after one of Colorado's fourteeners. What everyone risked hypothermia for today is called Mount Sneffels, and it took more than three years to get here.
Nineteen months ago, Dietrich selected three barrels of Stranahans' regular batch to be made into this winter's Snowflake. Instead of being bottled and shipped, the contents of these three barrels were transferred into different oak casks perviously filled with Zinfandel and Sangiovese wines at local wineries. Snowflake is different each time because it's cask-finished in a different type of these wine cask.
This set of fraternal triplets sat in those barrels for more than a year and a half. When it reached maturity, Dietrich spent weeks tasting and testing different combinations from the Zinfandel and Sangovese barrels until he found a marriage between the three that he felt was right.
With so much effort put into each bottle, standing for four hours in the freezing cold in Denver's industrial area seems easy. By 10:30 a.m. all 975 bottles of Snowflake had been claimed, and the thermometer still hadn't cracked zero.
Although rare, Snowflakes do sometimes emerge on the internet when someone in line is willing to part with his bottle for the right price. A bottle of Mount Sneffels went for $300 on Craigslist the week after the release. 
Generally, two Snowflakes are released each year, but not even Dietrich knows exactly when the next Snowflake will be released. As the previous head distiller and distillery co-founder Jake Norris puts it, "Only the cask knows when it's time."
But those who religiously watch the distillery's Facebook page will be the first to know when the next forecast calls for Snowflake. 
Lead Photo: Shalaya Kipp