America's 10 Most Threatened Rivers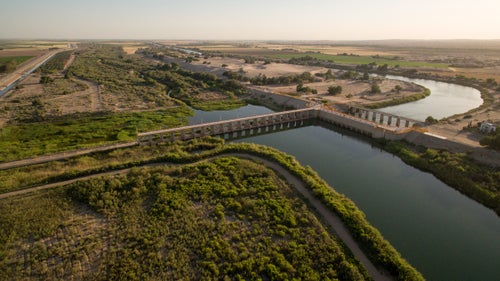 The days of regular "river fires" in America may be long gone, but that doesn't mean the country's waterways are clean. In its last nation-wide survey, the EPA found that more than half the US's rivers are in "poor condition" and too polluted to adequetely support marine life. "America's streams and rivers," the EPA Office of Water's assistant administrator said at the time, "are under significant pressure." But don't expect too much help from the EPA in the near future. President Trump recently signed an executive order to roll back parts of the Clean Water Act that focused on smaller streams and tributaries.
For the last 30 years, American Rivers, a nonprofit advocacy group out of Washington, D.C., has been calling attention the plight of the country's rivers. Today, the group released its annual Most Endangered Rivers report, a catalogue of the ten rivers in America most threatened in 2017. From mammoth torrents that slake the thirst of millions to small tributaries, the report is a sobering look at the waterways we're in danger of screwing up forever.
Photo: Morelos Dam on the Lower Colorado River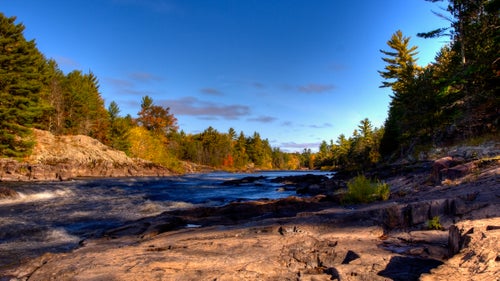 #10 Menominee River
Michigan, Wisconsin
The Menominee, a 115-mile-long river that courses through the forests of Michigan's Upper Peninsula, is an outdoorsman's paradise. It's ideal for rafting and home to plenty of smallmouth bass, trout, and sturgeon. Too bad, then, that Aquila Resources, a Canadian mining company, is currently seeking permits to begin operations along the Menominee's banks. The mining would rely on cyanide to extract and process ore and would discharge wastewater directly into the river, according to American Rivers. Groundwater, local animals, and even Lake Michigan would all be threatened if acid mine discharge were to seep into the earth, the group warns.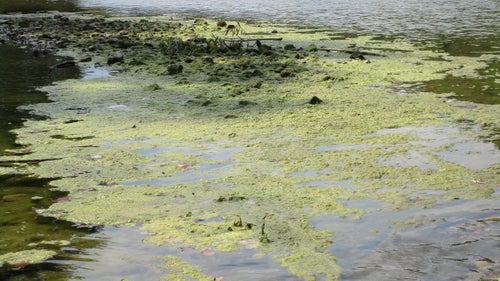 #9 Buffalo National River
Arkansas
In 2013, a 6,500-head hog farm opened up along the Buffalo River, near the Ozark Mountains. Soon after, paddlers, swimmers, and fisherman began seeing changes in water quality as algae covered miles of river bottom. The farm, a concentrated animal feeding operation, has been storing copious amounts of pig poop in ponds above one of the Buffalo's tributaries, and E. coli levels are already high in the river. This year, the farm's owner is seeking to extend its permit to operate in perpetuity, American Rivers reports.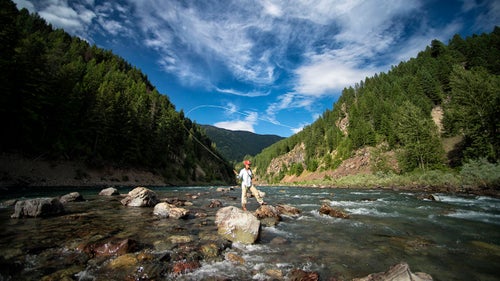 #8 Middle Fork of the Flathead River
Montana
The Middle Fork of the Flathead, which borders Glacier National Park, used to see little traffic on the railroad tracks alongside it. But since the oil boom in North Dakota, the number of railroad tank cars loaded with crude oil that have been following the river has jumped to over 1,800 per week. Each car is filled with up to 30,000 gallons of crude and "oil by rail" spills have grown more common in recent years. Oil train derailments are common near the Middle Fork of the Flathead, American Rivers found, and the group worries that a spill is imminent.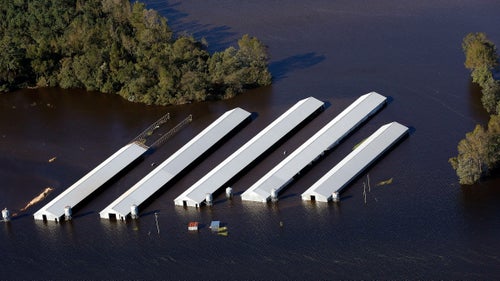 #7 Neuse and Cape Fear Rivers
North Carolina
The Neuse and the Cape Fear rivers provide drinking water to about 40 percent of North Carolina's residents. But sprawling hog and chicken farms on the state's coastal floodplains—North Carolina rears more pigs than almost any other state—threaten the rivers. Waste from these animals sit in large open lagoons and serious floods and hurricanes have already spread the fecal matter into local waterways. If the state doesn't move the waste ponds, American Rivers says, even more waste will likely end up in Carolinians' drinking water.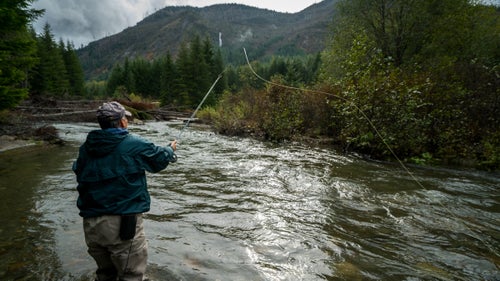 #6 Green-Toutle Rivers
Washington
The Green River, the largest tributary of Washington's North Fork Toutle River, provides drinking water for locals and is critical habitat for wild steelhead. Accessible only by a single lane road, the Green River Valley is the kind of remote wilderness that's increasingly hard to find. A proposed gold, copper and molybdenum mine at the river's headwaters could threaten all this, American Rivers says. Permits still have to be approved by the Bureau of Land Management, but the project could move forward soon.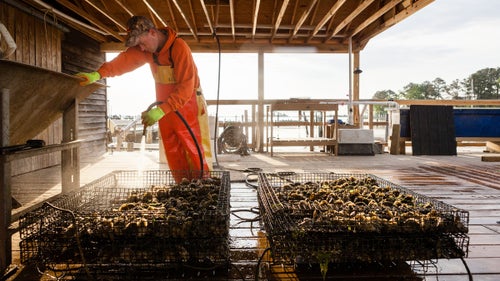 #5 Rappahannock River
Virginia
Virginia's longest free flowing river feeds both fertile agricultural land and local livestock. But the Tidewater Basin, through which the Rappahannock flows, contains natural gas reserves and 85,000 acres of land near the river have already been leased for fracking. So far, one of the five counties involved in the watershed has passed an ordinance to keep drilling at least 1,000 feet from freshwater sources, but American River worries that locals could see their water contaminated.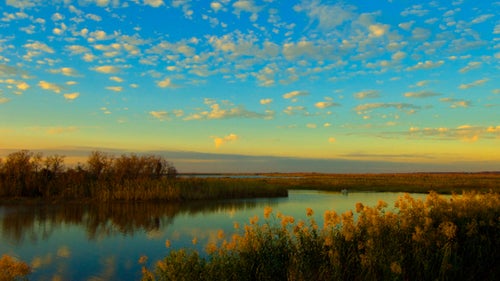 #4 Mobile Bay Rivers
Alabama
The Mobile Bay Basin and its rivers and delta stretch across Mississippi, Alabama, and Georgia and is home to 14 percent of all freshwater flows in the U.S. The vast majority of Alabama relies on it for drinking water. The flow has been dramatically mismanaged, however, and American Rivers argues that Alabama's unsustainable usage (and wastage) during a drought this summer led to 10 percent of the watershed's streams setting record lows. Alabama has been working on a comprehensive water plan for the last five years, and though the state government may finally take action this year, American Rivers isn't confident it will be enough.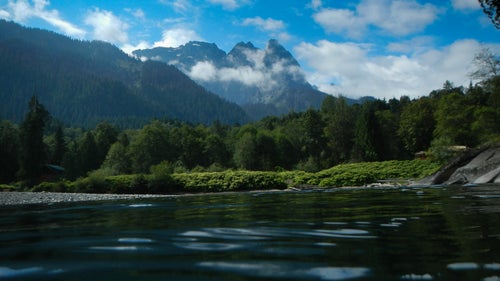 #3 South Fork Skykomish River
Washington
In 2011, the Snohomish County Public Utility District proposed a run-of-river hydropower plant along the South Fork Skykomish River, north of Seattle. These type of dams are considerably less destructive than Hoover-type builds, but American Rivers says the county is ignoring one of Washington State's most important residents: salmon. The dam will threaten the local salmon population, which brings in big bucks for the state's fishermen and feeds the Puget Sound's endangered orcas, too.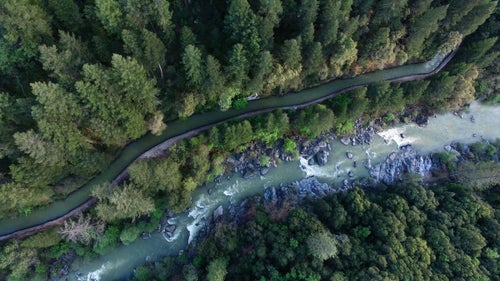 #2 Bear River
California
The Bear River, west of Lake Tahoe in the Sierra Nevada, has had a rough 150 years. It's been dammed in eight different places since the Gold Rush and only a few sections of it flow freely anymore. (It somehow still manages to have a nice four-mile, class II whitewater run, though.) Unfortunately for the Bear, the Nevada Irrigation District has proposed another 275-foot dam on the river. The move—an effort to store more water in the face of a climate change-induced shrunken snowpack—would flood miles of pristine forest and cost between $500 million and a billion dollars, American Rivers says.