Medellín's Night Bikers Ride to Break Social Barriers
When the sun goes down, they take to the streets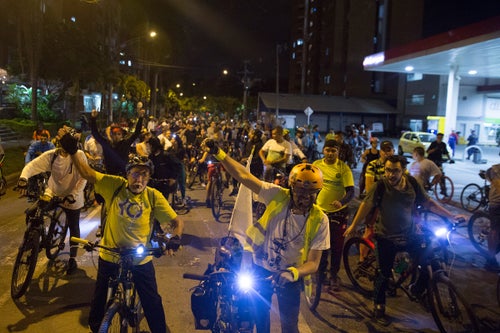 Hundreds of cyclists gather every Wednesday night to ride the streets of Medellín, Colombia, in a pack. The meetup began nine years ago when a small group of people started riding in the dark, banding together for security from the weaving motorcycles and buses that fly around corners of the busy streets. Since then the get-together has grown to include hundreds, and sometimes thousands, of cyclists, families, and a few dogs who have formed a two-wheeled community. Their goal? To break the invisible borders—social barriers created by armed group violence and class divisions—that have fragmented the city for decades. While Medellín has come a long way from being one of the most dangerous places in the world, many of those tensions still simmer in the society, and some communities still face deep poverty and gang conflict. But during these gatherings, citizens from all walks of life unite on their bicycles and form an army of cyclists reclaiming the streets.
On October 2, leader Mauro Mesa sounds an alarm on his loudspeaker. That's the signal to start. The bikers take off clapping and shouting.
The initiative is called Siclas, spelled out in bright Christmas lights behind the bike of one volunteer. It's a play on words, merging ciclistas, or "cyclists," and sí, se puede, or "yes, we can." The name is emblematic of the group's goal to empower cyclists in the city.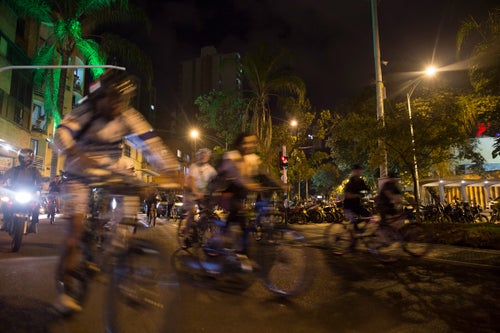 Every week the group explores different parts of Medellín, from the high-rise, speckled posh neighborhood of El Poblado to the dense and more dangerous zone of Comuna 13. On September 27, cyclists fly down a hill in downtown Medellín.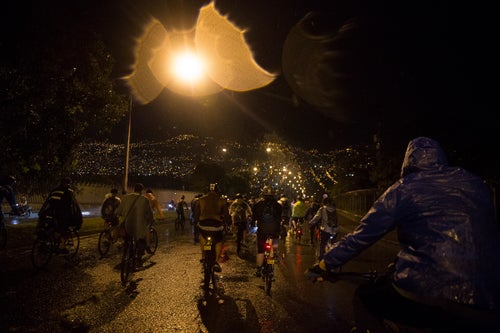 Despite rain pouring just hours before, and Mesa technically canceling the ride on September 25, about 100 cyclists still show up to the meeting point, armed with rainjackets and their bicycles. They ride into the high-reaching hills surrounding the city.
"That's the problem," Mesa says with a smile. "We cancel the ride, and they don't believe us. They still show up and want to bike."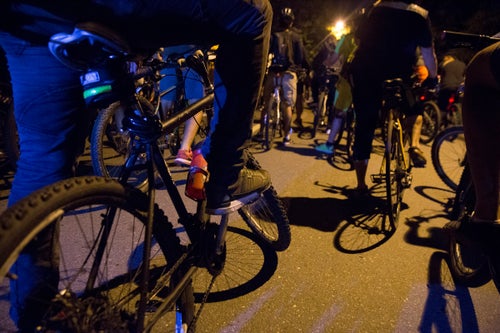 The cylcists ride in a dense pack, stopping disgruntled car and motorcycle drivers in their paths and chanting things like "monta una bicicleta" (ride a bike) and "thanks for waiting, there are 4,000 of us." It's not an overexaggeration. During its biggest outings, Siclas has touted thousands of riders.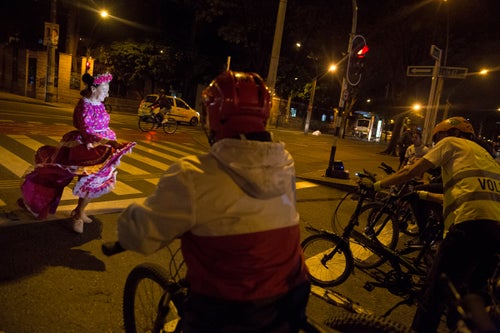 A street performer in a traditional Colombian dress plays music and dances cumbia in front of cyclists as they wait at a red light.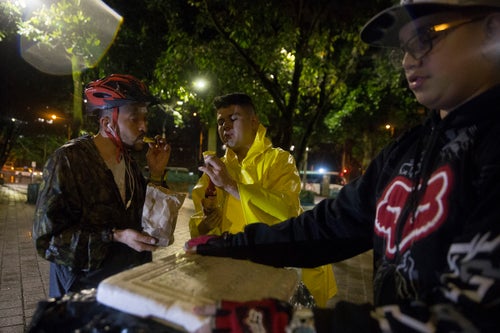 Vendors sell Colombian foods like empanadas, popsicles made of tropical fruits, and a gummy sweet called bocadillo from the backs of their bikes as they ride with the pack. Ruben Dario Herrera (left), 32, and Jaime Marin (center), 31, chat and eat empanadas before they ride.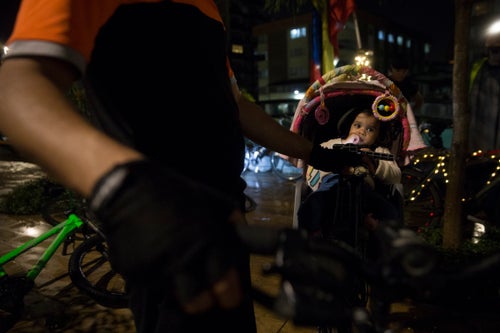 The Siclas ride stretches late into the night, but that doesn't stop families from hopping on their bikes. One father rests as his two-year-old daughter plays on his phone in her carrier.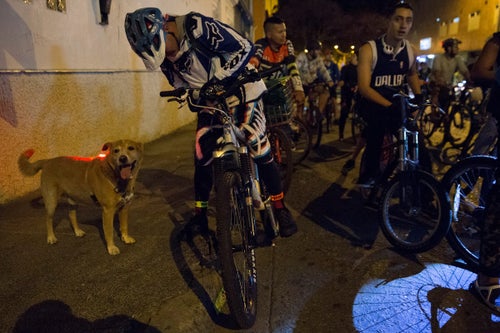 Dogs also make a regular appearance, but only one has been trained to run among the packed group. He follows alongside his owner every week, a blinking light strapped to his back so riders can see him. His owner pours him water as they wait at a stoplight.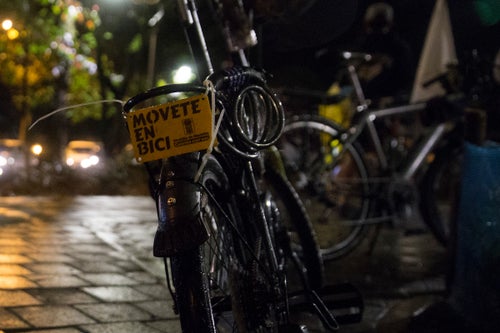 For many, the group is more than recreation. It's a means of protesting the not-so-cyclist-friendly city and the environmental consequences of cars or escaping situations of poverty or violence that may be frequent where they live. Many of the bikes tout plaques and stickers that read "Ride a bike."