The Fit List
Come, stymied climbers, stalling cyclists, and ragged runners--behold the year's top ten fitness trends. We promise they'll punch up your performance.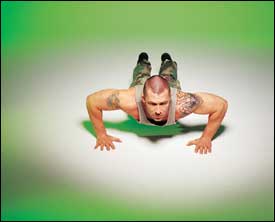 Heading out the door? Read this article on the new Outside+ app available now on iOS devices for members! Download the app.
IT'S DIZZYING, the way fitness trends can turn you into a fitness slut. They blow into your life, charm and seduce you, then blow on out, leaving you feeling cheap and used. At least until the next one comes along. Periodization. Interval training. Proprioceptive training. Core training. Wait, now it's tai chi. No, Tae-Bo. This one's really the one. Then again, there's Body for Life, Body Pump, Bowflex, Ab-Rockers, -Rollers, -Blasters, Masters. As Charlie Brown used to say, Aaaaughh! Serves us right. This is America, after all, land of Big Macs and Biggie Fries and SUVs as big as school buses, and the flip side of all this plenty is a lifetime spent bounding from one thing to the next, forever unsatisfied, and still kinda flabby.

Enough already. Out of the chorus of fitness experts, diet hawkers, and snake-oil salesmen, we have found a reliable voice—ours, of course—because, like you, we're tired of the one-night (or one-week or one-month) stand. We've flushed out the top ten fitness trends of the year for outdoor athletes. Not all involve the outdoors, but all are guaranteed to make your time under the blue sky more rewarding. Some are well known; others still fly just below the radar. One is a workout preferred by Madonna (you may never forgive us, but read on and you'll see why it made our list). All share a smartness and intuitive sensibleness for athletes wishing to go higher, farther, faster, and longer. Don't say we never did anything for you. You tramp.
1. A Kick in the Boot-tay: Boot-Camp Fitness
"People need a kick in the seat of the pants," says Patrick Avon, Navy veteran and owner of The Sergeant's Program (888-266-8226; www.sarge.com), a fitness boot camp with bases in Chicago, Maryland, Virginia, and Washington, D.C. "In a Spinning class, if you don't show up, you don't show up. With us, if you don't show up, we call you, e-mail you, we get on your case." Welcome to an increasingly popular program that weds the spittle-spraying fun of basic training to the hard sweat of, say, step aerobics. Classes focus on low-tech strength, speed, and agility, while road runs may find the group singing cadences. Insults and emotional battery are dropped in favor of positive support, and participants aren't required to shave their heads or wear fatigues (unless they want to). Best of all, you get a club-style workout in the great outdoors. "Most people work inside all day," says Todd Scott, owner of Platoon Fitness (888-752-8666; platoonfitness.com) in New York and other East Coast locations. "Why would they want to go back into another box with bad music and fluorescent lights to work out?"
2. It's a Stretch: Pilates
Yes, Madonna uses it to strengthen her diaphragm, and Beverly Hills housewives have found, to their great delight, that it quickly turns their asses into cherry bombs, but what the hell are the U.S. Ski Team, professional triathletes, kayakers, and Ultimate players doing in Pilates studios? They're seeking the competitive edge that comes from this 80-year-old stretching discipline, developed by a German immigrant named Joseph Pilates. With 500 exercises designed to build balanced strength and a rock-solid core, Pilates stretches are active, and the focus is on pulling the abdominals inward to support the spine. "I notice that when I'm climbing, I'm not just hanging on by my joints and ligaments," says Darla Bartlett-Jentzsch, a climber, rafter, and telemark skier who teaches at The Pilates Center in Boulder, Colorado. "I pull my lats in and use my stomach to hold myself to the rock." Ten years ago, this esoteric method was practiced mainly by dancers and injured athletes, but Pilates now claims an estimated five million devotees. And no, you won't start belting out Madonna tunes after a few sessions, though you may be tempted. (For info, call 800-745-2837; www.balancedbody.com)

3. Resistance Training Goes Natural: Free Motion Weight Machines
Roy Simonson wants to pump you up—but perhaps not in the way to which you are accustomed. After moving from Massachusetts to Colorado, the avid weight lifter and cyclist took up snowboarding and hiking 45- to 60-degree mountainsides near Colorado Springs. Humbled by repeated physical drubbings, Simonson concluded his conventional strength training had done little to prepare him for the rugged terrain. What he needed was a weight machine that would duplicate the natural motions (heel-knee-hip-torso working together, for example) that physiologists call the kinetic chain. So he drew up plans for the Free Motion machines, now built by his company Ground Zero (877-363-8449; www.gzdesign.com), which hook weight stacks to cables that turn on swiveling, heart-shaped pulleys, creating three-dimensional movement. The 15-machine line, priced from $2,500 to $5,000 per machine, now lives in 800 facilities nationwide, including the U.S. Olympic Center. Cybex recently followed suit with a cable-based unit of its own, the FT 360 ($3,995; 888-462-9239; www.cybexintl.com). Quite simply, a paradigm shift in the gym.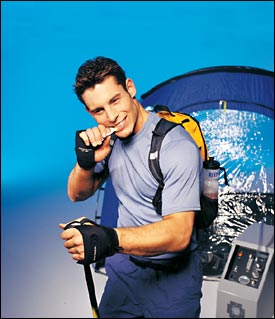 4. Sleep High, Train Low (No Matter Where You Are): Hypoxic Bed-Tents
Remember a few years ago when all the experts were extolling the benefits of training at altitude? Let's amend that. Traditional altitude training has drawbacks, says Shaun Wallace, two-time British Olympic cyclist and vice-president of Hypoxico (877-258-8368; www.hypoxico.com), a New York­based company that manufactures portable altitude tents. He cites studies of Finnish skiers, Texas-based middle-distance runners, and the overall plateauing of world records since runners began training at altitude. Hypoxic training remains useful for acclimatizing, he claims, but the real benefits come from sleeping at altitude, which increases your body's red-blood-cell production, and training at sea level. Hypoxico's $6,000 unit is expensive (and a wee bit claustrophobic), but may not be too frivolous for serious amateurs. Just ask Australian triathlete Michellie Jones, who took silver in the Sydney Olympics' inaugural triathlon after sleeping in a Hypoxico tent for three years. "I was feeling a lot better in my workouts," says Jones, "and could go a lot harder."

5. Summit Fever: Trekking Classes Workout classes are embarrassing enough, but being spotted lunging, leaping, and pole-striding your way through city parks—well, how do you explain that to your friends? Just tell them you've joined a Fittrek class, currently offered in such aromatherapied locales as Miami, Aspen, and Tucson (but likely coming soon to a workingman's gym near you). Fittrek (305-534-6016; www.fittrek.com), founded by adventure racer Dan Barrett, redeems its mall-walking-retiree chic by transplanting the cardio benefits of a good elliptical trainer outside; think of it as sport-specific training for next summer's trek to Aconcagua base camp. Classes take you through warm-up, then aerobically intense power trekking on flat terrain, speed drills, hill climbing, plyometrics, lunges, squats, and push-ups. You can also up the ante with a weighted pack and gloves. Too soft for serious athletes? Hardly. Even seasoned jocks get a whuppin'. "It basically spanks them," says Barrett. "Some of these Spinning instructors were huffing and puffing, saying, 'Wait up!'" That is, when they weren't hiding from their friends.
6. Hydration, Version 2.O: Fortified Water for Sports
Sports drinks follow a simple philosophy: Replace fluids your body loses through sweat, but also the electrolytes—primarily potassium and sodium—and energy-rich carbohydrates. Problem is, endurance athletes tend to gag on the traditional, overly sweet sports cocktails. "A lot of athletes cut sports drinks with water," says Brian Vaughn, president of Sports Street Marketing, the company that produces GU Energy Gel. "But they're shortchanging themselves of the calories they need by diluting the mix." Enter Vaughn's GU20 ($18 for 27 servings; 800-400-1995; www.gusports.com), an ostensibly more potable on-the-go beverage that tastes much like water but is enhanced with maltodextrin (a complex carbohydrate) and electrolytes. The formula, claims Vaughn, hydrates and replaces energy better because it empties from the stomach faster than traditional beverages. See also: Gatorade's Propel ($1 per 700ml bottle; www.gatorade.com), introduced early last year.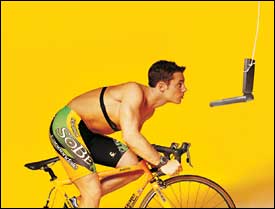 7. Monitor This: Measuring Power Output
Why measure power? Because heart rate, long the gold standard for tracking fitness and exertion levels, tends to lag behind effort—and power monitors offer immediate feedback. Hardly another techno-novelty, power monitors are being embraced by cyclists from motivated amateurs to top-level racers. But until recently, monitoring raw wattage produced by your legs while spinning your bicycle cranks cost as much as a custom racing frame (top-of-the-line power-monitor-enhanced cranks run $1,600­$2,300). Fortunately, amateurs on a budget now have the Power-Tap, a cycling computer that integrates similar technology into your rear hub for a more modest $500­$770 (800-783-7257; www.graberproducts.com), and Polar's S710 heart-rate and power monitor ($640; 800-227-1314; www.polarusa.com). If that still seems astronomical, remember that recording the amount of force exerted by your legs, combined with your heart rate, is the best way to know if you're getting stronger.
8. Click Here for Help: Distance Coaching
"It's difficult for an amateur athlete training for the Ironman to talk to their coworkers about their training problems," say Joe Friel, proprietor of Ultrafit.com and Trainingbible.com. "That's where a coach comes in." An online coach, that is. The growing trend of distance coaching was popularized by Chris Carmichael, who worked via the Web with Lance Armstrong when Armstrong was living in Texas and France and Carmichael in Colorado Springs. Now it's attracting serious amateurs and professionals trying to make the best use of their training time. Rates run from $79 to $500 a month (Carmichael himself costs a tidy bit more), and include daily to unlimited phone consultations, e-mails, and access to Web pages (see www.trainright.com and www.triathletes.com). But the most important benefits defy categorization. "We get to know you personally," says Carmichael Training Systems' Jim Rutberg. "If you say, 'I feel great,' and your voice says otherwise, I'll know you're probably lying."
9. Click Here for Competition: Internet Racing
It all started two years ago with CycleFX (800-747-4085; www.cyclefx.com) and CompuTrainer (800-522-3610; www.computrainer.com),two software packages that enabled anyone with a PC and a wind trainer, rollers, or stationary bike to race in real time against other basement-bound athletes worldwide. Now add rowers to the mix, thanks to e-Row, software that allows you to link a Concept2 stationary rowing machine (800-245-5676; www.concept2.com) to your computer, log on to the Internet, and row against people you can't so much as splash with an oar. Compete against, say, an accountant from Azerbaijan in one of the increasingly popular e-reggattas now on the Web. Or rage against the machine itself, which can be even more challenging. "Racing against the pace boat is a hell of a lot less forgiving than entering a race," says e-Row aficionado Jim Filippi, an information systems consultant in Minneapolis. "If I'm racing someone else, I can see when they're taking breaks."
10. You Can't Hide Those Cryin' Eyes: LASIK
"Every time I flipped over I had to roll with my eyes closed or else my contacts would wash out," says Los Angeles ophthalmologist and paddler Robert Maloney. "Now I can open my eyes underwater." Maloney is referring to the advantages of LASIK (short for Laser In-Situ Keratomileusis), laser surgery that can correct astigmatism and 90 percent of all vision problems related to wrongsightedness both near and far. Born with 20/2,000 vision? LASIK may be able to make it 20/20. Moreover, you'll be able to tackle 40 miles of singletrack or a weeklong sea-kayak trip with no contacts to rip or glasses to shatter. Of 1.4 million LASIK patients last year, 10 percent claimed they underwent the procedure for athletic reasons, according to one industry survey. Yet LASIK isn't entirely trouble-free: Some patients report night halos and dry eyes (both also experienced by contact wearers), and even whiteouts at very high altitudes. Average price is $1,700 per eye, and while it can run as little as $400, this is hardly bargain-hunting time.