Athlete Recipes: Alpinist Ueli Steck's Recovery Risotto
The difference between hitting the summit and hitting the wall often comes down to the fuel in your belly. Here, 11 pros share their favorite nutritional secrets and performance-enhancing recipes.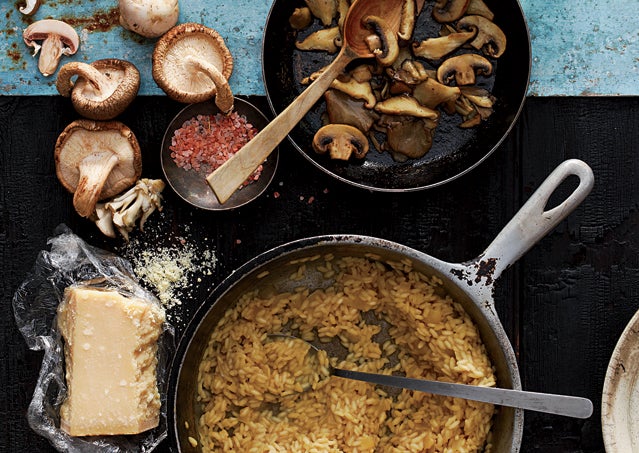 Heading out the door? Read this article on the new Outside+ app available now on iOS devices for members! Download the app.
THE MEAL: Known as the Swiss Machine for his inhuman speed ascents, like his one-hour-and-fifty-six-minute solo of the Matterhorn's north face in 2009, Steck requires foods that are calorie rich but don't slow him down. Before training, which consists of four-hour runs, pull-ups, and squats, he'll load up on fresh bread with honey and butter, fruit, and two cups of coffee. ("One for the left eye and one for the right eye," he says.) To refuel after a tough climb, he cooks up risotto with mushrooms. "After a real harsh day, it tastes good and makes your head feel good, too," says the 36-year-old Steck. "And that's the most important part of your body."
WHY IT WORKS: For anyone exercising in thin air, there are good reasons to tuck into a big plate of risotto. "In extreme altitudes," says Korzun, "carbohydrates are the preferred fuel source, in part because carbs require less oxygen to metabolize than fats. And in an oxygen-deficient environment, our bodies want to work as efficiently as possible."
SECRET INGREDIENT: Mushrooms contain a high amount of vitamin B2 (also known as riboflavin), essential for metabolizing fat and protein. 
MUSHROOM RISOTTO
1. Finely chop one cup of wild or button mushrooms.
2. Bring three cups of water to a boil, and add two chicken bouillon cubes.
3. When the cubes dissolve, bring the water to a simmer and add two cups of Arborio rice and the mushrooms.
4. Cook for about 15 minutes, stirring often. Serve when the rice is tender. Top with grated Parmesan.
SERVINGS: Two
CALORIES PER SERVING: 300