Chef Biju Recipes: Mushroom and Pecan Hash
Disguise it as a stuffing for holiday emergencies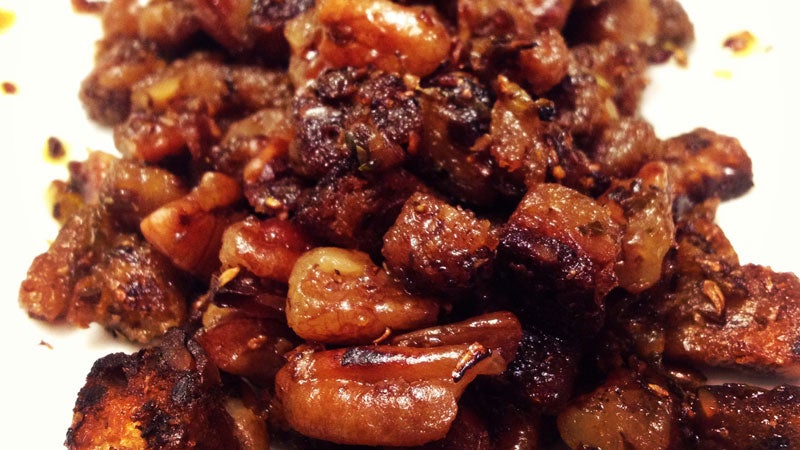 Heading out the door? Read this article on the new Outside+ app available now on iOS devices for members! Download the app.
There's a reason we consign stuffing to holiday indulgences: With its bounty of sodium, its largesse of butter, its generosity of fat, and all those hearty "flavorings"—which are never very far from the tastes you can sometimes detect in food—we love how the pre-packaged stuff makes us pass out on the couch, but otherwise it's a dish best suited for the bellies of dead turkeys (and even then just once a year).
Still, most everyone loves stuffing, and if you're craving it after Thanksgiving weekend, try Chef Biju's nutrient-dense Mushroom and Pecan Hash (or, if the word "hash" puts you off, you can replace it with the word "stuffing"). In 15 minutes, prepare a richly textured side dish full of fiber and comprised only of the ingredients you like and can identify, for eating year-round.
But!: Know that whether you buy pre-packaged, prepare grandma's recipe, or follow these instructions, one half-cup serving of stuffing is around 150–180 calories. Chef Biju recommends you use only the ingredients you really enjoy.
How Do I Make This "Stuffing" (8–10 Servings)?
Besides 15 minutes, you'll also need the right ingredients. For 8–10 servings, these include:
2 cups small cubes of your favorite gluten-free bread (buying gluten-free will enrich your stuffing with proteins and a hearty texture)
1 cup of pecan pieces
1 cup of mushrooms, chopped small
1 cup of celery, chopped small
1 small onion, smallishly chopped
1 tablespoon of any combination of your favorite fresh chopped herbs (parsley, chives, thyme, tarragon, rosemary)
Great. Now you'll need seasonings:
1 tablespoon–1/4 cup of olive oil
celery salt or old bay seasoning
ground black pepper
coarse salt
OK. Looks good. Now pay attention, because it is time to start:
Set a large, deep pan at medium-high heat on your stove—with no oils added
Throw in the onions, mushrooms, and celery, and sauté them until the mushrooms begin to brown at the edges
Turn the heat down to medium
Add in the pecans and bread cubes; cook until the bread begins to toast at the edges
Drizzle olive oil in the pan and mix thoroughly, starting with just a little olive oil and adding more at your (reasoned) discretion. Be sure to adjust the heat so the pan doesn't smoke.
Sauté for a few minutes more with a sprinkle of celery salt and ground pepper
For your desired consistency, add olive oil or a splash of stock
If you're preparing with a turkey and are feeling adventurous (skip to 10 if you aren't): Take all the bits that come with the turkey (gizzards, liver, etc.), coat them generously in brown sugar, salt, and pepper; then, roast them in the pan along with your turkey. Remove these parts when your turkey is finished or crisp, then chop them into small bits and sauté them with your stuffing mix
("Oh, wow, I'm not feeling adventurous."): Just season your stuffing to taste and sprinkle some fresh herbs on top
Enjoy it, why don't you (remembering that one serving is half a cup)
Biju is a lifelong cyclist and self-taught chef based in Boulder, CO. He is co-author, along with Dr. Allen Lim, of the FeedZone cookbooks, and a co-founder of the Boulder-based hydration and nutrition company SkratchLabs. Biju regularly cooks and eats with the best athletes in the world—from cyclists, triathletes, and runners to climbers and race car drivers. Follow Biju throughout the year on Instagram and Twitter (@bijuthechef) and at www.SkratchLabs.com