How the Tour de France Diet Has Changed Over the Decades
How has eating changed at the world's biggest bike race? We made it our mission to find out.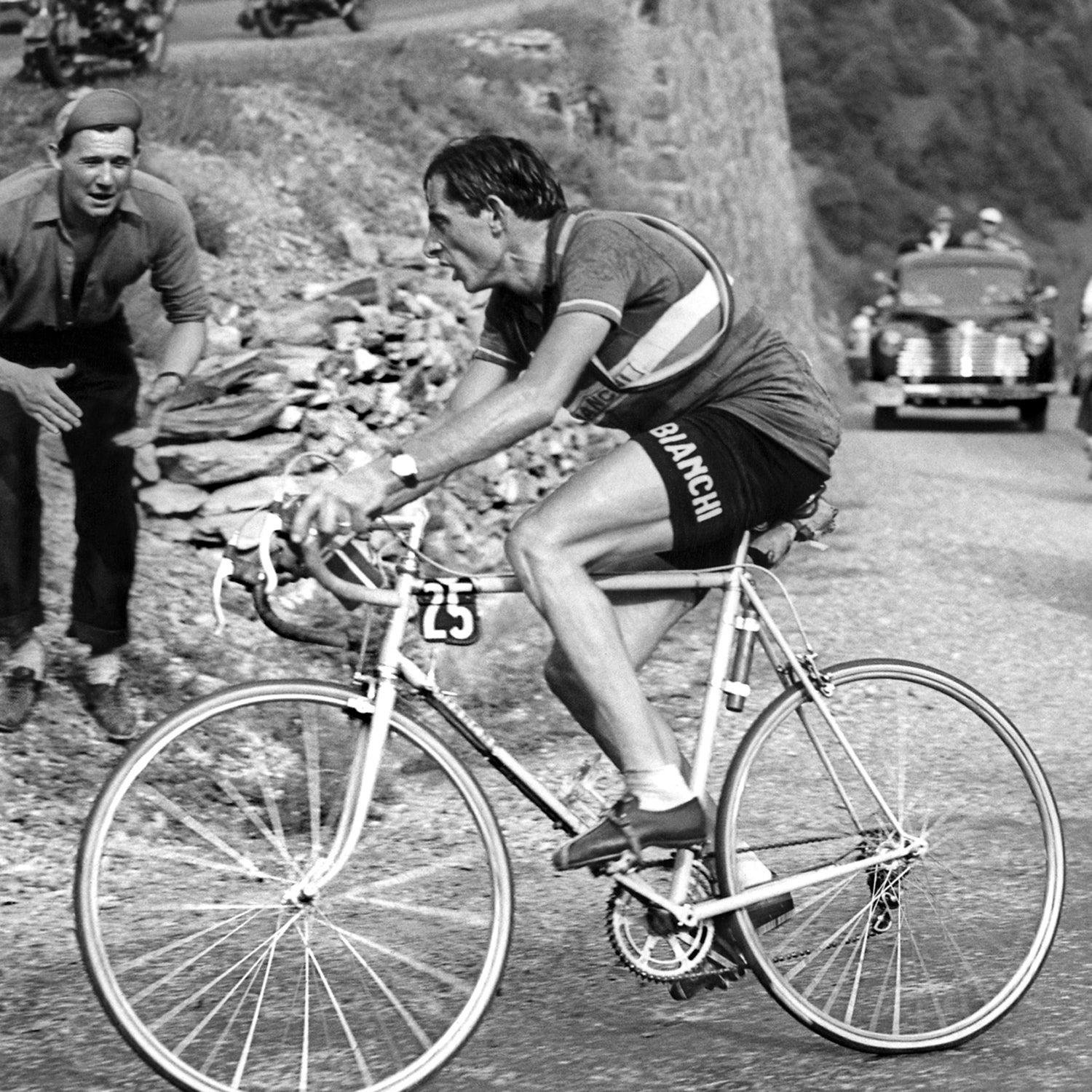 Heading out the door? Read this article on the new Outside+ app available now on iOS devices for members! Download the app.
Jens Voigt can tell you all about long, repetitive stage races and how much food it takes to survive them. In his 18 years as a pro, Voigt raced in 17 editions of the Tour de France, winning three stages and donning the race leader's le maillot jaune (yellow jersey) twice. No man has ridden in more Tours. 
"There are times during the later stages of the Tour," says Voigt, "when you are so worn out, that you can barely lift a fork to your mouth during dinner. You can hardly chew anymore. It's too much of an effort."
But what's getting lifted onto that fork? And has Voigt seen a change in how racers eat? We made it our mission to find out.
The short version: Things have changed, big time. "The bottles of wine and the French baguettes are gone," says Voigt, who recently retired and is now the cycling analyst for NBC Sports."It has to be healthy, whole grain… and Quinoa—that's real popular at the moment." The long version: See below.
Early Days: The Wheeled Locusts (1903-1920)
When Maurice Garin won the first Tour de France in 1903, it was less a race and more a gulag on wheels. Competitors pedaled 40-pound, single-speeds along dirt roads for 15 to 18 hours a day. There were no teams. In fact, race regulations required that riders fend entirely for themselves, forcing them to scavenge for meals along the way. If the lights were on at a roadside tavern and they were serving rabbit, rabbit is what you ate. Guzzling alarming amounts of alcohol was the norm. Beer, wine, and brandy were considered safer to drink than water from questionable roadside wells or springs.
Though Garin never gave an account of his Tour diet, he did recall consuming the following items a few years earlier during a 24-hour race:
45 cutlets
19 liters of hot chocolate    
8 cooked eggs            
7 liters of tea
5 liters of tapioca
2 kilos of rice
Lots of strong red wine
Coffee, champagne…and oysters
Forty-five cutlets during a day's racing? It boggles the mind. And, given the specificity of Garin's list, you have to wonder just how much wine you must drink before you simply give up and start calling it "lots."
Egg Custard in Your Water Bottle and Steak at 7 a.m. (1920 to 1980)
The era of the scavenger racer was long gone by the time Fausto Coppi began dominating stage racing and one-day classics in the forties. Known as Il Campionissimo ("the champion of champions"), the great Italian racer won scores of grand tours, including the 1949 and 1952 Tour de France. Riders now competed on teams and ate their breakfasts and dinners at hotels along the route. Most riders, however, still consumed massive meat-heavy breakfasts and waited until after the first 100 kilometers of racing before rummaging through their musettes, the small bags of food snatched up at feed zones.  
Meat gave you "energy," or so tradition held. "We ate at 6:30 or 7:00 in the morning, before the race," Eddy Merckx, the most successful racer of all time, explained in a recent interview with Stuart O'Grady. "First a small breakfast with the cheese and the ham and then steaks. It was horrible, but you know, you had to eat steaks to be strong. It was absolutely crazy."
And during the evening? "Soup, maybe some fish," said Merckx, "then pasta with another steak." 
Coppi's approach was radically different. He generally avoided red meats and alcohol, experimented with vegetarian diets and was a fan of wheat germ. Coppi was also the peloton's first proponent of a high carbohydrate race-day diet. While his rivals were gorging on veal for breakfast, smoking cigarettes to warm up their hearts and open up their lungs before the race, and chugging water bottles filled with the "Binda Zabaione" (20 beaten egg yolks and some sugar), Coppi ate a breakfast of whole grains. He also ate small quantities of carbohydrates (tarts, small sandwiches, and fruit) throughout the race. 
Today, we understand that Coppi was replenishing his body's glycogen energy stores, and this allowed him to push hard throughout the race without bonking. At the time, this approach was a revelation; the first scientific study on exercise-induced hypoglycemia wasn't publish until 1924. Similarly, the benefits of consuming carbohydrates during endurance events weren't studied until 1939. 
Carbs Get Scientific (1980s to 2000)
In the '80s, the pendulum began to swing the other direction—from high-meat to high-carb diets. "The daily diet during races was pretty basic back in the 1980s," says Chris Carmichael, who rode the 1986 Tour de France for Team 7-1. "Lots of pasta, rice, potatoes. There was some meat, but not that much."
But on the bike, things were beginning to change. Riders began shifting away from real food and toward packaged bars and drinks. "Everyone was taking a reductionist approach to nutrition—carbohydrates, protein, fat, antioxidants—trying to isolate and package these things into very convenient, rapidly-absorbed, technical food products," explains sports physiologist Allen Lim.
Carbohydrates began to go high-tech at the dawn of the '90s, recalls Shelley Verses, Team 7-Eleven's soigneur, or team assistant. "I was working for [Team] TVM and one of our sponsors was this Belgian company that made a carbohydrate drink called Extran," says Verses. "Drinking a water bottle of the stuff was like eating six slices of bread. The idea was that you could get almost all your calories from your water bottle."
Did it actually work? Yes and no. In addition to exacerbating the gastrointestinal distress that plagues riders during the Tour, the concentrated liquid carbs left little margin for error during the race. 
"This one time, one of our guys made an attack," recalls Verses. "He got free of the peloton and everything was great… and then we suddenly got this call on the radio that he's completely bonking. Turns out he'd skipped getting another bottle of Extran when he made that attack. By the time we drive up to him in the team car, he's barely turning the pedals. He's so weak that he can't even reach out and take a water bottle from me, so I have to lean out the window of this speeding car, pry open his mouth with my fingers, squirt the Extran into his mouth and then rub his throat to actually make him swallow it. Instantly—BOOM—it's like the lights just went back on. He jumps out of the saddle and tears on up the road to the peloton. The calories were there," says Verses with a laugh, "but it wasn't perfect."
Rice Cookers and Michelin Chefs (2000s to Today)
The year is 2006 and Lim is in a bind. He's coaching the TIAA-CREF cycling development team, on the eve of a big race in Ireland, and their shipment of fancy packaged sports bars and gels were still somewhere across the Atlantic. 
"One of the riders on the team was like, 'Hey, Al, why don't we just eat boiled potatoes?' He was joking around," says Lim, "but this light bulb went off in my head. I mean, why the hell not?"
One race and several dozen pounds of boiled potatoes later (coated in olive oil, salt, and parmesan cheese, because Lim is nothing if not a foodie), the riders were unanimous—bring on the potatoes. The team had an extraordinary week—putting one rider, Danny Pate, atop the winner's podium. What's more, the entire team's energy levels were higher, their stomachs felt better and they flat out rode faster. 
"That was the moment for me," says Lim, "when I realized, holy crap, maybe we need to keep this really simple. Maybe we can make things taste great, the riders will eat more, feel better and suffer less gastrointestinal distress."
Lim soon began experimenting with other whole foods. 
Toting an army of rice cookers from race to race, Lim started packing the musettes with sushi-rice cakes—some filled with fruit, others with amino acids, protein, and fat-rich savories like bacon and eggs. Lim's approach was at once both old fashioned and entirely science based—home cooked food loaded with a meticulous balance of protein, fat, and carbs. 
Since then, Lim and his rice cookers have been to the the London Olympics, the Tour of California, and everywhere in between. For his part, Lim has become the rare rock-star scientist slash celebrity chef. He's worked with Tour de France winners, co-authored cookbooks, and runs Skratch Labs, a sports-nutrition company. It wasn't an easy transition. The older soigneurs he worked with initially resisted the new approach, going so far as to steal and hide his rice cookers after each stage during the Tour de France. At the persistence of younger riders, though, Lim eventually won out. 
"We've gone away from the red meat, except for maybe the night before a rest stage," says Voigt. "Instead it's now fish, turkey, or chicken—lean meats that are easier to digest. In general, there's a lot more science involved."
Lead Photo: Associated Press