An Unofficial Guide to America's Best Turkey Trots
From California to New York, we've rounded up 11 of the best trots for your pre-Thanksgiving-meal sweat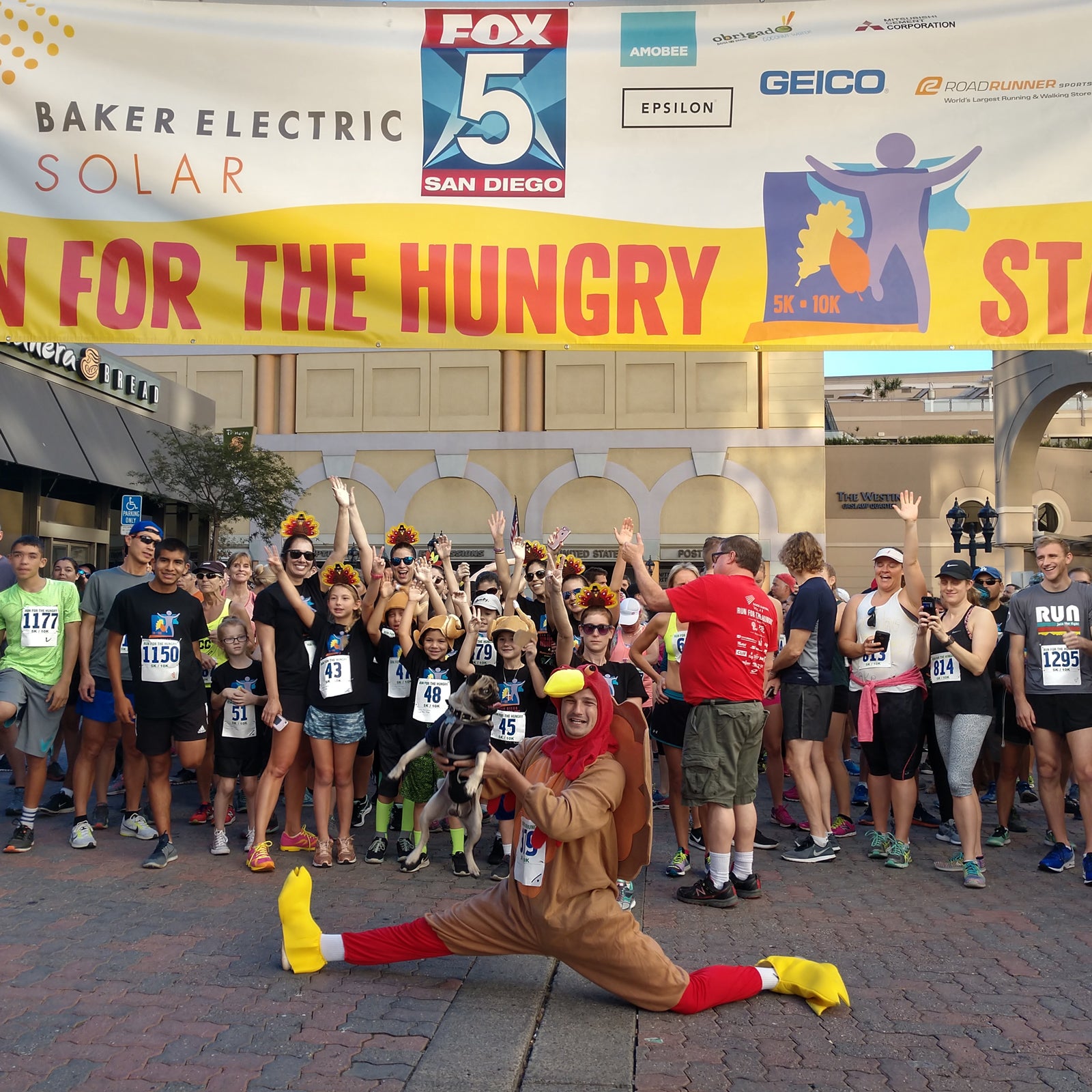 Courtesy Chris Carter/San Diego(Photo)
Heading out the door? Read this article on the new Outside+ app available now on iOS devices for members! Download the app.
Americans have been attending the humble turkey trot for 123 years, starting with the first race in Buffalo, New York, in 1896. Today there are more than a thousand different runs across the country. With help from our Outside social-media audience, we've compiled a list of the best from coast to coast (plus a U.S. commonwealth island in the Pacific). Many of these trots have unique themes, charitable missions, or post-race festivities. Pie may or may not be included. (All runs are held on Thanksgiving Day unless otherwise specified.)
West Coast
Redding, California
Shasta Regional Medical Center Foundation Turkey Trot
This trot features a six-mile run and two-mile walk/run for all ages, as well as a 200-yard dash across the local Diestelhorst Bridge for kids eight and under. Part of this year's profits will go toward restoring the Sacramento River Trail, which was devastated by the 2018 Carr Fire. "We had to relocate a portion of that route for the race," says Lynnann Foster, marketing and communications director at Shasta Regional Medical Center. "It was important to our community to move forward this first Thanksgiving after such a devastating fire." Opening ceremonies begin at 7:45 A.M. at Diestelhorst Landing.  
Bend, Oregon
I Like Pie Turkey Trot
For some of us, running takes a little incentive. For I Like Pie, participants are encouraged to bring a pie to the party to help feed fellow runners and to enter the baking contest. All event profits go toward Girls on the Run of Central Oregon, a nonprofit that encourages young girls to develop healthy lifestyles, and NeighborImpact, a local organization that provides low-income residents with food and shelter. All participants get a slice of pie after finishing the race. The 5K run/walk begins at 9 A.M. on Powerhouse Drive.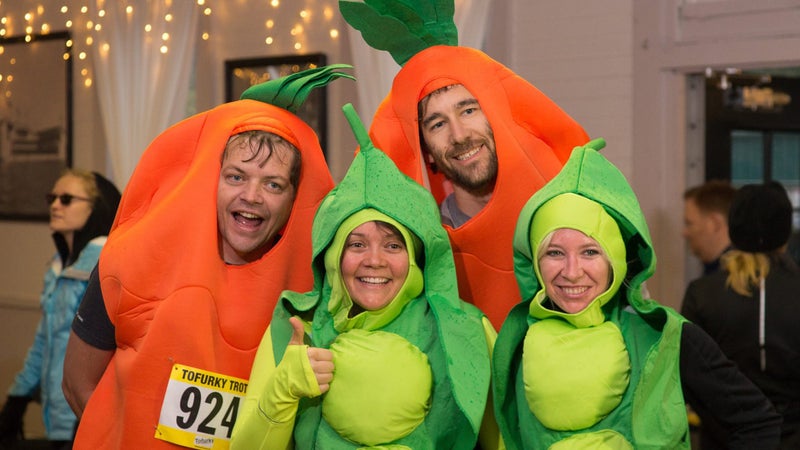 Portland, Oregon
Tofurky Trot
Profits from this 5K, sponsored by the plant-based meat company Tofurky, are donated to local farm sanctuaries and the vegan-advocacy group Northwest Veg. Jaclyn Leeds, executive director of Northwest Veg, says the event is about "community and comradery" for those who struggle with the idea that more than 40 million turkeys are eaten each year on Thanksgiving. Check-in and day-of registration begins at 7:30 A.M., with the official race starting at 9 A.M. from Oaks Amusement Park. (Another Tofurky Trot will be held in Los Angeles on Saturday, November 30, in Griffith Park.)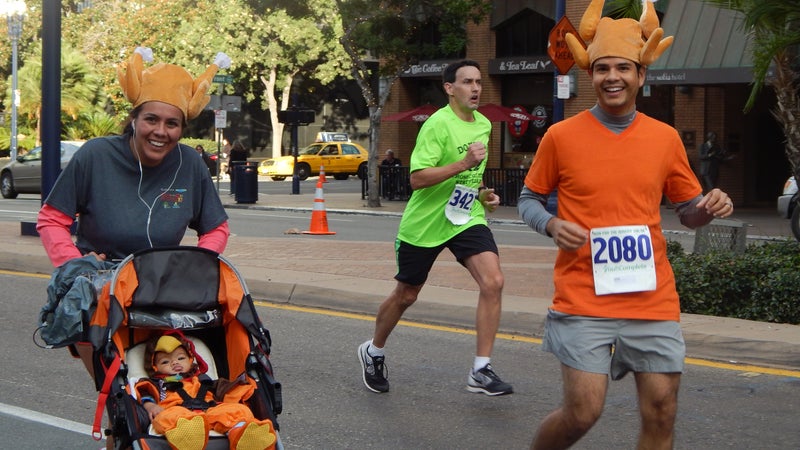 San Diego, California
Run for the Hungry
Celebrating its 19th year, this 10K run through downtown and the Gaslamp Quarter donates all profits to the Jacobs and Cushman San Diego Food Bank. "We see a huge spike in demand over the holiday season," says Chris Carter, the food bank's vice president of communications, marketing, and public affairs. Dogs are welcome, and each registered pup receives a bandana and treats along the course. The 10K starts at 7 A.M., and the 5K starts at 8:15 A.M. at Westfield Horton Plaza. 
Central U.S.
Austin, Texas
ThunderCloud Subs Turkey Trot
The
ThunderCloud Subs Turkey Trot
started in 1990 with 600 participants. Today it's the largest five-mile run in Texas, welcoming more than 20,000 runners annually. Race founder Mike Haggerty say the real beauty of the event
is the commitment of its longtime organizers, some of whom have helped plan the race since its first year. Proceeds go toward
Caritas of Austin
, a nonprofit that aims to prevent and end homelessness in the city. The timed five-mile run begins at 9:30 A.M., the untimed five-miler at 9:35 A.M., and the one-mile walk/run at 9:45 A.M. at the Long Center.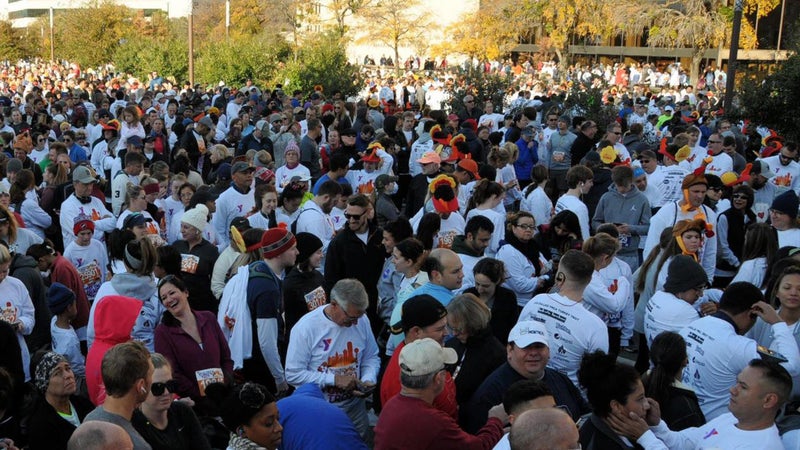 Dallas, Texas
Dallas YMCA Turkey Trot
The Dallas YMCA Turkey Trot is more than just a run—participants can bring their dogs; eat at a variety of food trucks, serving baked goods, BBQ, and seafood; and even spend some time at the beer garden after the finish line. Runners can prepare for their trot at the Roost, a race station offering breakfast with fruit, coffee, and other beverages. The 5K begins at 9 A.M. at Dallas City Hall.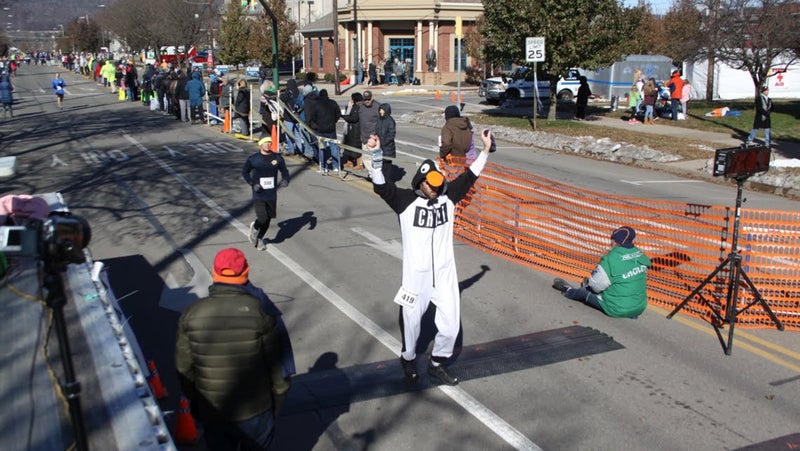 Berwick, Pennsylvania
Run for the Diamonds Turkey Trot
This
111-year-old
event, sponsored by town residents and businesses, lives up to its name: top finishers of the nine-miler receive either a diamond ring, a diamond pendant, or a solid walnut plaque. Organizers expect more than a thousand participants this year. The race begins at 10:30 A.M. at the Elk's Lodge. 
Highland, Indiana
Pumpkin Plod
Top runners of the Pumpkin Plod's 5K and 10K races are each awarded a pie. "More and more Thanksgiving Day races seem to pop up every year, but our Pumpkin Plod has 43 years of history and tradition in Highland," says Dave Byers, recreation director at Highland Parks and Recreation. The race starts at 9 A.M. at the intersection of Highway and Kennedy Avenues.
East Coast
Buffalo, New York
YMCA Turkey Trot
Founded in 1896, the 8K YMCA Turkey Trot is the oldest race of its kind in the U.S., attracting more than 14,000 participants. But racers don't take themselves too seriously. "Everyone drinks the night before, and it goes on no matter what the weather is like," says former Buffalo resident Katherine Pitta. "Fun, hungover times!" All proceeds go toward YMCA programs in western New York. The trot begins at 9 A.M. on Delaware Avenue and continues into downtown Buffalo.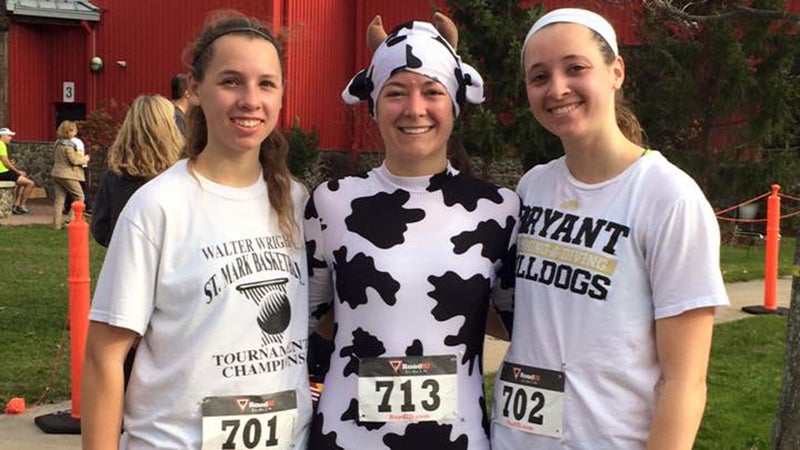 Trumbull, Connecticut
Cow Chip Cross Country Run
This 5K promises good times, good food, and a pooping-cow key chain for all participants. The race takes runners by the barnyard aromas of cows and horses, along wooded paths, and up a hill to the finish. Participants are encouraged to dress up as cows (some folks even wear cowbells). "Of course, the Trumbull High School cross-country team participates, so getting passed by teenagers while huffing away in an animal costume just adds to the allure," says Christine Shaw, a racer. Proceeds go toward Infinite Love for Kids Fighting Cancer. The race begins at 9 A.M. on Saturday, November 30, at the Trumbull High School Agricultural Center. 
Off the Mainland
Saipan, Northern Mariana Islands
Mount Tapochao Turkey Trot Run
While not the biggest race on this list, this 4.2-mile run promises epic views as racers climb up Mount Tapochau, the highest peak on Saipan. The event has existed for more than 30 years and expects more than 200 participants this Thanksgiving. "Mount Tapochau is the most breathtaking peak on Saipan. The 360 degrees of visibility pans over many historical landmarks and overlooks the Marianas Trench," says Ramon Tebuteb, president of Northern Marianas Athletics, the race organizer. The trot starts at 6 A.M. at Lower Base.
Lead Photo: Courtesy Chris Carter/San Diego