In Stride
The Running Stories that Defined the Decade
From Caster Semenya to the rise and fall of the Oregon Project, it's been an eventful ten years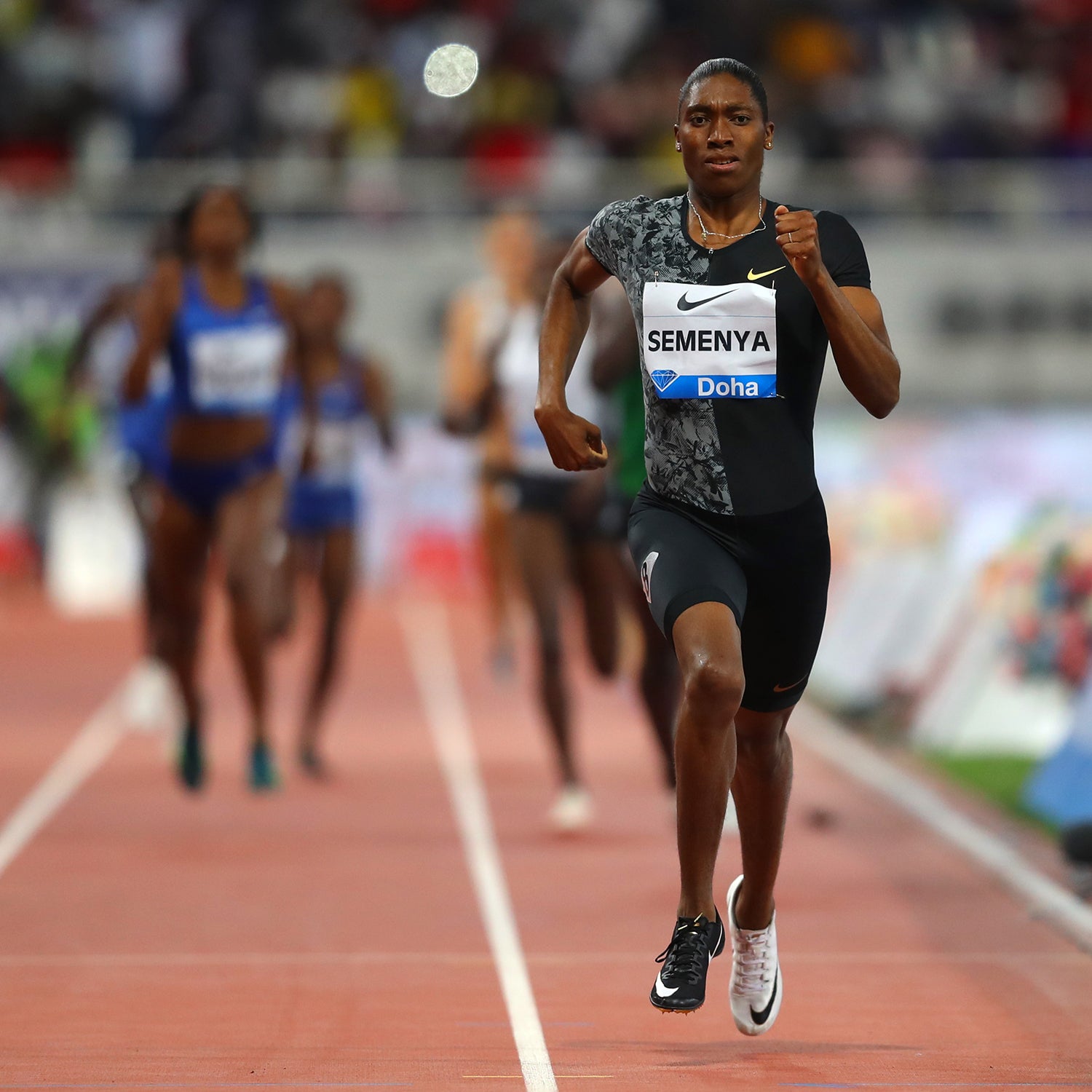 Heading out the door? Read this article on the new Outside+ app available now on iOS devices for members! Download the app.
Don't look now, but we are once again on the threshold of a new decade. Before we bid adieu to the 2010s, it seems fitting to take a minute to reflect on the ways in which running has evolved over the past ten years.
And it has evolved, believe it or not. Minimalist running shoes used to be popular. So was the Nike Oregon Project. Professional runners used to have (even) fewer opportunities to make money from their sport than they do today. Here's a recap of how the running landscape has changed since 2010.
Controversy Followed Caster Semenya
At the 2009 IAAF World Championships, 18-year-old South African Caster Semenya burst onto the athletics scene by winning the women's 800-meters. Her time of 1:55.45 was the fastest in the world that year. However, during the same championships, rumors emerged that Semenya had undergone a "gender verification test" which revealed that she had atypically high levels of testosterone. The International Association of Athletics Federations (which recently changed its name to World Athletics)  sought to address the issue by introducing maximum testosterone levels for female athletes in 2011. These regulations were effectively challenged by Indian sprinter Dutee Chand in 2015, only to be re-introduced by the IAAF in 2018 with the caveat that the rules now only applied to specific middle distance events. This time, it was Semenya who took the IAAF to court on the grounds that placing a limit on female T-levels was tantamount to discrimination. Earlier this year, the Court of Arbitration for Sport decreed that, while indeed discriminatory, the IAAF's rules were also necessary to "preserve the integrity of female athletics."
Over the past decade, the debates surrounding the IAAF's controversial testosterone rules garnered attention far beyond the insular world of pro track and field. While the IAAF claimed that it was merely trying to ensure fair conditions for competition, others saw something far more pernicious: a powerful institution trying to police gender using shoddy science.
The Minimalist Shoe Trend Went Maximalist
In 2009, Christopher McDougall published Born to Run, a rollicking account of the distance running feats of a tribe living in Mexico's Copper Canyons known as the Tarahumara. The book was a massive bestseller, not least because of its provocative thesis that the plush cushioning of modern running shoes might be making us more susceptible to injury. After all, the Tarahumara ran thousands of miles wearing only thin leather sandals. Enter the minimalist shoe craze and the attendant rise of Vibram FiveFingers, a product which convinced millions of individuals to pay for the experience of running barefoot. Unfortunately, many of these people still got injured and Vibram was hit with a multi-million dollar class-action lawsuit in 2012 for false advertising. So much for that.
As the decade draws to a close, the pendulum appears to have swung back the other way. The company Hoka One One, which was founded in 2009 and is known for its oversized, "maximalist" footwear, has risen from relative obscurity to become a major player in the running shoe market; according to Strava's 2019 Year in Sport Report, Hoka's Carbon X model was the fastest growing shoe over the past 12 months. Meanwhile, in the wake of its official release in 2017, the prodigiously cushioned Nike Vaporfly has dominated the elite/racing end of the running shoe market, thanks to its apparent performance benefits. In a very short period of time, Vaporfly wearers have shattered pretty much every major road racing world record, inspiring debates on whether the shoe should even be legal. There have been serious proposals to limit shoe stack height.
The Sub-Two-Hour Marathon Became a Reality
Speaking of the Vaporfly, the shoe played a starring role in 2017's Breaking2 event, a Nike-funded spectacle which sought to prove that, under optimized conditions, it was possible for a human to run 26.2 miles in under two hours. In his first attempt in Monza, Italy, Kenya's Eliud Kipchoge came up 26 seconds short. Two years and several iterations of the Vaporfly later, Kipchoge would run 1:59:40 in Vienna, Austria, thus proving, to quote his favorite catchphrase, that "no human is limited." (The verdict is still out on that one, though there is some consensus among experts that, when seeking to test the boundaries of what's possible, it helps to be the best in the history of the world at whatever you are trying to do.)
Social Media Changed the Game for Pro Runners
Instagram was officially launched in October of 2010. Over the ten years that followed, the photo-sharing social network evolved into potential source of income for celebrities and thousands of enterprising, would-be influencers. Suddenly, it became important to maintain a robust personal brand. Even professional runners were not immune.
"If you don't believe that [having a social media presence] is part of the job of being a professional runner today then you don't get it," Ben Rosario, coach of the Northern Arizona Elite, told the New York Times last year. Other elite clubs, like Boulder-based Tinman Elite and the Nike-sponsored Bowerman Track Club appear to have adopted similar philosophies, as have individual athletes. The BTC's Gwen Jorgensen and recently retired 800-meter specialist Nick Symmonds each have their own YouTube channels. Four-time Olympic gold medalist Mo Farah, whose competitive success might, at first glance, have made him seem less in need of playing the social game, is prolific on Instagram.
In an email, Symmonds wrote that social has become the way for runners to maximize their "full earning potential," not least because a runner's online presence doesn't have to end when they retire. "A social following does not have a shelf life, unlike our running abilities!," Symmonds notes. "A loyal social following can continue to provide income long after one's pro running days are behind them."
We Saw the Rise—and Fall—of the Oregon Project
When it was established in 2001 by former champion marathoner Alberto Salazar, the goal of the Nike Oregon Project was to improve the sorry state of American distance running. It took just over a decade, but the team would eventually deliver on that promise. Salazar's protégé Galen Rupp would win an Olympic silver medal in the 10,000-meters in 2012 and an Olympic bronze in the marathon in 2016. Rupp would go on to win the 2017 Chicago Marathon, in the same race that Jordan Hasay, another Salazar-coached athlete, ran 2:20:57—the second fastest marathon by an American woman. The 2016 Olympics would also see the Oregon Project's Matthew Centrowitz become the first American man to win the 1,500-meters since 1908.
If 2016 marked the high point of the Oregon Project, the final months of 2019 have been less auspicious for Salazar's once vaunted team. In September, the United States Anti-Doping Agency hit Salazar with a four-year ban for various doping-related infractions, including the illegal trafficking of testosterone and tampering with the doping control process. Not long afterwards, the Oregon Project was officially disbanded. Just as it seemed like Salazar's reputation was at its nadir, last month former Oregon Project runners Mary Cain and Amy Yoder Begley accused him of verbal abuse and publicly shaming them for their weight. Earlier this month, the reopening of the Alberto Salazar Building at the Nike HQ inspired hundreds of employees to march in protest.
Nike Weathered Many Scandals
Salazar's reckoning came in the wake of other recent public relations fiascos for Nike which suggested that the company might not always live up to its progressive image. Last year, the New York Times published an exposé in which several former female employees spoke of endemic sexism and gender discrimination at the world headquarters in Beaverton, Oregon. In June, the Times published an op-ed by former Nike runner Alysia Montano, calling out the hypocrisy of a brand whose feminist advertising is belied by the fact that it often suspends athletes' contracts when they get pregnant.
In August, Nike allegedly changed its policy so that when an athlete becomes pregnant, she can't be subjected to performance-related reductions in pay for a consecutive period of 18 months, starting eight months prior to the due date. Whether this is a one-off act of damage control, or a sign that the world's most powerful sporting apparel company is about to evolve into a paragon for humanistic capitalism remains to be seen.
With any luck, we'll know before 2030.
Lead Photo: Francois Nel/Getty