Brian MacKenzie's Controversial New Approach to Marathon Training
The mastermind behind CrossFit Endurance says the best way to train for a marathon is to run less and torture yourself more in the gym. Christopher Solomon laces up for a whole new level of pain.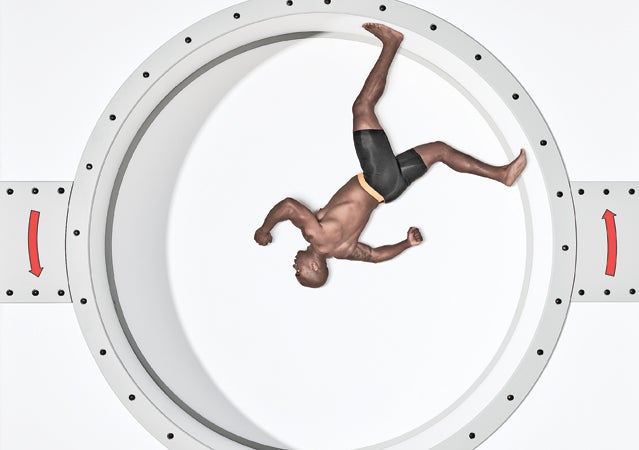 Dan Winters
Heading out the door? Read this article on the new Outside+ app available now on iOS devices for members! Download the app.
When the hell did this become marathon training?
Purchase the Plan
Short, intense exercise can give you many of the long-haul benefits of classic distance workouts—and spare you the chronic injuries and boredom.
You just need the right training plan
. 

MacKenzie preaches that crunch time in the gym leads to faster time on long runs.
For the past few minutes, I've been running 60-second gassers up Seattle's Queen Anne Avenue, a stripe of urban asphalt so tilted that skiers often schuss down it on snow days. I'm testing a controversial endurance theory pushed by triathlete and trainer Brian MacKenzie, and by the second wind sprint I know I'm in trouble. By the third, I'm biting back the pre-barf taste of oysters and copper pennies. After the fourth, I crumple to the rush-hour sidewalk, splayed beneath Seattle's pigeon-colored skies. Women walking home from work literally step over my heaving body. And to think that I'm supposed to do eight of these.
Sprints aren't my only oddball activity. These things, too, count as marathon training: box jumps, shuttle runs, push-ups, burpees, squats, sumo deadlifts, medicine-ball tosses, back extensions, and a pile of pain I'd rather not remember called Fight Gone Bad—five tough exercises done in rapid rotation. I've swung a 50-pound kettlebell over my head (a dangerous, exhilarating feeling, like firing your first handgun) and done more pull-ups than I have since sixth grade, when I flunked that part of the presidential fitness test. I've also run lots and lots of wind sprints.
What I haven't done is run very far. Just two months away from the starting gun for the third 26.2-mile race of my life, I've yet to do more than a single 10-miler.
I'm dubious that this regimen can work, but MacKenzie says my skimpy mileage sounds just about right. A 38-year-old skateboarding powerlifter turned Ironman competitor, he insists that most of us can train more efficiently for punishing distance sports—triathlons, marathons, even the Ironman—by doing less, but doing it much harder. MacKenzie wants you to stop slogging through all those long, low-wattage runs and century rides, replacing them with the brief, burning workouts he prescribes.
His plan, a sanctioned spin-off of the CrossFit boom called CrossFit Endurance, has been gaining popularity with everyone from Navy SEALs to amateur marathoners to stroller-rolling fitness moms, with more than 130 CFE groups popping up in cities worldwide since the program was devised five years ago. It's also drawn criticism, often from distance pros who blast the San Rafael, California-based MacKenzie on discussion boards like LetsRun.com, where he's been called an uncredentialed "clown" who pushes dubious ideas. MacKenzie, unfazed, fires back that long-and-slow training comes with problems of its own (including injuries, boredom, and wasted time) and that people who get beat up by long-slog programs—a fortysomething dad, say, grinding out a 16-mile run on knees creaky with fraying cartilage—need and deserve "another way up the mountain."
But do MacKenzie's tantalizing ideas deliver? As a 41-year-old, lifelong, injury-plagued runner, I wanted to know, and there was only one way to find out. I would read up on the science while serving as my own lab rat—a rat running inside a wheel that's moving very, very fast.
IT'S EIGHT ON A Saturday morning in downtown Boulder, Colorado. People on Pearl Street are still rubbing Friday night from their eyes as more than 30 of us take our seats on folding chairs inside a CrossFit gym. Rubber mats carpet the floor. The faint sweaty-sock funk of old exertion is in the air. I've come to the nation's endurance capital to attend one of MacKenzie's weekend-long seminars on CFE and running technique.
"I was a junkie long-distance guy," he begins, standing before the group like an alcoholic confessing his sins. Later he'll tell us that "the longest I've run while training for a 100-mile race in the past seven years is a half marathon."
MacKenzie is six foot two, athletically built, and handsome, with short brown hair and brown eyes. In person he's friendly and self-deprecating. He can also be intimidating, perhaps because of his self-confidence, which is abundant, or his tattoos, which are numerous. A ring of blue skulls wrap his right wrist. The word UNSCARED is spelled out on his knuckles.
At one point during his remarks, a man in the third row asks what a lot of us are probably thinking: Doesn't a long-distance runner need to, you know, run long distances? MacKenzie throws it right back. "You think a long, slow run is going to make you—what?—faster?" he asks. Why, he says, do humans resist the idea that less could be more?
The attendees are a broad mix, including a female ultrarunner from Denver and a sixtyish mom from Elko, Nevada. Many are CrossFitters, and they listen intently as MacKenzie and fellow instructors talk about all sorts of stuff: foot striking, diet, the medicinal properties of olive oil. The atmosphere is somewhere between a megachurch sermon and an earnest infomercial.
Traditional training, MacKenzie tells us, is a recipe for plateaus, inattention, and overuse injuries. "I think people are tapped out on volume," he'll say later. "We're getting rid of the unnecessary." In its place, CFE builds on a foundation of rugged CrossFit workouts.
In case you're not familiar with the California-born CrossFit program, which has spawned a cultlike following among millions of regular users, the main terms to remember are short and hurts. CrossFit aims to build all-around athletes through gym-class-from-hell regimens marked by intense, sometimes frantic exercises. A single 15-minute workout might include round-robins of gymnastic movements, Olympic-style weight lifting, and plyometric routines like box jumps.
On top of this, a would-be CFE marathoner mixes in a few brisk running sessions each week—sprints, intervals, time trials—and might never run farther than 13 miles. CFE also dispenses with periodization, the concept that an athlete has to move in stair-step fashion toward peak performance.
MacKenzie isn't anti-volume per se, but he thinks athletes shouldn't increase distance until they've perfected technique and dialed up intensity. The shorter workouts succeed because they're very hard. "This ain't the easy way," MacKenzie says. "Just because it's less doesn't mean it's easy."
MacKenzie is a strong advertisement for what he preaches. A decade ago, he was a "gym ratty" powerlifter without a college degree who'd caught the triathlon bug. The arduous training for races like the Ironman, however, left him limping.
Two revelations changed everything. First, his coach—Nicholas Romanov, a sports scientist and the developer of the Pose Method of running, which emphasizes forefoot-strike landing instead of heel striking—forced him to dramatically lower his mileage while adding tempo runs and, as MacKenzie puts it, "hard-ass interval training." Before long, he started destroying his old times. Then he rediscovered weight training, and he noticed benefits for both endurance and recovery. By late 2005, he'd come upon CrossFit and started toying around with that, too.
In 2007, MacKenzie entered the Angeles Crest 100 trail run. His training seemed irresponsible: using CrossFit as his foundation, he did runs of 13 miles or less and worked out about six hours per week. He finished 34th and felt great.
"The last four miles of that run, I was throwing down sub-eight-minute miles," he recalls. "When I finished, I knew we had something." He started CFE in late 2007. Today he makes his living by giving seminars around the world—attendees include U.S. Special Forces troops—and by coaching athletes online.
At the time of the Boulder event, he was also at work on a book, now out, called Power Speed Endurance. Judging by the effect the weekend has on participants, it will find a few buyers. After the seminar ends on Sunday after-noon, MacKenzie is approached by Robin Dahlman, a 48-year-old CrossFit dabbler.
"I think you changed my life!" Dahlman says, with tears in her eyes. Others draw near to thank MacKenzie and pepper him with questions. One woman pulls him close to smile for the camera. "Say 'anaerobic!'" somebody says.
LAST SEPTEMBER, TO START my CFE experiment, I headed south from downtown Seattle for a meeting with Michael Ross, a chiropractor and the owner of SODO Health and Performance, a gym that offers CFE workouts. I had been resigned to never running a long race again; twice, a few years previous, I'd trained myself into iliotibial-band injuries while preparing for the New York City Marathon. Could CFE make me a marathoner again?
I told Ross I wanted to run a 3:20 in three months, 25 minutes faster than my last marathon five years ago. He drew up a plan. It was solid. But even Ross, a CFE instructor, included several long runs of up to 18 miles. His plan was, in a sense, periodized. If I wanted to test CFE's core ideas, I'd have to get more radical. So I emailed the plan to MacKenzie, who tinkered with it.
My final routine looked like this: CrossFit workouts or short weight-lifting sessions three times per week, with just four runs per week. A typical day would involve 130-yard track sprints until exhaustion—or those god-awful hill sprints—to jack up my VO2 max. On another day, I'd do track intervals of decreasing distances at increasing speeds. Sundays would be reserved for longer runs—but never too far, and almost always faster than my race pace. At my peak, I'd never run farther than 23 miles in a week, which is roughly half the mileage that Hal Higdon, a well-known writer and trainer, recommends in his popular approach for intermediate marathoners.
Feeling wary but excited, I laced up my Brooks, figuring I was in for relatively enjoyable sessions.
Not quite. If your idea of a workout consists, as mine did, of a pleasant run and a few sit-ups, your first CrossFit session isn't just a shock—it's like being tased. I worked out at Ross' gym in Seattle. My first day, I did a wicked series of timed box jumps, pull-ups, and push-ups. Though basically fit, I got so queasy from the pace that the instructor placed a vomit bucket near me. The next day, punished and sore, I stepped onto a track for the first time since high school and started in on an interval workout. By the last full-lap sprint, I couldn't make it halfway without doubling over, wasted. That weekend the schedule called for my first session of barbell squats. My legs did the Elvis all afternoon.
This humbling routine continued daily for the next few weeks. And yes, it continued to hurt. But something else nagged me besides my hammered muscles: I missed my old, dawdling runs. After eight hours spent staring at a computer screen, my five o'clock run is like Xanax. By the time I walk back in the door after a good six-miler, it's as though a bracing wind has swept my skull clean of the day's knotty problems. You don't get that when you're busting around the track beyond your lactate threshold, your vision going red at the edges.
But then, about six weeks in, something changed. The CrossFit workouts still destroyed me, but I was getting faster. Always an eight-minute-mile plodder, I did a (painful) hour-long tempo run at about a 7:15 pace. A week later, MacKenzie told me to try a 10-mile time trial—and I cranked out the swiftest run of my life, dropping roughly eight minutes off my personal best.
I felt strong. Maybe this really would work.
Encouraged, I pushed through the misery, getting quicker, getting sinewy. And then, suddenly, race week was upon me. I still hadn't run farther than a half marathon, though at a swifter pace. Would 13.1 miles with the hammer down equal 26.2 miles throttled back? I was worried.
TRAIN LESS, KICK ASS. Is it possible?
The answer, some scientists are finding, is: maybe.
In recent years, researchers have been making counterintuitive discoveries about how our bodies get in shape. In a 2006 study, scientists at Ontario's McMaster University divided 16 young men into two groups. One group rode stationary bikes at a moderate pace, for up to two hours at a stretch, six times over two weeks. The other did up to six 30-second, balls-out sprints. Researchers then took tissue samples from participants' thighs and compared them.
The results were stunning. By several key measures of exercise performance—number of mitochondria (an indicator of how efficiently a muscle is using oxygen), buffering capacity against lactic-acid buildup, and the presence of glycogen (sugar) for fuel—the groups "showed remarkably similar improvements in exercise performance." The difference: one group exercised for more than 10 hours, the other for only 15 minutes. In another study, just two weeks of sprints nearly doubled cyclists' endurance when they pedaled at a fairly vigorous pace, from 25 to 50 minutes.
Serious endurance athletes are aware that some speed work is beneficial, but this was a surprise. "What was unique about our study was that maybe you only had to sprint to increase endurance," says Martin Gibala, chair of McMaster's department of kinesiology. A weekend athlete who relies solely on interval training won't become Meb Keflezighi, says Gibala, but he will experience many of the adaptations long attributed to endurance training—and likely improve his 10K time to boot. The studies also raise questions about how much of the "base layer" miles that many dedicated athletes pile on is really needed. "People do a lot of junk mileage," Gibala says.
A vocal spokesman for the less-is-more philosophy is Guy Petruzzelli, 39, a personal trainer and professional triathlete from Chicago who tried CFE—skeptically at first—during his recovery from a car-bike collision in June 2010. Previously, Petruzzelli's training had been "swim-bike-run: a pretty standard diet for most triathletes." Three weeks after starting his new regimen, he went to the track and ran 5:15-mile repeats—30 seconds faster than his usual time. "That's a huge difference," he says. On the bike, his average power output for a 40K effort leaped 33 percent.
Petruzzelli was sold. Last August, he won the Olympic-distance MidEast Duathlon Championships in Ohio—5K run, 40K bike, and 10K run—despite cutting his training volume roughly in half since before the accident. "I get a lot of criticism because I follow this model," he told me. But, he says, "it can be applied at an elite level."
Endurance athletes have scoffed at MacKenzie and CFE for their emphasis on weight lifting—skepticism born of a long-held fear that lifting bulks you up and slows you down. But recent science is showing that, if you do it right, you can get strong and powerful without adding body weight. "You want to lift heavy weights, which means lower reps," says Anthony Turner of Middlesex University's London Sport Institute. "A good workout would be four sets of four repetitions."
Well-trained runners in Norway who followed a similar program—heavy half-squats a few times a week for two months—increased the time they could run at their maximum speed by 21 percent before exhaustion set in, according to a 2008 study. Physiologists think this is thanks to an increase in running efficiency, the idea being that a stronger body uses less energy to move.
Savvy endurance athletes have long known to include intervals and weights in their workouts. But even they usually don't do them right. What's lost is intensity. In a 2009 study by Copenhagen's Muscle Research Centre, experienced runners who cut total mileage and added speed work significantly improved their 10K times. The key difference, said study author Jens Bangsbo, was that the runners' 30-second all-out sprints were much harder and more unpleasant than what most people will submit themselves to.
FOR ALL THE BENEFITS, though, how far will high-intensity training and pumping iron carry an athlete? Is CFE really an effective way for most of us to train for multihour gruelfests?
Here the science is frustratingly thin. Exercise physiologists say that such studies simply haven't been done, but scientists certainly have opinions. Several physiologists and running coaches I spoke with agreed: CFE breaks a lot of dusty old rules—which is great—but it also breaks the law.
"The law of specificity says that if you want to be good at something, you have to do that thing," says Jay Johnson, a former assistant track coach at the University of Colorado and a contributor to Running Times. We spoke in September 2011, not long after Patrick Makau had run a world-record 2:03:38 in the Berlin Marathon. "Here's the deal," Johnson said. "No Kenyan has ever seen a kettlebell."
Steve Magness, a running coach with Nike's Oregon Project—a program aimed at producing better American distance runners—told me that the latest theories about elite marathon training incorporate a potpourri of efforts (high-intensity work, hill work, strength work) but don't sacrifice pure mileage. "If you're looking to run well, you have to have both," Magness says. Nike Project athletes log roughly 100 miles a week.
Specificity matters for us age-groupers, too, some physiologists say. When you run long distances, your body changes to help you run even farther, says Ray Moss, director of the Molnar Human Performance Laboratory at the Institute of Running and Scientific Training at Furman University in Greenville, South Carolina. Take that two-hour training run. When you're done, your body starts creating new capillaries around the muscle fibers in your thighs. That increases blood flow to the muscles and allows for better delivery of oxygen and metabolic substrates like fat.
"This combination permits muscles to use more fat as fuel, thus sparing the body's limited muscle glycogen," Moss explained in an email. Your miles-hardened bod becomes a more efficient fat-burning machine, and that makes you less likely to hit the wall deep in the race. "The only way to do that is to run, to train at those longer distances," Moss wrote.
That seems like common sense, and CrossFit follower and veteran triathlete Robin Clevenger would probably agree. In 2009, Clevenger, then 45, planned to train for two triathlons strictly using CFE. She tested herself at that year's City of Portland Triathlon, and she ran out of gas.
"After an hour and a half—which was the maximum time I'd trained—my body said, 'You know, this is about it,'" Clevenger told me. She finished with her second-slowest Olympic-length-triathlon time in 23 years. "I agree that if you do CFE to the letter you can complete an Ironman," Clevenger said. But she called it a recipe to "complete, not compete."
Others haven't been so measured in their criticism. On running discussion boards, MacKenzie has been called a "f**king joker" and his philosophy a "crock of shit."
"CrossFit ain't going to keep you in the saddle for 6 hours," Will132 wrote on Slowtwitch.com, in a typical blast. On LetsRun.com, a commenter wrote: "It's not science, it's marketing."
"CrossFit all you want, people," another poster said. "But if you want to be a good runner, you need to get out and fricking run."
MacKenzie laughs it off—mostly. "I get it. My personality may not rub right with a lot of people," he tells me over dinner one night in Boulder. "But to attack me for trying to help somebody? Dude, that has been my only goal with everything I've done."
"We run plenty," he adds as he gets up to leave. "We run just enough."
THE LAST CHANCE MARATHON is a 200-entrant race held New Year's Eve morning on the woodsy trails of Bellingham, Washington. It's so casual that the starting line is a crosswalk. Race day doesn't dawn so much as leak across the horizon—cold, with dishrag skies. Doubts roll across my mind like the clouds, but I try to stay positive. Remember, I tell myself, after three months on CFE's diet of sprints and deadlifts, you're leaner, stronger, and faster than you've ever been.
The organizers said the course had a few little hills. They lied. It's a muddy roller coaster in spots, with about 700 feet of vertical gain—little heartbreaks along the course. My goal of a 3:20 marathon goes out the window. I decide to relax and see where the training takes me.
For the first 13 miles I'm a machine, chugging up the hills and running with purpose on the flats. Those lung-searing sprints evidently worked: my heart thrums quietly under the hood, a Porsche that has only been asked for second gear.
Lapping the course, I head back out for mile 14. Now you're in uncharted waters, I think. As if on cue, the hills appear again and my legs go rubbery. I choke down a Gu and some water and am carried for miles on a second wind. How do I feel? To be honest, not great. But no worse than in the other marathons I've run.
At mile 19, I pause for a cup of Coke and make the final turn toward the tape. "Let's see what the wall wants to do to me," I mutter. But the wall never comes. Weird calf cramps jab me for the last five miles, forcing me to walk for several seconds, but I fall in beside a fellow sufferer, we pick up the pace late, and I finish in 3:39—a personal record by five minutes.
So did CFE deliver? Yes, mostly. It got me to the starting line without injury. I ran strong on a tough course. What's more, I'm the quickest, most bulletproof all-around athlete I've ever been.
Would I use CFE to train for my next race? Yes, mostly. I've now incorporated some speed work and weights into my normal routine. Next marathon, though, I'll toss a few big runs into the mix, in a nod to conventional wisdom.
It's also a nod to what makes me happy, which is why we exercise to begin with. Several days after the race, while visiting my sister, I went on my first casual run. Down Post Road, past the interstate, the road becomes a country lane, growing quiet and unspooling before me, and I chase it around the next bend, through the stop sign, toward the ocean. It feels good to be released from the tyranny of the track—away from the wind sprints, away from my heart's desperate pounding. My legs are as well trained and twitchy as a racehorse's; they want to move fast. But I won't let them, not today. I switch off my stopwatch, set my mind to wandering, and settle in for a long, slow, delicious ramble.    
Correspondent Christopher Solomon wrote about the Teton Traverse in July 2012. He lives in Seattle, Washington.