Seven Unlikely Encounters at the Rock 'n' Roll Las Vegas Race
Run the world's largest night race and you're bound to have one of the most unusual experiences of your life
Heading out the door? Read this article on the new Outside+ app available now on iOS devices for members! Download the app.
One: Bus #108
Bus #108 parallels the Las Vegas Strip along ordinary streets. Locals hop on and off, returning home from work or heading downtown to find some action, mainly service and security workers buried in their phones.
Two convention center staff women shuffle on, lanyards dangling from their necks. Vegas loves lanyards. "Well shiiit, another convention in the books," one says, looking satisfied with the honest day's work and ready for a drink.
Flying into Las Vegas at 8:45 P.M. on a Friday night is a lot to process, but throw in 27,000 runners arriving from all 50 states and over 60 countries for the Rock 'n' Roll Las Vegas Running Series and this translates to overpriced Lyfts and Ubers clogging Harry Reid International Airport. I choose the public bus instead, which should drop me within walking distance of the race's expo at the Hilton at Resorts World. Let's see.
A man seated near me keeps going bottoms-up with a mini bottle of Fireball, even though it's clearly long gone. Six Turkish exchange students pile on and poke fun at each other next to two bearded men playing "Welcome to the Jungle" from a Bluetooth speaker shaped like a bowling ball. And just as the Strip comes into view, everyone in Bus #108 begins singing along, including me.
Welcome to the Jungle.
Two: Missing Leg
The casino hotel elevator smells like a cross between formaldehyde and strawberry Pedialyte.
Inside, a one-legged man glugs a Coors tallboy behind silver aviators—it's 10 A.M. In the time it takes us to reach the 56th floor, I learn that his name is Yasir, that he is from Saudi Arabia, and that his other leg is a Nike carbon blade picked up days earlier in Houston, just for this race.
"Come," he says, "I show you."
In his hotel room, the stranger makes me feel the difference between his old prosthetic and this new treasure. He hands over his blade with flattened palms, as if it were a samurai sword. In a way, it is.
I perform a bicep curl with the new blade, then with the old leg. Far superior. He giggles, slams the rest of his breakfast beer, and begins to thumb-flick through photos on his iPhone to a video of a man holding a rifle, sulking behind bushes in a desert. After five seconds, a shot fires and the man drops to the ground. This surveillance footage is of Yasir, the moment he lost his leg, the moment his life changed forever, the moment that would eventually bring him here, 8,000 miles from Jeddah to the Rock 'n' Roll Las Vegas Half Marathon.
Several years ago, the man had been a military officer on patrol in Yemen when a Houthi rebel sniper shot him. The conflict between Saudi Arabia and Yemen reaches back to 2004, when Saudi Arabia intervened in Yemen's civil war after the Houthi ousted Yemen's president. A coalition of Gulf States formed to regain order, and Yasir was a military officer on patrol when he was popped.
"Were you even a runner before you got shot?" I ask.
"No, no. Only walking," he says.
"So you're telling me that losing your leg made you start running?"
"That is what I am telling you."
Three: Teeth Whitening
Shuffling along casino carpets patterned in asynchronous honeycomb fractals, camouflage for cocktail spills and vomit, I pass slot machines with names like Attack from the Planet Moolah, All Aboard!, and Three Eyed God, en route to the Rock 'n' Roll Health & Fitness Expo.
Every registrant must enter through a tunnel swiveling in neon lights—imagine TSA on LSD—and a paparazzi-style wall of ivy (it was fake; I nibbled some), which funnels into the tented expo. DJ Cable spins records, mixing "It's Getting Hot in Here" with "Getting Jiggy Wit It."
Nicole Christenson is the race director for the Rock 'n' Roll Running Series Las Vegas. Having grown up here, she knows the ever-evolving Vegas entertainment scene as well as anyone. Her vision for the race, alongside an enormous team of staff and volunteers, is to orchestrate an event that's more than a footrace, but something of an alternate reality.
"We're excited to once again welcome participants from all around the world to Las Vegas for the world's largest running party," she told me earlier. "The Las Vegas weekend is our marquee event providing people a totally immersive experience that fits the energy of running the strip at night."
In this, they are succeeding, with a well-oiled #StripatNight theme that mimics Vegas' 24/7 atmosphere—just swap out free vodka tonics and quarter slots for Lululemon activations and giveaway Ironman lip balm.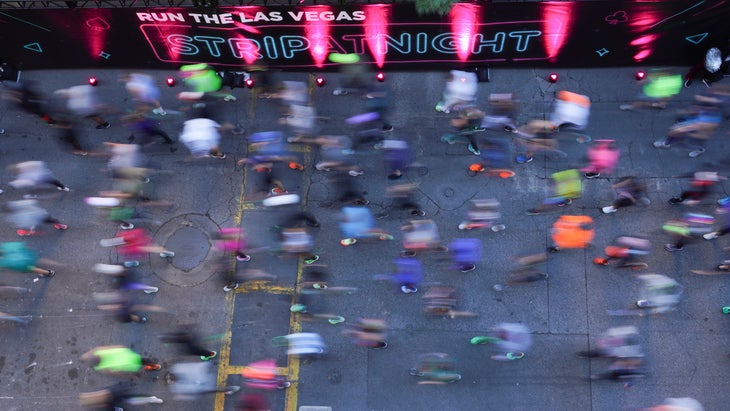 This year marks the 25th anniversary of the Rock 'n' Roll Series, which started in San Diego in 1998. Its mission was to infuse running events with fun and live music, to create a race that doubled as a block party for more casual runners, while maintaining a competitive edge for elites. The concept spread to cities around the country and world, and now there have been 47 Rock 'n' Roll race venues in 12 countries. Ironman—perhaps you've heard of them?—now owns the Series, adding yet another notch to their dynastic portfolio. This race weekend alone will inject Las Vegas with an additional $165 million in economic activity.
When I ask two expo security guards in yellow vests what they know about the security detail for the race, all they say is:
"It's deeper than you could ever believe."
And yet, there's also something refreshingly inclusive about this race, encouraged by its accessible location and shorter race offerings—5K, 10K, and half marathon. Rock 'n' Roll events appeal to everyone, no matter how much you run, even that lone elder in the corner wearing a prom satin sash that says: "I Eat Tacos," even the several runners I watch reclining in a horseshoe of La-Z-Boys at the expo's Teeth Whitening Station, zapping their teeth with proprietary blue light. The booth's associate approaches me, holding a rack of fake teeth in declining states of decay and, with her Russian accent, demands that I open my mouth.
"You're a four," she says with a blinding smile. "Stain scale goes to ten." Her teeth? A solid two.
The #StripatNight theme mimics Vegas' 24/7 atmosphere—just swap out free vodka tonics and quarter slots for Lululemon activations and giveaway Ironman lip balm.
Four: Local Legend
Jayden is a six-foot-two, 19-year-old, self-proclaimed military brat with bleached hair, soaking wet and wrapped in a tin foil blanket. He, alongside several thousand others, just completed the Rock 'n' Roll 5K, and it rained the entire race. The course finished at the Fremont Experience, north of the Strip, and I'd tucked into a casino to find a most unusual scene: hundreds of runners wrapped in foil like baked potatoes and taking refuge at slot machine stools.
"I've been on this crazy weight loss journey," Jayden says. "Lost 120 pounds in the last nine months. Running was a big part of that, kept me in that mindset, and that's why I'm here."
Despite over half a million residents calling Las Vegas home, 94 percent of this weekend's race participants arrived from outside the city. But this doesn't surprise Jayden. "Not many people can say they've run in the rain in downtown Fremont or the Strip," he says. "That's why running Rock 'n' Roll is truly a once-in-a-lifetime experience."
RELATED: Run Your First—or Best—Half Marathon with This Comprehensive Training Guide
Jayden studies hospitality management at the University of Las Vegas ("He lost so much weight because he don't live with his Mexican momma no more," his mother tells me, who stands next to him), and he dreams of one day becoming an entrepreneur. "What's the word—franchise. I want to own me some franchises!"
Five: Peppermill Ambrosia
One major perk of running the world's largest night race is that you can brunch hard on race day. And Vegas? Vegas brunches hard.
I love breakfast here, as a cultural experience, my friend Brendan Leonard texted, referring to the Peppermill Restaurant and Fireside Lounge, the city's cultish greasy spoon that's served mobsters, conventioneers, and now, runners, since 1972. Leonard had completed Vegas' esteemed Buffet of Buffets, so I trusted his tip.
Approaching the cafe's blacked-out windows, I'm immediately hit with an overflow of wait lines and saucer plates serving 64-ounce Scorpion cherry brandy cocktails and tables clustered under a neon grove of fake trees and plates of breakfast ham the size of printer paper and Bloody Mary's a foot tall. Two Indian tech entrepreneurs from Toronto sit at the diner bar just as I do, and Josie, in her white sneakers and royal blue skirt, pours three coffees, no-look, not even asking if we want coffee—of course we do—and she will forever know the three of us as best friends coming to dine at the Peppermill together, until the check needs to be split.
The Indians wonder why I would ever come to Las Vegas to run, or to do anything healthy. Fair question, especially as they sop up their hungover guts with Denver omelets and hash browns topped in shakes of Tabasco before picking up a Jeep rental for a trip to the Grand Canyon. "Four-hour drive, easy. America," they say.
After Josie's eight refills of over-creamed coffee and whatever a French Toast Ambrosia is, I slap my new friends on the back, wish them well, and exit properly carb-loaded, prepared for the evening's foot race.
Rock 'n' Roll events appeal to everyone, no matter how much you run, even that lone elder in the corner wearing a prom satin sash that says: "I Eat Tacos."
Six: Honeymoon Double
Sarah and Christopher Sevick traveled to the Las Vegas Rock 'n' Roll Race from Norwich, Connecticut, an unlikely pairing at first glance but a fitting example for why this race matters to so many. Sarah, 52, short and tightly-wired, had already completed the 5K and was preparing for the half marathon. No one I speak with all weekend will be more thrilled about running the half than Sarah. That is, with the exception of her husband, Chris, who stands beside her smoking a Camel Light, with drooping earlobes and a black T-shirt that says:
Runner's Husband
Yes, She's Running
No, I Don't Know When She'll Be Home
Yes, We are Still Married
No, She's Not Imaginary
Chris isn't a runner, but he loves more than anything to support his wife's running goals, especially when it takes them to Vegas. "This race is really emotional for us because we got married here years ago," he says. In Connecticut, Sarah is a craps dealer at the Mohegan Sun Casino, so she loves coming here to see how the pros do it. Through an East Coast accent, Sarah can't contain her enthusiasm. "It's an opportunity to run the Strip at night for one time in my life!" she says.
I ask if they intend to party afterward, to celebrate the double and their marriage. Sarah smirks, looks around as if to whisper her darkest, most diabolical fetish, and says: "Well, I do like beer."
Seven: Volcano
The Rock 'n' Roll Half Marathon course is shaped like a bowtie:
Starting at Planet Hollywood, in the middle of the Strip, it sends everyone south to the Welcome to Las Vegas sign before a 180-degree turn to follow the length of the Strip north, to the Fremont Experience, before curling back to the middle of the action, the base of The Mirage volcano.
After a long wait in the corrals, the Rock 'n' Roll production outdoes itself with a full lineup of stretching exercises by trainers, dancing acts, a DJ throwing beats, even a muscle man in black suspenders performing headstands on a tower of cafeteria trays propped up by tumbler glasses.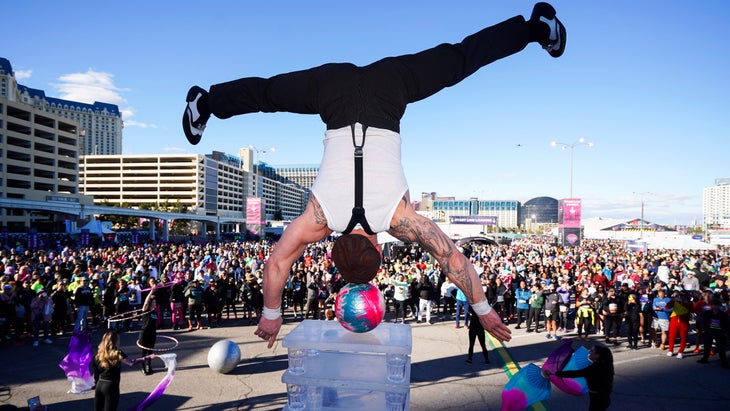 Finally, the race starts and things are moving. Crowds spread and we're all in this great heaving motion together. Deployed at every intersection are hundreds of police officers beside school buses and limos to block a potential breach. Helicopters and drones hum nonstop above. The first turn of the bowtie comes at the city's southern edge, where there's more sand and more browns and more desolation, like a high that's wearing off.
The sun is going down and, as we turn, all of Las Vegas appears front and center. Into a slight downhill now as the Strip comes rushing towards everyone and quickly I am back in the middle of this psychedelic neon bath with spectators screaming along a traffic-free Las Vegas Boulevard. (The only other time the Strip closes down is for New Year's Eve.) Here, each runner ingests infinite light and 200-foot ads for strip clubs and the Blue Man Group and Katy Perry dressed up as a mushroom and posters for shows like "Menopause the Musical." I lock eyes with an old lady in the crowd sipping an electric green daiquiri as she watches this snake of runners pass, punching the air with our balled fists.
Peppered every few miles are live bands and DJs which add to the collective fervor, one of my favorite parts of the race. Mariachi. Tupac remix. Fall Out Boy covers. Shania Twain. I reach the north end as night falls and see now that this place never sleeps, that everything feels so much more authentic at night here. It's . . . beautiful?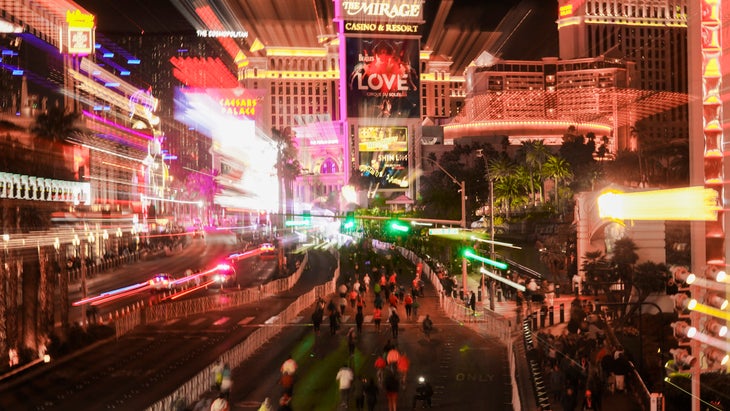 Ten miles in, a firework display crackles, reminding me of Yasir the Saudi getting shot by a Yemeni rebel sniper, and I wonder how his blade is holding up, just as I find myself hissing at a man after he shoves me at a water station because I'd cut him off. (I never hiss.) Perhaps he's anxious about making the final turn of the bowtie, which we are doing now, to square up with the Strip again, eye-to-eye with this ephedra-gobbling fire god, this raging slot machine canyon of Eiffel towers and pyramids and Venetian canals and volcanoes pulling us all back to its source. Here we are, asking everything from our tendons and limbs and goals, to be fast, to remain visible, to reach toward something for no practical reason other than it makes us feel alive, makes us feel real, and maybe that's enough, and as I cross the finish line at the base of an erupting synthetic volcano, I can feel the heat from the finishing chute's horned flames burn across my face, and I think to myself: Goddamn. Now I love this place, too.  
Nicholas Triolo is the Senior Editor for Outside Run and Trail Runner. He has been a competitive ultrarunner since 2008. 
Lead Photo: Kyle Rivas/Getty